New Year's Resolution Free Worksheet
This post may contain affiliate links. Please see our disclosure policy.
This free printable New Year's Resolution Worksheet is a fun resource for helping children think about and understand their goals while planning actionable steps to achieve them!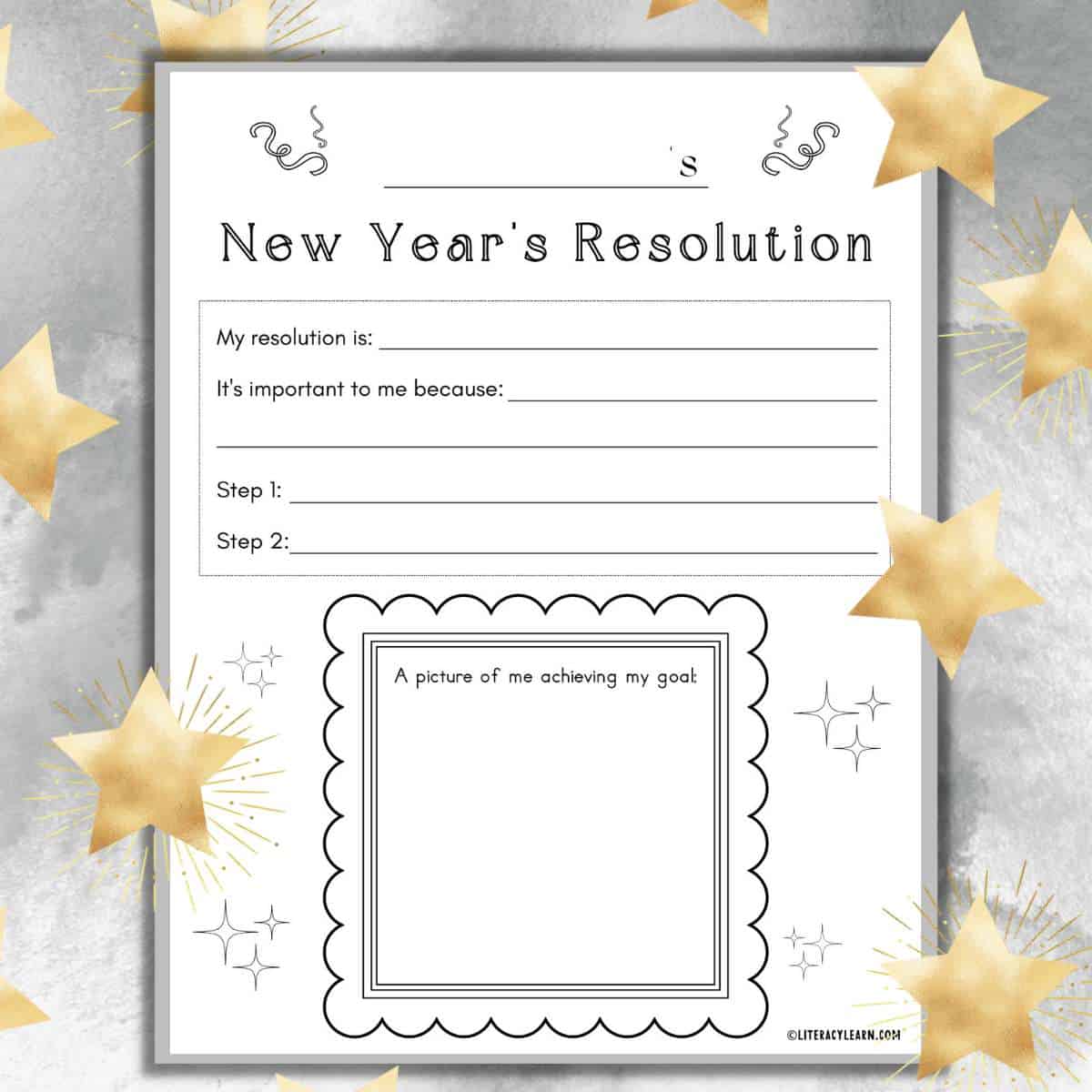 Why We Love It
Goal setting is an important exercise for children! As they work toward their goals, they practice and improve valuable skills like planning, focus, self-motivation, self-esteem, and self-improvement.
Using this printable New Year's Resolution worksheet, children will:
Choose and write their resolution.
Explain why the resolution is important to them.
List two steps to reaching that goal.
Draw a picture of themselves reaching their goal.
Creating New Year's Resolutions
Resolutions don't just have to be about quitting bad habits! While goals certainly can be about that, they can also be about learning new skills, gaining better habits, trying different experiences, or otherwise improving in certain areas.
👉 Goals should always be specific, measurable, and actionable, rather than vague or idealized.
So instead of saying, "I want to get better grades," they should try to refine that goal. For example, "I want to get Bs or higher on all my Science quizzes this semester."
Sample New Year's Resolutions for Kids:
Learn to ride a two-wheel bike before summer.
Eat a vegetable with dinner each night.
Read a new book each month.
Try a different sport or instrument.
Save enough money to buy a Switch.
Make my bed every morning.
Once children choose their goal, they should figure out a few simple, actionable steps to help them reach that goal. This practice helps break bigger goals into smaller, more manageable pieces.
Last, they draw a picture of themselves achieving their goal. Visualizing what it would look like it helpful for a lot of learners!
The worksheet will walk children through each of these steps!
Tips & Info
Print the worksheets on standard 8.5×11 paper.
This worksheet was designed for students in grade 2, 3, and 4.
Display the finished worksheets around the classroom, then check periodically with each student to see how they're progressing!
Download & Print
TERMS: All resources and printables are designed for personal use only in your own home and classroom. Each person must visit this site and download their own free copy. Please do not photocopy, email, or reproduce our printable resources for other teachers, and please do not reproduce our printables on the web or save them to a shared drive. Instead, please share the resources with others by using the social share links provided or by distributing the link to the blog post itself. This allows us to keep making free resources for everyone! If you have any questions, please email us. Thank you!