Snowball Word Building Activities – Free Printables
This post may contain affiliate links. Please see our disclosure policy.
Get seven winter themed word building activity ideas for young learners, with letters and digraphs printed on snowballs! Download the free printables and young learners can have a "ball" (get it?) using this engaging and fun seasonal activity to practice reading skills.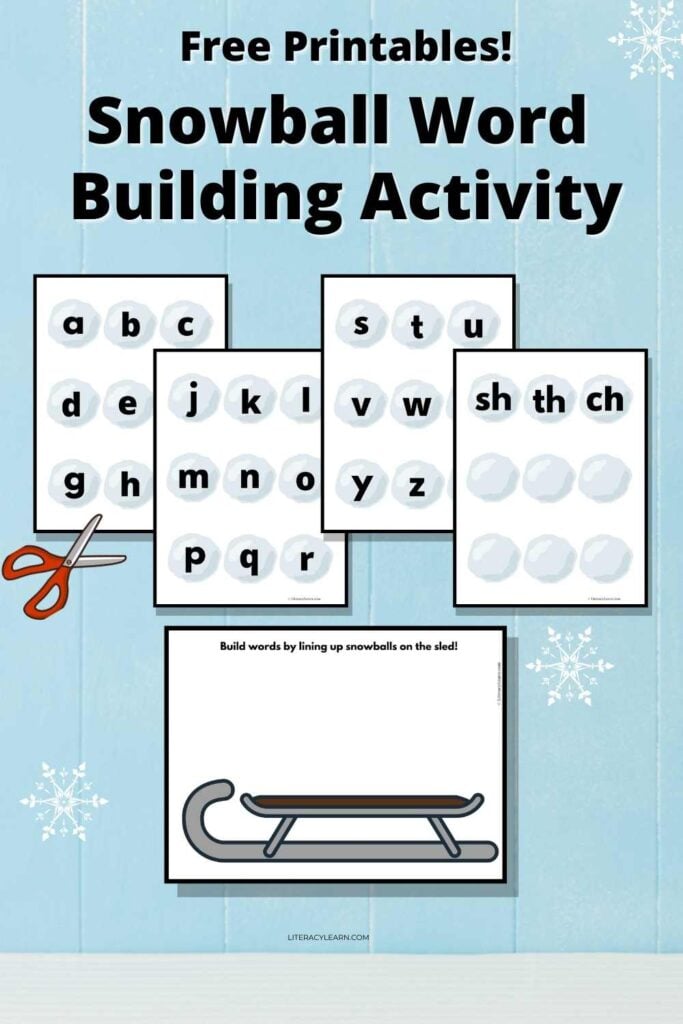 ❄️ The Printables
In my school groups, I love to lean into the seasons! That's why I put together season-themed beginning sounds worksheets, snowman coloring sheets, and more!
We're experiencing a lot of winter weather lately, so we're so excited about these snowball-themed word-building activities.
Each snowball has a letter or digraph, and we left a bunch of blank snowballs so you can add any other letters, phonemes, or digraphs you're working on.
For extra fine motor skills practice, have the child cut out the snowballs and sled, and use one of the seven activity ideas below!
👉 This resource was designed to be best suited for Kindergarten and First graders.
👉 Want more? Get our Elkonin Boxes/Sound Boxes for 3, 4, and 5 phoneme words and learn how they help students with lots of important reading skills!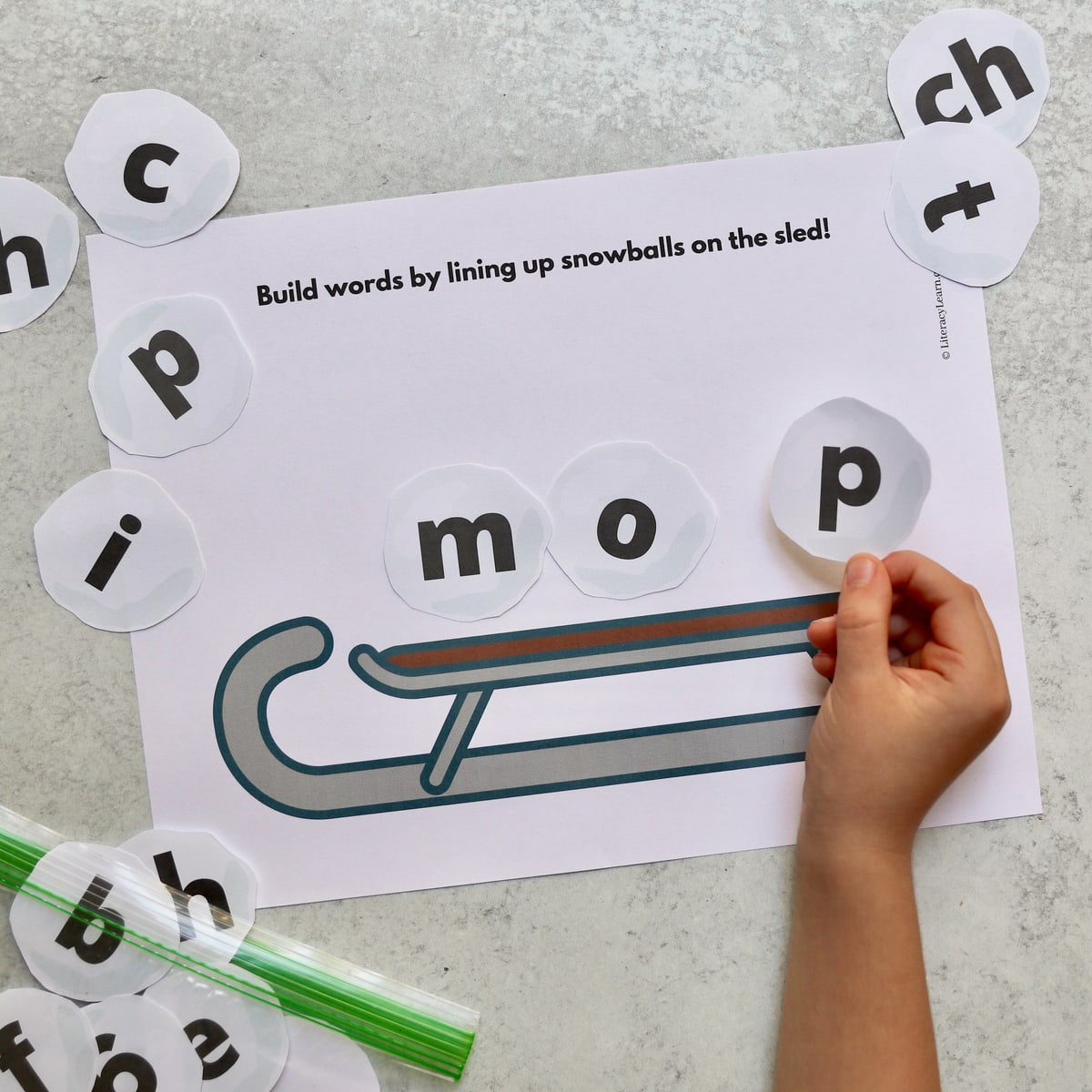 💡 Activity Ideas
1. Word Building
Using our comprehensive CVC word list, Silent E word list or first High Frequency Words list, dictate words to your students.
Try this: Ask your child to make a word like "mit." Place the "m – i – t" snowballs on the sled. Have you child touch each snowball and say the sounds /m/ /i/ /t/.
Then, the child should run his finger along the base of the sled and blend the sounds together to read the word "mit."
2. Change One Letter Game
Extend the word building idea listed above by playing Change One Letter. This is a higher level skill that challenges children in their knowledge of sound placement to spell and change words.
Here's how to play: If children have the word "mit" on the sled, say "I want you to change one letter so the word will say "mat." (Child should change the 'i' to 'a.') Once they have the new word "mat" on the sled, you might say, "I want you to change one thing so the word will say "fat." (Child should change the 'h' to 'f.')
Then say: "Now change one letter so the word says "fan." (Child should change the 't' to 'n.') Each time, follow the procedure of having the child check their work by placing their finger under each letter, saying the sound, and then blending the sounds together to read the word.
This teaches self-monitoring skills to ensure that what they see (the snowballs on the sled) matches what they say and hear (the individual sounds along with the sounds blended together to form the word).
3. Letters and Sounds
This can be used for the new letters you're introducing or for letters and sounds your child continues to struggle with. Only provide a few snowballs with those letters on them (Maybe 5-7 snowballs max).
If you're working on letter recognition, call out the letter that you want them to find. They can place it on the sled. If you're working on sounds, call out the sound. Say: "Find the letter that says /m/."
4. Writing
Use the blank snowballs for this activity. If you laminate the blank snowballs, you can use them over and over. Otherwise, you can even have your child make their own snowballs using plain white paper.
Say a letter or sound, and have the children write the letter on the snowball and then place it on the sled. Play "When Will it Topple?" and keep placing letters one on top of the other.
See how many snowballs they can pile on the sled. If they get a letter wrong, then the whole thing topples. Keep track of the high score and see how many snowballs they can place on top of the sled!
5. Count Syllables or Phonemes
Use the blank snowballs for this activity. Place three or four snowballs under the sled. If you're working on syllables, then say a word and have the child place one snowball for each syllable in the word. If you need a list of words to call out, use our Counting Syllables worksheet.
If you're working on counting phonemes (sounds in words), then call out a word and have the child place one snowball for each phoneme they hear in the word. Remember, digraphs are one phoneme (For example: /sh/ makes one sound).
6. Alphabetical Order
Mix up the snowballs. In a large area, have children spread out the snowballs and try to race to place them in alphabetical order!
If you practice this over and over, use a timer to challenge kids to beat the clock and beat their previous time. Engage all of the kids senses with this activity and have them sing the ABC's as they place them in order! This will surely increase their time as well and help solidify those tricky letters that sometimes get muddled up together (l, m, n, o, p).
Download & Print
We'd love to hear about your experience using our printables!
Please leave a comment below or tag us on Instagram @literacylearn.
DOWNLOAD TERMS: All resources and printables are designed for personal use only. Each person must visit this site and download their own copy for use.
*Do not: Share or reproduce our printables on the web, upload to a shared drive, email the file, or make photocopies for anyone outside your own home or classroom.
*Please do: Share with others by distributing the link to the blog post or by using the social share links provided. This allows us to keep making free resources for everyone! If you have any questions, please email us. Thank you!