First 100 High Frequency Words – List & Flashcards
This post may contain affiliate links. Please see our disclosure policy.
A printable list that includes the first 100 high frequency words for young learners and flashcards for additional practice. The words are taken from Fry's list. They're organized into four sets of 25 and listed alphabetically, to make keeping track of words a little simpler!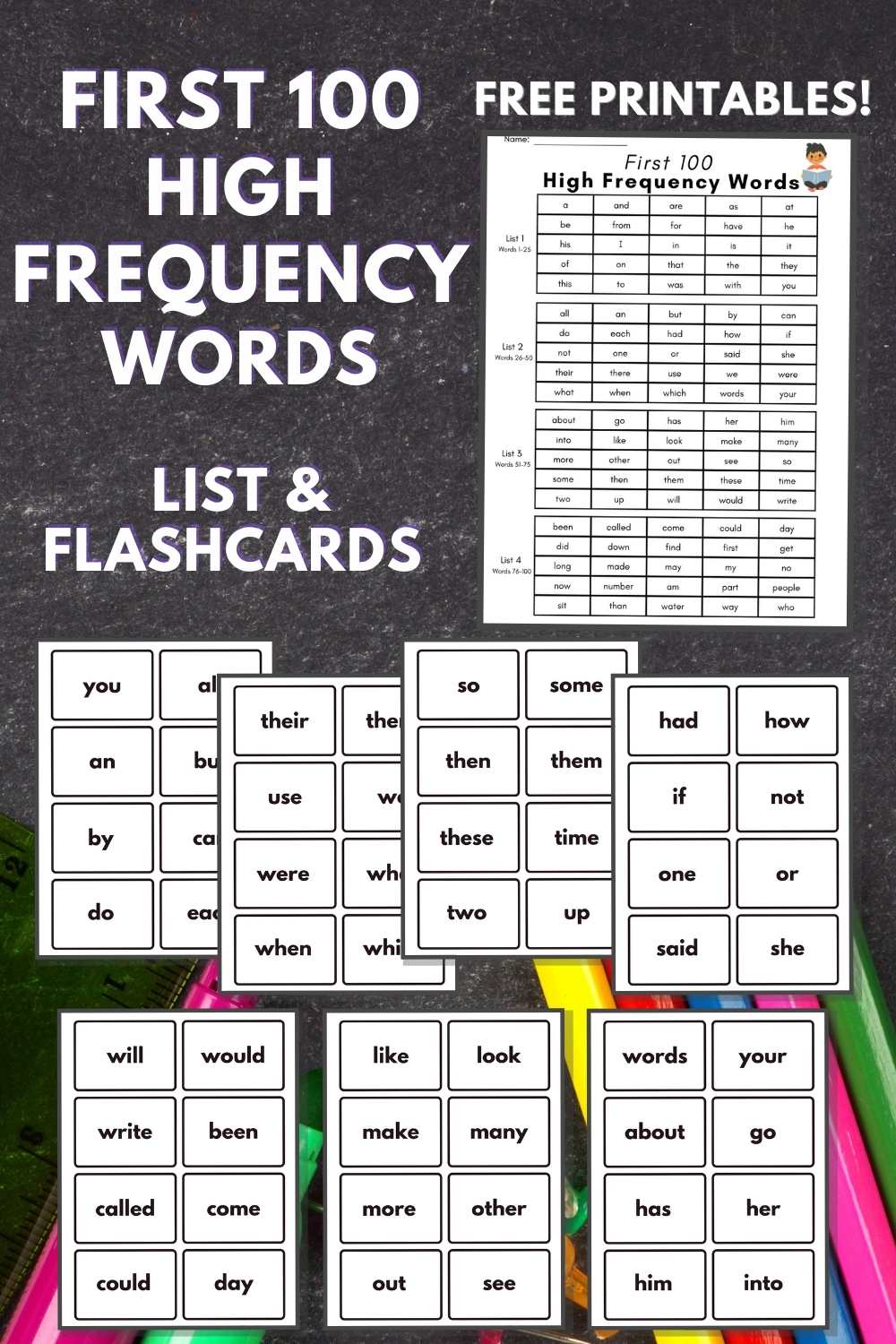 What are High Frequency Words?
Our list uses the first 100 words from Fry's High Frequency Word list. They're organized into four sets of 25 words, listed in alphabetical order. Why? Well, it makes the list less overwhelming for kids and more user-friendly for parents and teachers.
But first things first. What are high frequency words?
👉 High frequency words are the words that we see come up most often when reading English texts; Basically, they're the words used in highest frequency.
They include words from all parts of speech, and young readers need to practice and study these words in order to make reading books and understanding other texts easier.
About 75% of high-frequency words (also referred to as "HFW") are actually decodable, and should be taught as such. The other 25% of words include irregular spelling patterns and require explicit teaching. Using the heart word method to teach irregular words is scientifically based and most effective.
Of course, high frequency words and irregular words are important for children to learn to improve reading and spelling, but teachers are then tasked with figuring out which words to teach to beginning readers first.
But worry not! That's why go-to lists combining the most frequently used words (called Fry and Dolch) have been developed.
Using the Word List and Flashcards
Use the list as a study guide for children or to check words they already know or don't know. I staple it to the inside of my students' reading folders and assign at home tasks.
We spend time mastering each list of high frequency words with lots of explicit practice and repetition. We use them in sentences, recite fun poems, write and rewrite the words, play spelling games, and more.
And when they master the one list, we move on to the next. It works great! Kids love the sense of accomplishment they feel when they get to move on to the next set of words!
The flashcards are great for self-studying, group activities, playing games, homework practice, and more.
As a teacher, having the list organized in alphabetical order helps me tremendously when trying to quickly check the words that my students have mastered. It also tells me which ones they still need to work on. I use the flashcards to test the kids, and then use the one-page list to mark the words they know and don't know. This makes collecting data super easy!
Fry Words vs. Dolch Words
Teaching phonics rules rather than just memorizing words helps our students to read more than just the words on this list. It enables them to apply those rules to read other words that follow similar spelling patterns! When you're a reading teacher, this is the goal!
In general, most lists for high-frequency words come from either the Fry or Dolch lists. Both are lists compiled of high-frequency words. The Dolch list includes 220 words and is organized by grade level and frequency. The Fry list was created as a more extensive list of 1000 words organized in groups of 100, in order of occurrence.
Both lists are completely appropriate for young learners, but Fry's is considered a little more up to date and includes words young learners will see more today. Both are great to use and in fact, include many of the same words!
So whichever list you prefer, the most important thing is to be consistent with your instruction and to teach these words in conjunction with your phonics instruction, if possible.
Related Posts
Download the Printables
TERMS: All resources and printables are designed for personal use only in your own home and classroom. Each educator must visit this site and download their own free copy. Please do not photocopy, email, or reproduce our printable resources for other teachers, and please do not reproduce our printables on the web or save them to a shared drive for others to access. Instead, share the resources with others by sharing the link to the blog post itself or by using the social share links provided. This allows us to keep making free resources for everyone! If you have any questions, please email us. Please see our Creative Credits page for information regarding the licensed ClipArt used in our resources. Thank you!