Dyslexia Therapy: Lexercise's Online Help for Struggling Readers
This post may contain affiliate links. As an Amazon affiliate, we earn from qualifying purchases. See our disclosure policy.
Looking for convenient, affordable, and science-backed Orton Gillingham dyslexia therapy? Look no further! Check out our honest review of Lexercise's IDA accredited online structured literacy therapy. They've helped tons of kids reach their full potential!
This post is sponsored by Lexercise. All opinions are our own!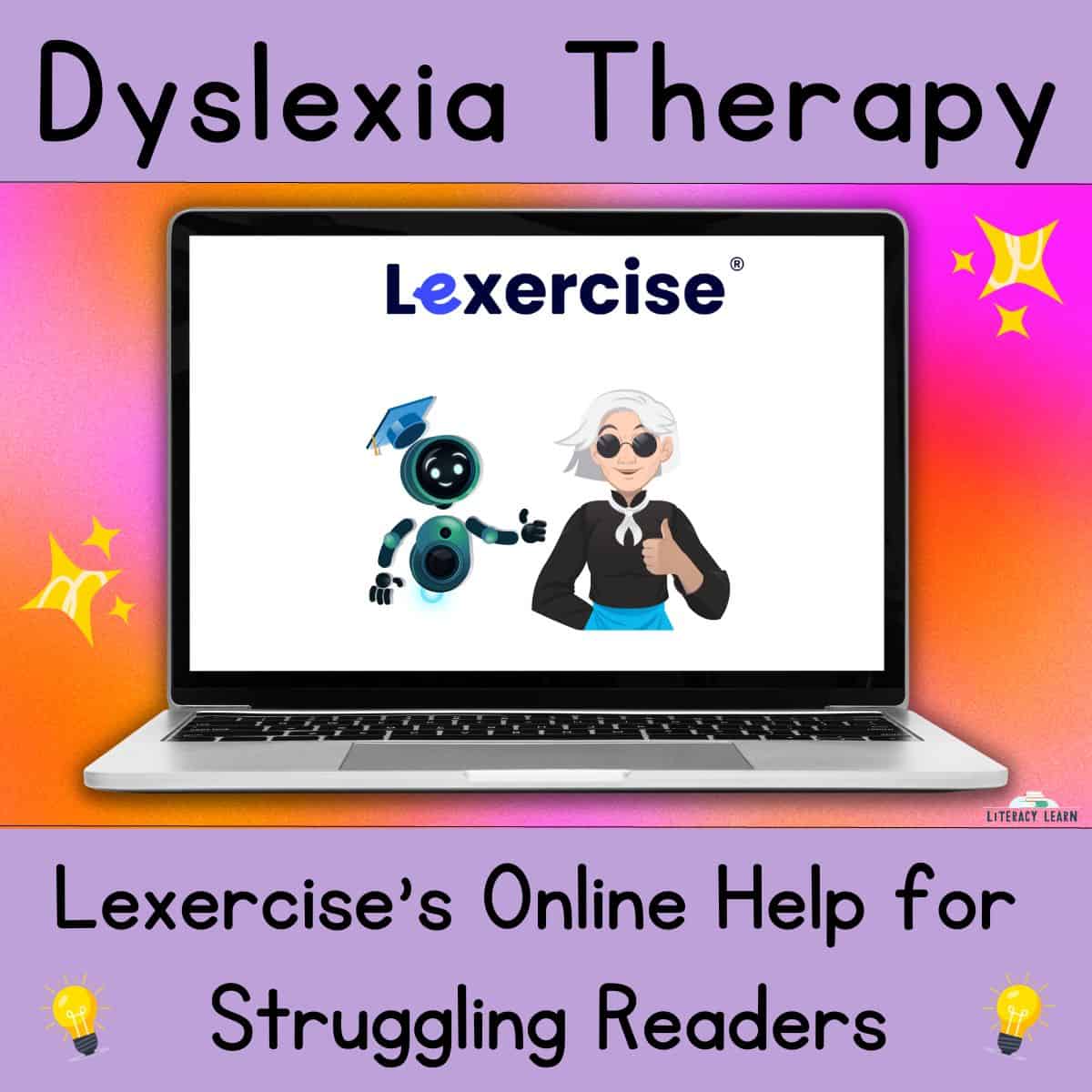 Why It's Important to Me
I'd always heard the saying, "A parent can only be as happy as their unhappiest child," but it never really hit home until I became a mother to a child with a learning disability.
I've been a teacher for over a decade, and watching children struggle in school is always really tough. But with my own child, it was a different, more emotionally charged experience. I was overwhelmed and frustrated, trying to make sense of all the conflicting ideas and opinions out there and wanting so badly to help him.
Things finally started to change for him when he started a Structured Literacy program. When he began receiving explicit, systematic, and multi-sensory instruction with lots of repetition and exposures to concepts, he began to flourish!
It completely transformed my son's school journey and my teaching approach. So, now I'm on a mission to spread the word about structured literacy and the Orton Gillingham methodology!
📢 That's why I'm here to tell you all about Lexercise's fantastic therapy options. They've helped over 300,000 kids who struggle with reading, writing, and spelling.
👉 And right now you can get 40% off Basic Therapy with code: LEARN.
Where to Start
If you're feeling overwhelmed by the many options out there, my suggestion is to start with Lexercise. These are a few of the wonderful resources and options they offer:
Why We Love It
There are two therapy options available – Basic Therapy and Professional Therapy. My son participated in Basic Therapy, so I will speak mostly to this option.
Perks of Basic Therapy
Super convenient: Therapy is done on your own schedule! Parents get to determine the days and times that work best for them.
Engaging & fun: My son is motivated to do his weekly lessons. He loves that the practice is formatted like a game. Points are earned, levels are unlocked, and learning is made fun! This is super important because struggling readers are usually discouraged and wind up feeling defeated by their lack of success.
Research done with dyslexic students shows that gamifying instruction helps keep them engaged and motivated in learning.
All materials included: Everything is organized in one dashboard. This clearly outlines what tasks have been completed and what needs to be done. TONS of optional activities are included too, so if your child needs extra practice, it's all right there at your fingertips! It was easy to see the progress for each lesson and game, and easy to find the extra activities. My son navigated the dashboard on his own to get his therapy done and review his progress.
Scripts for parents: I really like the resources for parents. Each activity includes a script to help parents guide their children through the activities and make sure they're being done with fidelity.
Totally manageable: Between sports, homework, band practice, and everything else, I was worried we might not have the time to dedicate to therapy. But I was so pleased to realize that therapy was easy to fit into our busy schedule.
Plan to spend about 45 minutes per week with your child for the lesson when a new concept is taught. Then kids independently practice the skills 4x per week for about 15 minutes at a time. Easy peasy!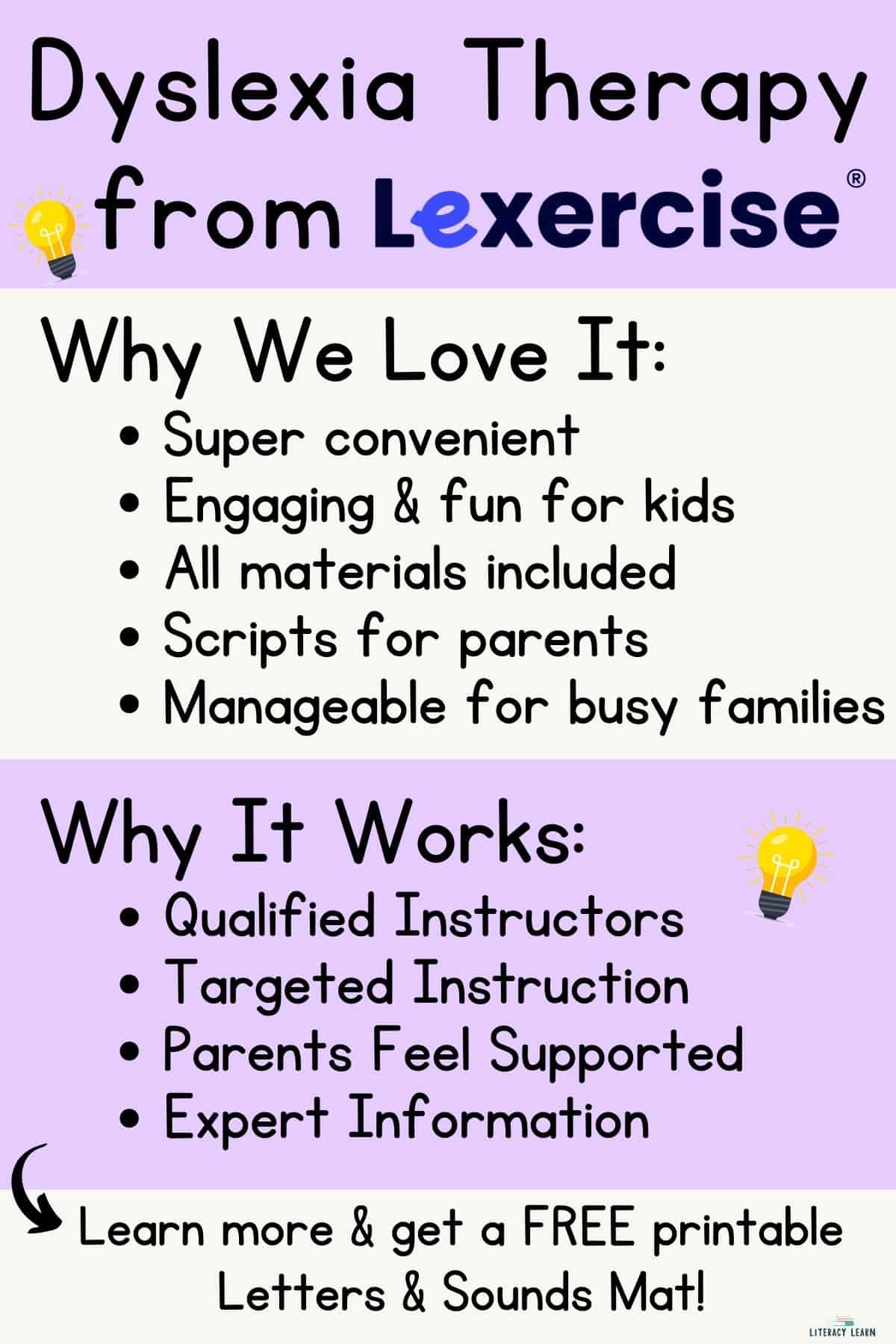 Why It Works
Qualified Instructors
Within one hour of completing the initial paperwork (which only took 30 minutes), I was contacted by my son's assigned instructor. She had thoroughly assessed the questionnaire and provided additional options for assessment at no cost based on the deficits I indicated on the questionnaire.
Based on the pre-assessments, she placed my son in the 'just right' level of basic therapy. This allowed him to get right to work on the skills he really needed to master.
I appreciated that the instructor was highly qualified, knowledgeable and helpful every step of the way. It was super easy to contact her, and she would send check-in emails to see how things were going and clarify any information or questions I had.
Targeted Instruction
Each new lesson included every element of a structured literacy lesson to explicitly teach a new concept, with review concepts included too!
Sounds and Letters: Lessons targeted various elements of phonological awareness. This is also the portion where they introduce speech sounds (phonemes), how they're formed in the mouth, and how they're spelled (graphemes). This is the perfect connection if you're using a sound wall as a scaffold.
Decoding and Encoding: They did an excellent job explaining why words were pronounced and spelled the way they are.
Syllable division: Kids are taught syllabication as they break apart long words into chunks, making words easier to read with accuracy.
Sight Words: They introduce irregular words using research-backed procedures, like orthographic mapping. They also take time to explain the etymology (origin) of the word, to help explain and make sense of the irregular spellings.
Morphology: Discussion is given to word parts and their meanings, including prefixes, base words, and suffixes. Morphology is taught using word sums to clearly separate each morpheme (smallest unit of meaning).
Spelling Rules: Spelling rules are explicitly taught and reviewed when target words present spelling rules.
Vocabulary: In all parts of the lesson, words are used in context and explained in detail. Definition building is explicitly taught as a research-based strategy for expanding vocabulary. Kids learn to categorize words, provide details about words, and then connect them to an image to help them remember and recall.
Sentence reading: Sentences that support the new concepts are included to build reading fluency. Specific punctuation is included to help kids work on expression.
Comprehension: Kids read sentences and use visualization to support understanding and memory.
Sentence Writing: This portion focuses on building writing confidence through dictation. Kids listen to sentences and see connected images. Then, they write the sentence and get points for conventions, grammar, and spelling.
Parents Feel Supported
I loved that everything is provided for parents. Training videos are included so that parents are prepared and understand the concepts themselves before going through the lesson with their child. This goes over all new concepts and explains it in easy-to-understand terms.
I also loved the parent account. I'd get email updates letting me know when my son had finished his practice sessions for the day.
This helped me monitor his progress and see the scores he was earning. I'd also get a link that would lead me to the 'missed' portions of his independent practice, so that I could review the information with my child.
Expert Information
Everything in therapy aligned perfectly with the information I've been taught in my various OG trainings. In fact, I actually learned some new things through participating in my son's 5th-grade tutoring.
The therapy includes lots of expert terms or academic language, and my son loves showing off what he's learned. He feels confident using specific terms, and I think it actually makes him feel like an expert.
Just the other day, while working on his homework, he asked why a word had the /uh/ sound, then interrupted himself and said, "Oh, that's because it's a schwa!"
Conclusion
With so many options out there, we hope this information helped you get a basic feel for what Lexercise offers and the help that is available for your child.
So if you're looking for testing or treatment for your struggling child, check out Lexercise. You can visit their site to read other testimonials and review their policy that guarantees satisfaction with their services.
👉 Don't forget! You can get 40% off Basic Therapy with code: LEARN.
We are here to help too! So please feel free to comment below or email us with your questions and comments.
🖨️ Bonus Free Printable Resource
I was so inspired by the Lexercise therapy that I created an engaging "Sounds and Letters" mat for you to use with your child.
Children can use this resource to practice an essential skill: identifying speech sounds in words and connecting them to their corresponding letters.
Use it like this:
Parents or teachers will dictate a word with the featured phonics skill they've taught.
Children place their hand on top of the robot hand, then tap and say each speech sound, starting with their thumb.
Kids then write the speech sound on each line above the fingers.
Finally, kids rewrite the whole word on the rewrite line.
Through this intentional practice of phoneme-grapheme mapping, the brain learns to store words for instant retrieval, turning them into 'sight words.' It also helps students develop their spelling skills!
This multisensory activity makes the learning hands-on, engaging, and tactile. Get the FREE printable below!
We love hearing from you!
Please leave a comment below or tag us on Instagram @literacylearn and @_lexercise!
DOWNLOAD TERMS: All of our resources and printables are designed for personal use only in homes and classrooms. Each teacher must download his or her own copy. Please do not save to a shared drive, reproduce our resources on the web, or make photocopies for anyone besides your own students. To share with others, please use the social share links provided or distribute the link to the blog post so others can download their own copies. Your support in this allows us to keep making free resources for everyone! Please see our Creative Credits page for information about the licensed clipart we use. If you have any questions or concerns regarding our terms, please email us. Thank you!