Professional Training in Science of Reading: Lexercise Review
This post may contain affiliate links. As an Amazon affiliate, we earn from qualifying purchases. See our disclosure policy.
An honest review of the professional development Orton Gillingham/Science of Reading training from Lexercise. You'll also get 13 FREE printable sound sorts inspired by the coursework!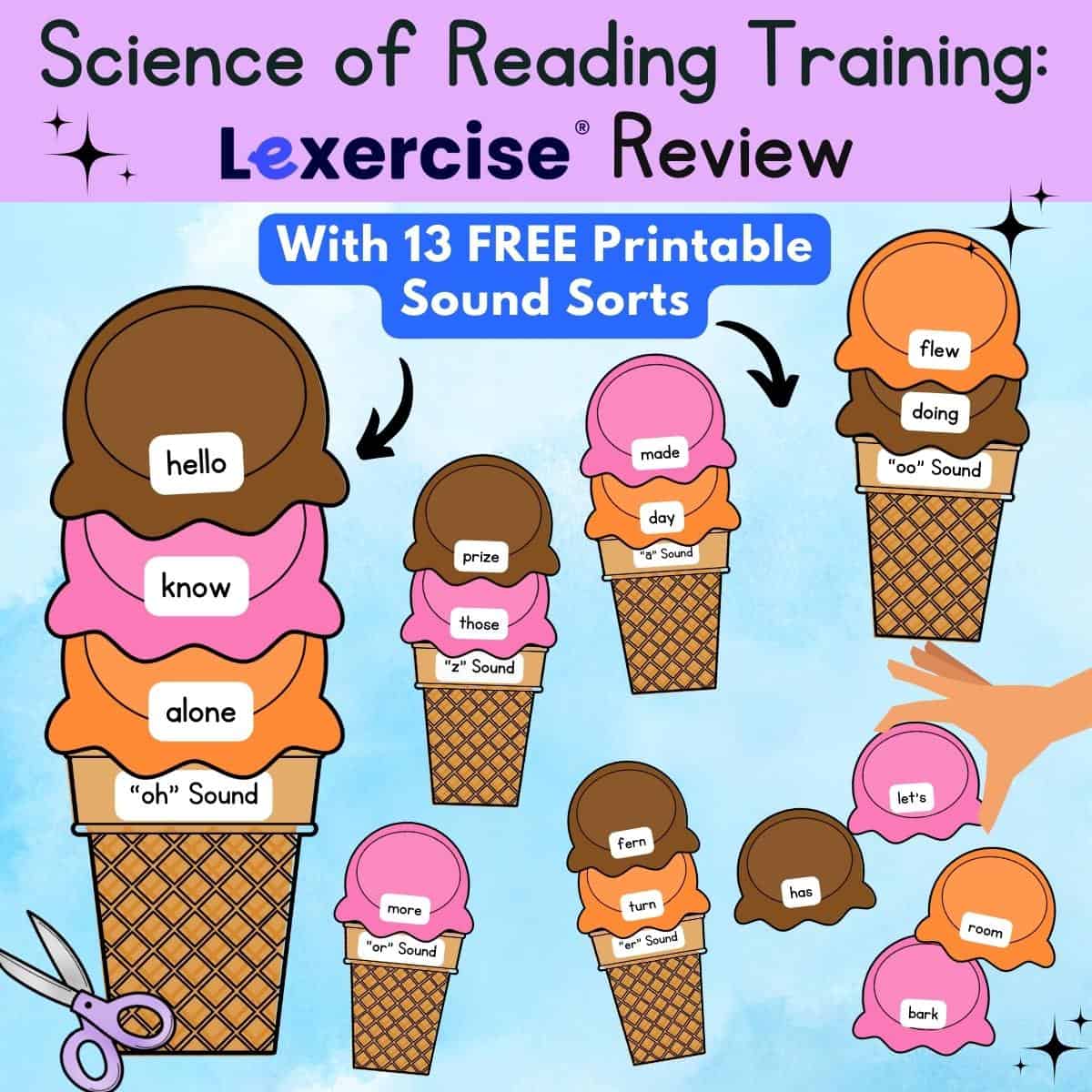 This post is sponsored by Lexercise. All opinions are our own!
Why We Love It
There are a lot of Orton Gillingham/Structured Literacy training and certification options, and we are thrilled to have been able to participate in Lexercise's Professional Development Course 1: The Structure of Written English.
We learned so much from the course, and we're excited to share our honest experience with you! Here's what we enjoyed and appreciated most:
Research-based information & best practices: This course is packed with comprehensive information compiled by respected leaders in the field. They also provide tons of optional and free supplemental materials to further your education that we loved!
Convenient online platform: The coursework is presented in an easy-to-follow format that allows you to work at your own pace! As busy professionals and parents, that is HUGE! The self-paced course totally prevents information overload as you have time to both process and absorb information and practice concepts before moving on.
Affordable professional development: We think the price point is fantastic for teachers and parents on a budget, and it's more affordable than a lot of other training options we've seen. You can even bundle the first two courses and save $100!
IDA Accredited (International Dyslexia Association): You can trust that the information you're getting has met the official standards of the IDA.
Supportive community: You get access to an open Q&A forum as well as email support from the course instructor. This is so helpful when you need a little extra clarity or have something specific you'd like to review.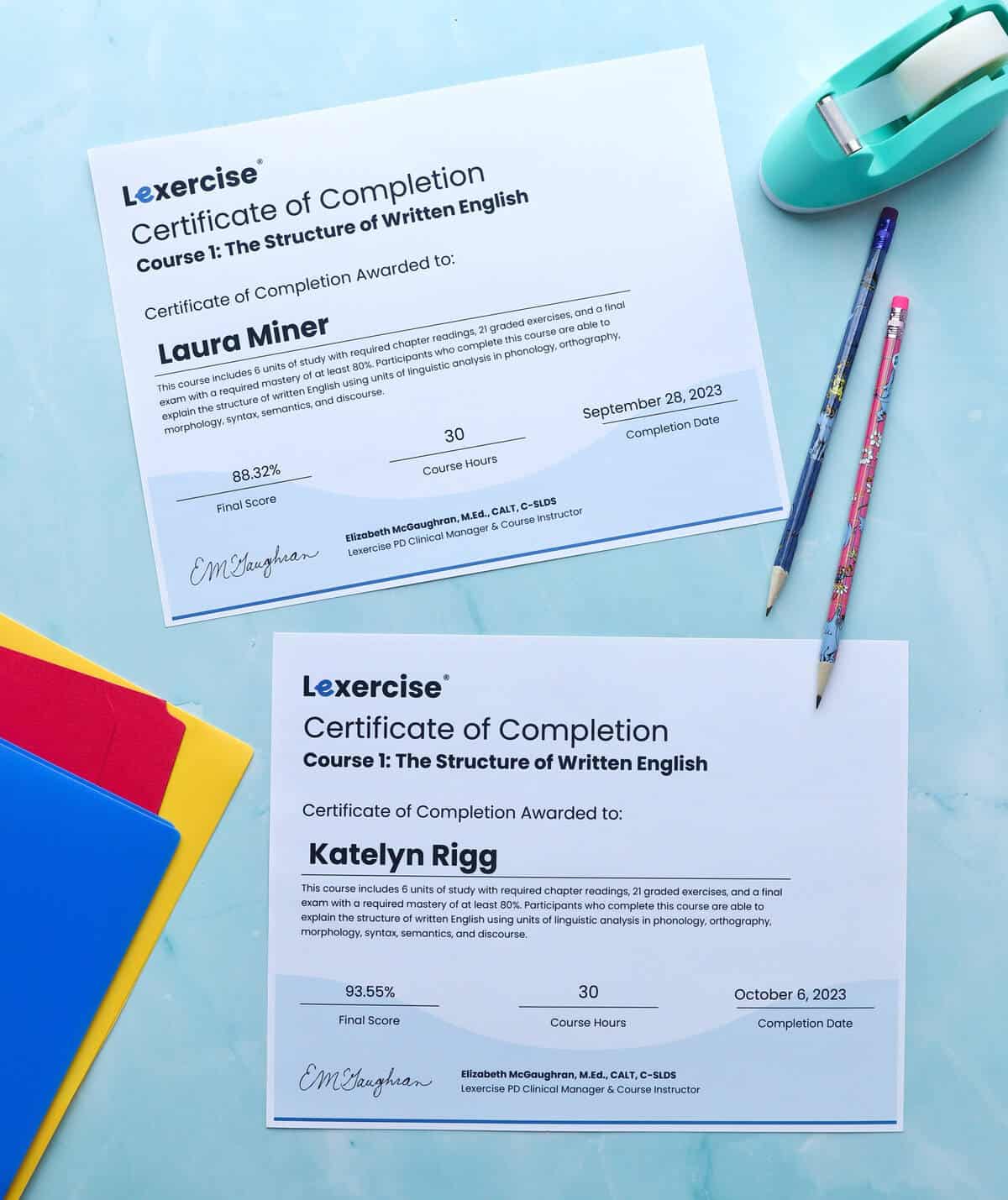 Who Is It For?
Teachers & Admins. If you're a classroom teacher, reading specialist, administrator, or anyone in the education field who's interested in learning more about Structured Literacy, these professional development courses are a great choice. They can be used for ASHA CEU credit!
Parents and Supportive Adults. If you want to support your child with research-backed information, best practices, and multisensory approaches, this course is for you, too!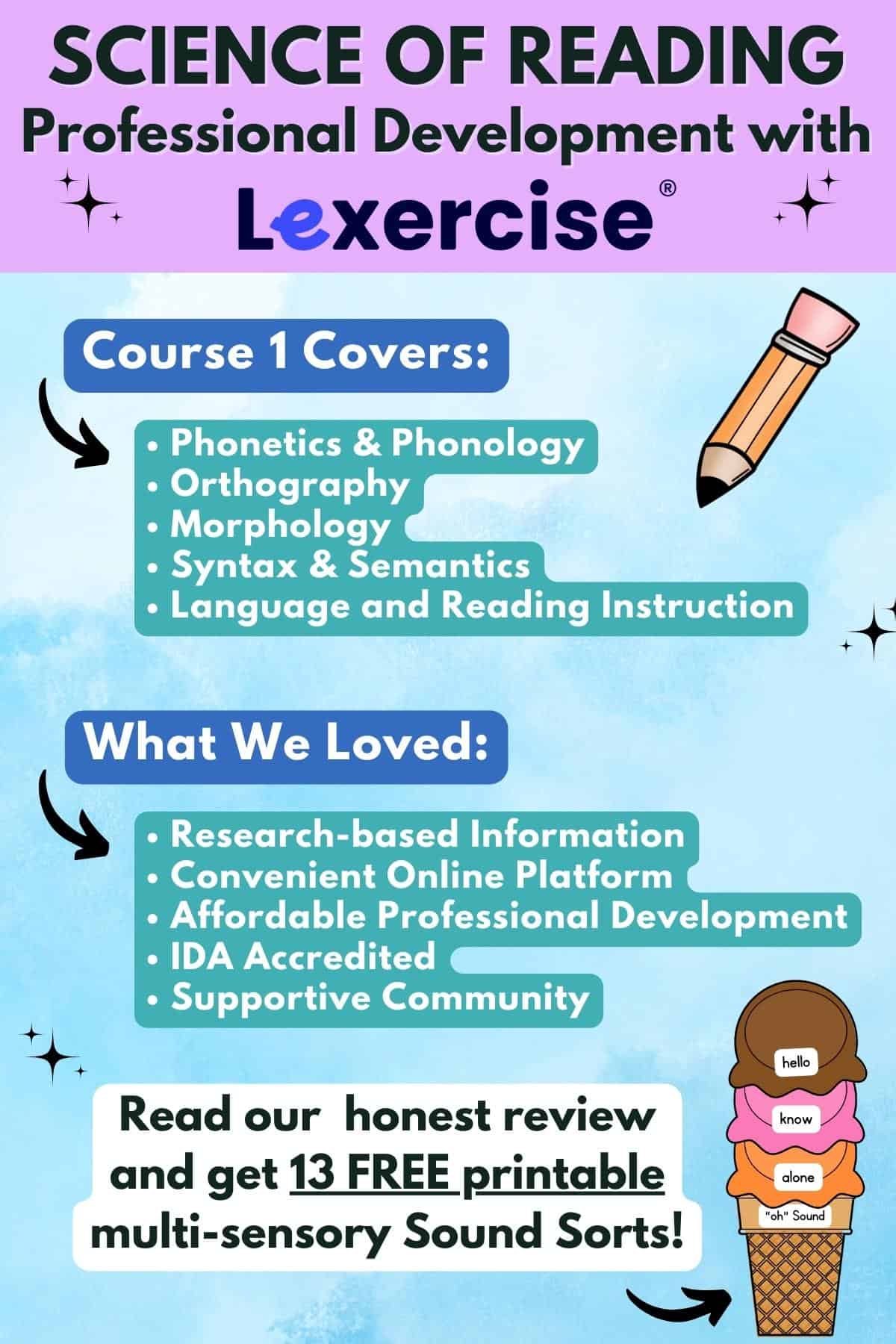 Lexercise's Professional Development Courses
Course 1: The Structure of Written English
This is a 30 hour course with modules on Phonetics & Phonology, Orthography, Morphology, Syntax & Semantics, and Language and Reading Instruction.
It covers the "what," explaining in depth all the research-backed knowledge and information you need in order to help struggling readers and writers.
You start with a self-assessment to help you understand your current knowledge of language structure. This is super important so that you can begin your studies with an accurate understanding of any gaps in your knowledge. Once that's done, you move on to the coursework.
Every unit has a pre-recorded video with informational graphics that help explain the concepts. It includes real life examples and compiles research into concise, easy to follow points that just make sense to real people!
At the end of every unit, there are short quizzes to test your knowledge (and you can repeat the tests if needed so they're low pressure!). We found the quizzes really helpful to ensure we didn't miss or misunderstand any important or tricky concepts.
And once you finish all 7 modules, there's a comprehensive final exam. You get a certificate of completion when you're finished, too!
After participating in Course 1, we can honestly say we 100% recommend this training to others. We gained so much important information and knowledge that will help us effectively work with diverse learners!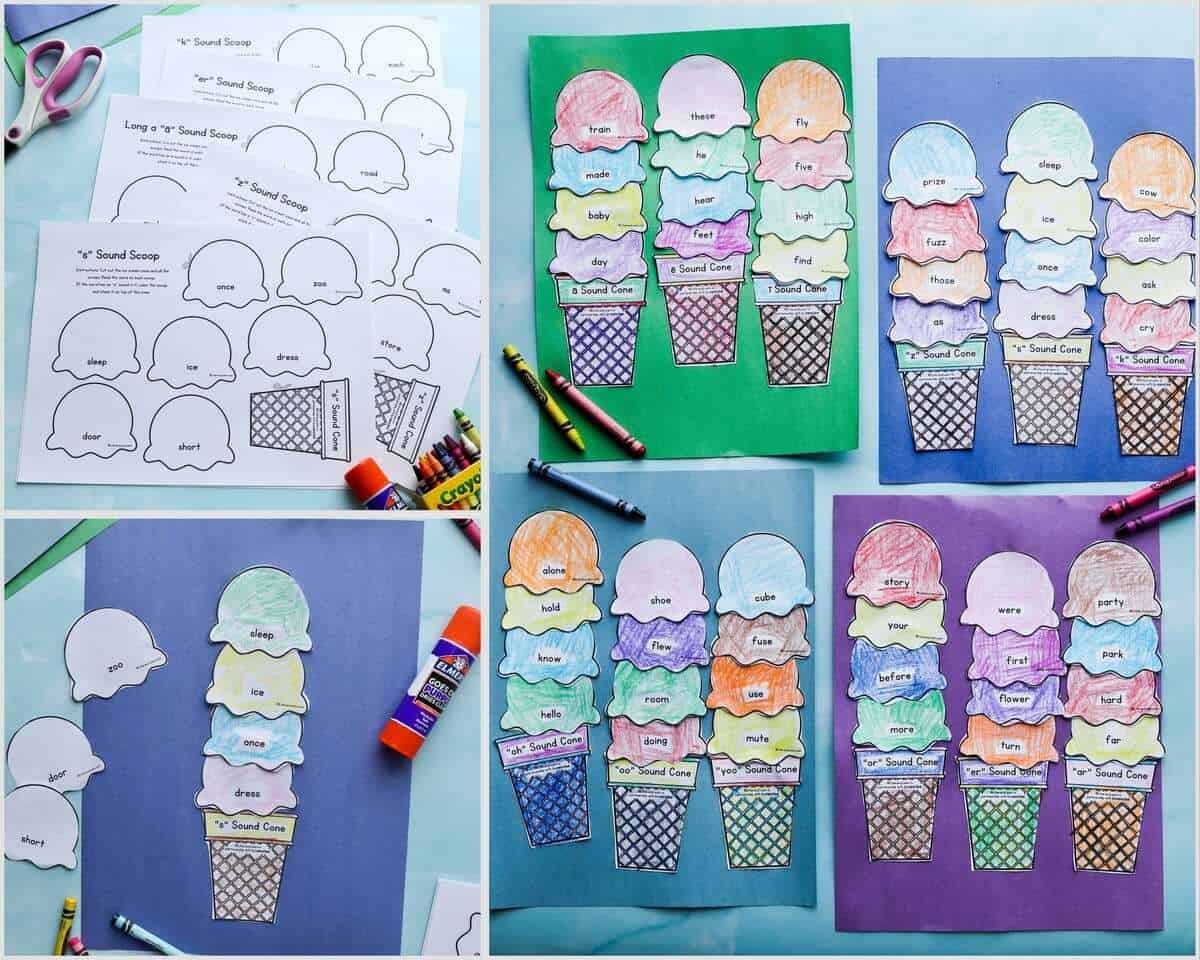 👉  BONUS FREE RESOURCE: We were so inspired by the materials in this course (specifically in the Phonetics & Phonology and Orthography units!) that we created an engaging activity for you to use with your students!
As you teach letters and sounds, students can use this resource to practice an essential, foundational decoding skill: identifying written words that contain a specific speech sound.
This multi-sensory activity has students identifying different sounds in words, then sorting them into fun ice cream cones! Get all 13 printables FREE at the bottom of this post!
Course 2: Multisensory Structured Literacy Intervention
The second course covers the "how." You'll learn to put your knowledge to use in real life and apply methods of instructing young students developing their reading, spelling, and writing skills.
About ¼ – ⅓ of students in the USA are struggling readers! By using the research-backed methods taught in this course, it's estimated that about 90% of struggling readers in elementary schools can be taught to read proficiently. As an educator, this is one of the most encouraging pieces of information I've heard!
Course 3: Practicum in Structured Literacy Therapy
If you want to go even further in your education and training, you can apply for Lexercise's Practicum. This is a much more intensive commitment, and completion would allow you to work as a Lexercise therapist and qualify you to apply for CERI's SLDS certification.
Courses 1 and 2 are prerequisites to the practicum, but it's possible to test out of them if you've already mastered the coursework.
👉 Head over to Lexercise to learn more and register for the courses!
Download & Print
We hope you enjoy this Sound Scoop resource! We'd love to hear about your experience using it with your students! Please leave a comment below or tag us on Instagram @literacylearn and @_lexercise!
DOWNLOAD TERMS: All of our resources and printables are designed for personal use only in homes and classrooms. Each teacher must download his or her own copy. To share with others, please use the social share links provided or distribute the link to the blog post so others can download their own copies. Please do not save to a shared drive, reproduce our resources on the web, or make photocopies for anyone besides your own students. Your support in this allows us to keep making free resources for everyone! Please see our Creative Credits page for information about the licensed clipart we use. If you have any questions or concerns regarding our terms, please email us. Thank you!