Orton-Gillingham Training: The BEST Options in 2023
This post may contain affiliate links. Please see our disclosure policy.
If you're considering getting trained or certified in Orton-Gillingham methodology or Structured Literacy, then this is the post to read. We'll explore what you'll need to consider for Orton-Gillingham training or certification, explaining the differences between programs and the best options out there!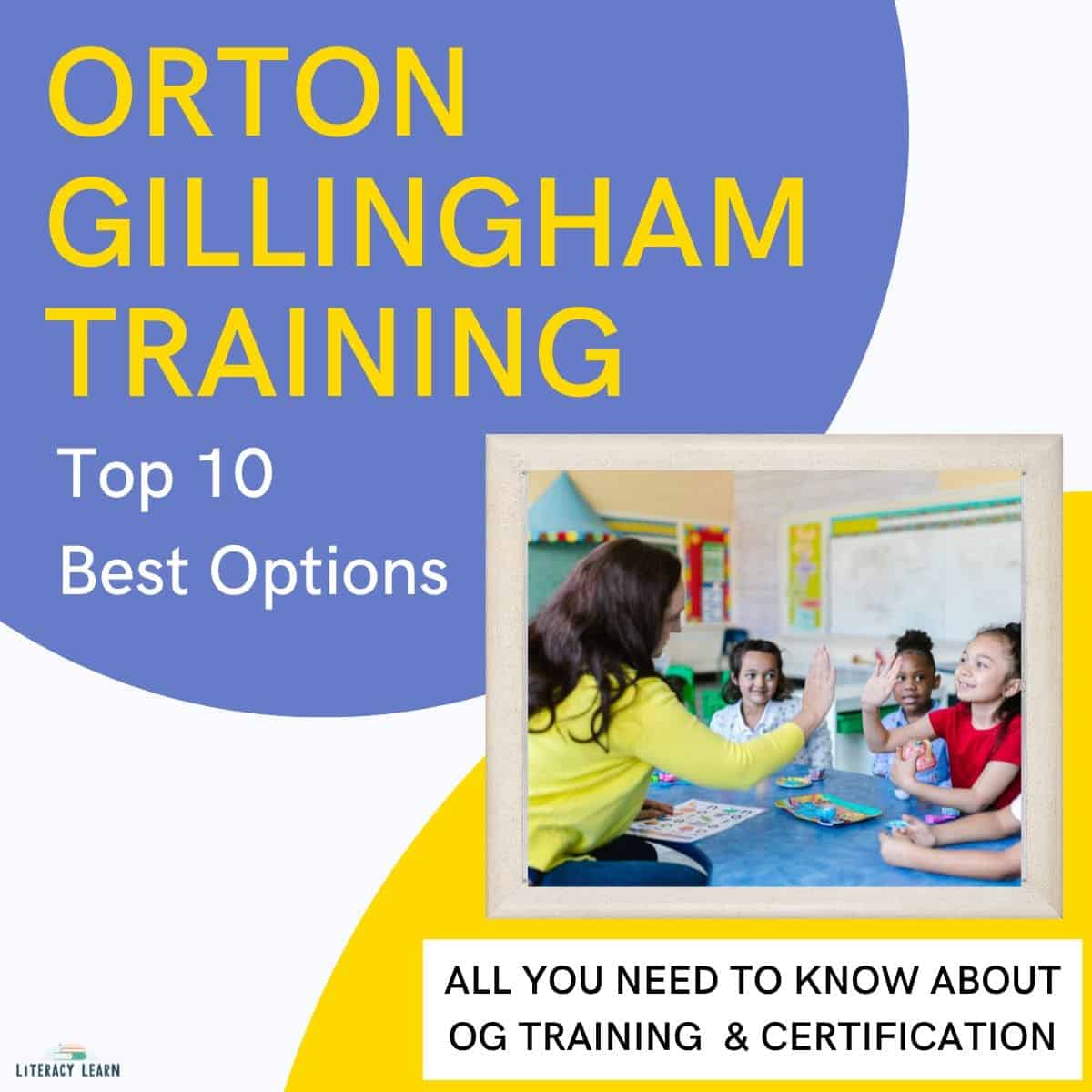 🤷‍♀️ What is Orton Gillingham?
✏️ Orton Gillingham is not a program, but a methodology focused on structured literacy instruction that is direct, sequential, and multisensory.

✏️ This approach is over 100 years old and highly effective to teach ALL learners, including those with reading disabilities and dyslexia.
Structured literacy focused on the Science of Reading is the key to ensuring that ALL children are literate. Whether you're a parent or teacher, educating yourself in best practices is necessary to help your child or your students.
Decades of research show that structured, multisensory education is what is best to help all students be successful readers.
And many programs are now offered to ensure that you can be trained to teach in accordance with these practices.
But with so many programs out there, it can be quite confusing to figure out what is best. So we're making it easy to understand so you can be informed before choosing the best option that fits your needs!
👩‍🏫 OG Training or Certification: What's the Difference?
There are very different levels of requirements and depth of knowledge involved in whether you 'have training' or are 'certified' in the Orton-Gillingham (OG) approach.
OG training introduces the concepts of the OG method to participants. Training usually provides an overview of the approach and includes the basic knowledge to implement best practices with your students.
OG certification will make you an expert. You will understand the theory and methods in a deep and informative way. Through coursework and supervised practicums, you will develop mastery and can work to gain various certifications, including CERI certification.
👌 Which Option is Best For You?
In order to determine which option is best, you'll need to consider your future goals and reasons for wanting to pursue training or certification.
OG Training is best for parents, classroom teachers, and other professionals wanting to learn more about structured literacy.
OG training will provide you with a great introduction to structured literacy using a multisensory approach. You will have the basic knowledge to implement best practices and advocate for your children/students.
OG Certification is best for teachers, tutors, and other professionals who want to become experts in the field of structured literacy.
This includes classroom teachers, those who want to pursue private tutoring opportunities, jobs in administration or at the division level, or those looking to become dyslexia interventionists.
But no matter what option you choose, it will be a significant commitment. But it will be worth it to help ensure you have the knowledge and tools to teach structured literacy effectively.
🔟 Top 10 BEST Options for OG Certification
Below is a comprehensive list of independent options that are approved and accredited by the International Dyslexia Association (IDA) and the Center for Effective Reading Instruction (CERI).
The list below includes partner programs that allow participants to become certified as Structured Literacy Dyslexia Interventionists (C-SLDI) or Structured Literacy Dyslexia Specialists (C-SLDS).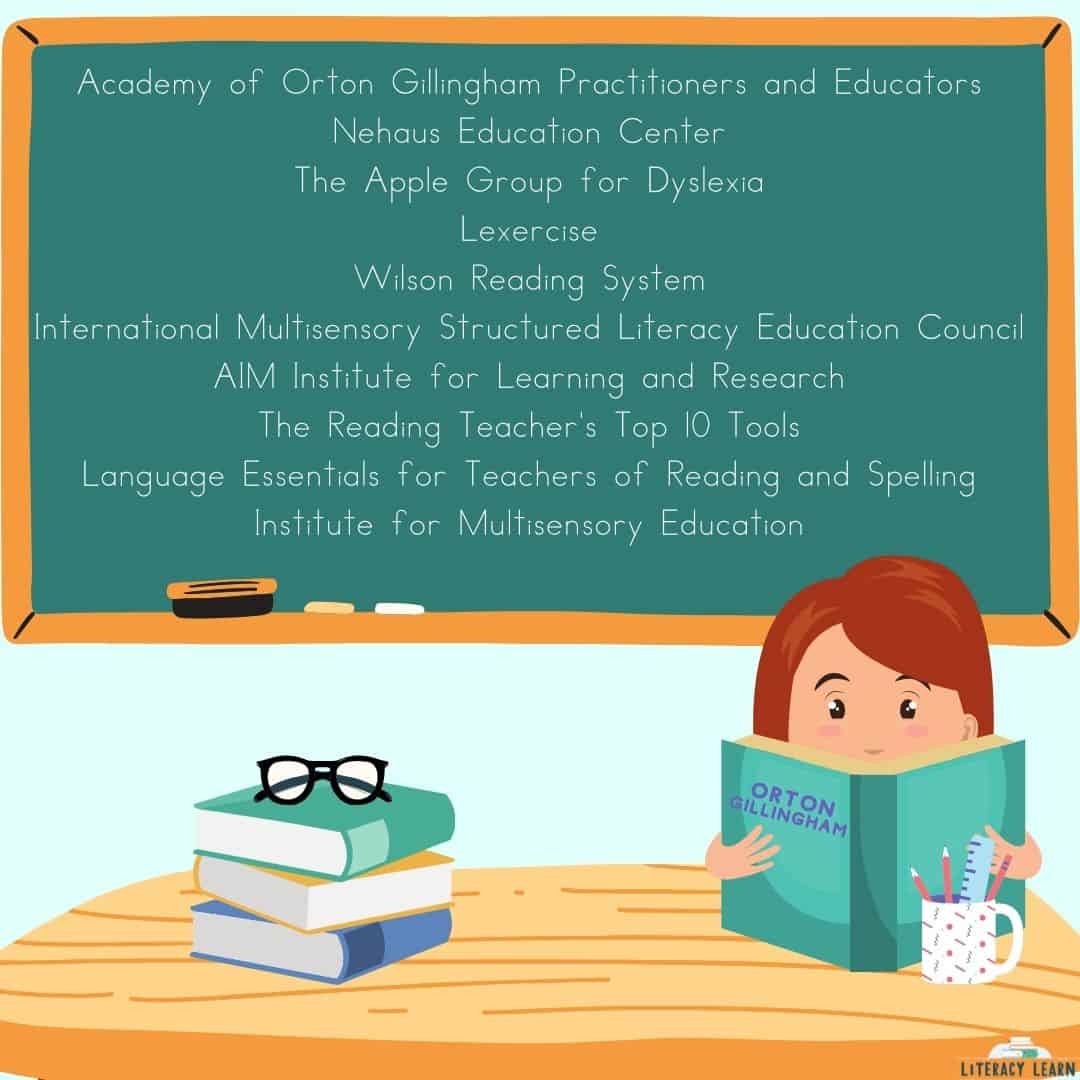 There are other training options out there, but we have only listed the options with credentials through the IDA and their affiliate partner CERI. These programs have been vetted to ensure knowledge and practice that align with Knowledge and Practice Standards (KPS).
*Those with an asterisk indicate that these programs have earned IDA AccreditationPlus. This means these programs "have received IDA accreditation and also produce educators who have engaged in intensive supervised practicum experiences that were sufficiently designed and staffed to promote applied mastery of the principles and practices of structured literacy in the service of preventing reading failure and remediating off-track readers with profiles characteristic of dyslexia."
👉 Options 1-5 OGA, WRS, NEC, The Apple Groups, and Lexercise offer options of passing the KPEERI exam to earn the title of Structured Literacy Dyslexia Specialists (C-SLDS).
👉 Options 6-10 IMSLEC, AIM Pathways, Top10Tools, LETRS, and IMSE offer options of passing the KPEERI exam to earn the title of Certified Structured Literacy Dyslexia Interventionist (C-SLDI).
🙌🏾 FREE OG Training Option
If you're just learning about structured literacy and haven't done any training yet, we suggest Really Great Reading.
They provide FREE virtual training with a great overview of the Science of Reading. They also include tons of free resources, webinars and PDs, and lesson plans.
And another plus is that they don't spam your email trying to sell products. They're really in it to inform parents and educators and provide tools for struggling readers!
REED Charitable Foundation offers free monthly webinars on the second Monday of each month under their "Teacher's University." Each month they review best practices and strategies that align with the OG method.
❓ FAQ
How long does Orton-Gillingham training take?
It depends on the program and level of training you receive. Some basic level trainings can be only a few hours. Other intensive trainings can be anywhere from 30 to 100+ hours. Practicums and other supervised experiences can add a significant amount of time as well.
Is Orton-Gillingham training or certification worth it?
Yes! Keep these words in mind: What doesn't challenge you, doesn't change you. OG training will ultimately make you a more informed and educated teacher, ensuring that you are implementing research-based practices in your classroom.
And remember who will benefit most- the many precious children who you will teach over the years! Even if you only help ONE child become literate, you are forever changing a life.
What is involved in Orton-Gillingham certification?
The work is intense and requires a considerable amount of time. Not only is coursework involved, but supervised practicums and certain tests are required for certification.
How much does Orton-Gillingham training cost?
It varies from program to program. It can cost anywhere from a few hundred dollars to a few thousand dollars.
👍 Tip: Look for funding, grants, and training scholarships. Many are available through your school district, your state's department of education, or other in-house scholarship offerings. I have had three trainings paid for myself (IMSE and AOGPE), so the opportunities are out there!
If I'm just learning about Structured Literacy, where should I start?
One of the best ways to learn about structured literacy is through the Facebook group The Science of Reading: What I Should Have Learning in College. It's a fabulous group with tons of resources. You'll find 160,000+ parents and educators who are all on their journey to learn and share about the Science of Reading. I highly recommend joining it ASAP!
Conclusion
We are encouraged by the many educators who, like us, are on this journey to expand their knowledge base to grow into the best educators possible.
Ultimately, understanding the Science of Reading and teaching in accordance with research-based practices will help ensure all students become literate.
With so many options (and acronyms) out there, we hope this information helped you understand the options for Orton-Gillingham training and certification. We suggest taking this list and using it as a springboard as you research the best option for you!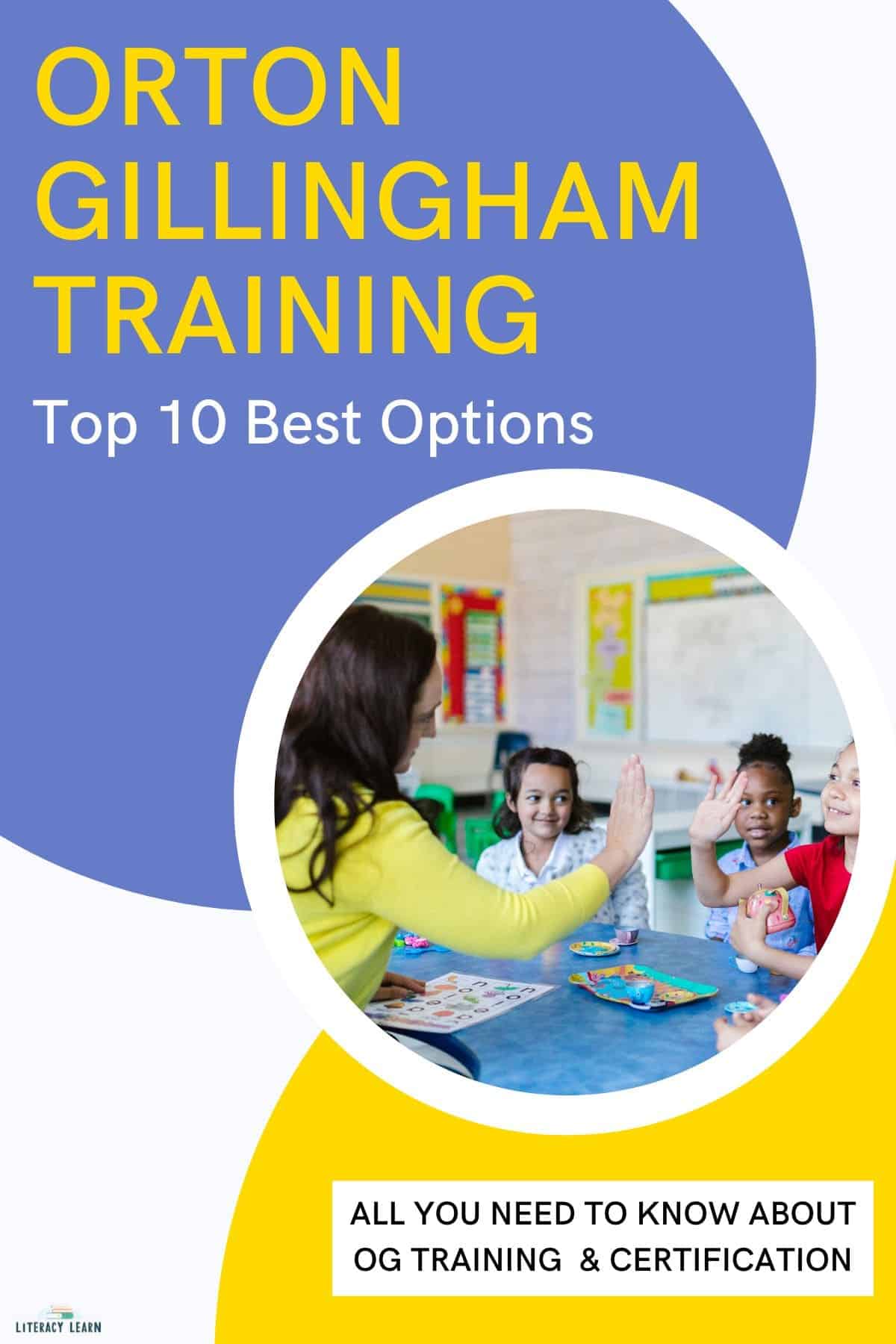 Related Posts & Info