Orthographic Mapping Worksheets: Free Printables
This post may contain affiliate links. As an Amazon affiliate, we earn from qualifying purchases. See our disclosure policy.
Get 4 FREE spelling worksheets sheets that are perfect for orthographic mapping. The best part is that they are reusable and easily adaptable for the phonics concepts you're teaching! Use them to map words with 3, 4, and 5 phonemes. Also included is a bonus sheet when introducing words with Silent E!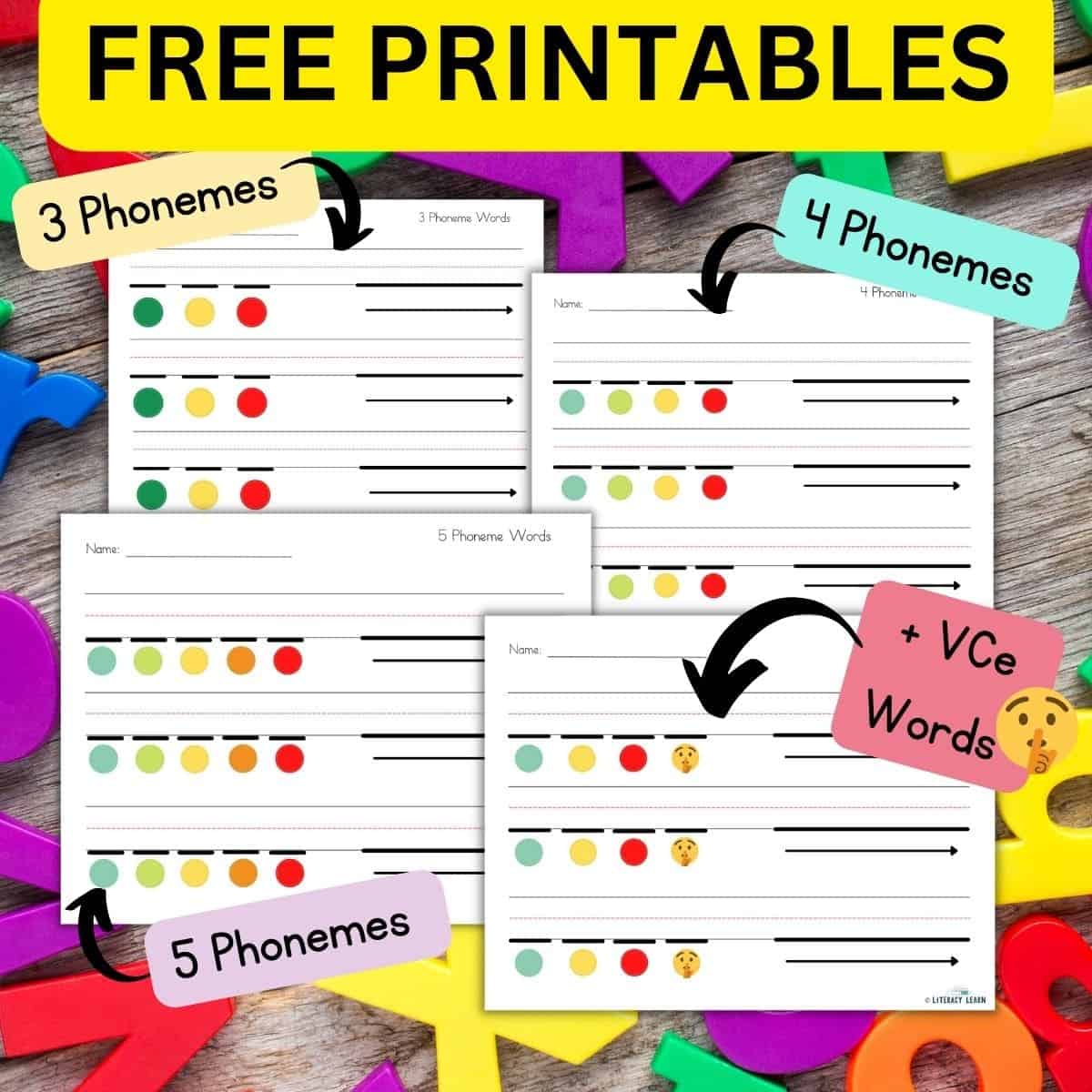 ❤ Why We Love It
Orthographic mapping is how the brain maps words for long-term storage and instant retrieval. It's how words become sight words!
These free no-prep worksheets make spelling practice and sound mapping fun and engaging! My students absolutely love it when I pull out these spelling sheets to practice word dictation.
Best of all, they can be used again and again, and easily incorporate multisensory activities to make the words STICK!
Included are four blank worksheets:
👉 3 Phoneme Words (perfect for CVC words or Floss words)
👉 VCe words (also known as Silent E). There's a sh' emoji (🤫) placed below the last letter for the silent E. These are great visual reminders as children write the letters, but don't say the 'e' sound.
👉 4 Phoneme Words (perfect for Consonant blends.)
👉 5 Phoneme Words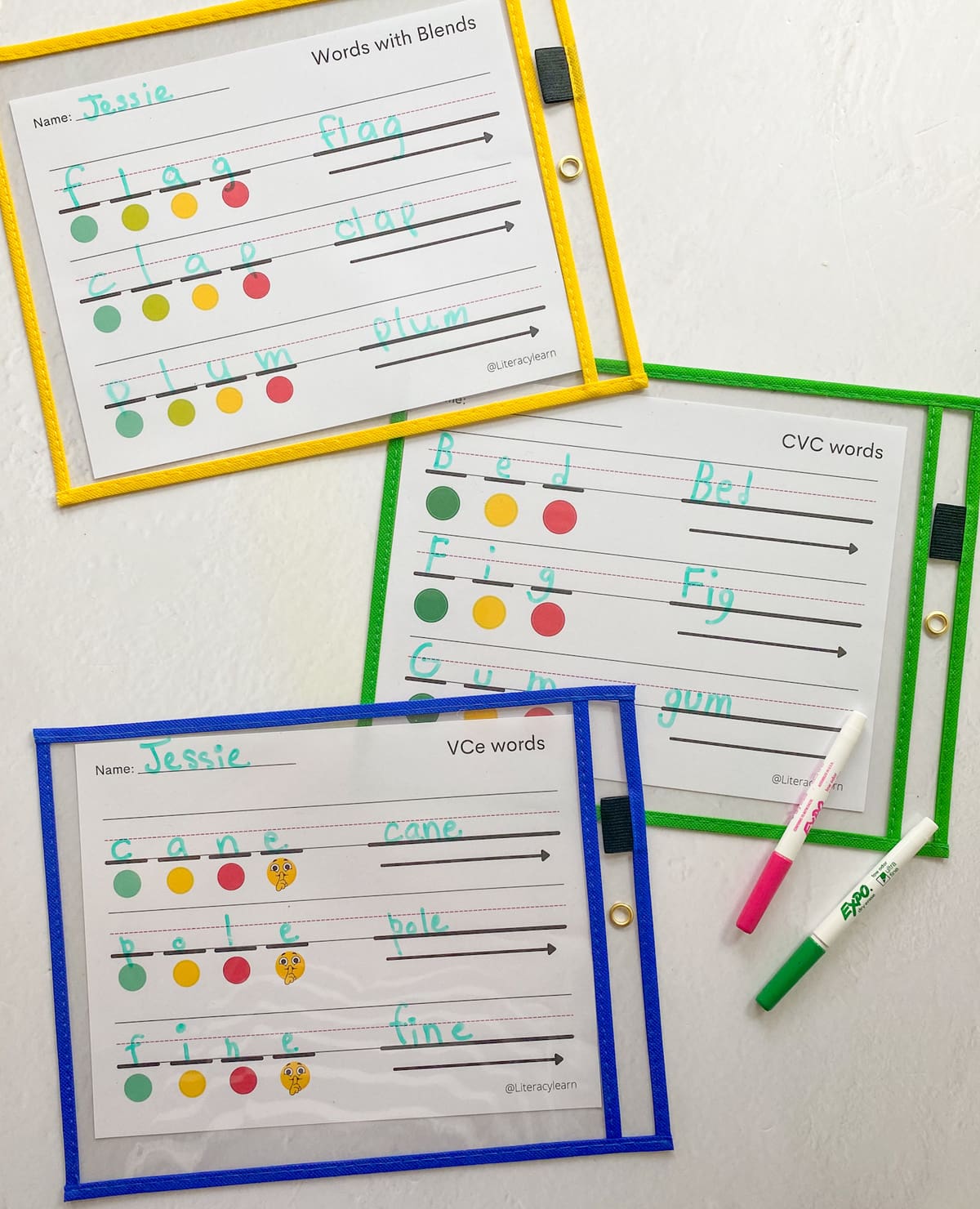 Using the Worksheets
To ensure research-based spelling practice that follows orthographic mapping, follow these steps:
Dictate the word that follows the spelling pattern you're working on. Use our CVC word list, Silent E word list, or C+le word list, or R-controlled Vowel word list for dictation!
Students repeat the word aloud.
Use finger tapping or manipulatives (like pushing pennies or dotting with dot markers) as they segment and say each sound in the word.
Students say the sounds, one by one, and then write the letter (grapheme) that represents each sound (phoneme) on each blank space.
Children rewrite the word on the line, saying each letter name as they write it.
Blend the sounds together to read the word, making sure to touch the arrow, left to right, to read the word!
This procedure follows best practices for Simultaneous Oral Spelling (SOS).
Research shows it is highly effective for teaching spelling to all student populations, including kids with dyslexia or other reading disabilities!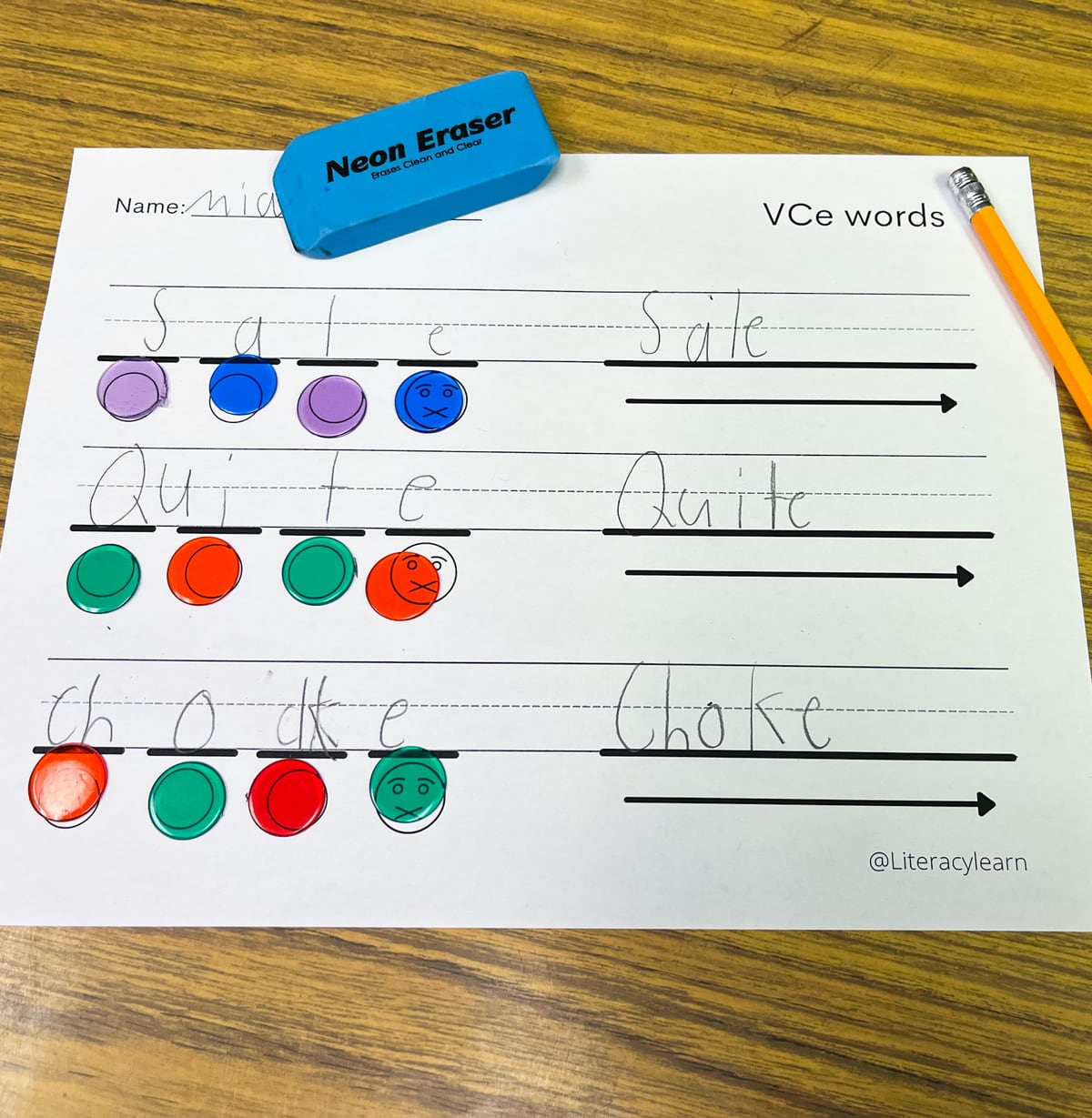 Multisensory Spelling Practice
Try using manipulatives to make this a multisensory activity. You can do this using coins, chips, or even cheerios! Put the items on each dot and have kids push the chips as they say each sound.
Another great idea to make it multisensory is to use bingo daubers or dot markers. My students LOVE these. Kids should only dot when they say the sound.
VCe Note: When using the VCe worksheet, nothing gets pushed up or dotted when they get to the Silent E because it's silent. 🤫 Use this worksheet as a scaffold when first introducing the VCe pattern, but quickly move away from it once kids understand the concept of the Silent E.
Still include a chip or coin in that spot, because it's a great visual reminder to NOT push it up (because no sound should come out of their mouth). Children should only write the letter 'e' on the blank above the silent emoji.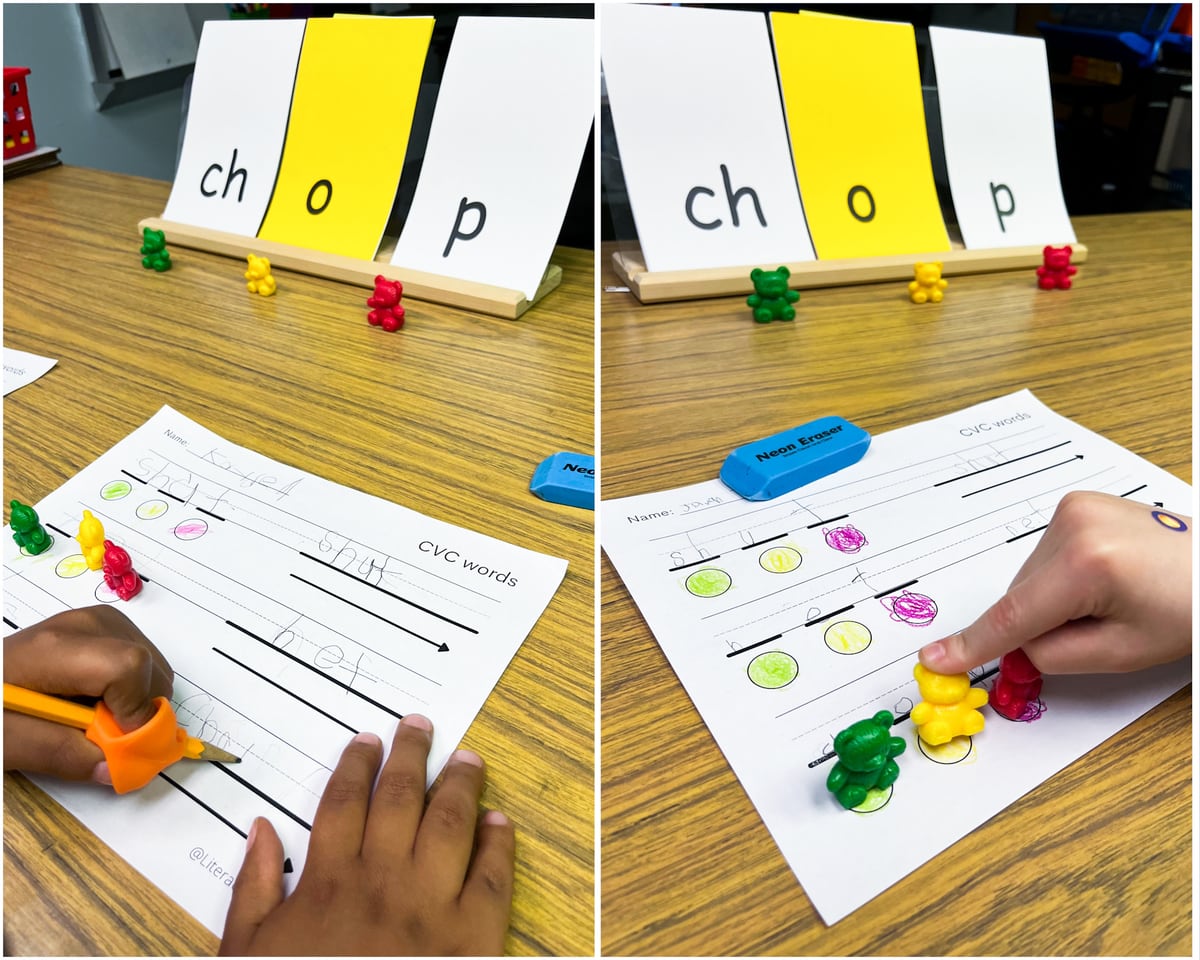 Info & Expert Tips
👉 These pdf spelling printables are great for Kindergarten, first grade, and second grade students.
👉 Developing a procedure for spelling words early on in a child's educational career is super important! So be sure to teach, model, and practice again and again using these sheets!
👉 Use our Word Ladders with Elkonin Boxes for more practice!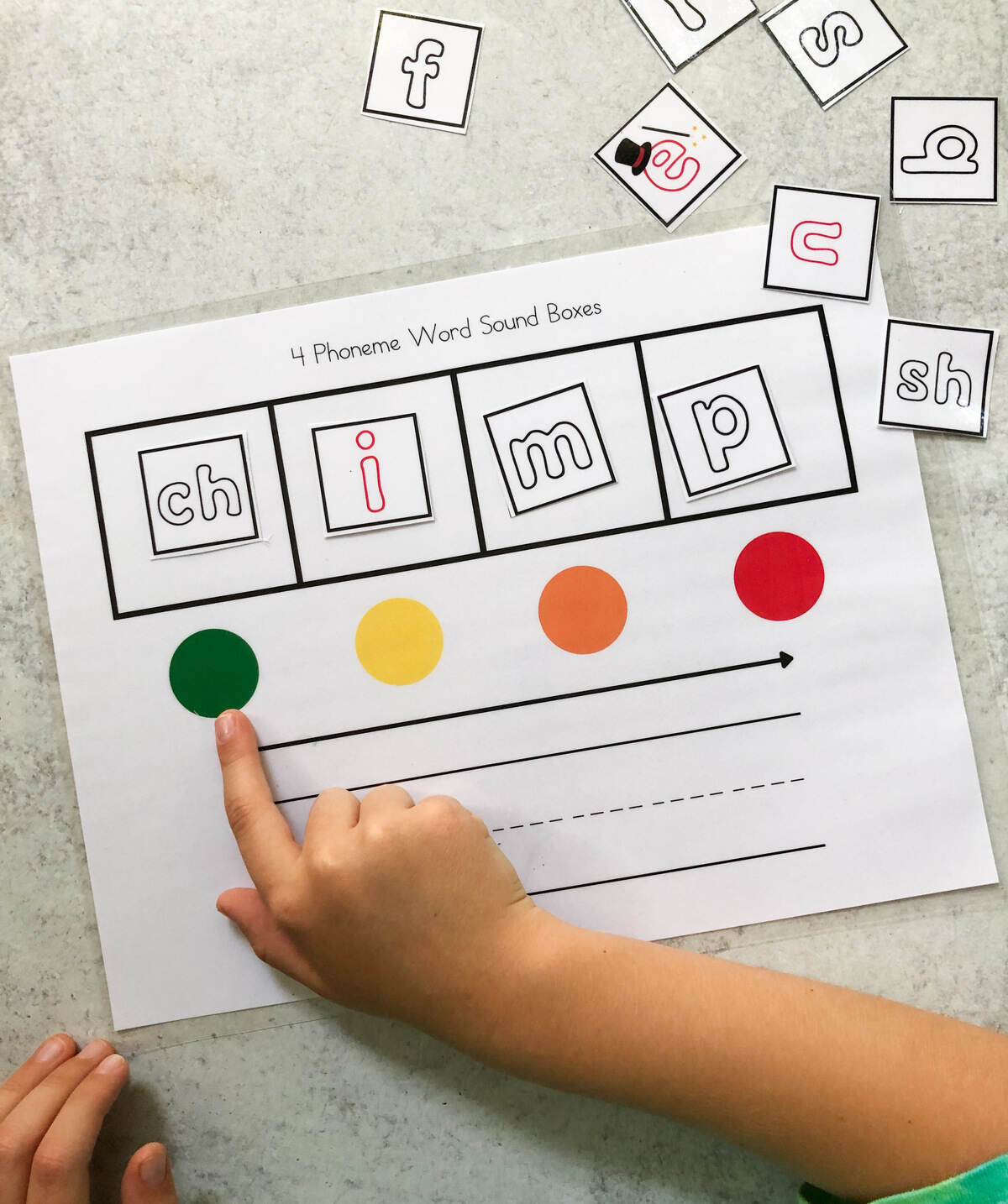 👉 We recommend that you print in color. The worksheets include colorful dots, using colors that replicate a stoplight. Their mouth will go with green, move to yellow, and stop with red!
👉 If you can't print in color, no problem! We made a version specifically for printing in black and white. Have your students color in the dots themselves (any colors, really) for a personalized approach.
👉 Put the printables in a reusable sleeve and use dry erase markers to use again and again!
👉 These sheets should only be used with words that follow predictable spelling patterns. Irregular words should be taught using a specific procedure so kids can memorize the irregular patterns "by heart."
More Sound Box Resources
Read more about using Elkonin boxes effectively for kids to match sound to print! Grab these FREE resources for help with teaching irregular words and grab our super popular sound box bundle.
You can also practice Word Chaining with our popular Word Ladder resource with over 780+ words organized by phonics skills.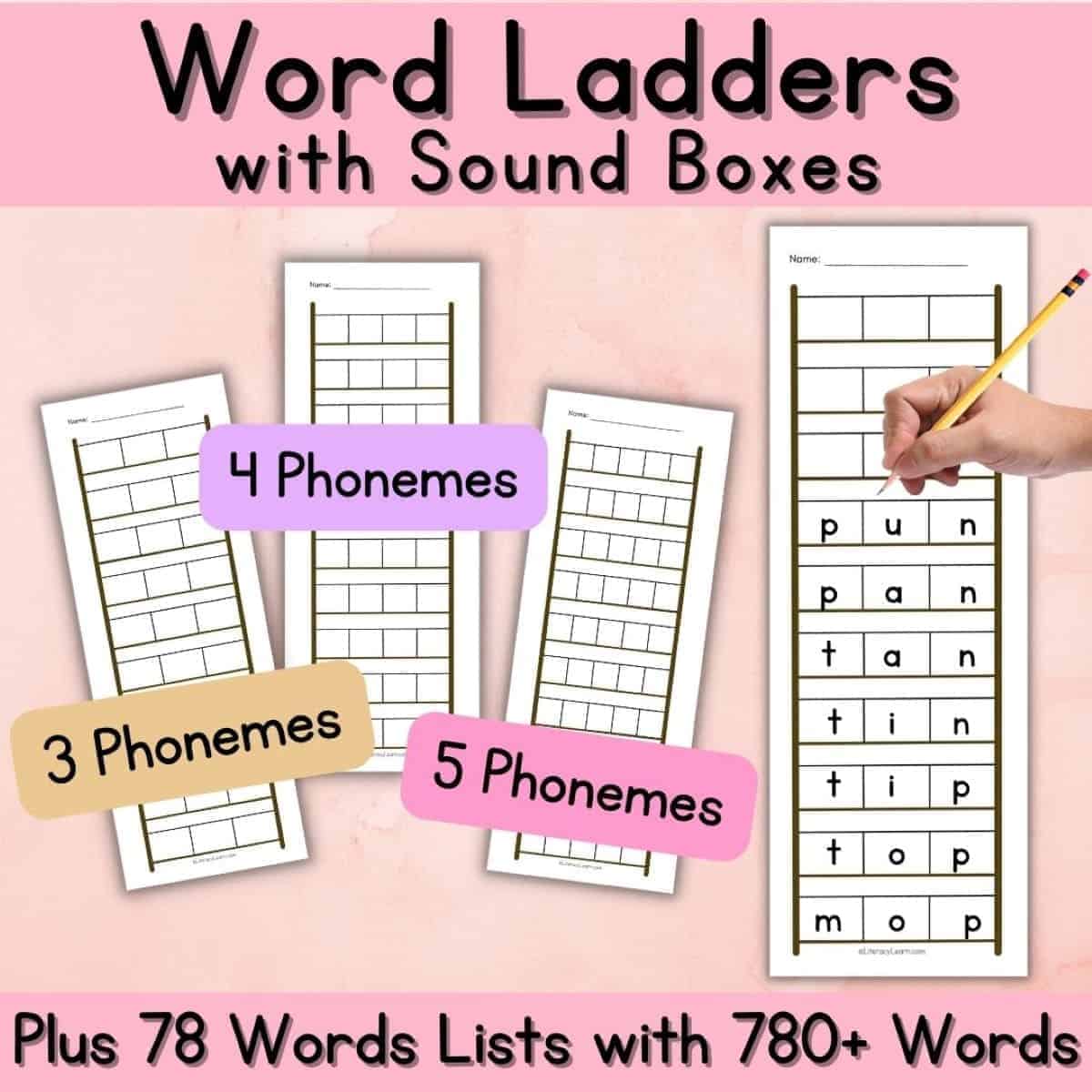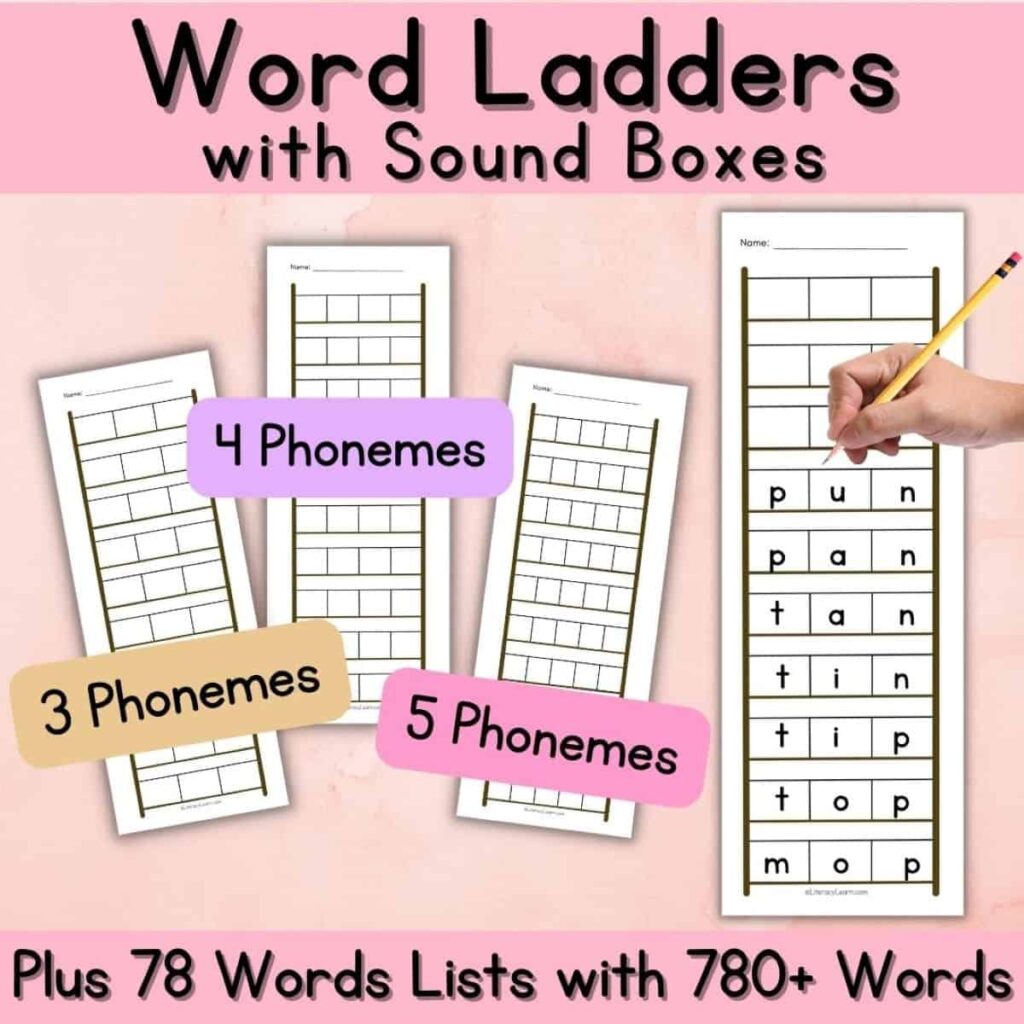 Related Posts
Download & Print
Are you using these spelling sheets with your students? We'd love to hear about your experience!
Please leave a comment below or tag us on Instagram @literacylearn.
COLOR VERSION: Get four free printable blank spelling worksheets sheets that are...
BLACK AND WHITE PRINTABLES: Get four free printable blank spelling practice worksheets...
DOWNLOAD TERMS: All of our resources and printables are designed for personal use only in homes and classrooms. Each teacher must download his or her own copy. Please do not save to a shared drive, reproduce our resources on the web, or make photocopies for anyone besides your own students. To share with others, please use the social share links provided or distribute the link to the blog post so others can download their own copies. Your support in this allows us to keep making free resources for everyone! Please see our Creative Credits page for information about the licensed clipart we use. If you have any questions or concerns regarding our terms, please email us. Thank you!