Spelling Practice Tic Tac Toe
This post may contain affiliate links. Please see our disclosure policy.
This free no-prep printable spelling practice tic tac toe board is an entertaining and engaging game for students in grades 1-4 to practice their vocabulary words! Get your vocabulary lists and get started!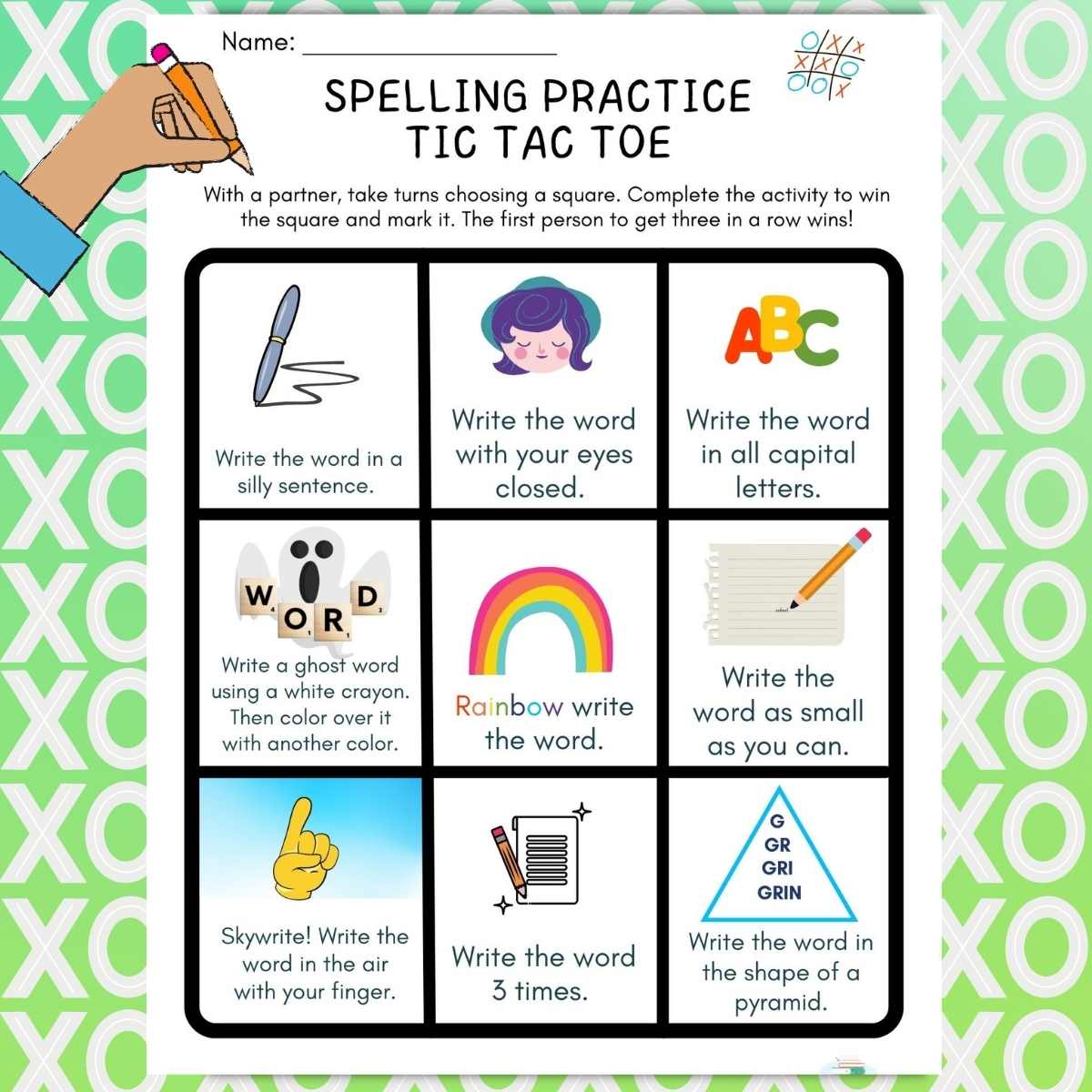 Why We Love It
There's nothing we like more than making learning fun! And traditionally, vocabulary and spelling practice can be a little repetitive and tiresome.
But when you gamify the experience, it becomes something totally new and exciting, not to mention helps to improve retention and motivation.
Our students love the fun writing activities in the tic-tac-toe game, so much so that they don't even seem to notice the spelling practice and repetition involved! Suddenly, spelling is fun!
👉 You can use this activity alongside any vocabulary list, or use our lists of High Frequency Words, R Controlled Vowel Words, or Silent E Words.
How to Play
Step 1: Partner two students together. Choose one word to practice for each round.
Step 2: Students take turns choosing a box on the board, then completing the task written inside using the vocabulary word. Once the task is completed, they mark the box with their marker.
Step 3: Whoever gets three boxes in a row first, either horizontally, vertically, or diagonally, is the winner.
The spelling tasks include:
Write the word in a silly sentence.
Write the word with your eyes closed.
Write the word in all capital letters.
Ghost write using a white crayon, then color over it with another color.
Rainbow write the word. Write the word in one color, then write directly over the letters in at least 3 other colors.
Write the word as small as you can.
Write the word in the air with your finger.
Write the word three times.
Write the word in the shape of a pyramid. Write the first letter, then the first two letters, then the first three letters, and continue in this pattern until the word is written.
Tips & FAQ
What you need: Each student needs game markers, crayons, a pencil, a piece of paper, and the vocabulary words to practice.
Take turns: Partners can alternate who goes first each round, or if you're playing in a large classroom activity, have the winner move on to a new partner after each round so they rotate partners as each new word is played.
Extend the fun: We recommend printing on cardstock and/or laminating the paper so you can use the board time and time again.
Related Posts
Download & Print
We'd love to hear about your experience using this resource!
Please leave a comment below or tag us on Instagram @literacylearn.
TERMS: All resources and printables are designed for personal use only in homes and classrooms. Each person must visit this site and download their own copy for use. Please share with others by using the social share links provided or by distributing the link to the blog post. Do not share or reproduce our resources on the web, publish to a shared drive, email the file, or make photocopies for anyone outside your own home or classroom. This allows us to keep making free resources for everyone! If you have any questions, please email us. Thank you!