7 Pencil Control Worksheets – Free Printables
This post may contain affiliate links. As an Amazon affiliate, we earn from qualifying purchases. See our disclosure policy.
These SEVEN pencil control worksheets help build the skills needed for fluent and legible writing. These worksheets were developed to help children master all of the basic handwriting strokes they will use to properly form capital and lowercase letters.
Use these fun printables to practice pencil control while building a strong foundation for handwriting. Download your free worksheet pdfs below!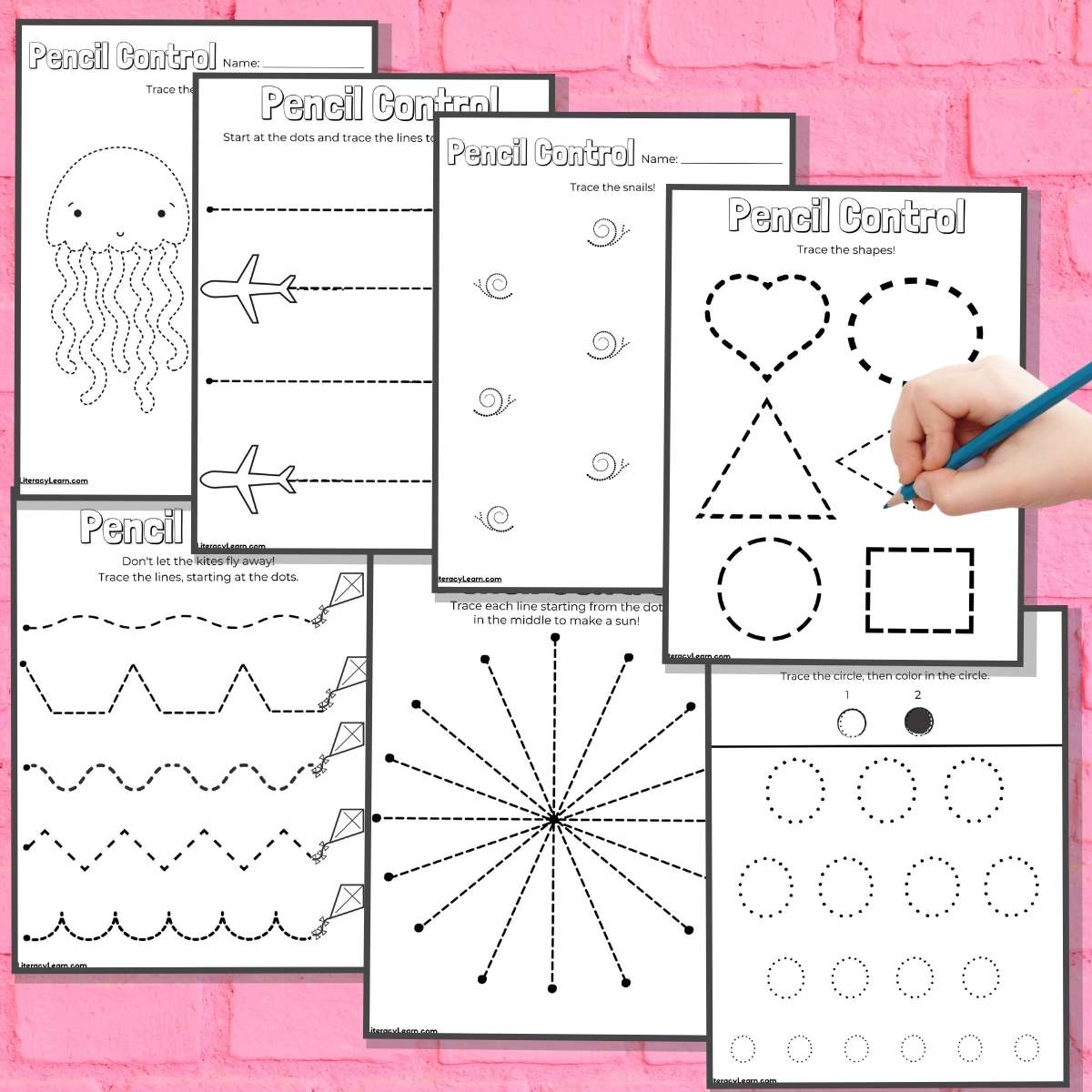 What is Pencil Control?
Pencil control is a prewriting skill needed to correctly form letters and write legibly. Repeated practice helps build the fine motor skills that must be developed in young children. Before children are ready to write letters, they should practice the strokes they'll need to effectively form letters.
Once they've mastered the strokes, it will make practicing the alphabet much easier!
Why is pencil control important?
Most of my kindergarten students arrive each September eager to learn how to write. Unfortunately, too many of them are simply not ready for it.
They awkwardly pick up the pencil and then are frustrated when they don't have the control to trace, write, or even draw the most basic shapes or objects. They get discouraged when they look at their finished product and it's noticeably rough, awkward, and disjointed.
This is when it's extra important to provide children with tons of encouragement and the promise that it will get better with practice. And by October, my students have memorized my classroom motto and join me when I say: "Practice Makes Permanent."
Thankfully, there are many things that teachers and parents can do to help build pencil control and fine motor skills. So why not do it in a fun way?
The pdf worksheets provided on this page will engage children in becoming more comfortable with writing. Ultimately, this will help produce fluent writers with excellent pencil control.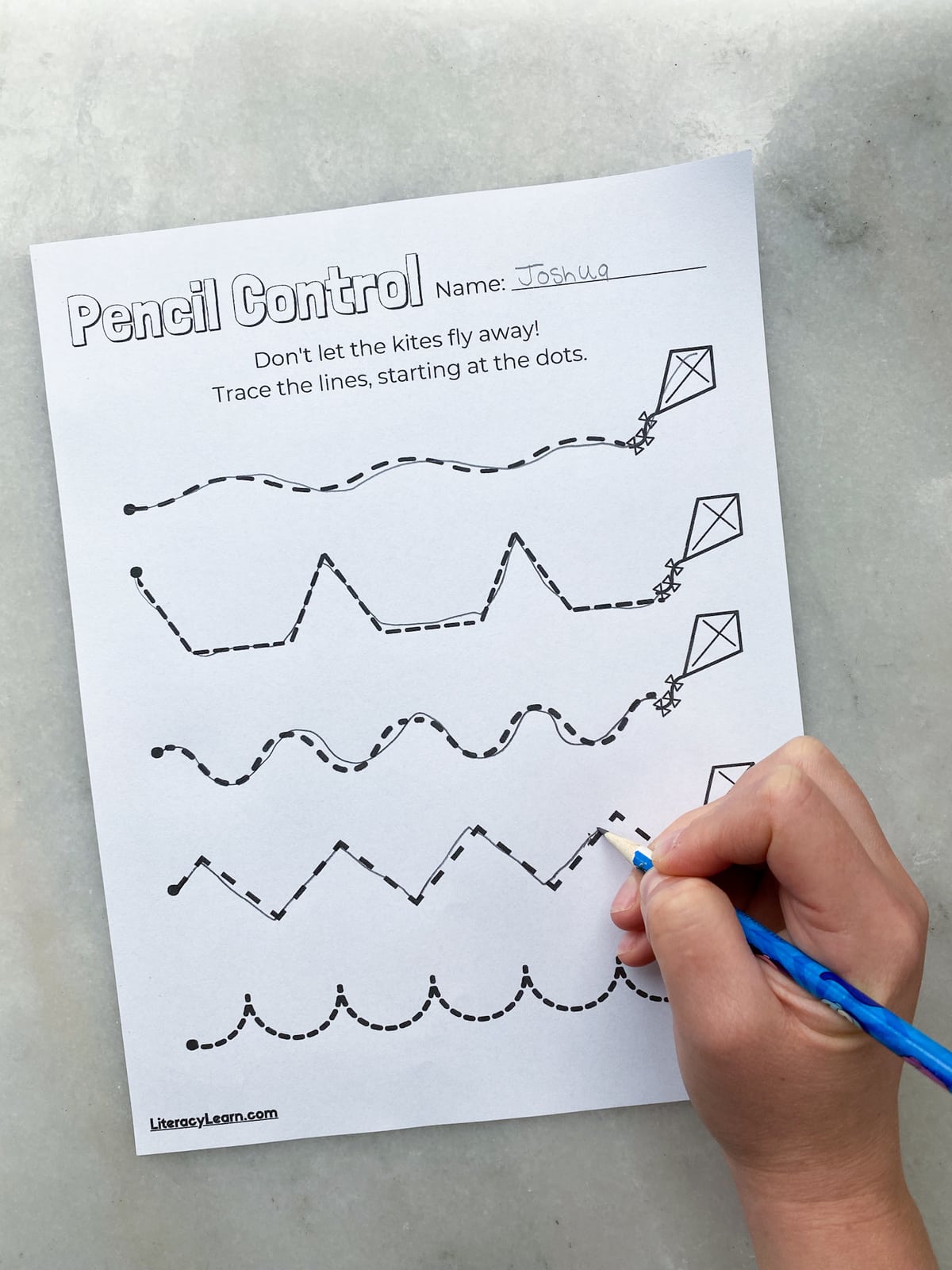 Important Pencil Strokes
Before jumping right in and teaching letter formation, children should practice the various strokes needed in order to form letters. Strokes are the basic units for writing letters, and letters are formed by using two or more strokes in a row.
Horizontal and vertical lines are used in many capital and lowercase letters. In my classroom, we call them letters with "short sticks," like i, a, and r, and letters with "tall sticks," like l, b, and h.
Circles and turns are also used in the majority of letters, and this takes exceptional pencil control.
Slanted lines in both directions are included in letters like k, y, and z.
Humps or "mountains" (as we like to call it here in the Blue Ridge of Virginia) are used in letters like n and h, and hooks are used in letters like u, g, and j.
With all this in mind, we wanted to make fun worksheets covering all of the strokes children need to eventually form letters and write legibly.
Pencil Control Worksheets
Age Group: Pre-k and early kindergarten.
Land the Airplanes
Fly the Kites
Trace the Sun
Trace the Shapes
Fill in the Circles
Trace the Animals
Trace the Tiny Snails
Tips & Info
👉 For added efficiency, put these worksheets in a dry erase sleeve or page protector OR buy a clear, plastic picture frame at a dollar store that allows students to write using a more vertical surface.
👉 You can always tape the worksheets to the board or your refrigerator for a true vertical surface. Research shows that this helps strengthen the finger muscles because it doesn't rely on the wrist resting on the table.
👉 Children should use a fine-tip slim sized dry erase marker as this imitates a pencil size.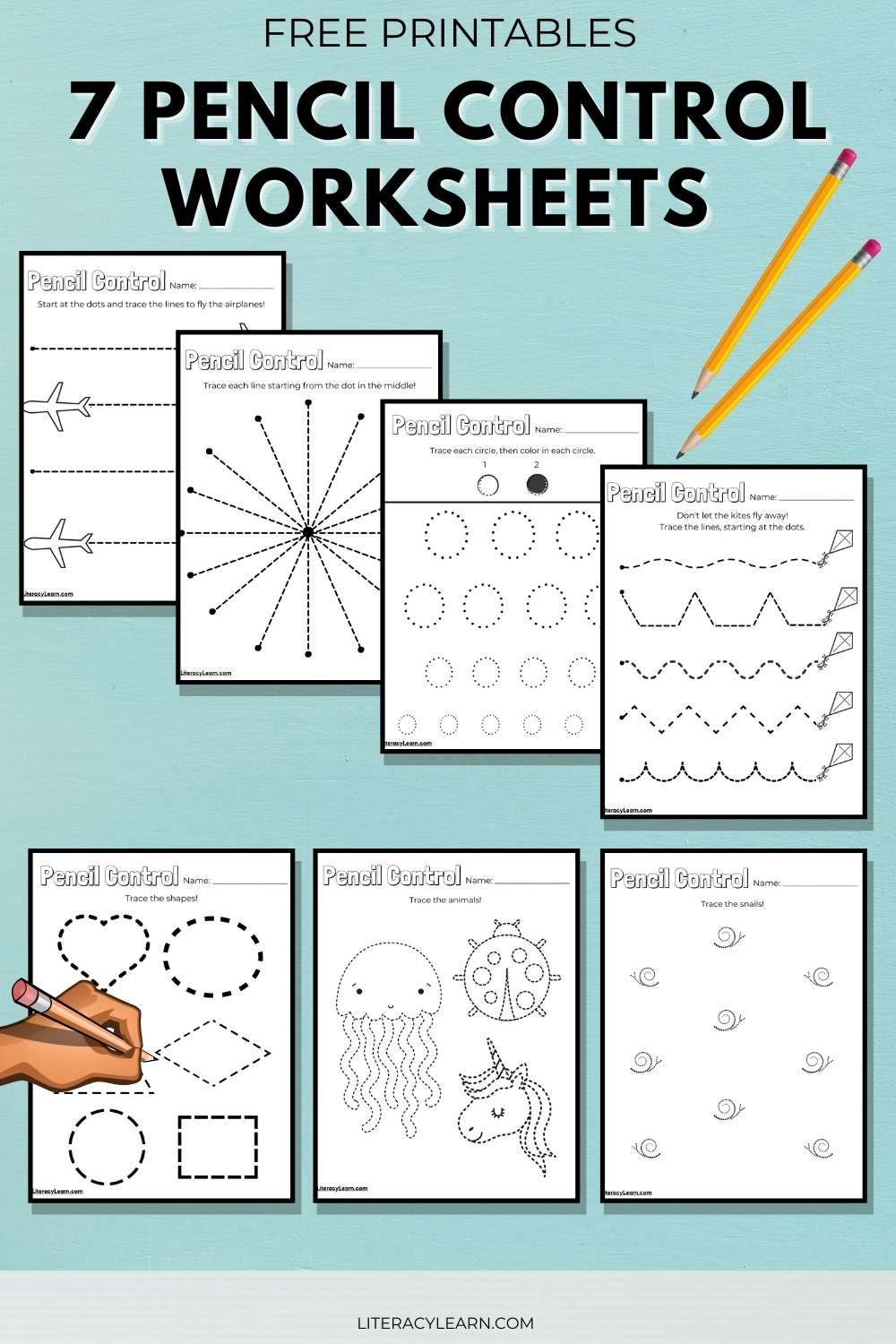 Download & Print
DOWNLOAD TERMS: All of our resources and printables are designed for personal use only in homes and classrooms. Each teacher must download his or her own copy. Please do not save to a shared drive, reproduce our resources on the web, or make photocopies for anyone besides your own students. To share with others, please use the social share links provided or distribute the link to the blog post so others can download their own copies. Your support in this allows us to keep making free resources for everyone! Please see our Creative Credits page for information about the licensed clipart we use. If you have any questions or concerns regarding our terms, please email us. Thank you!
We love to see our worksheets in real life! Snap a picture and tag us on Instagram @literacylearn!