11 Letter A Worksheets for Preschool & K – Free Printables!
This post may contain affiliate links. As an Amazon affiliate, we earn from qualifying purchases. See our disclosure policy.
Get eleven free printable worksheets, designed for teaching the letter A to children in preschool and Kindergarten. Children ages 3-5 will learn to recognize the uppercase and lowercase letter A, recognize the letter A short vowel sound, and trace and print the letter A.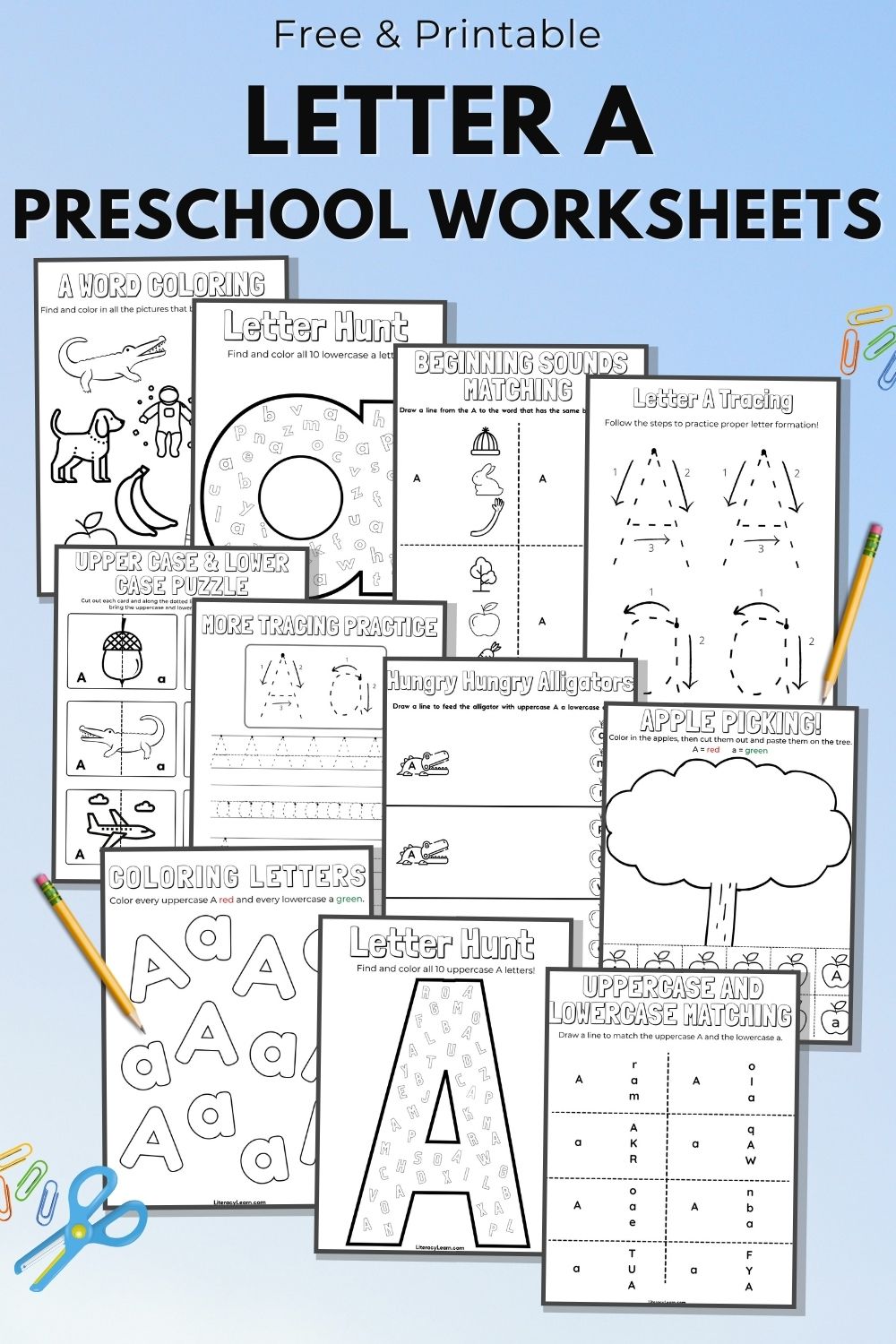 🔤 Why We Love It
We carefully designed 11 printable pdf worksheets to build important pre-reading skills in preschoolers ages 3, 4, and 5.
These skills we're focusing on? Visual discrimination, auditory discrimination, letter recognition, and proper letter formation. Let me define those terms for you!
Visual discrimination: Seeing a letter and recognizing what letter it is.
Auditory discrimination: Hearing a letter sound and recognizing what letter makes that sound.
Letter recognition: Seeing a letter and knowing that it is different from other letters.
Proper letter formation. Correctly drawing each elements of a letter to form the full, legible letter.
You might be wondering why these skills are so important. Well, it's because these skills are the most basic building blocks of literacy! Research shows that alphabet knowledge is one of the earliest predictors of reading success!
That's why I use A-Z flashcards with my preschoolers every single day, to further reinforce these important skills! The more fun ways I can help them practice these skills, the more I can reinforce it.
Use these worksheets as learning aids or for a fun and engaging activity to go along with your letter A lesson plans. Download and print just one pdf or all eleven… it's your choice!
✍️ The Worksheets
Letter Tracing and Letter Writing (2 worksheets)
Practicing proper letter formation, children will follow the steps to trace and write uppercase and lowercase letter A with these two worksheets.
👉 Tip: Reuse these worksheets over and over when you place them in a reusable plastic sleeve. Kids should use thin-tipped dry erase markers to practice tracing and writing!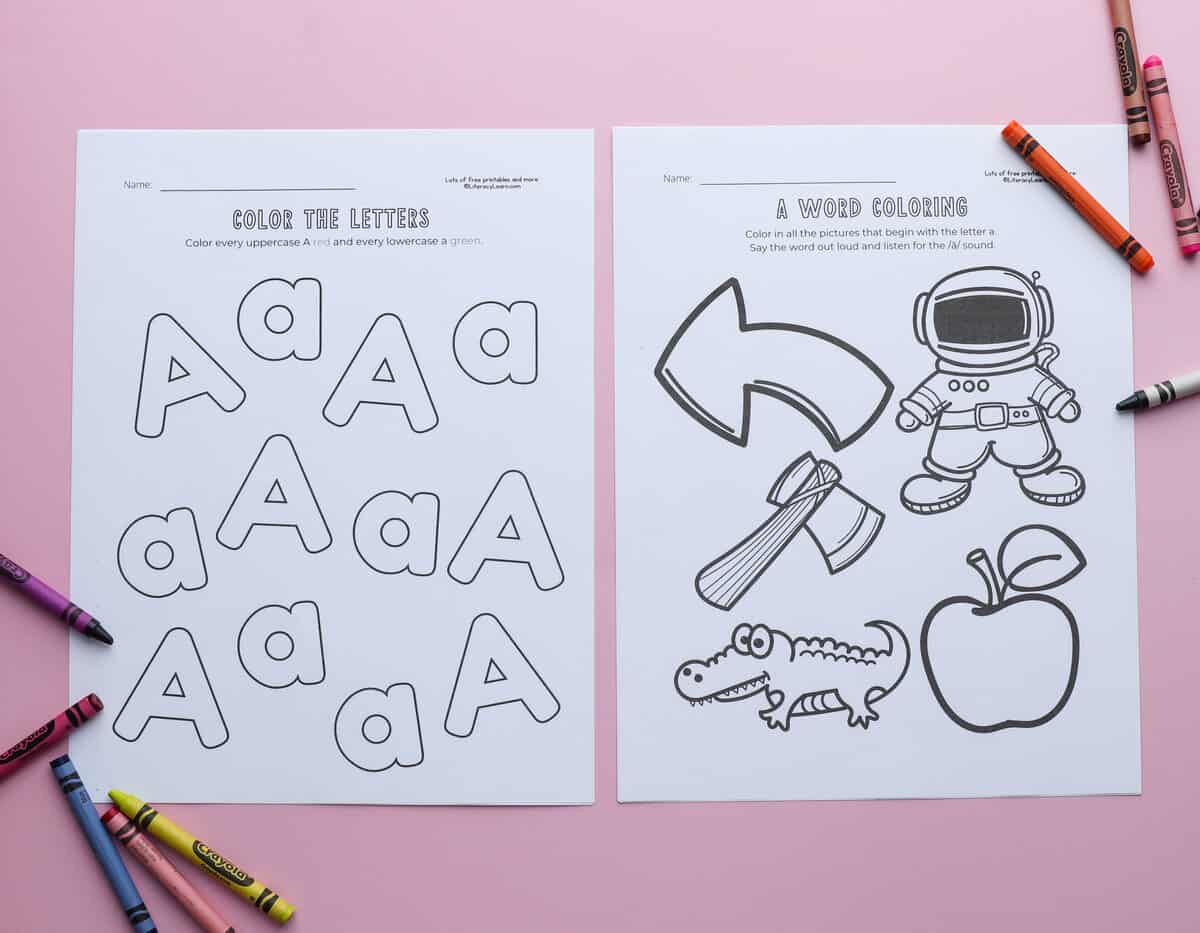 Letter A Coloring (2 worksheets)
Children will color lowercase and uppercase letters in different colors.
They'll also practice auditory discrimination skills by hearing the first sounds of words beginning with the letter A. Children will find and color in the pictures of easy to identify A words like apple, alligator, and axe.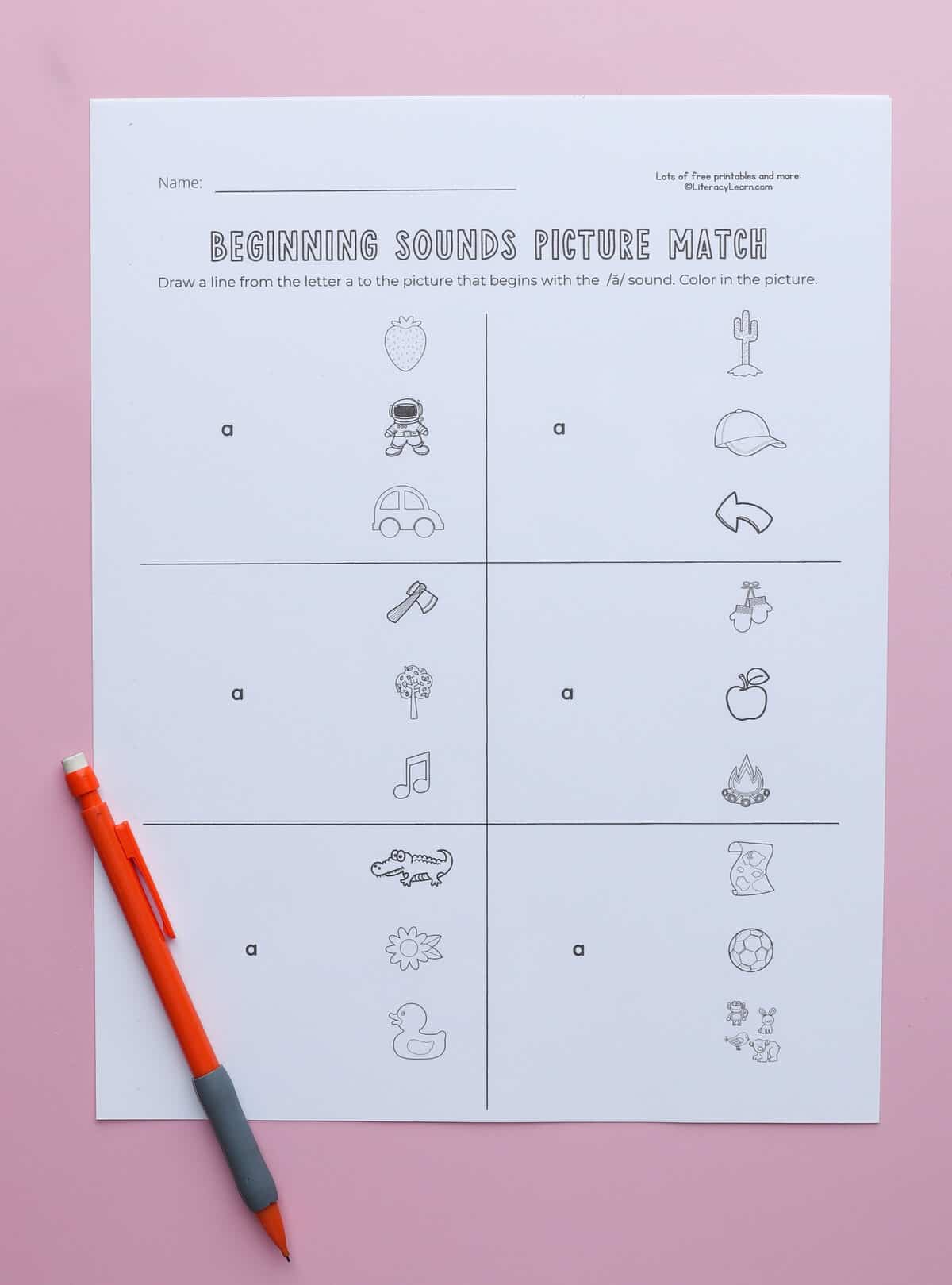 Beginning Sounds Matching
Practicing auditory discrimination and listening for the letter sound at the beginning of a word, children will match the letter with the picture that begins with the /ă/ sound.
Check out our Beginning Sounds Cut & Paste Worksheets for more practice!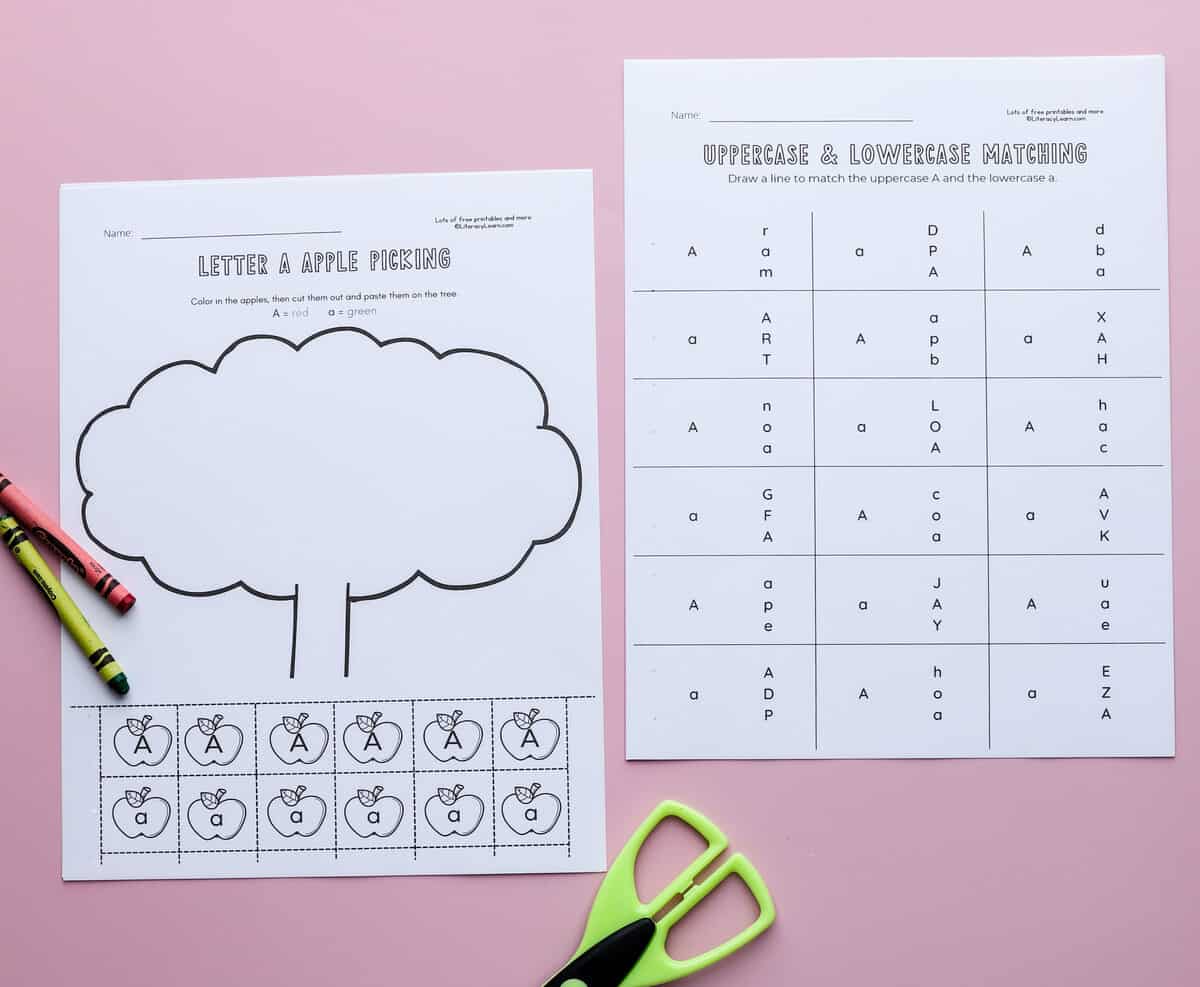 Uppercase & Lowercase Letters (2 worksheets)
For more uppercase and lowercase visual discrimination practice, children will color uppercase and lowercase letter a's different colors, then practice cutting and pasting the apples on the tree.
On the second worksheet, children draw a line to connect the uppercase and lowercase letters.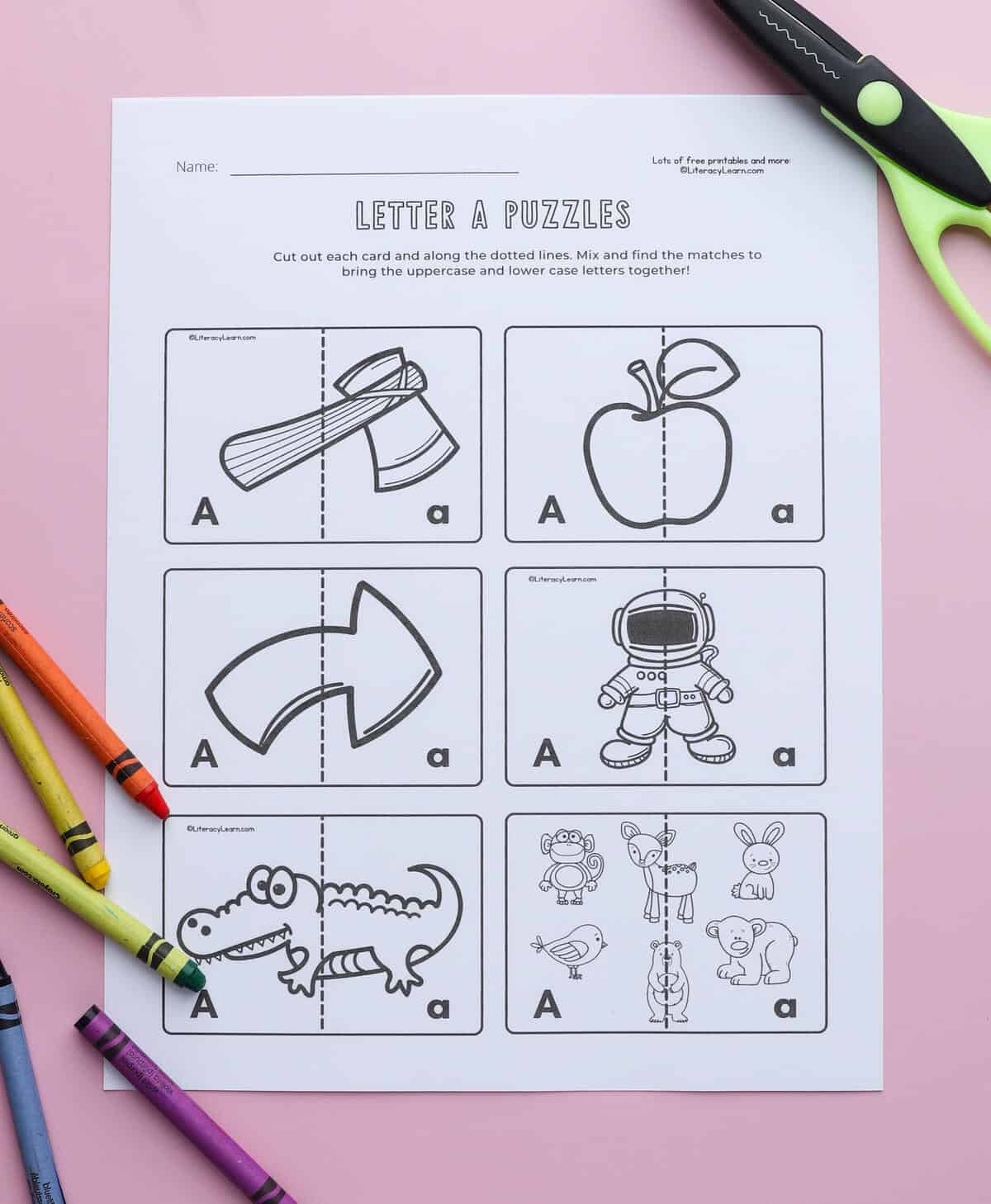 Uppercase & Lowercase Puzzle
Preschoolers will have a fun time coloring the /ă/ sound pictures, then cutting along the dotted lines. Mix up all the pieces, then have them match the correct pictures together to bring together the uppercase and lowercase letters.
Tip: Laminate these puzzles for extended use!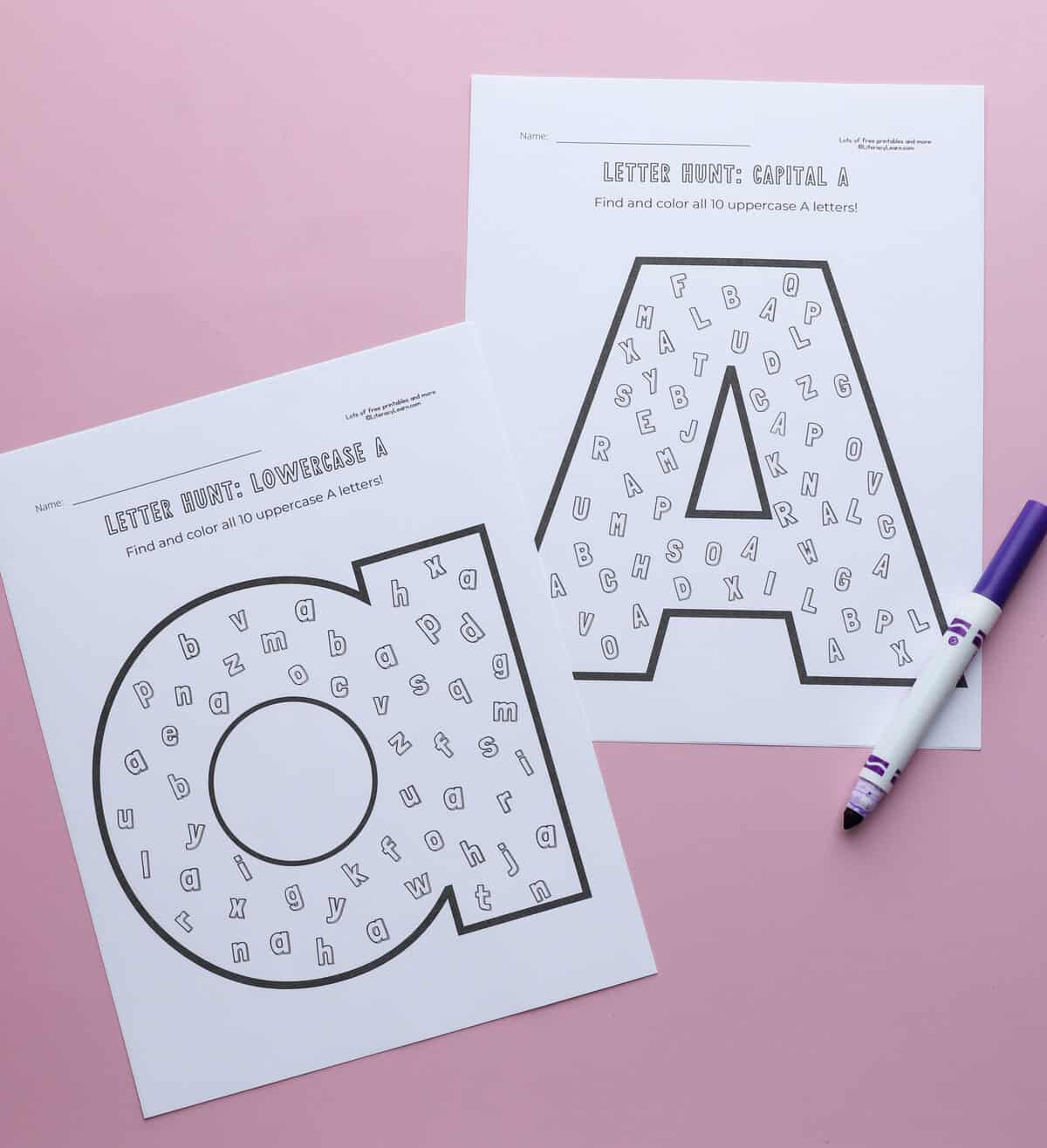 Letter Hunts (2 worksheets)
Children will practice finding the 10 uppercase letter A in a sea of other uppercase letters. Children will spot the 10 lowercase letter As among lots of other lowercase letters.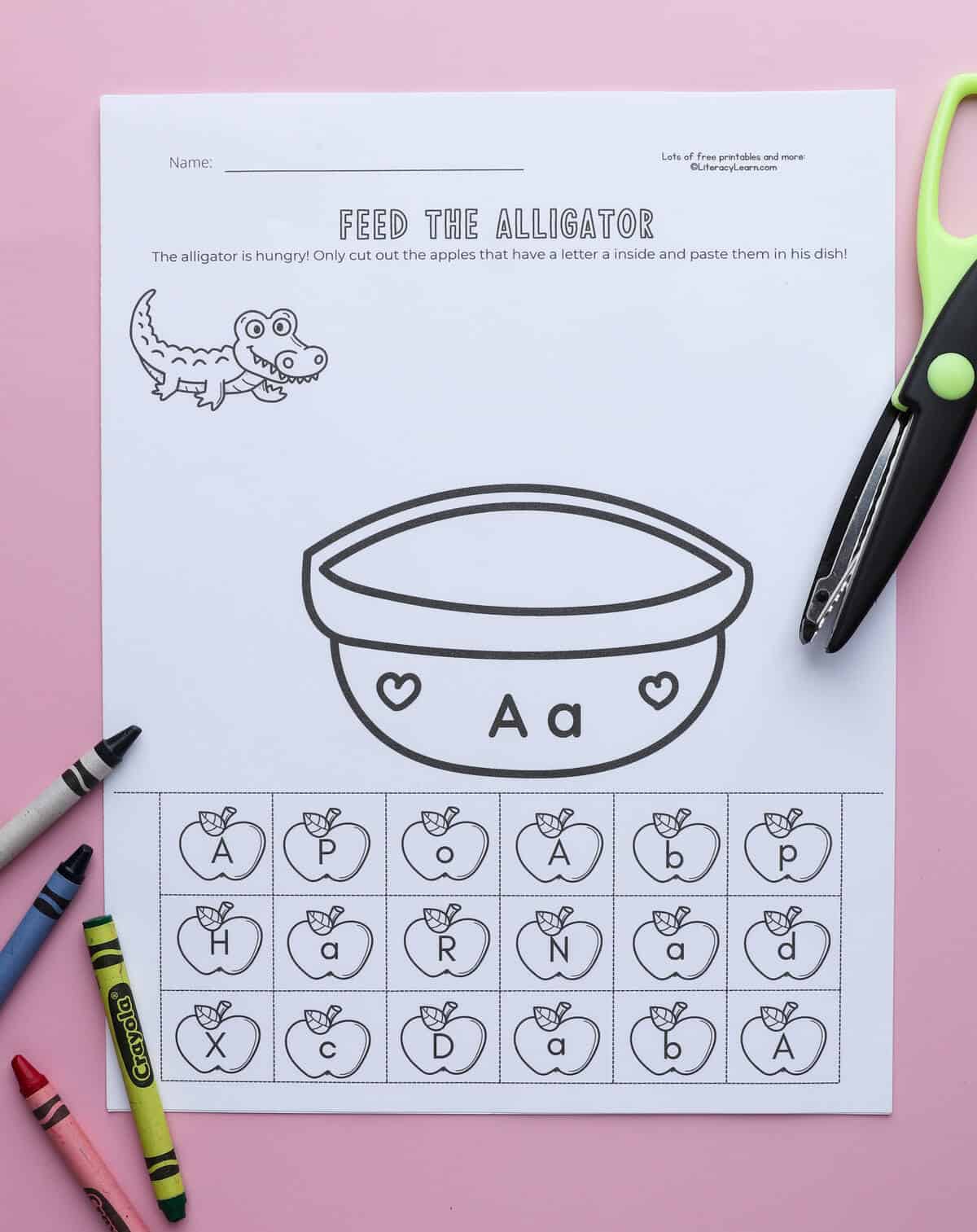 Feed the Alligator
This worksheet is a lot of fun! Kids will cut out all the apples, but only paste the letter A apples in the alligator's bowl.
Educational Info & Tips
These worksheets will help children will practice visual discrimination, auditory discrimination, letter recognition, and proper letter formation for the letter A.
When introducing letter A, focus only the short vowel sound /ă/ (like

a

pple). Long a (like

a

corn) is introduced later on and has multiple spellings!
These worksheets are appropriate for preschoolers ages 3, 4, 5, and 6, and for Kindergarten students.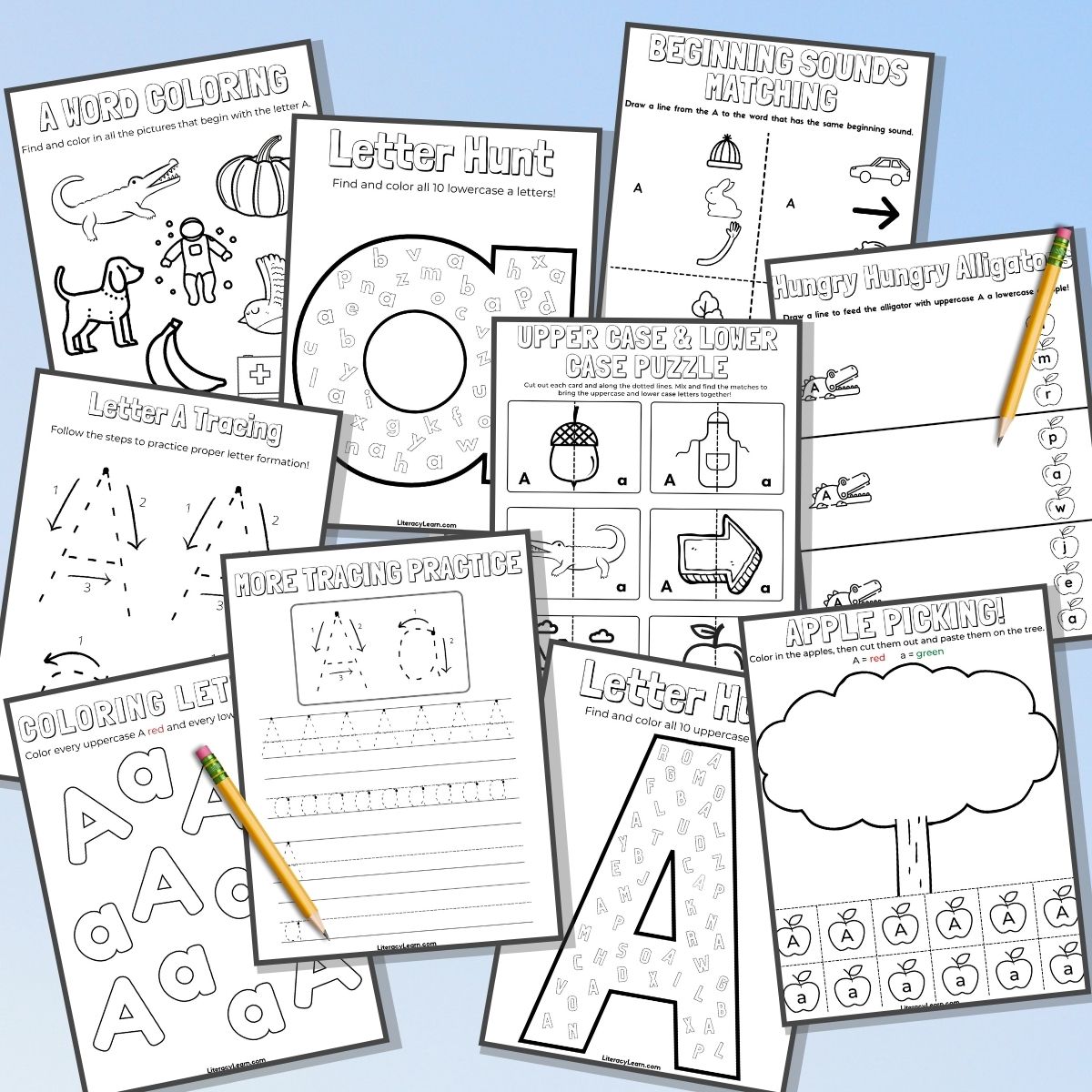 Download & Print
DOWNLOAD TERMS: All of our resources and printables are designed for personal use only in homes and classrooms. Each teacher must download his or her own copy. Please do not save to a shared drive, reproduce our resources on the web, or make photocopies for anyone besides your own students. To share with others, please use the social share links provided or distribute the link to the blog post so others can download their own copies. Your support in this allows us to keep making free resources for everyone! Please see our Creative Credits page for information about the licensed clipart we use. If you have any questions or concerns regarding our terms, please email us. Thank you!