Printable Phonetic Alphabet Flashcards
This post may contain affiliate links. Please see our disclosure policy.
These free colorful printable phonetic alphabet flashcards are the perfect resources for children learning the alphabet and practicing letter sounds and numbers 1-10, in preschool through first grade.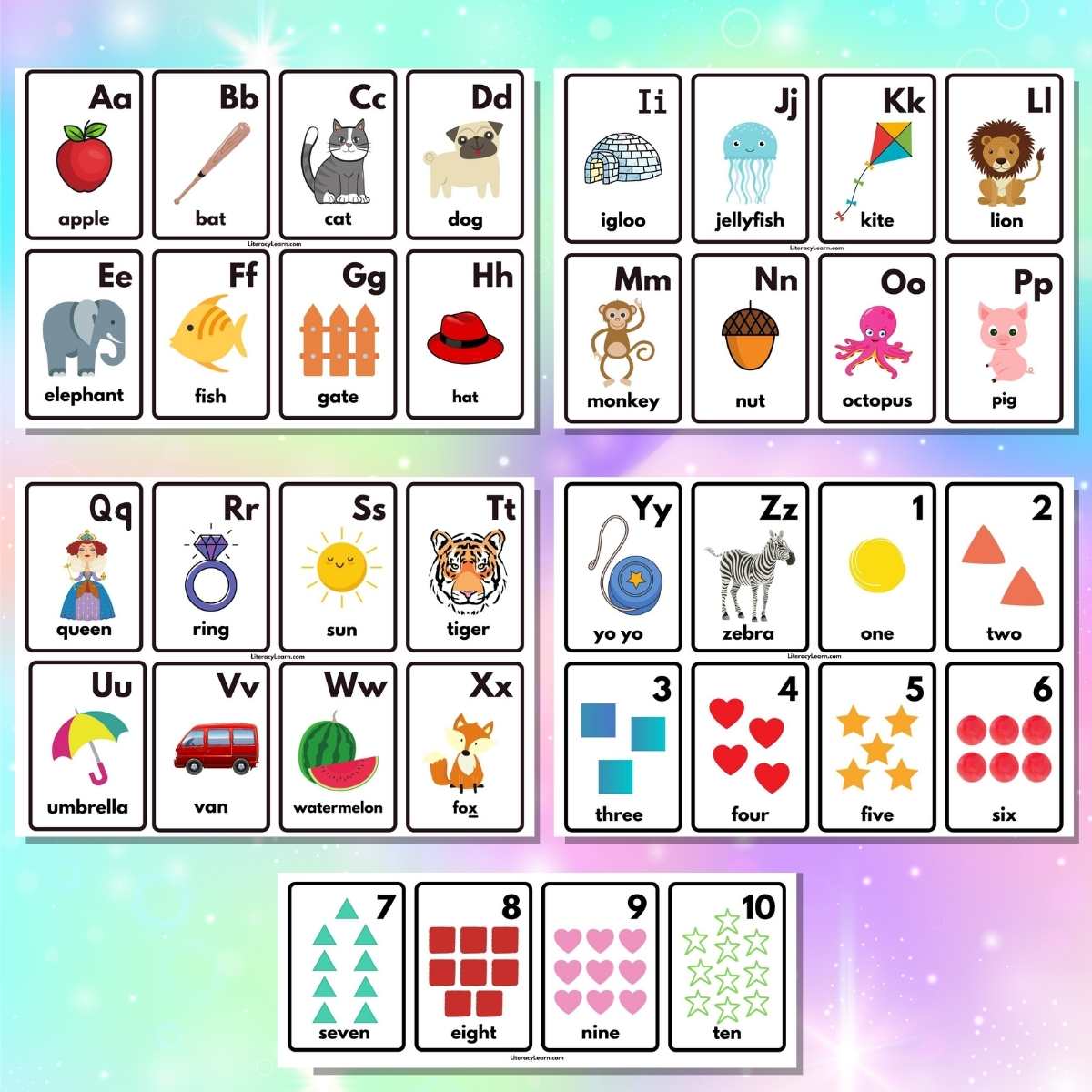 Flashcard Fun
There's just something I love about flashcards! They're simple, easy, and only take a few minutes of time. But do you know who loves them even more than I do? My own children!
They're only 19 months apart, so when my oldest first started learning letter names and sounds using flashcards, I noticed that I'd hear my youngest repeating some of what he was hearing.
Then he'd come over to the table and look at what we were doing together and want to take part in the action. And since they're so close in age, they've always been quite competitive with each other.
So 'Flashcard Letter Time" quickly turned into a friendly competition or game being tested, timed, or otherwise measured. Their favorite game to play with these flashcards was what I called "Snatch.'
If they correctly named the letter and sound, they would get to add it to their pile. If not, the other child had a chance to 'snatch' the card.
Phonetic Words
The words used on our printable flashcards all match our ABC anchor chart!
A: Apple
B: Bat
C: Cat
D: Dog
E: Elephant
F: Fish
G: Gorilla
H: Hat
I: Igloo
J: Jellyfish
K: Kite
L: Lion
M: Monkey
N: Numbers
O: Octopus
P: Pig
Q: Queen
R: Ring
S: Sun
T: Tiger
U: Umbrella
V: Van
W: Watermelon
X: Fox
Y: Yo yo
Z: Zebra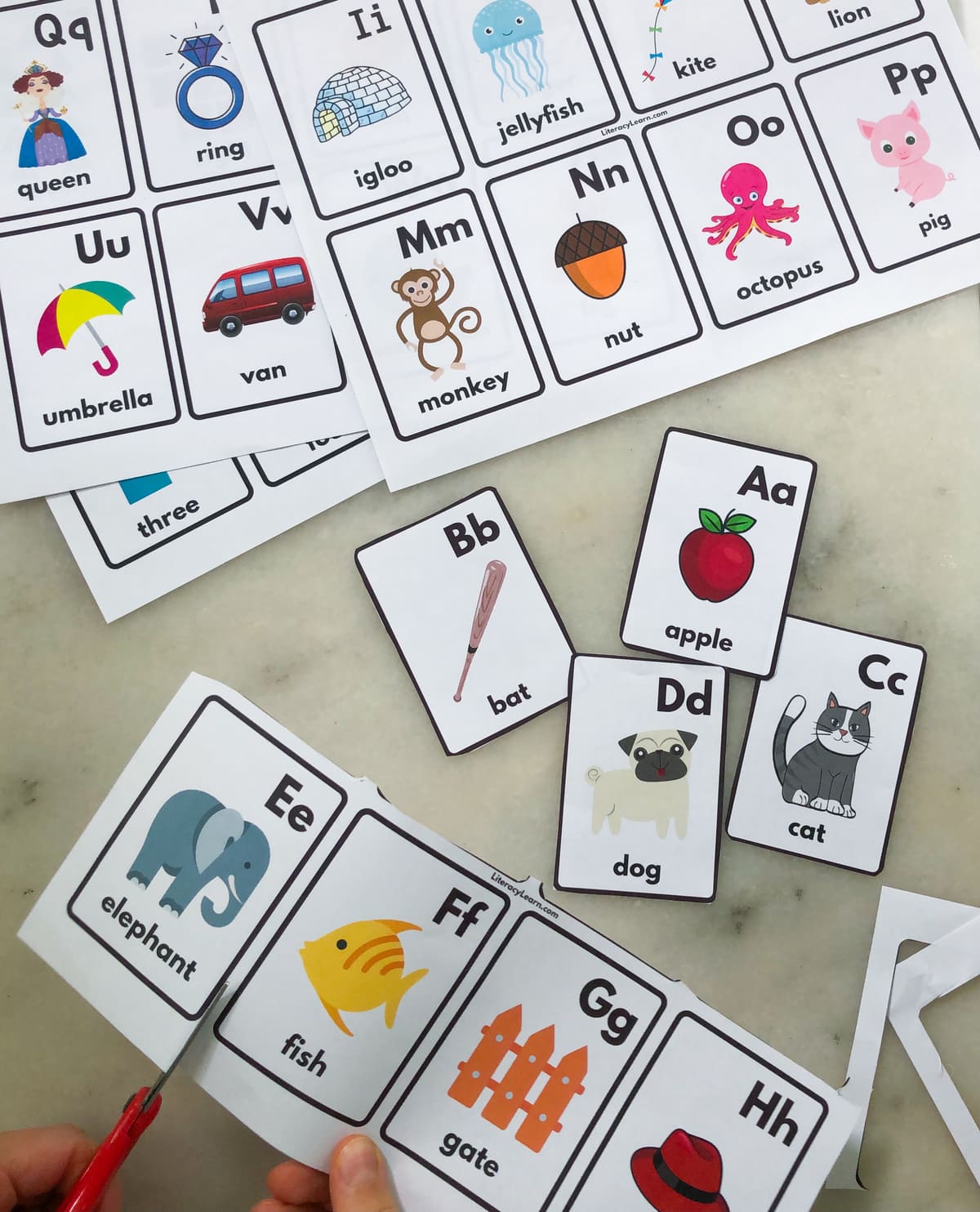 Ways to Use Alphabet Flashcards
I use these flashcards every single day in my classroom to constantly spiral back to ensure my students are firm in their letter-sound correspondence. Whether it's with your own children or with the students in your classroom, try to get in the habit of using letter flash cards.
I made these printable flashcards so children could easily practice their letters and letter sounds. Each child got his or her own set of flashcards to color and personalize. I then laminate the cards, and they got to practice and then test themselves and each other. These are great for independent time or to be used at a center.
These printable phonetic alphabet flashcards each feature a capital and lowercase letter, an easy to recognize picture, and the spelled out name of that picture. Why? So children can work on the foundation of literacy – the alphabet!
The pictures allow children to practice isolating beginning sounds to help them remember and recall letter sounds.
For example, if they can't remember the sound for /e/, then they say 'elephant' and are reminded that e says /e/, the sound they hear at the beginning of the word. The words allow children to begin to recognize that whole words are made up of individual letters, or phonemes, and helps them begin to understand the difference between letters and sounds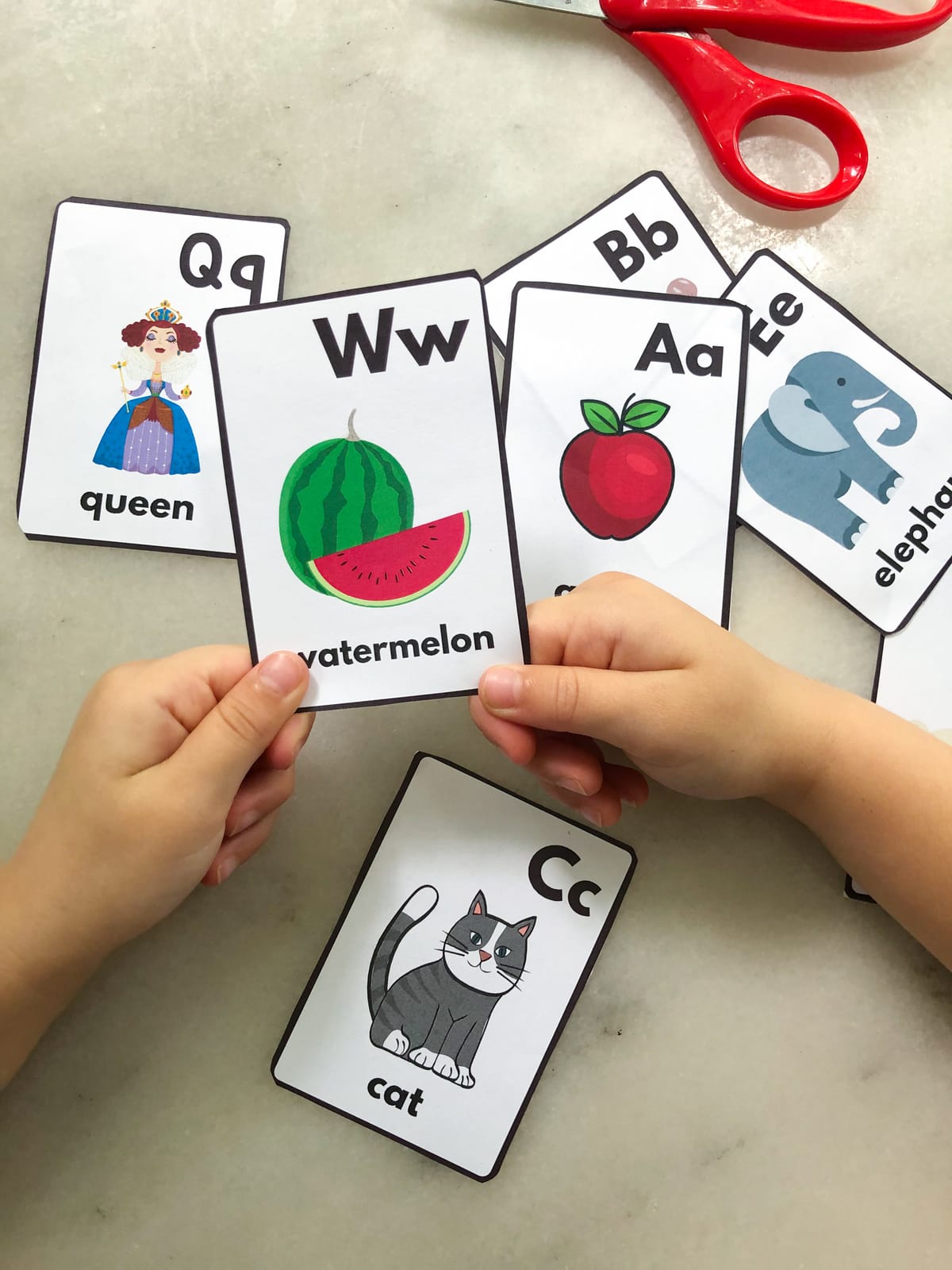 For example, children see the /e/ in elephant but also see other letters on the card. This means that letters are put together to form words. This becomes an activity that engages multiple modalities and appeals to auditory, visual, and kinesthetic learners all at once!
As an added, bonus, we've included flashcards for numbers 1-10, along with the corresponding number of objects, to practice counting and number correspondence!
If your child has the appropriate fine motor skills, he or she can cut out the flashcards, making these flashcards a double educational whammy. Having children participate in creating these flashcards will give them a sense of ownership and provide additional engagement in the activity!
Note: We recommend printing on heavy card stock or laminating the flashcards to extend the fun for a longer period of time!
Lesson Focus
Children learn to identify letters and letter sounds.
Children learn to associate letter sounds with beginning word sounds.
Age Group
These flashcards are appropriate for children preschool – first grade.
Children with appropriate fine motor skills can practice cutting and coloring the flashcards.
Related Posts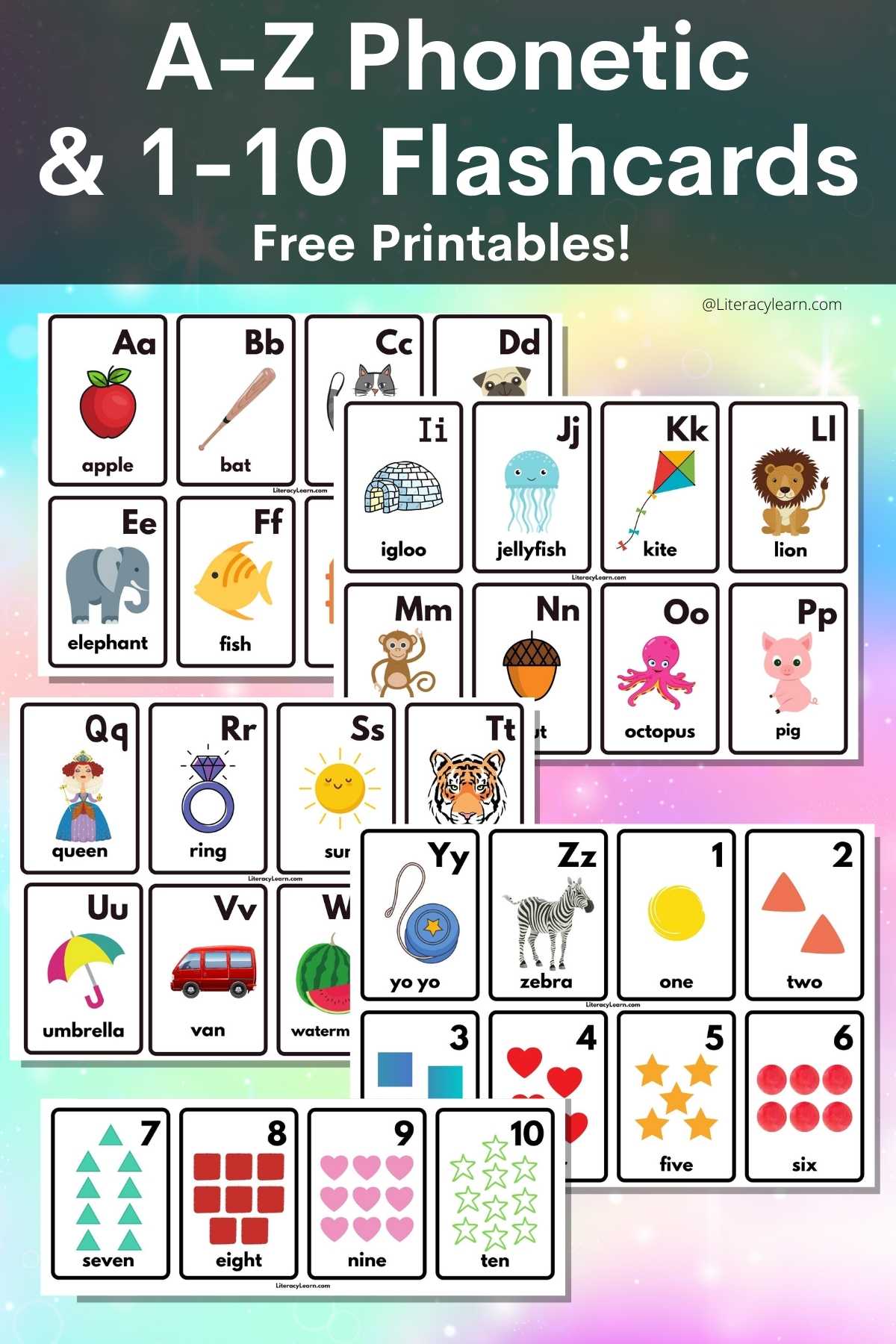 🖨️ Download & Print
Let us know in the comments below if your kids enjoyed these flashcards, or snap a photo and tag us on Instagram @literacylearn!
TERMS: All resources and printables are designed for personal use only in your own home and classroom. Each person must visit this site and download their own free copy. Please do not photocopy, email, or reproduce our printable resources for other teachers, and please do not reproduce our printables on the web or save them to a shared drive. Instead, please share the resources with others by using the social share links provided or by distributing the link to the blog post itself. This allows us to keep making free resources for everyone! If you have any questions, please email us. Please see our Creative Credits page for information regarding the licensed ClipArt used in our resources. Thank you!