FREE ABC Chart & How to Use Alphabet Posters
This post may contain affiliate links. Please see our disclosure policy.
This free ABC chart features letters A-Z with capital and lowercase letters, bright matching pictures, and important keywords included to help kids learn letters and letter sounds. Get your FREE printable download, and make learning letters and sounds fun and easy in this one-stop download!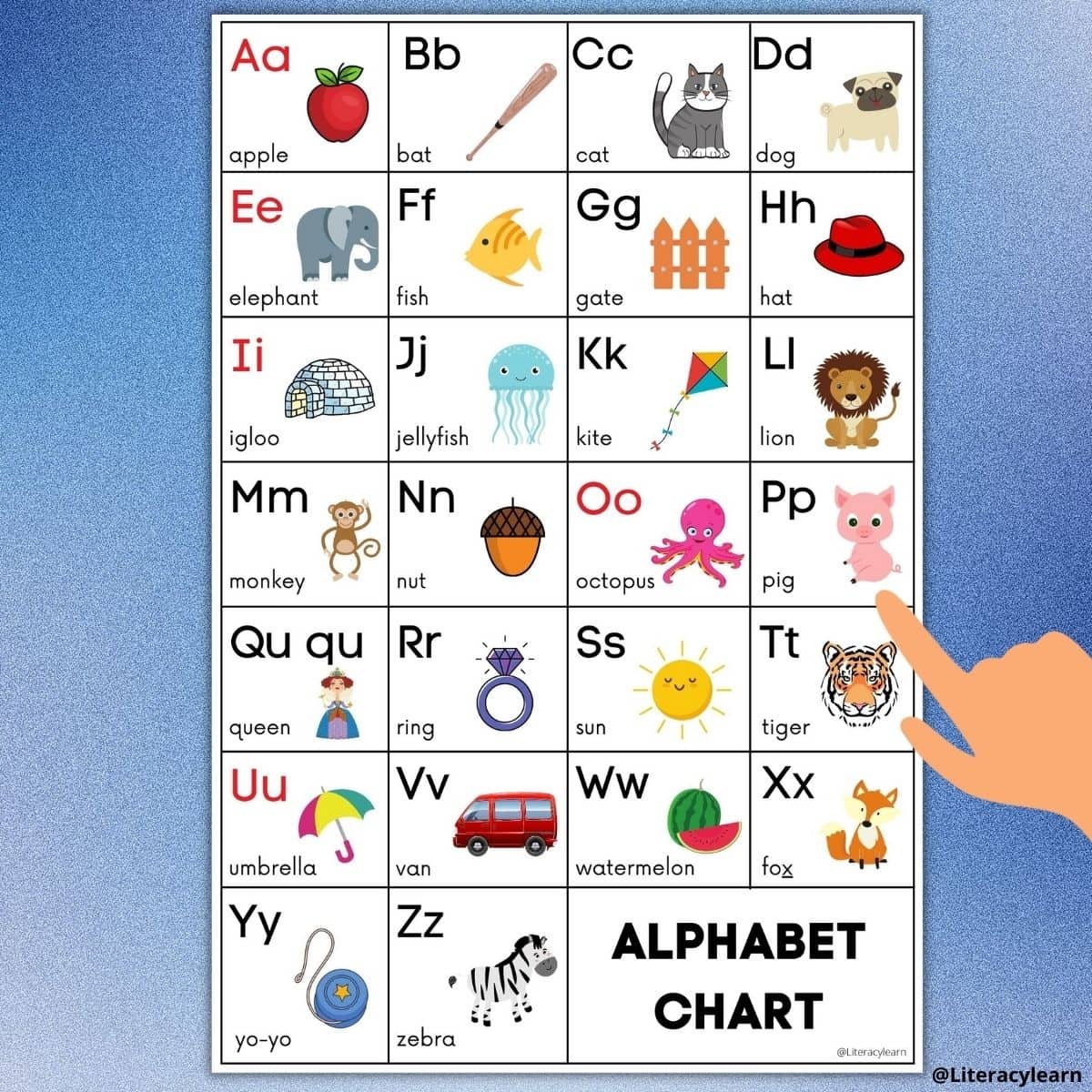 🔤 Why We Love It
Every child needs a visual ABC chart, whether in a classroom or at home. Having a chart as an anchor is a helpful tool for young learners as they practice and master their letters and letter sounds.
This chart can be printed as big or as small as you'd like! You can enlarge it to hang on a wall or make it small enough to glue to a child's notebook. Better yet, do both!
👉 Be sure the chart is within clear view so that children can reference the alphabet often and have it handy whenever they need it.
Important Elements of an ABC Chart
There are 3 important elements included on any useful alphabet chart: letters, pictures, and keywords.
Letters
Capital and lowercase letters are included so children can become familiar with both and learn to match them together.
On the free printable chart, consonants are written in black font, and vowels are in red font.
👉 Important: The vowels included are short vowel sounds only.
Pictures
A bright picture should be displayed to correspond with each letter set. It's used as an anchor in their memory and helps kids to hear the sounds the letters make at the beginning of each word.
This is an important building block for improving phonological awareness!
Keywords
Keywords are included for an important reason. Even when students haven't yet learned to read, the pictures help them to understand the connection between written text and meaning.
When a child sees a picture of a ring and sees the word 'ring' written beneath it, they begin to understand that written words convey meaning.
We've intentionally chosen keywords that have the hard letter sound at the beginning of the word (except for letter x), helping kids to hear and practice beginning letter sounds.
🧑‍🏫 How to Use an Alphabet Chart
Children should point to each letter on the chart and repeat this sequence:
Say the letter
Say the keyword
Say the sound
Teachers and parents should model this often! The letters, keywords, and sounds for an alphabet chart are:
A a –

A

pple – /ă/
B b –

B

at – /b/
C c –

C

at – /k/
D d –

D

og – /d/
E e –

E

lephant – /ĕ/
F f –

F

ish – /f/
G g –

G

orilla – /g/
H h –

H

at – /h/
I i –

I

gloo – /ĭ/
J j –

J

ellyfish – /j/
K k –

K

ite – /k/
L l –

L

ion – /l/
M m –

M

onkey – /m/
N n –

N

umbers – /n/
O o –

O

ctopus – /ŏ/
P p –

P

ig – /p/
*Qu qu –

Qu

een – /kw/
R r –

R

ing – /r/
S s –

S

un – /s/
T t –

T

iger – /t/
U u –

U

mbrella – /u/
V v –

V

an – /v/
W w –

W

atermelon – /w/
*X x – Fo

x

– /ks/
Y y –

Y

o-

Y

o – /y/
Z z –

Z

ebra – /z/
👉 Letter Q
Teach QU together! We do this because in English words, the letter q is always followed by the letter u. The rule is: Never a Q, without a U. This is helpful for beginners as they learn to read and spell.
👉 Letter X
All letters match the beginning sound of the pictures and words except letter X, which makes the /ks/ sound, but not at the beginning of words. As such, the /ks/ sound is heard at the end of the word fox.
Download & Print
We'd love to hear about your experience using this resource!
Please leave a comment below or tag us on Instagram @literacylearn!
TERMS: All resources and printables are designed for personal use only in your own home and classroom. Each person must visit this site and download their own free copy. Please do not photocopy, email, or reproduce our printable resources for other teachers, and please do not reproduce our printables on the web or save them to a shared drive. Instead, please share the resources with others by using the social share links provided or by distributing the link to the blog post itself. This allows us to keep making free resources for everyone! If you have any questions, please email us. Please see our Creative Credits page for information regarding the licensed ClipArt used in our resources. Thank you!