Uppercase & Lowercase Letters Practice Worksheet
This post may contain affiliate links. Please see our disclosure policy.
Get this free printable Alphabet worksheet focused on learning the 26 uppercase & lowercase letters! Students will practice identifying and matching uppercase and lowercase letters along a colorful rainbow using their letter and alphabet knowledge and visual discrimination skills.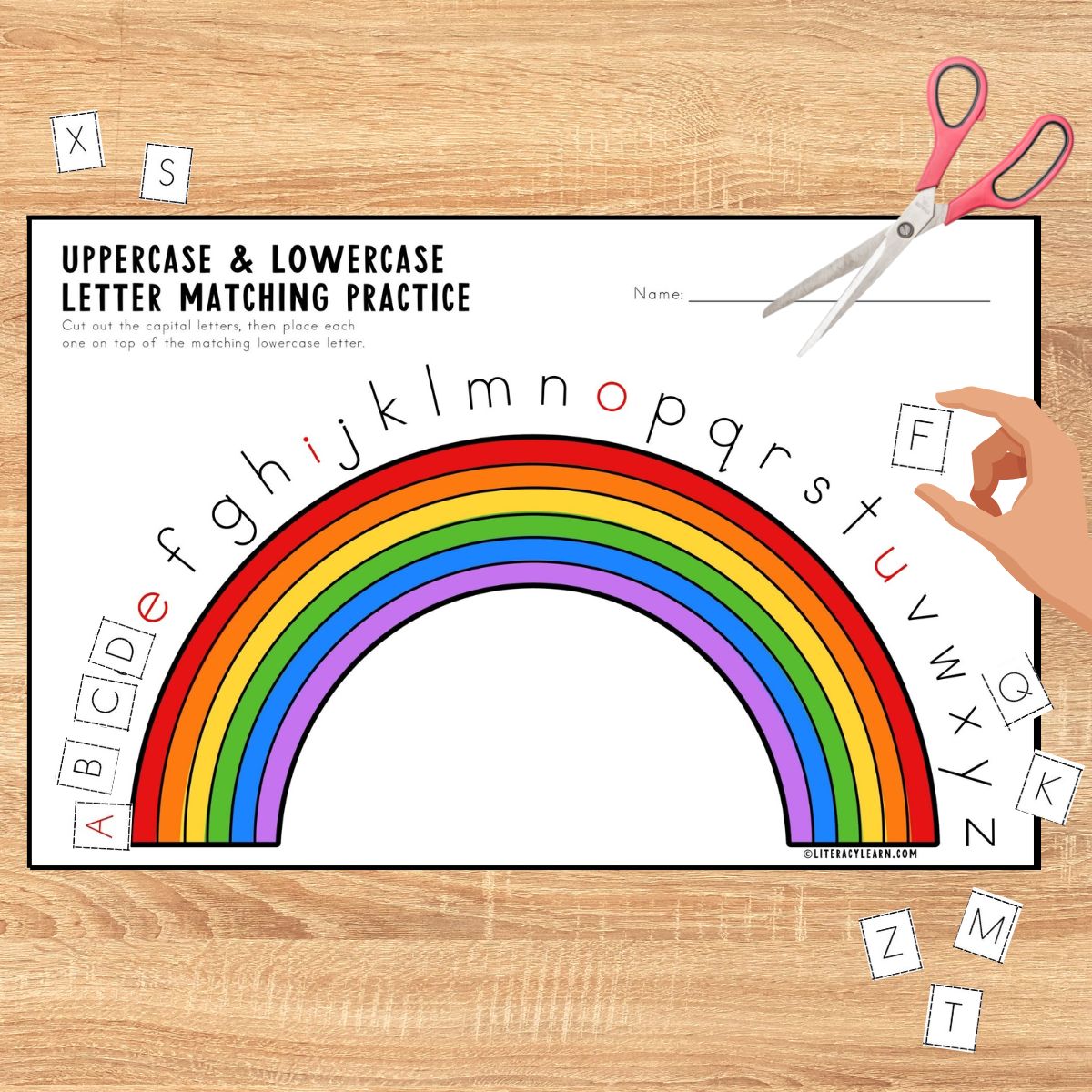 Why We Love It
This letter matching worksheet is so much fun! Students will cut out the capital letters, mix them up, and then place them on top of the lowercase letter, matching them along the colorful rainbow in sequential order.
You can use it alongside our free Alphabet Arc, Letter Tracing Worksheets, and ABC Chart to help children master all 26 letters of the alphabet!
This will help children build automaticity in letter recognition. Children need to be able to quickly identify both uppercase and lowercase letters.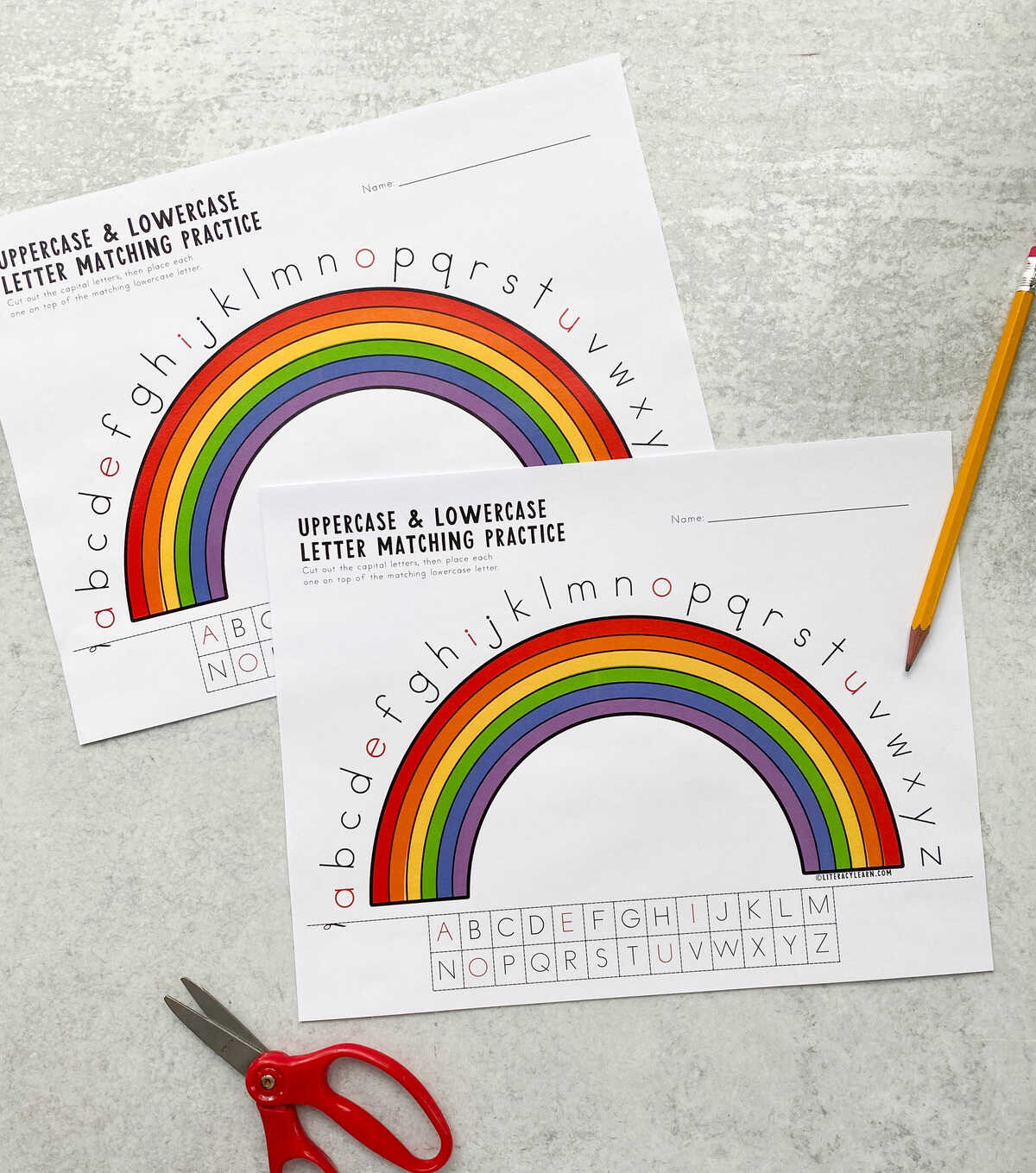 If you think about it, every proper noun, the word "I," and every first word of a sentence will include a capital letter, so it's important that letter recognition of both upper and lowercase letters become quick and effortless.
This activity is not only fun, but it intentionally targets foundational skills in alphabet and letter knowledge.
🌈 This worksheet is part of our popular rainbow-themed Alphabet Practice Worksheets, which comes with an alphabet strip, tracing arcs, and more uppercase and lowercase matching worksheets.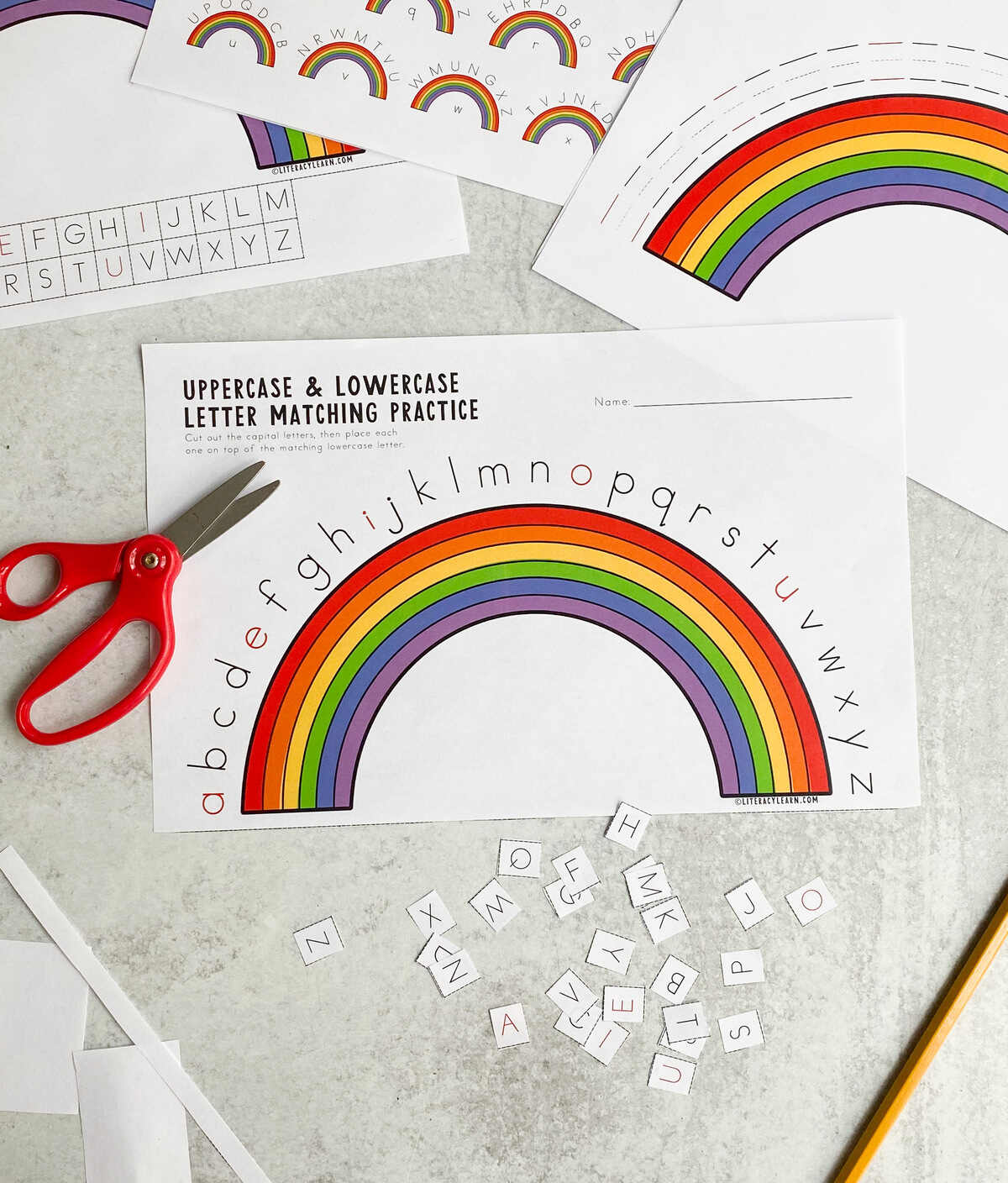 Using The Worksheets
This worksheet can be used in so many ways, including for letter identification, sequencing, upper and lowercase letter matching, and even letter sounds.
The most common use is for children to practice identifying and then matching all the lowercase and capital letters using the Alphabet Arc. But extend its use with these fun ideas:
Letter Identification: Kids practice letter identification of both uppercase and lowercase letters, working to identify them quickly and effortlessly. If they need assistance, be sure an alphabet anchor chart is nearby.
Sequencing: Kids need to learn that the 26 letters in the alphabet occur in a certain order, starting with the letter A all the way through Letter Z. We suggest teaching children to sequence the letters in ABC order, beginning with A and going all the way through Z. Kids should say each letter name as they sequence them.
1-1: When kids sing the ABC's, they usually don't make the connection that each letter name they sing has a corresponding written form (grapheme). This worksheet is perfect to reinforce the correlation between the letter names and the written letter, both uppercase and lowercase.
Letter Sounds: Kids can touch the letters and make the sounds that each letter makes. Or, play a game with your class. Say, "Find the letter that says /m/", then kids quickly place their finger on the letter M and say, "M says /m/."
👉 It's important to note that vowels are red and consonants are black. You'll notice the capital i looks exactly like the lowercase L. This might be confusing for kids, so be sure to explain the similarities and differences between these letters!
👉 The red and black letters will also help reinforce the concept that the alphabet is made up of two types of letters: vowels and consonants.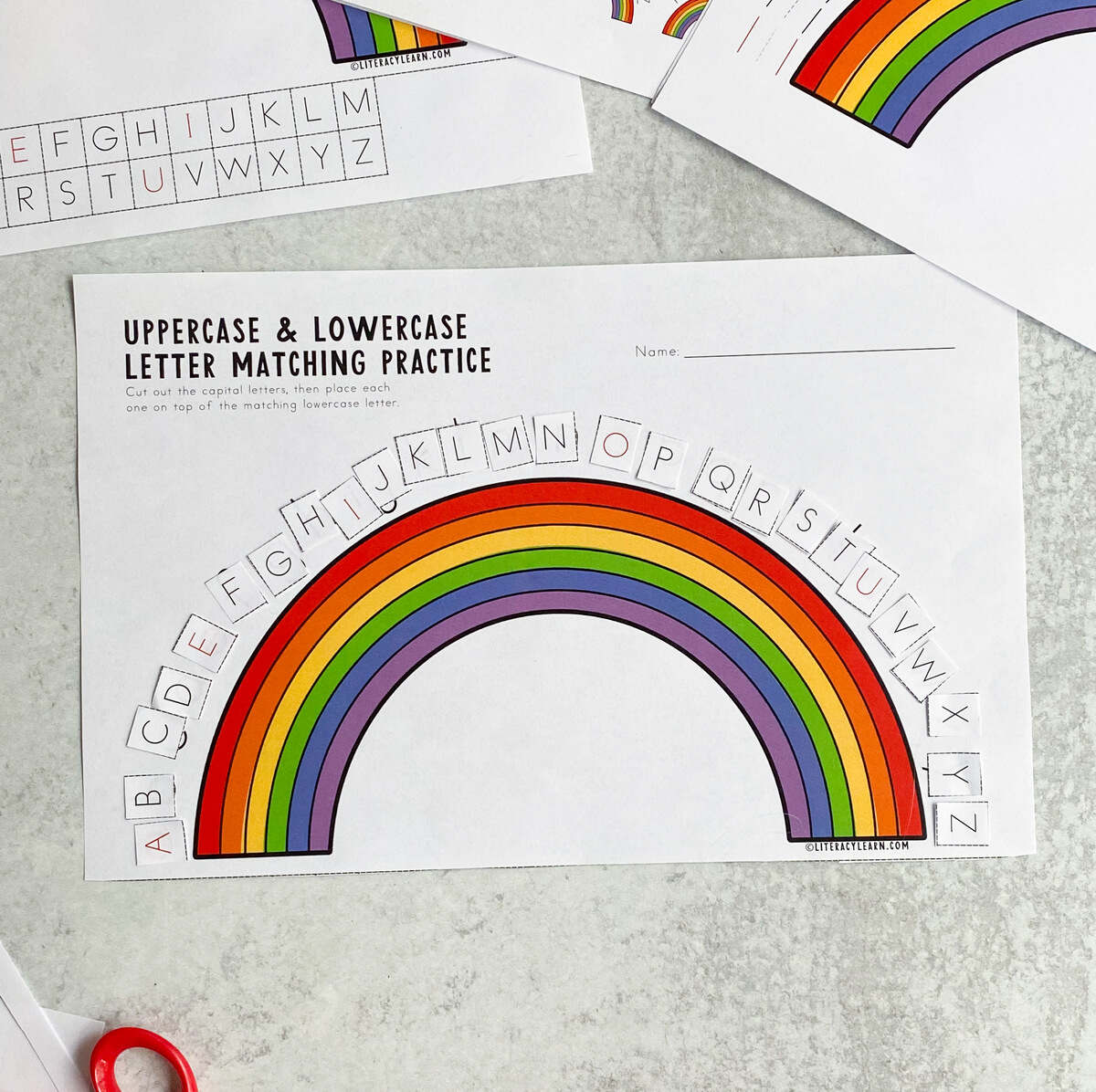 Expert Tips & Info
This worksheet is appropriate for children in preschool, Kindergarten, and 1st Grade who are learning or have learned to recognize both capital and lowercase letters.
For long-term use, laminate the worksheet and letters. You can then use velcro dots placed above each lowercase letter and on the back of each uppercase letter. Store the cut-out letters in a ziplock baggie and use for morning work or a center activity. You'll be able to use it year after year!
We recommend printing at 8.5 x 11 or larger.
Download & Print
We appreciate and welcome your feedback! Please leave a comment below and share your experience using this resource, or tag us on Instagram @literacylearn.
TERMS: All resources and printables are designed for personal use only in your own home and classroom. Each person must visit this site and download their own free copy. Please do not photocopy, email, or reproduce our printable resources for other teachers, and please do not reproduce our printables on the web or save them to a shared drive. Instead, please share the resources with others by using the social share links provided or by distributing the link to the blog post itself. This allows us to keep making free resources for everyone! If you have any questions, please email us. Please see our Creative Credits page for information regarding the licensed ClipArt used in our resources. Thank you!