Phonological Awareness Game: Fun & Free Printable
This post may contain affiliate links. As an Amazon affiliate, we earn from qualifying purchases. See our disclosure policy.
Kids and teachers alike LOVE this fun, free, no-prep Phonological Awareness Game! It gets them up, engaged, and chatting with friends, while testing out their phonological awareness and phonics skills. The name game includes prompts that will challenge their rhyming, onset-rime, alliteration, syllable awareness, phonemic awareness and phonics knowledge!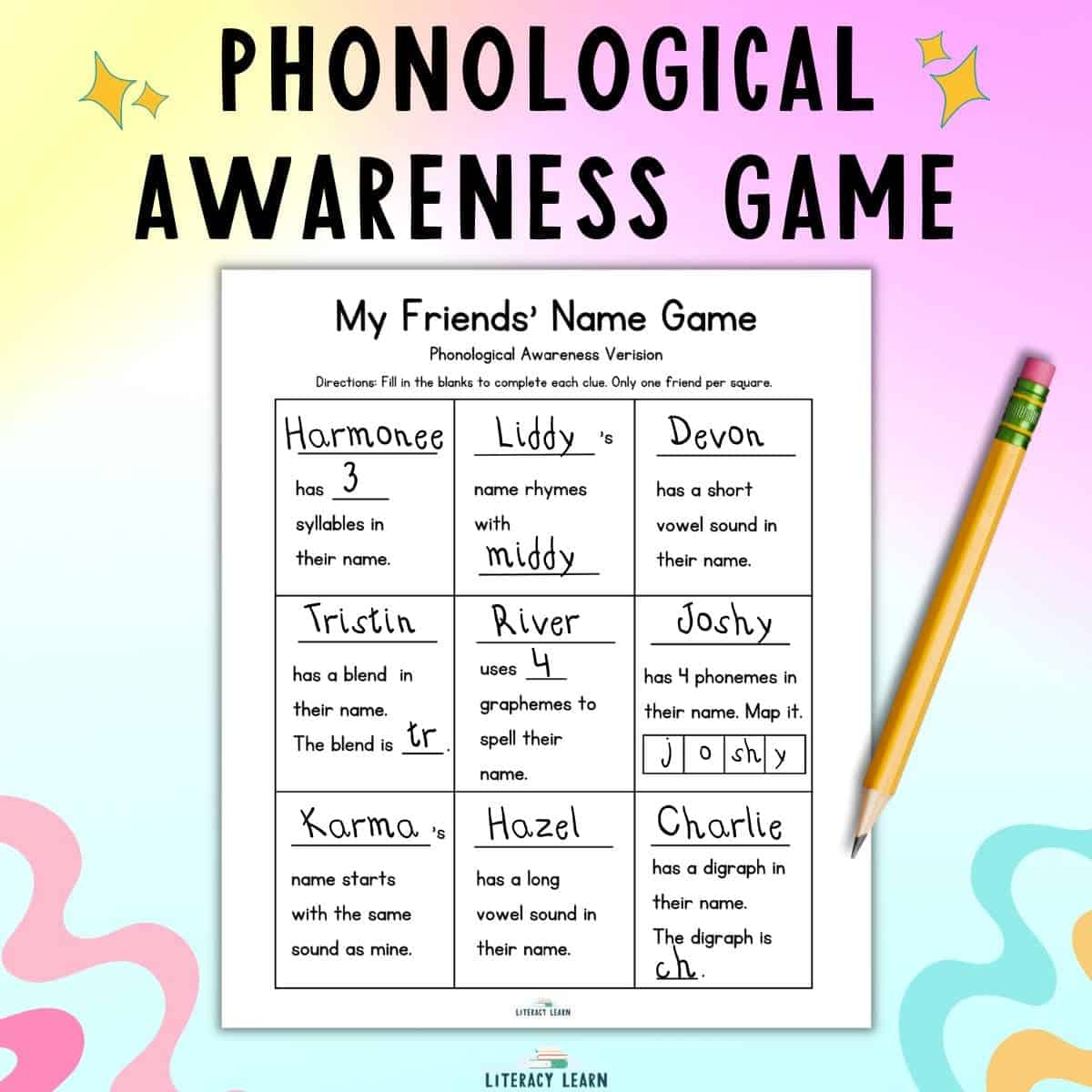 👂🏻 Why Focus on Phonological Awareness?
When you think about phonological awareness, visualize an ear. An ear reminds us that phonological awareness deals with sounds of spoken language.
Phonological awareness includes multiple subsets:
Phonemic awareness
Alliteration and rhyme
Syllable awareness
Word awareness
Sentence awareness
Onset-rime
But if we're trying to get kids to read, why are we worried about spoken sounds? Why spend time focusing on phonological awareness?
👉 Because the awareness and ability to hear and work with spoken sounds is a necessary skill for literacy success.
Multiple studies and research state that phonological awareness is important to literacy success, so it's very important that we integrate phonological awareness activities within our early elementary classrooms.
So if you want your students to be good readers, it will be important that you create a firm foundation using the first building block of reading.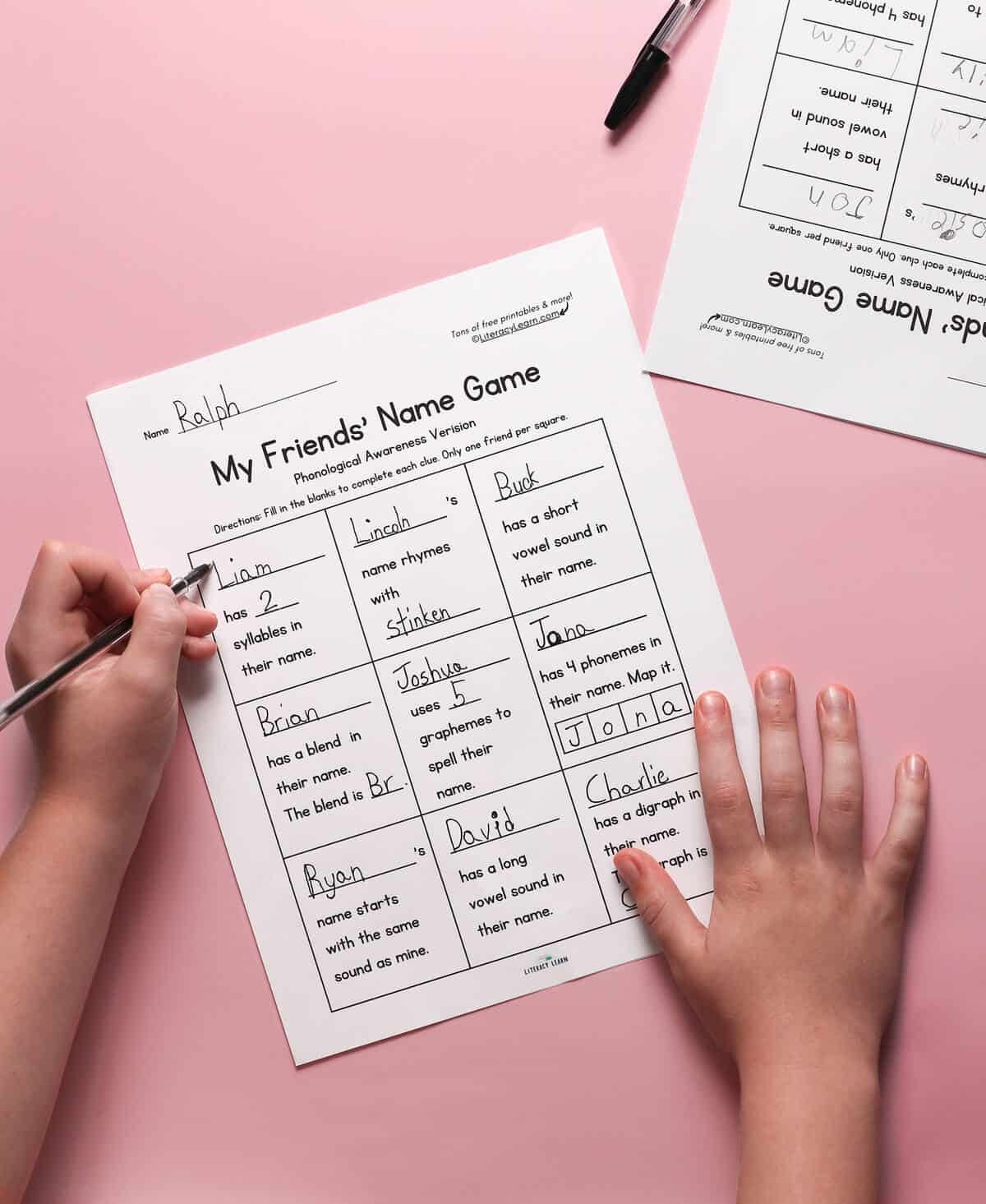 💜 Educational Focus
We (very sneakily) made this worksheet into a targeted learning activity. It's an engaging, multi-sensory activity that uses students' names to practice skills.
And while kids are engaged with friends, they may not even realize that they're actually doing some really hard work focused on various skills!
We specifically included prompts that target skills like rhyming, alliteration, syllable awareness, and phonemic awareness.
And because most research shows that phonological awareness is most effective when paired with phonics, we even included some phonics prompts too!
The game includes 9 tasks that align with specific skills:
Syllable Awareness: __________________ has ___ syllables in their name.
Generating Rhyme: __________________'s name rhymes with ________________.
Phonemic Awareness: __________________ has a short vowel sound in their name.
Phonics: __________________ has a blend in their name. The blend is ____.
Phonemic Awareness: __________________ uses ____ graphemes to spell their names.
Phonemic Awareness: __________________ has 4 phonemes in their name. Map it.
Alliteration: __________________'s name starts with the same sound as mine.
Phonics: __________________ has a long vowel sound in their name.
Phonics: __________________ has a digraph in their name. The digraph is ____.
Tip: Pair this activity with our Science of Reading-aligned Get to Know Me worksheet!
📑 How to Play
Print enough copies for each student in your class. Be sure to review expectations for the activity. We've all seen these types of activities go bad, and we definitively don't want chaos to erupt!
Once kids understand your expectations, they will get up, walk around to friends, and try to complete each task, using friends' names and filling in the blanks.
The directions state that they can only a friend's name only once, which ensures that students are interacting with at least nine other students in their class.
When the activity is completed, we suggest sharing answers as a whole group. Kids can share their responses aloud with one other, building a collaborative classroom.
👩🏻‍🏫 Expert Tips
This activity is best used with 2nd or 3rd grade students.
Review academic terms, such as syllable, phoneme, grapheme, digraph, and blend before beginning. You want your students to feel successful when completing this activity, and it will be a challenge if they don't recall the terms. If they happen to forget, make sure you're accessible to remind them of the meaning of these terms.
Use this game at the beginning of the year as another Get to Know You activity, getting the first day/week of school jitters out of everyone's system. Pair it with our Classroom Scavenger Hunt free printable.
It is best to review each task of the worksheet and give students examples before starting. You may want to display on your smartboard and do your own version, modeling each task for your students before asking them to do it on their own.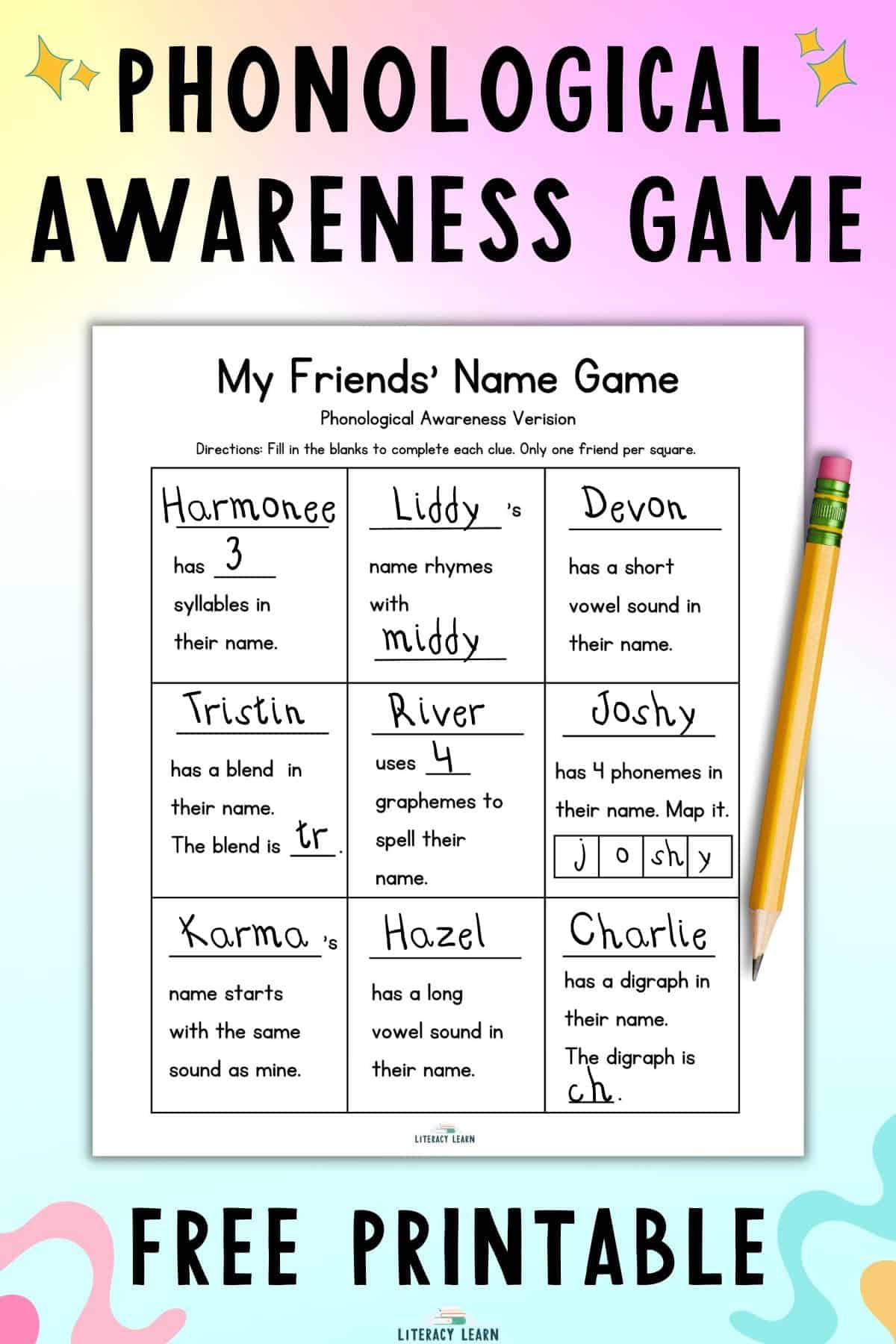 Download & Print
We'd love to hear about your experience using this resource and value your feedback!
Please leave a comment below or tag us on Instagram @literacylearn.
DOWNLOAD TERMS: All of our resources and printables are designed for personal use only in homes and classrooms. Each teacher must download his or her own copy. Please do not save to a shared drive, reproduce our resources on the web, or make photocopies for anyone besides your own students. To share with others, please use the social share links provided or distribute the link to the blog post so others can download their own copies. Your support in this allows us to keep making free resources for everyone! Please see our Creative Credits page for information about the licensed clipart we use. If you have any questions or concerns regarding our terms, please email us. Thank you!
Subscribe and never miss a freebie! TERMS: All resources and printables are...