St. Patrick's Day Word Search & Crossword
This post may contain affiliate links. As an Amazon affiliate, we earn from qualifying purchases. See our disclosure policy.
Get a free printable St. Patrick's Day word search AND crossword puzzle! These fun teaching aids help kids explore and celebrate everyone's favorite March holiday. Download the pdfs below!
🇮🇪 St. Patrick's Day Fun
Everybody's Irish on St. Patrick's Day, so celebrate in the classroom this March 17th with two fun and free printable pdfs- an educational word search and crossword featuring lots of holiday-inspired words!
Word searches and crossword puzzles are great activities to help young readers improve their spelling, increase their vocabulary, and practice their problem solving skills.
Creating a theme for each word search helps to reinforce our lessons and teaching.
Use these resources to help your readers to learn new and interesting words associated with St. Patrick's Day, and use it to spark conversations about the holiday, the origins of St. Patrick's Day, and Irish and Irish-American culture.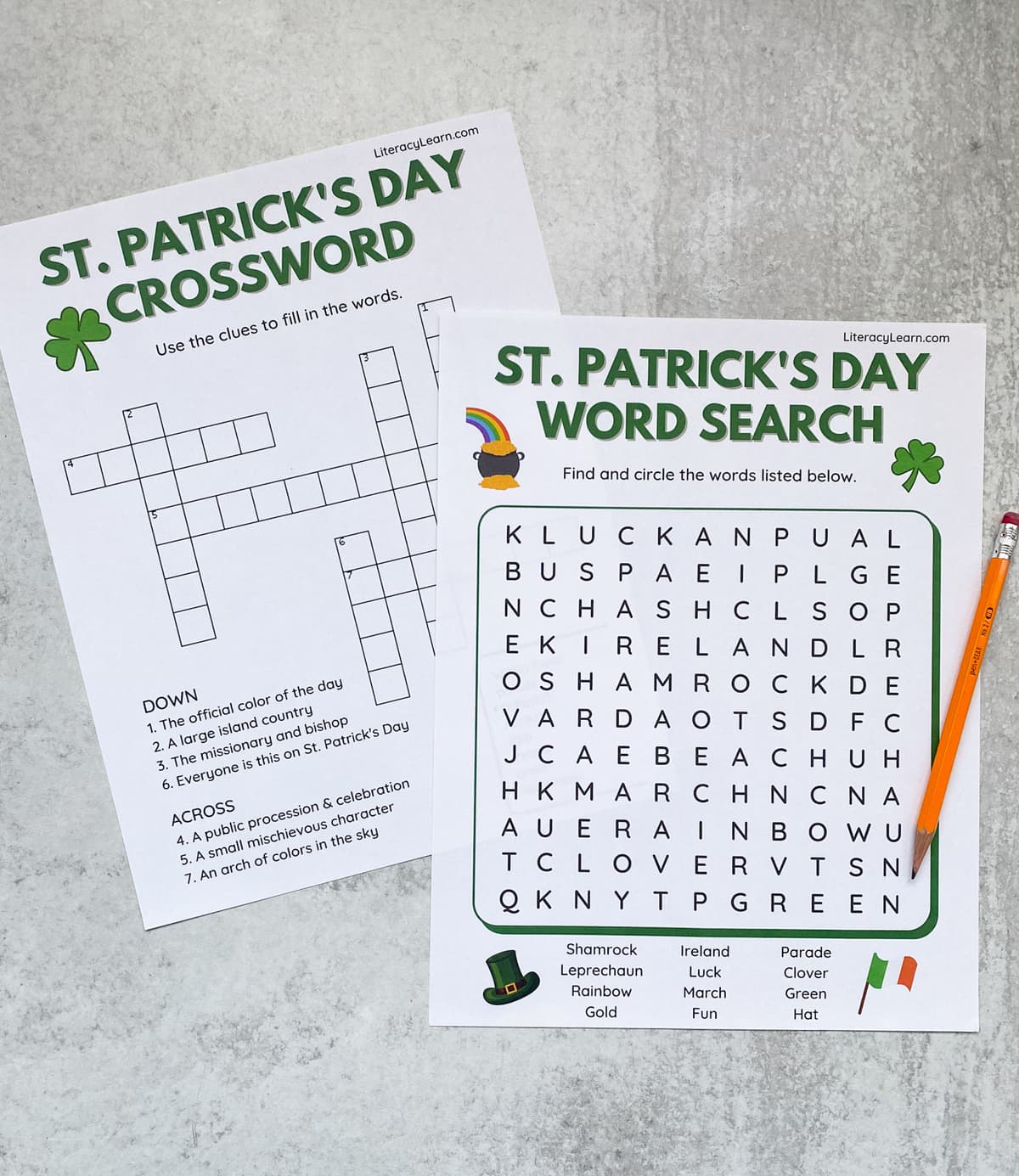 The Printables
The vocabulary words in these included activities are:
Shamrock
Leprechaun
Rainbow
Gold
Ireland
Luck
March
Fun
Parade
Clover
Green
Hat
Learning Focus
Children will identify and spell common words associated with St. Patrick's Day.
Children will practice problem solving by finding hidden words.
Age Group
These worksheets are appropriate for grades 1-2. Children must be able to identify letters, phonemes, and longer words of 6+ letters to engage with this word search in a meaningful way.
Related Posts
🍀 Printable Download
Nothing makes us happier than seeing our resources in the real world!
Snap a picture of your child's work and tag us on Instagram @literacylearn!
Get a free printable St. Patrick's Day word search AND crossword puzzle! These fun...
DOWNLOAD TERMS: All of our resources and printables are designed for personal use only in homes and classrooms. Each teacher must download his or her own copy. Please do not save to a shared drive, reproduce our resources on the web, or make photocopies for anyone besides your own students. To share with others, please use the social share links provided or distribute the link to the blog post so others can download their own copies. Your support in this allows us to keep making free resources for everyone! Please see our Creative Credits page for information about the licensed clipart we use. If you have any questions or concerns regarding our terms, please email us. Thank you!