St. Patrick's Day Color by Number
This post may contain affiliate links. As an Amazon affiliate, we earn from qualifying purchases. See our disclosure policy.
This free St. Patrick's Day Color by Number printable is a perfect holiday activity for kids at home and in classrooms. It pictures a leprechaun hat, a rainbow, a pot of gold, a lucky horseshoe, and shamrocks!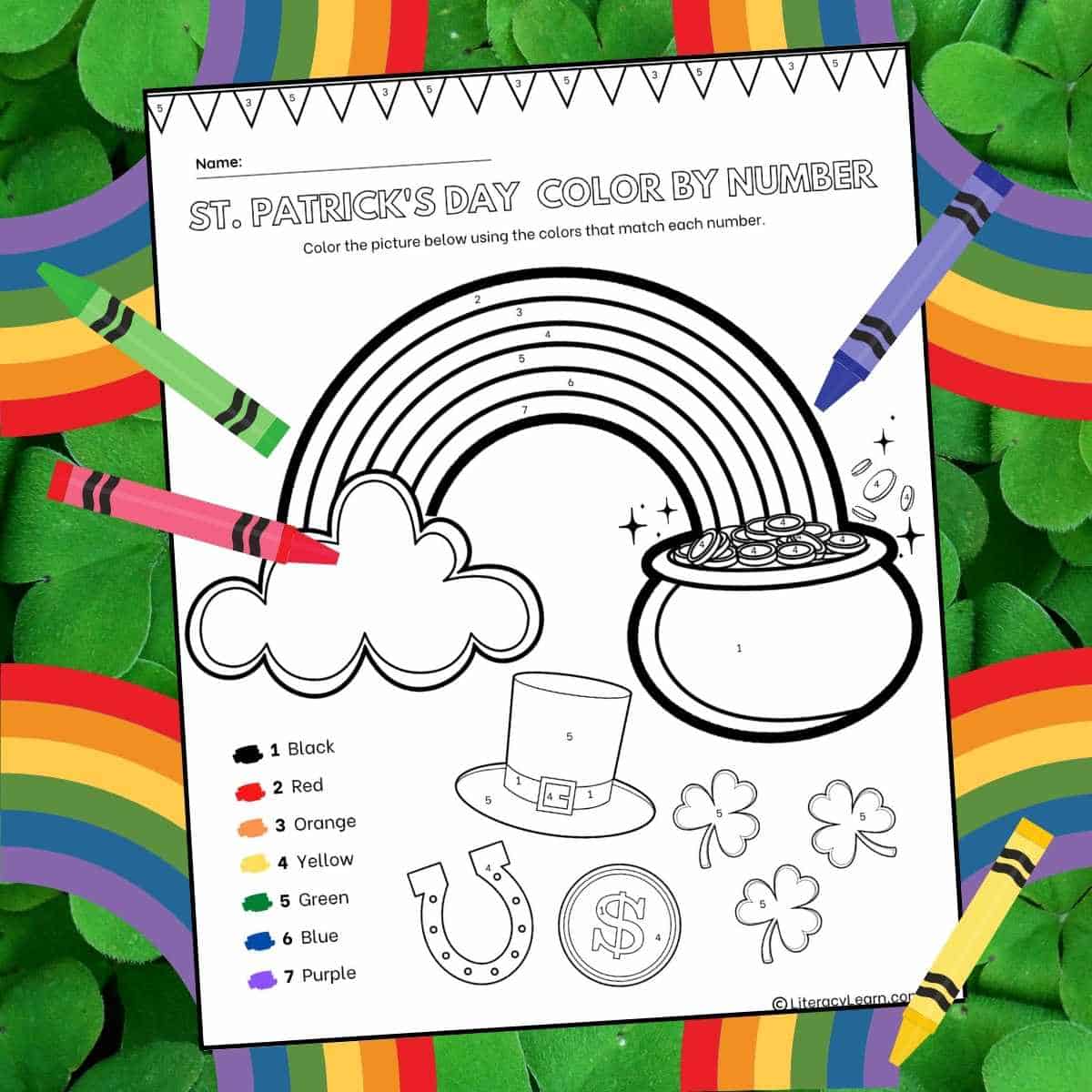 ☘️ Why We Love It
St. Patrick's Day is usually a lighthearted celebration where everyone gets to be Irish for the day. Not only is it festive and fun to incorporate holiday activities like this into the classroom, but there are educational benefits to using color by number activities!
It's engaging! This isn't any old coloring sheet, but it's more like a puzzle just waiting to be put together. This is an independent, self-driven task that is intentional and targeted.
Visual discrimination skills are developed. Small numbers must be distinguished from one another, and children must notice where sections of the picture begin and where they end. Attention to detail is very important in this activity!
It helps fine motor skills to develop. Students who struggle with this are encouraged by a color by number activity to color inside of the lines, because going outside the lines risks getting the wrong color in the wrong spot. It provides extra motivation, which will transfer to pencil control!
Repeated exposure helps build word and number recognition. Students will read each of the color words multiple times, some of which are high frequency sight words. They also identify numbers multiple times throughout as they complete the puzzle.
It encourages following multi-step directions. Students must complete many steps in order for the picture to turn out correctly.
Best, of all, the finished product is something that kids can look at and immediately see their success. A sense of pride is developed when they admire their accomplishment! And there's nothing better than that!
🖍️ Helpful Info
👉 You will need crayons, colored pencils, or markers in black, red, orange, yellow, green, blue and purple.
👉 The activity was designed for students in Kindergarten, First, and Second grades, aged 5-9, but they can be used for just about anyone.
👉 We included a color chart AND the written words beside each color, so even children who haven't mastered all the words can join in the fun!
Even our preschool kids (who didn't bother following the color chart) had a blast coloring in the rainbow, leprechaun, and pot of gold imagery!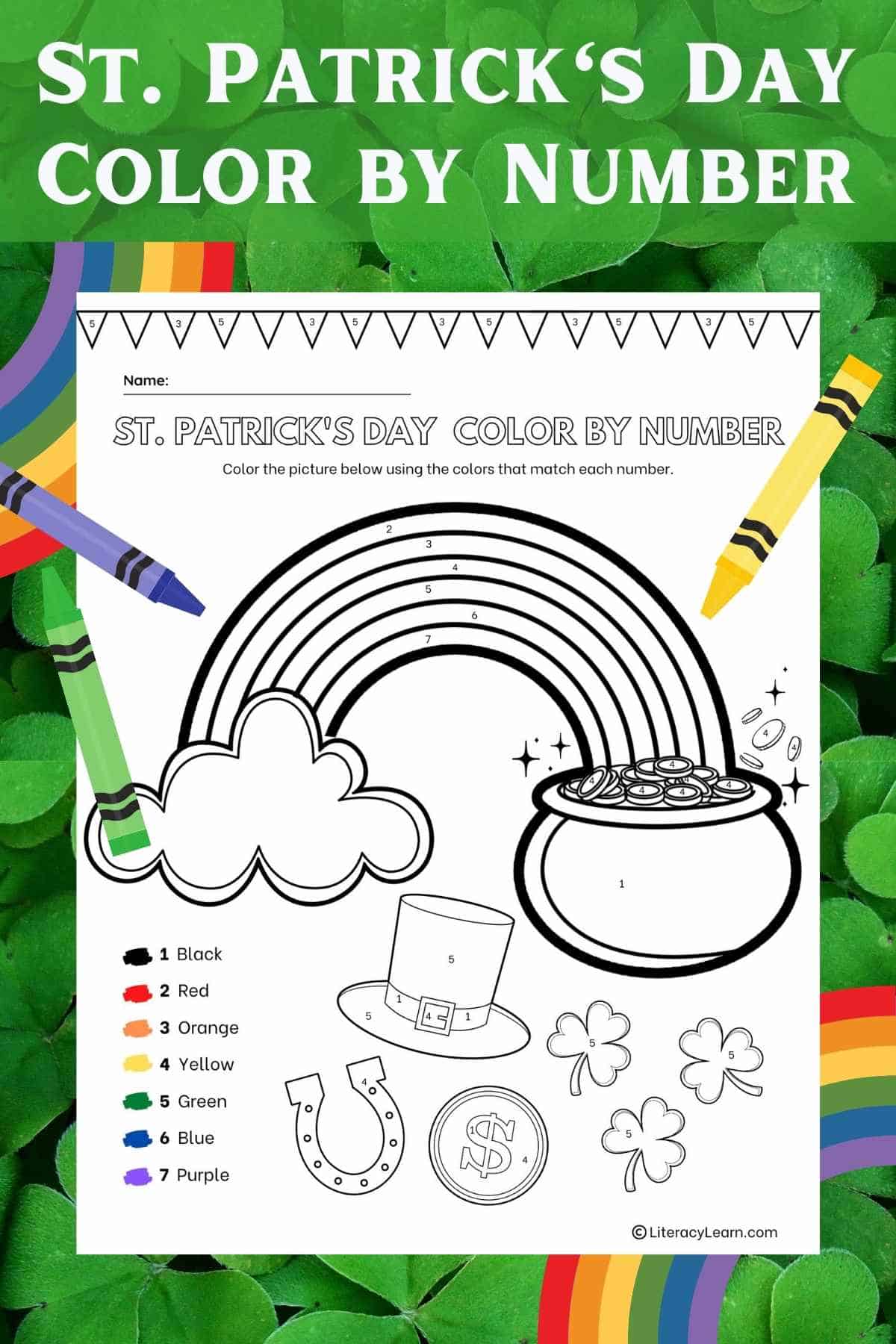 🖨️ Printable Download
If you use this resource, please let us know!
Leave a comment below or tag us on Instagram @literacylearn.
This free St. Patrick's Day Color by Number printable is a perfect holiday activity...
DOWNLOAD TERMS: All of our resources and printables are designed for personal use only in homes and classrooms. Each teacher must download his or her own copy. Please do not save to a shared drive, reproduce our resources on the web, or make photocopies for anyone besides your own students. To share with others, please use the social share links provided or distribute the link to the blog post so others can download their own copies. Your support in this allows us to keep making free resources for everyone! Please see our Creative Credits page for information about the licensed clipart we use. If you have any questions or concerns regarding our terms, please email us. Thank you!