3 Free St. Patrick's Day Word Mapping Worksheets
This post may contain affiliate links. Please see our disclosure policy.
Celebrate St. Patrick's Day while your students practice orthographic mapping! These St. Patrick's Day Word Mapping worksheets for 3, 4, and 5 phoneme words feature seasonal imagery including shamrocks, leprechaun hats, rainbows, and pots of gold!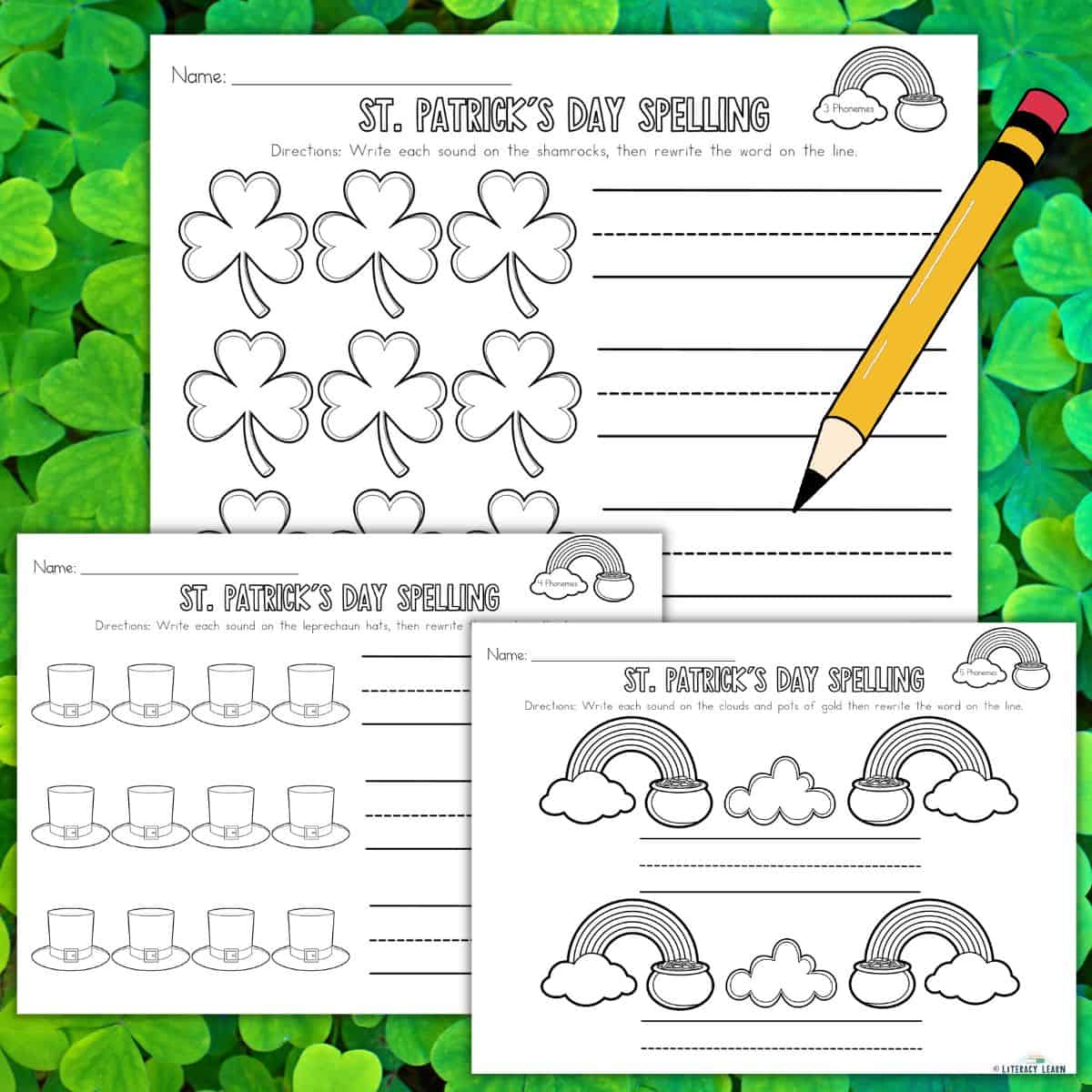 Why We Love It
St. Patrick's Day is March 17th, so let's have some educational fun with our students! Use our free Word Mapping worksheets for 3, 4, and 5 phoneme words.
☘️ Orthographic mapping activities are important for all levels of beginning readers!
☘️ This practice is research-based and aligned with Science of Reading and Orton Gillingham.
☘️ It helps to build word recognition so new words can become sight words!
☘️ It can grow with them as they learn more and grow in their reading skills and knowledge.
Like our St. Patrick's Day-themed Color by Number or Crossword and Word Search printables, this activity is designed to help build important reading skills while celebrating the holiday!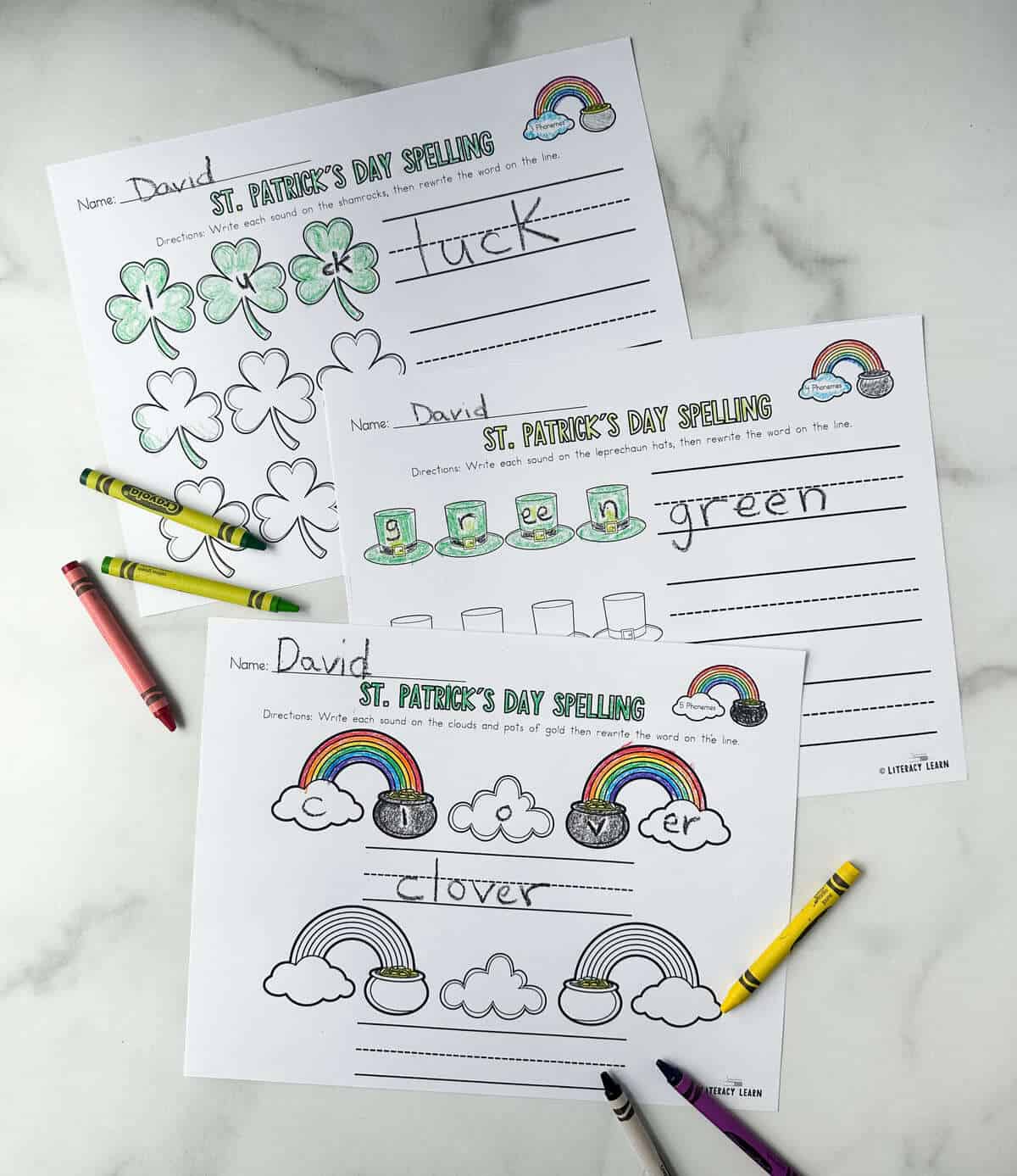 Using the Worksheets
🇮🇪 Use the worksheets to practice phoneme-grapheme mapping:
The teacher dictates the word.
Students repeat the word aloud.
Students say the sounds, one by one, and then write the letter or letters (grapheme) that represent each sound (phoneme) on each blank space.
Children rewrite the entire word on the line, saying each letter name as they write it.
Students then blend the sounds together to read the entire word out loud.
The three, four, and five phoneme worksheets can be used practice spelling words across many different phonics skills.
Students can practice CVC words, Silent E words, C+le words, and words with blends, digraphs, and R-controlled vowels.
You can dictate St. Patrick's Day-themed words like gold, jig, luck, green, clover, fun, March, or hat. And each worksheet has fun St. Patrick's Day graphics that students can color in!
Expert Tips & Info
Make it multisensory by placing chocolate coins, green play dough, rainbow erasers, or any other fun St. Patrick's Day Dollar Store items on the phonemes.
For extended use, laminate the printables or place them in clear plastic sleeves and use dry-erase markers.
Related Resources
Download & Print
We'd love to hear about your experience using this resource!
Please leave a comment below or tag us on Instagram @literacylearn!
TERMS: All resources and printables are designed for personal use only in your own home and classroom. Each person must visit this site and download their own free copy. Please do not photocopy, email, or reproduce our printable resources for other teachers, and please do not reproduce our printables on the web or save them to a shared drive. Instead, please share the resources with others by using the social share links provided or by distributing the link to the blog post itself. This allows us to keep making free resources for everyone! If you have any questions, please email us. Please see our Creative Credits page for information regarding the licensed ClipArt used in our resources. Thank you!