5 Coloring Bookmarks with Dr. Seuss Quotes
This post may contain affiliate links. As an Amazon affiliate, we earn from qualifying purchases. See our disclosure policy.
These 5 printable coloring bookmarks each showcase beautiful imagery and a unique inspirational Dr. Seuss quote. Children can practice their cutting AND coloring while creating a fun craft! Print one or print all five for your favorite readers!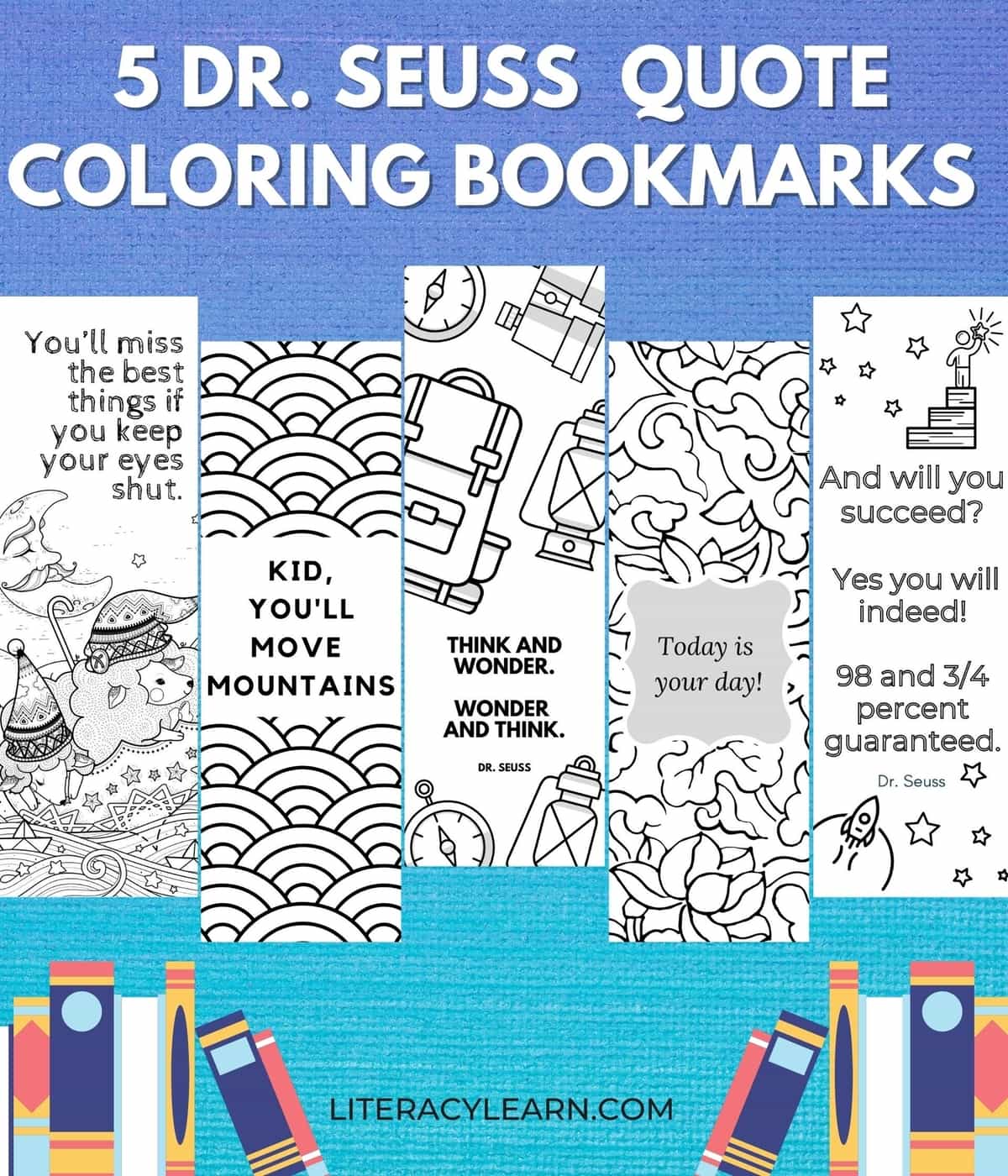 Dr. Seuss Quotes
Dr. Seuss' books are some of the most loved children's books of all time. He's inspired and taught countless children with his catchy rhythm and imaginative art, igniting a love of reading in children that's lasted several generations.
There are positive messages in many of his books that we continue to use to teach and inspire children today!
We love to use his books to teach important skills, like how we use Fox in Socks to practice rhyming!
And we're celebrating more here with five printable coloring bookmarks, each featuring a different Dr. Seuss quote.
It wasn't easy to narrow our favorite quotes from all the many Dr. Seuss books down to just five, so we let our kids pick their favorites.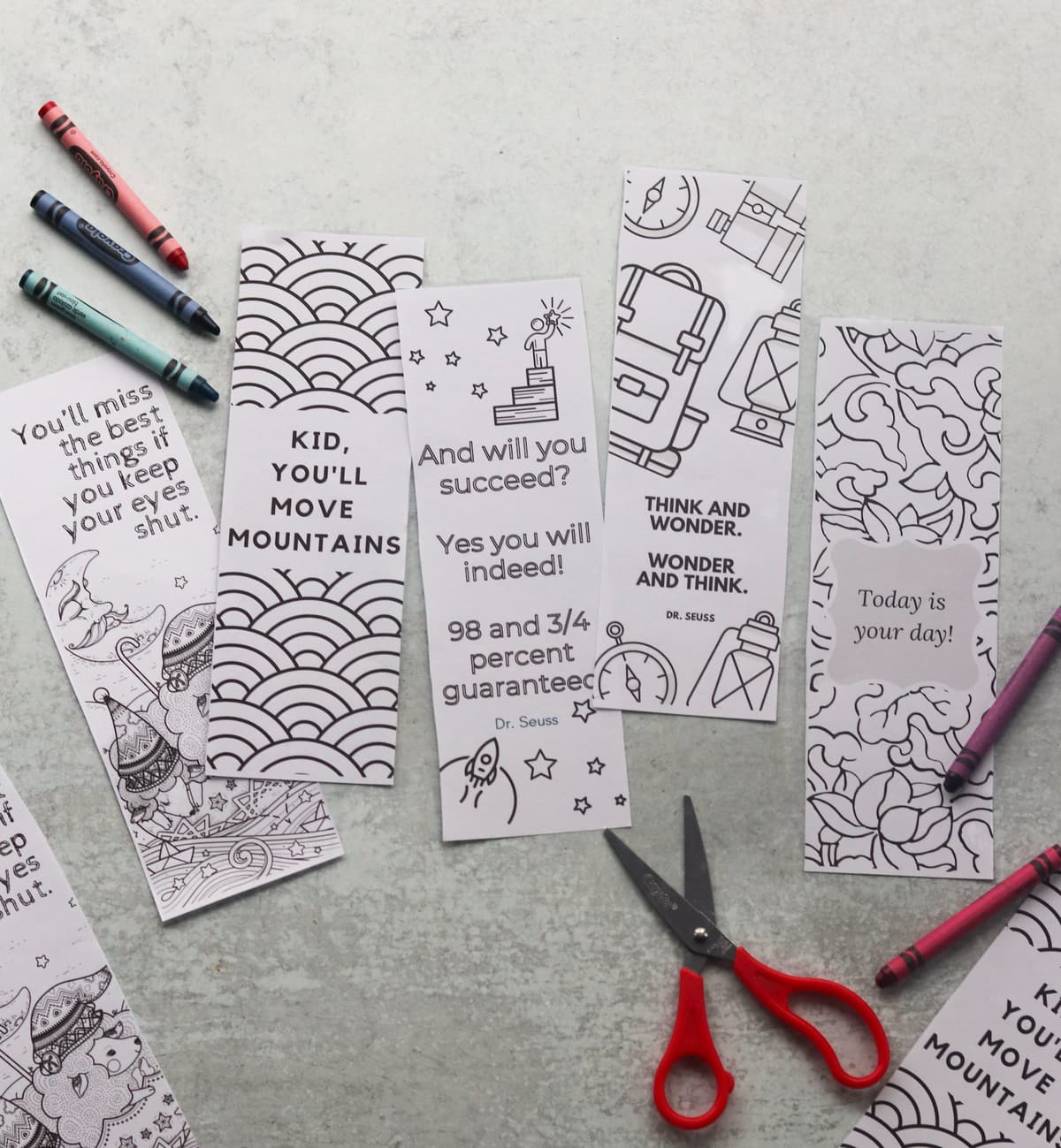 About the Bookmarks
You might notice most of the quotes are from Dr. Seuss' "Oh, the Places You'll Go!" and just one is from "I Can Read With My Eyes Shut!" but hey, these are what they chose:
"You'll miss the best things if you keep your eyes shut."
"Kid, you'll move mountains."
"And will you succeed? Yes you will indeed! 98 and 3/4 percent guaranteed."
"Think and wonder, wonder and think."
"Today is your day!"
Print that bookmark with art that speaks to you most, the one with a message your child would love to hear, or print them all!
Best of all, these bookmarks are fantastic keepsakes! Your child can keep them or gift them to a friend!
Tips & Info
We recommend printing these bookmarks on heavy card stock OR laminating after coloring. That way you'll be able to enjoy them for a long time to come!
If you plan to print them all, save paper by printing more than one bookmark per page. This can be adjusted in your print settings.
Related Posts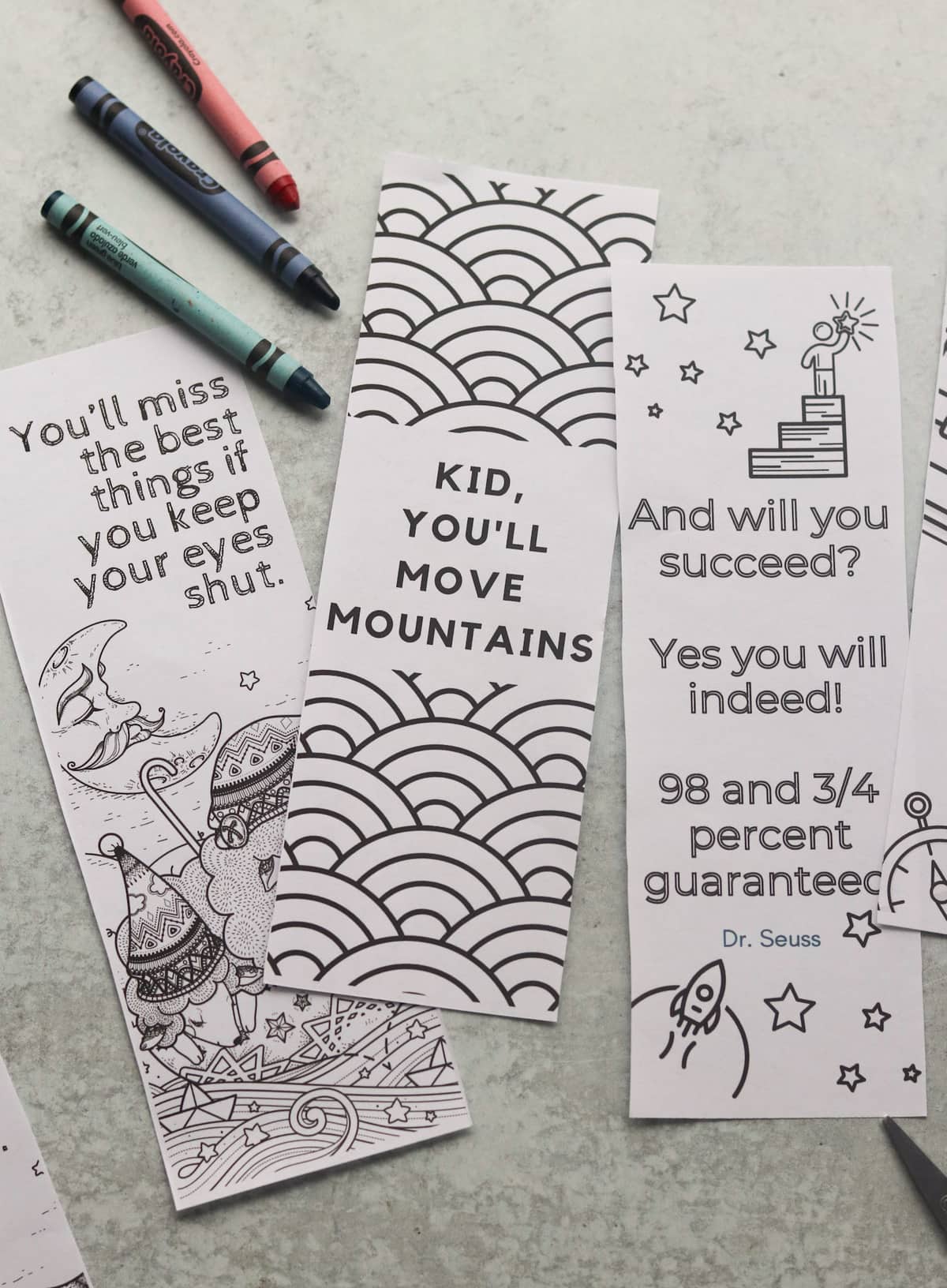 Download and Print
Will your kids color these bookmarks? We'd love to see the finished product! Snap a picture and tag us on Instagram @literacylearn or share about your experience in the comments below.
DOWNLOAD TERMS: All of our resources and printables are designed for personal use only in homes and classrooms. Each teacher must download his or her own copy. Please do not save to a shared drive, reproduce our resources on the web, or make photocopies for anyone besides your own students. To share with others, please use the social share links provided or distribute the link to the blog post so others can download their own copies. Your support in this allows us to keep making free resources for everyone! Please see our Creative Credits page for information about the licensed clipart we use. If you have any questions or concerns regarding our terms, please email us. Thank you!