Free Cat in the Hat Graphic Organizer Worksheet
This post may contain affiliate links. As an Amazon affiliate, we earn from qualifying purchases. See our disclosure policy.
Grab this The Cat in the Hat graphic organizer, perfect for celebrating Dr. Suess and Read Across America Day! Use this FREE worksheet to incorporate some Dr. Suess-themed fun into your classroom.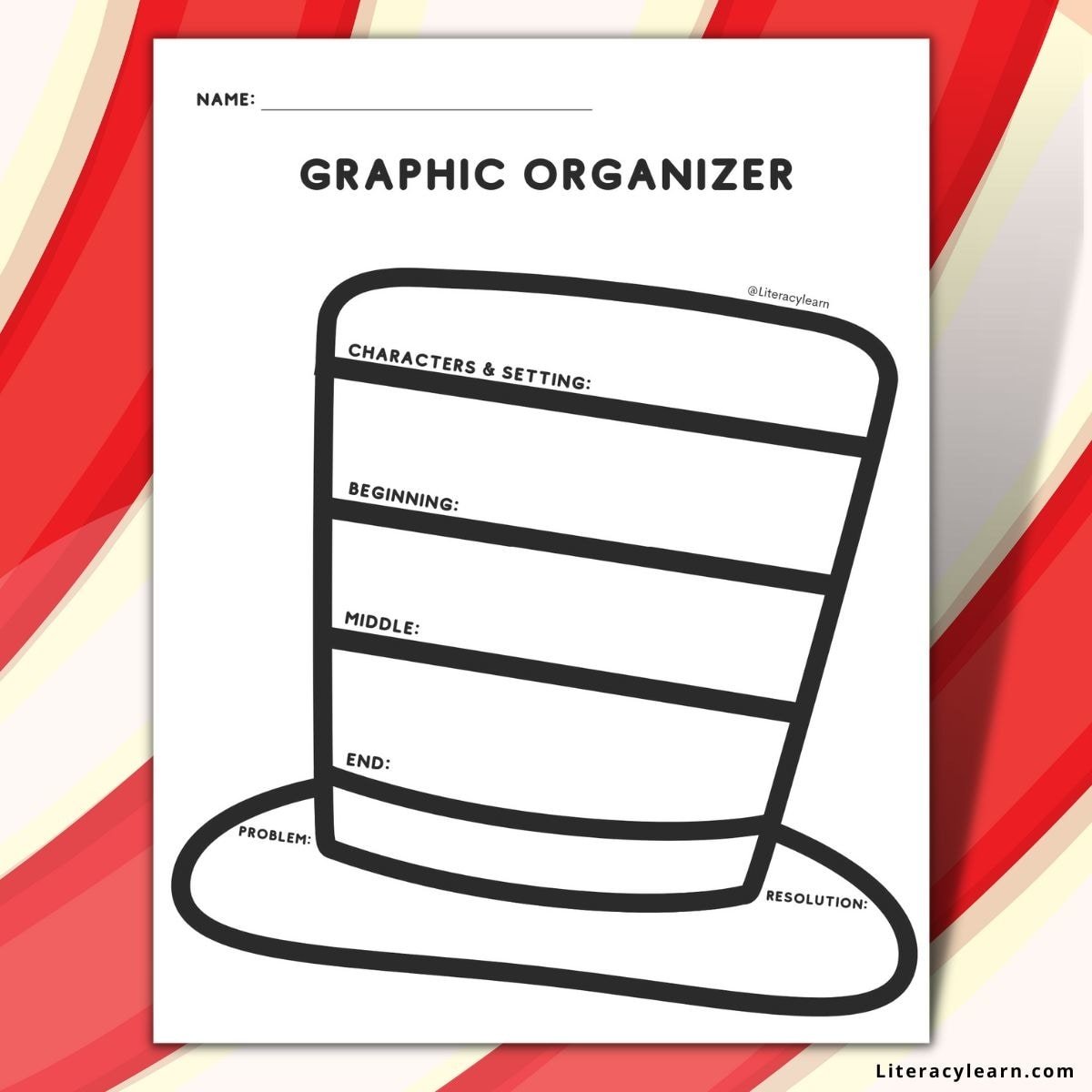 💗 Why We Love It
This no-prep Graphic Organizer worksheet is awesome for so many reasons! Students will practice identifying plot elements in the story they read.
It easily allows you to meet the needs of ALL learners sitting in your classroom!
👉 It can be used with any fiction book your students are currently reading, not just The Cat in the Hat. Use it with Fox in Socks, Green Eggs and Ham, or any non-Seuss book will work great.
👉 You can use this worksheet in a variety of ways depending on your students' levels. They can complete the graphic organizer by drawing, drawing/labeling, or by writing sentences.
👉 You can even differentiate this assignment within your classroom by requiring your different groups to use the hat in different ways. Some might draw, some might draw/label, and others might write!
🎩 All About The Graphic Organizer
We want our students to have fun with this activity, so as an alternative to using a less-engaging story map, we made an actual HAT that looks similar to the one that Cat in the Hat wears.
The graphic organizer includes space for these plot elements:
Characters
Setting
Beginning
Middle
End
Problem or Conflict
Resolution
If kids need more support with the skills, the teacher can guide them through the activity in small groups.
Other kids may be up for the challenge and may be able to complete it independently! Partner work is always an option too.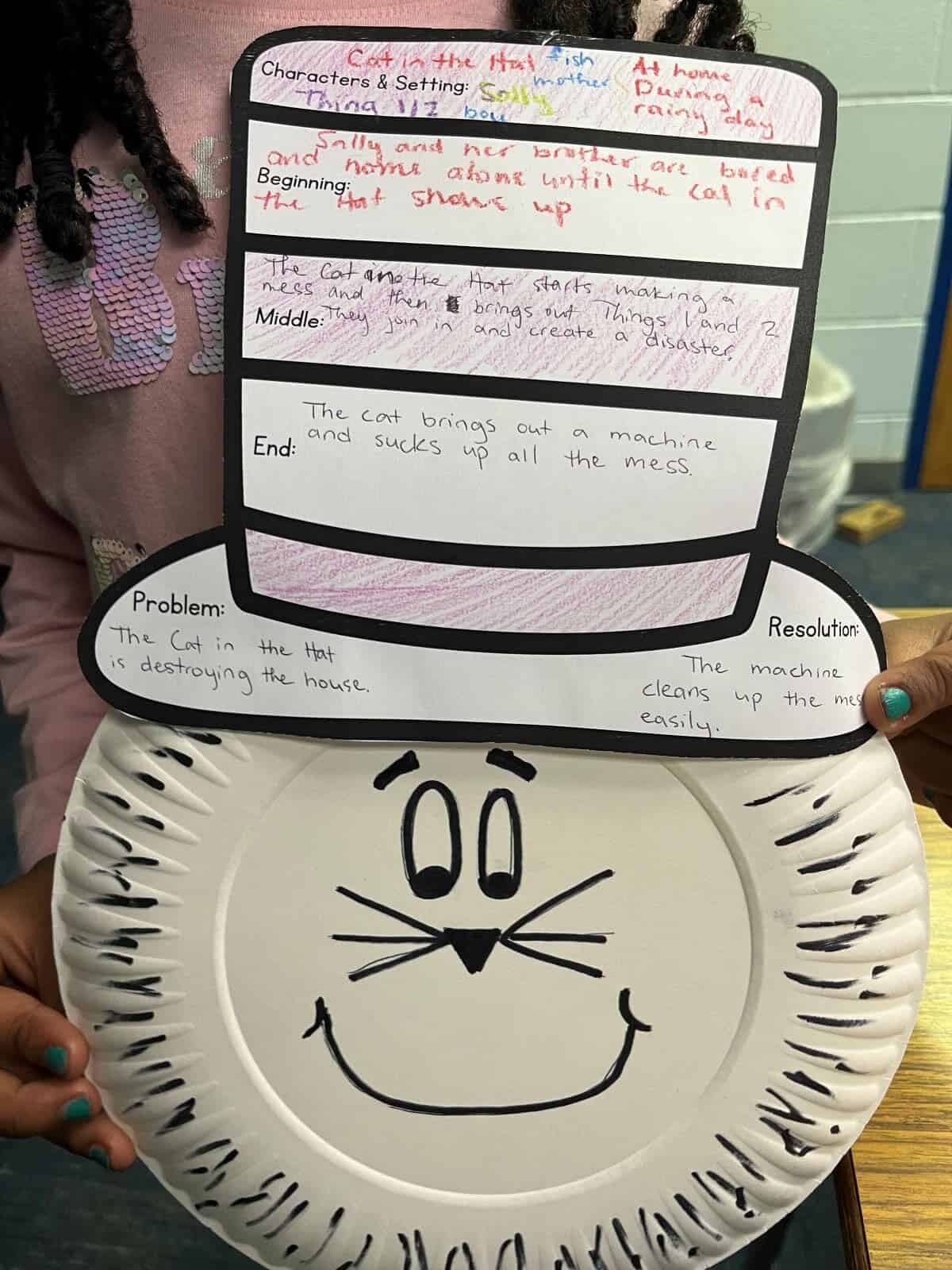 Expert Tips & Info
For some added fun, extend the activity and let your students' creativity shine!
Using paper plates or cardstock, children can create Cat in the Hat faces. Just cut out the hat and attach to the face! Kids use their artistic abilities and they'll actually have their very own Cat in the Hat!
The hats make great decorations to display outside of your classroom in the hallway or on the door!
Added Bonus: Administrators love these because they're not just crafts, but they specifically relate to grade-level standards and make the school look great!
👩‍🏫 Teach and Model
Because The Cat in the Hat is a beloved classic, it's a great one to read to your class, especially on Read Across America Day!
And because it's a familiar story, it's an excellent choice for a whole group lesson when teaching how to map story elements.
After reading the story aloud, use an enlarged version of our graphic organizer. You can quickly draw it on chart paper or display the pdf on your smartboard.
Together with your class, discuss the book and identify plot elements within the story. Talk through the story, listing the characters, setting, beginning, middle, end, problem, and resolution.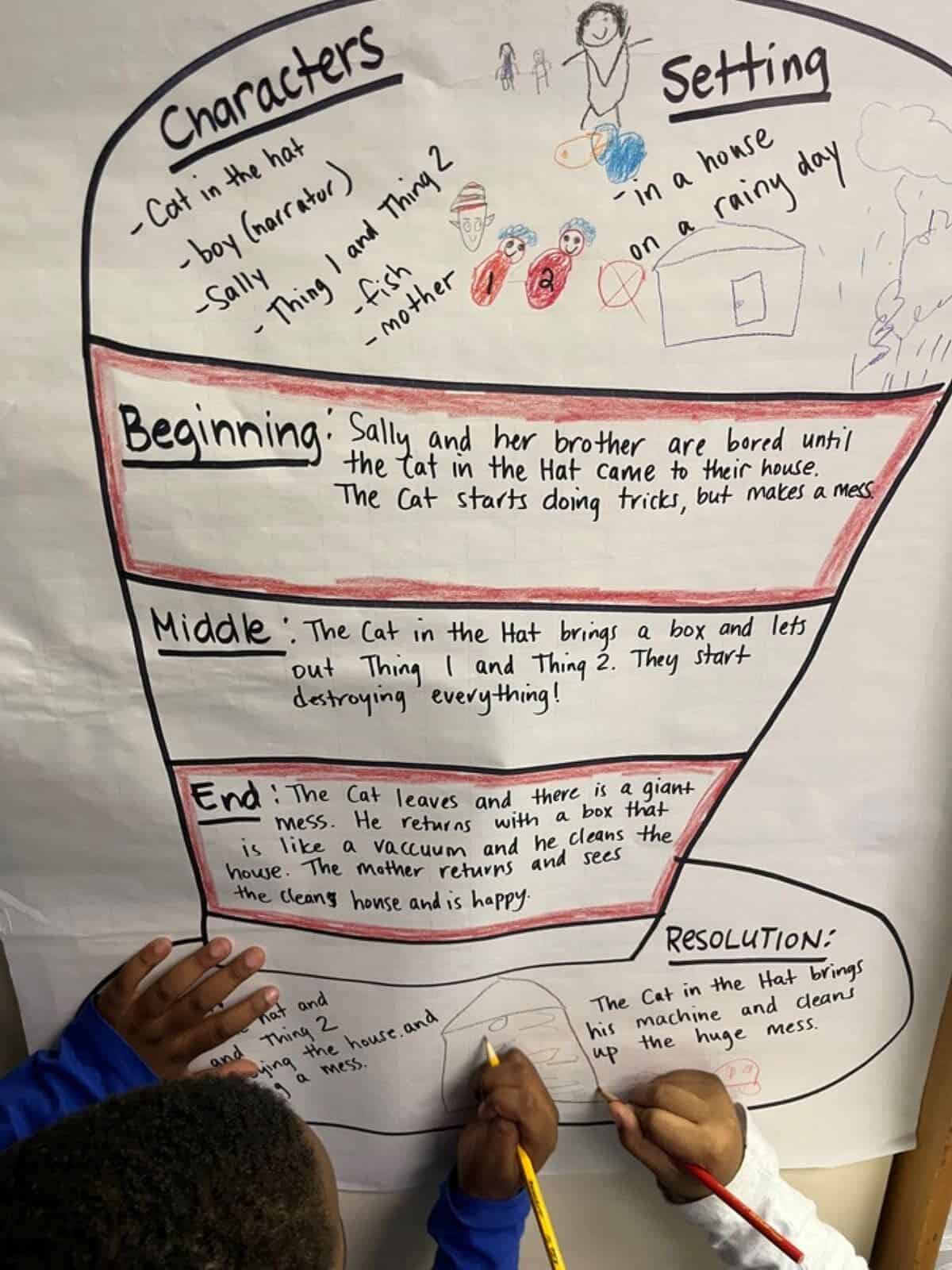 Keep the enlarged version of the graphic organizer hanging in a place where students can reference it. This can then be used as an anchor for students as they attempt to identify these elements in unfamiliar books independently.
This graphic organizer is appropriate for 1st, 2nd & 3rd-grade students, or any students learning to identify story elements.
For more comprehension skill ideas, visit our posts and get a context clue anchor chart and context clue mini-book for students to use. These resources will help them gain deeper understanding of words and vocabulary as they read and comprehend text.
Related Posts
Download & Print
We'd love to hear about your experience using these printables! Please leave a comment below or tag us on Instagram @literacylearn.
DOWNLOAD TERMS: All of our resources and printables are designed for personal use only in homes and classrooms. Each teacher must download his or her own copy. Please do not save to a shared drive, reproduce our resources on the web, or make photocopies for anyone besides your own students. To share with others, please use the social share links provided or distribute the link to the blog post so others can download their own copies. Your support in this allows us to keep making free resources for everyone! Please see our Creative Credits page for information about the licensed clipart we use. If you have any questions or concerns regarding our terms, please email us. Thank you!
Get this Cat in The Hat graphic organizer for your students to identify plot elements...