Free Context Clue Anchor Chart
This post may contain affiliate links. Please see our disclosure policy.
Get a FREE anchor chart focused on context clues. Your students will use this resource to help them learn the meaning of unknown words they come across during reading, leading to deeper comprehension. Read all about the different types of context clues and download your own free anchor chart below!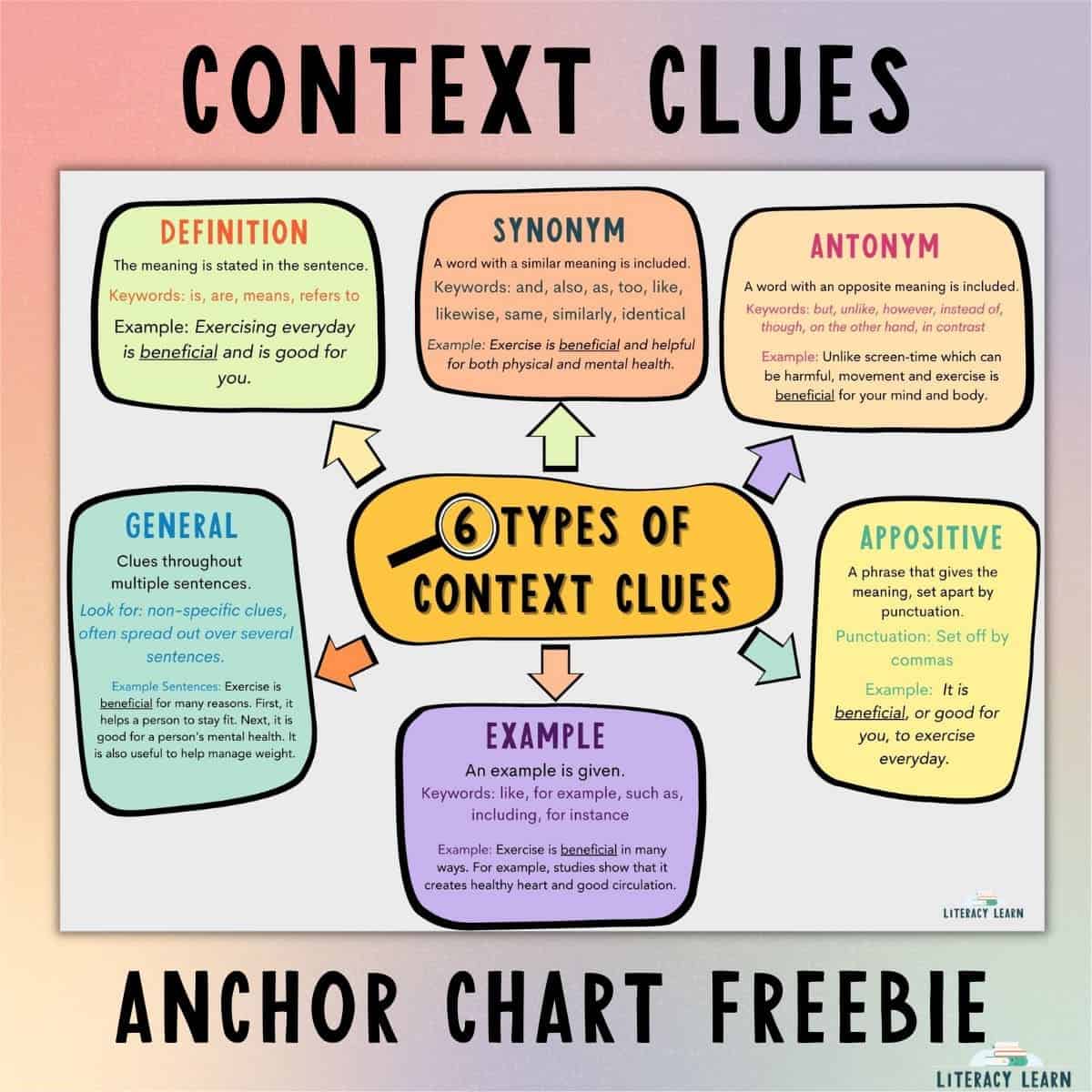 🕵🏽‍♀️ All About Context Clues
What are context clues? Context clues are words or phrases that give readers hints so they can understand the meaning of words they don't know.
I explain to my students that they must be word detectives! When they come to a word they don't know, they need to go on the hunt to look for clues. They must look all around the word in order to find the clues that will help them determine the meaning of the unknown word.
🛠 Kids can use context clues as a valuable tool in their reading toolbox. Since they'll come across so many unknown words when reading, they will need to have effective problem-solving strategies so they can know what is happening in the text.
Using context clues is an research-based strategy for learning new vocabulary and understanding the meaning of unknown words.
Most importantly, using context clues will deepen overall reading comprehension. And that's what's reading is all about!
Context Clues and Science of Reading
You might be wondering, are context clues aligned with the Science of Reading?
The answer is a resounding yes! It is a myth that the Science of Reading approach does not allow for students to use context clues.
The Colorado Department of Education debunks this myth: "The use of context in comprehension refers to something quite different from the use of context in word recognition. Examples of using context to aid in comprehension are determining the meaning of unknown words, understanding words with multiple meanings, and understanding pronoun referents. The use of context to aid comprehension should be consistently encouraged by teachers, although some contexts are more helpful than others for this purpose."
Science of Reading values teaching both phonics-based word recognition and language comprehension in order to produce skilled, confident readers.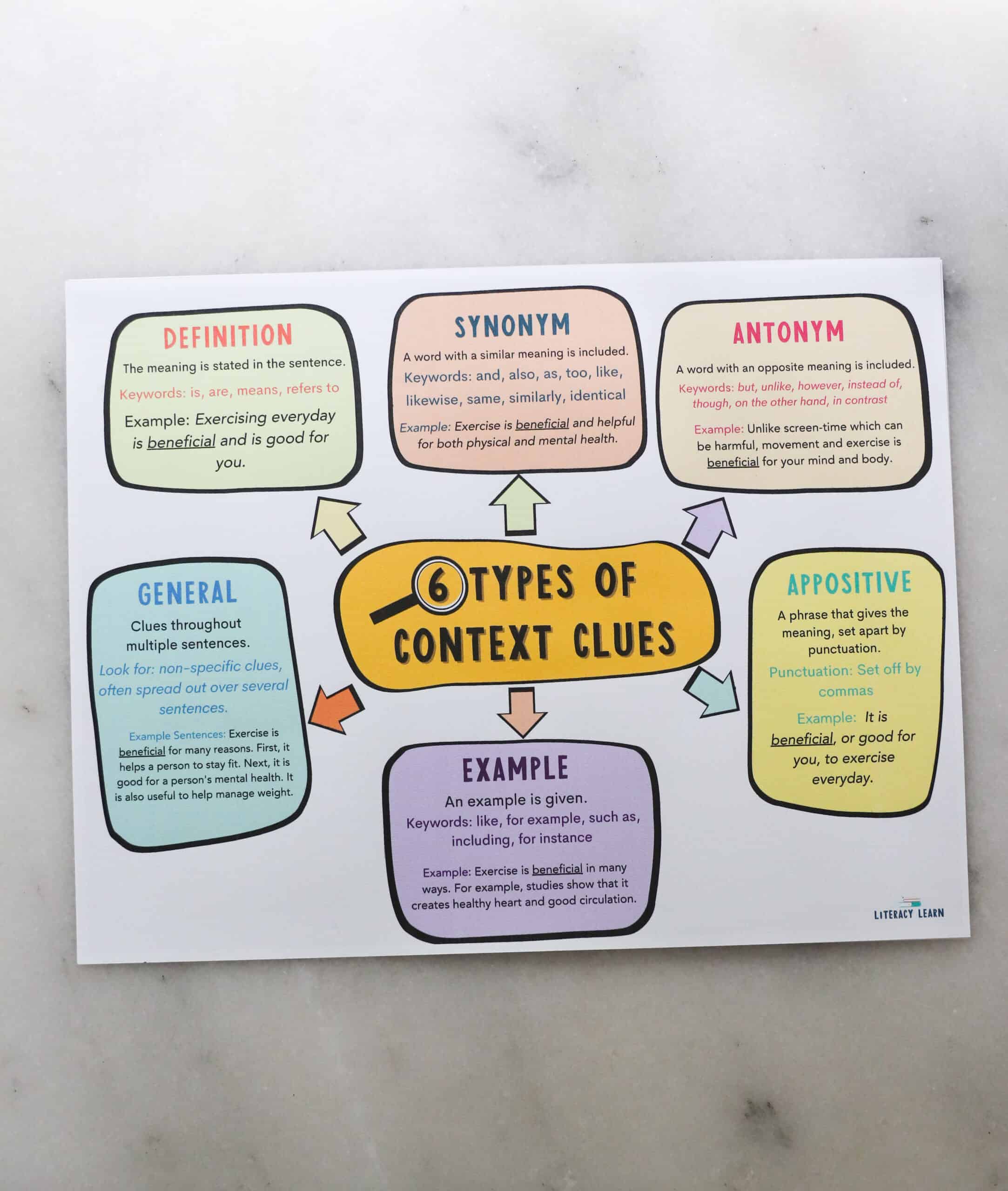 🔍 6 Types of Context Clues
The National Reading Panel (2000) found that there are three best strategies for word learning. They include contextual analysis, morphemic (word-part) analysis, and dictionary use.
Under contextual analysis, research has shown that teaching general and specific context clues is worthwhile. That's why this easy to reference anchor chart is helpful!
It includes the specific types of context clues, and addition to a bonus context clue type focused on punctuation.
There are six types of context clues to teach your students: Definition, synonym, antonym, general, example, and appositive.
Definition Context Clues
The definition type of context clue is a 'right there' clue, because the meaning of the word is included within the sentence. This is the easiest type of context clue there is!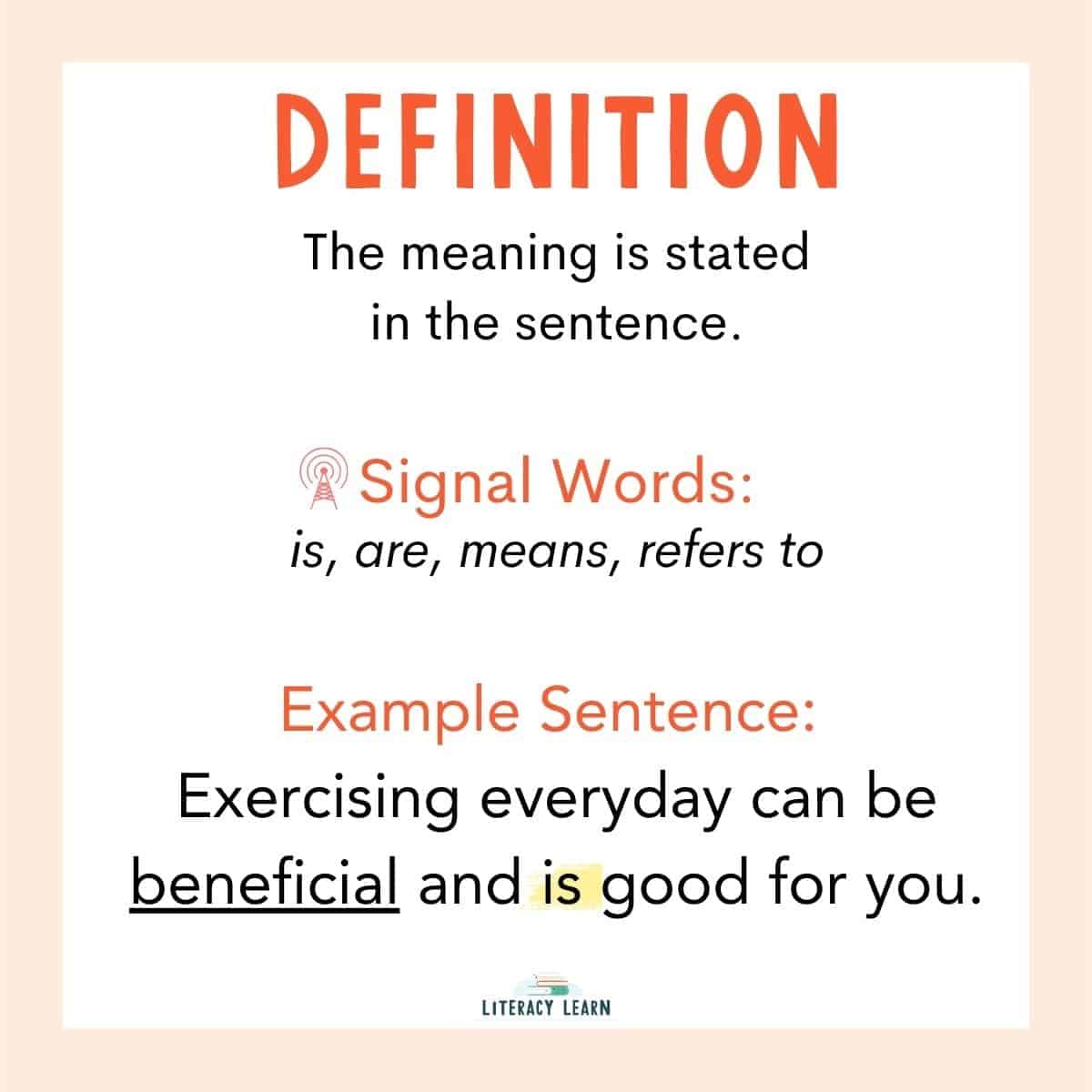 Synonym Context Clues
Th synonym context clue includes another word within the sentence that is similar in meaning.
Students will need to have a firm understanding of the term 'synonym' in order to look for this type of context clue. I teach my students the phrase "Synonym = Same" to help them remember!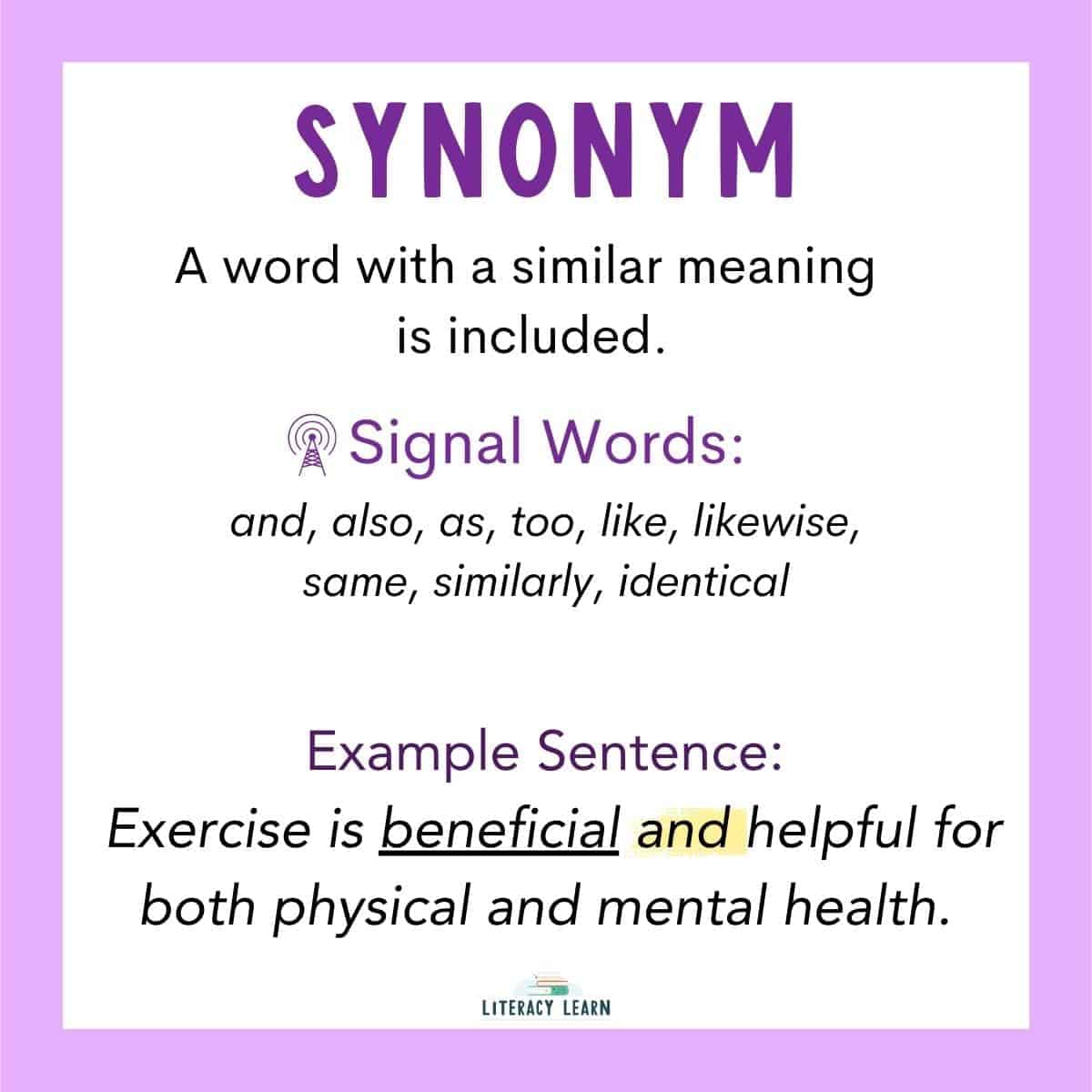 Antonym Context Clues
The antonym context clue includes another word within the sentence that is different in meaning. Again, kids will need to understand the term 'antonym' means 'opposite."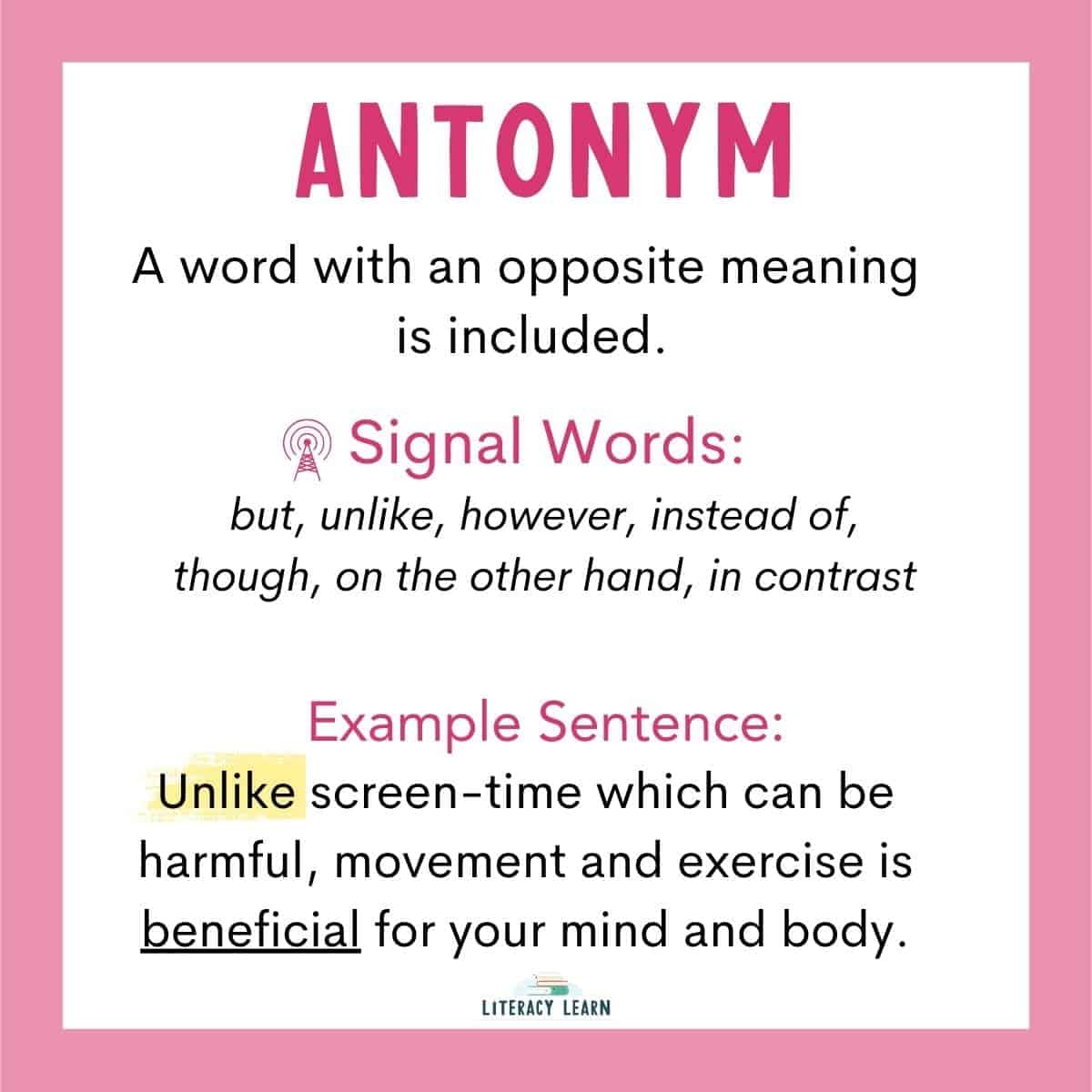 Appositive Context Clues
The appositive context clue is a phrase that gives the meaning, set apart by punctuation. This is another easy one for kids to locate since they look for two commas as the signal punctuation.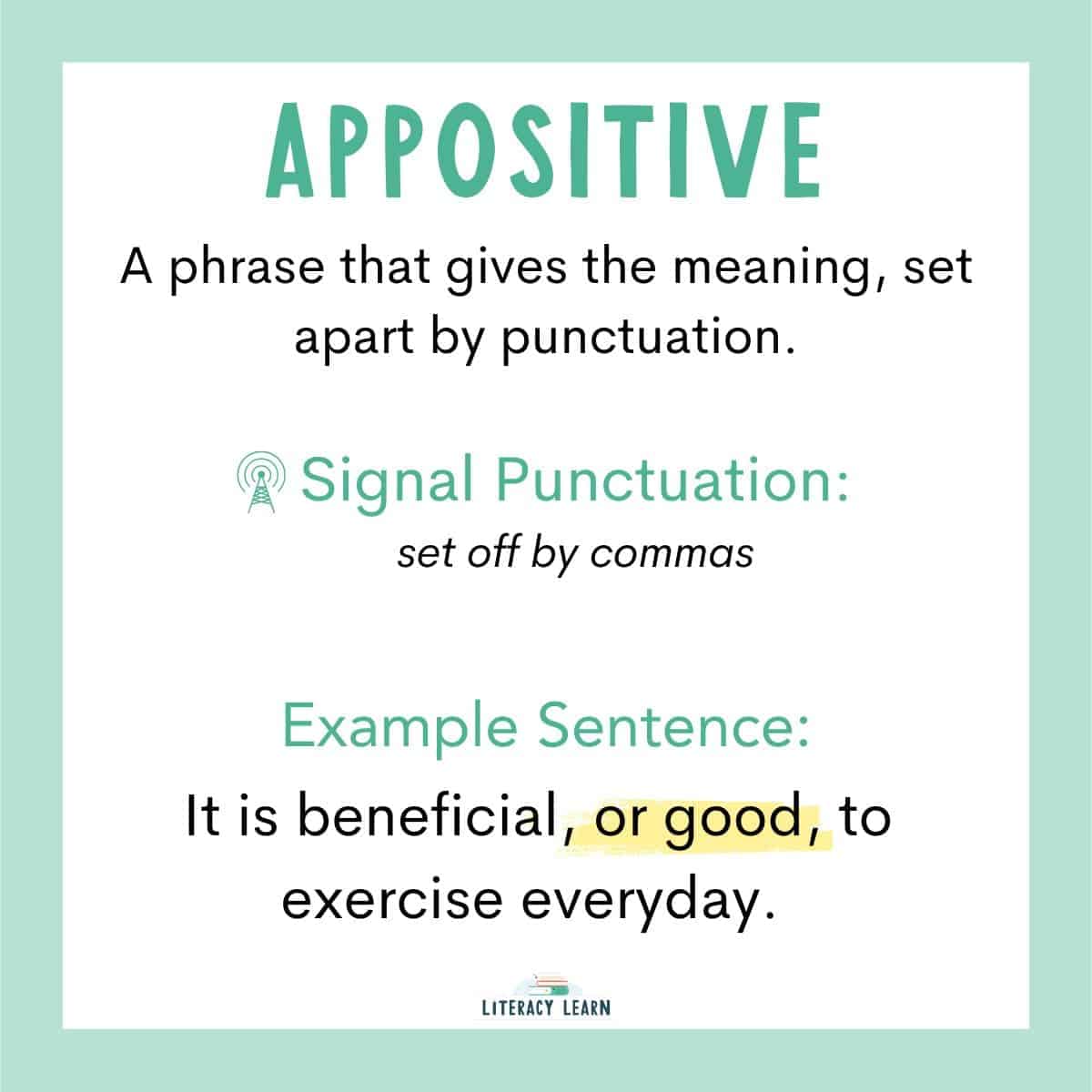 Example Context Clues
An example context clue includes an actual example of the word or idea. Kids then have to use inferencing to determine the meaning of the word from the example.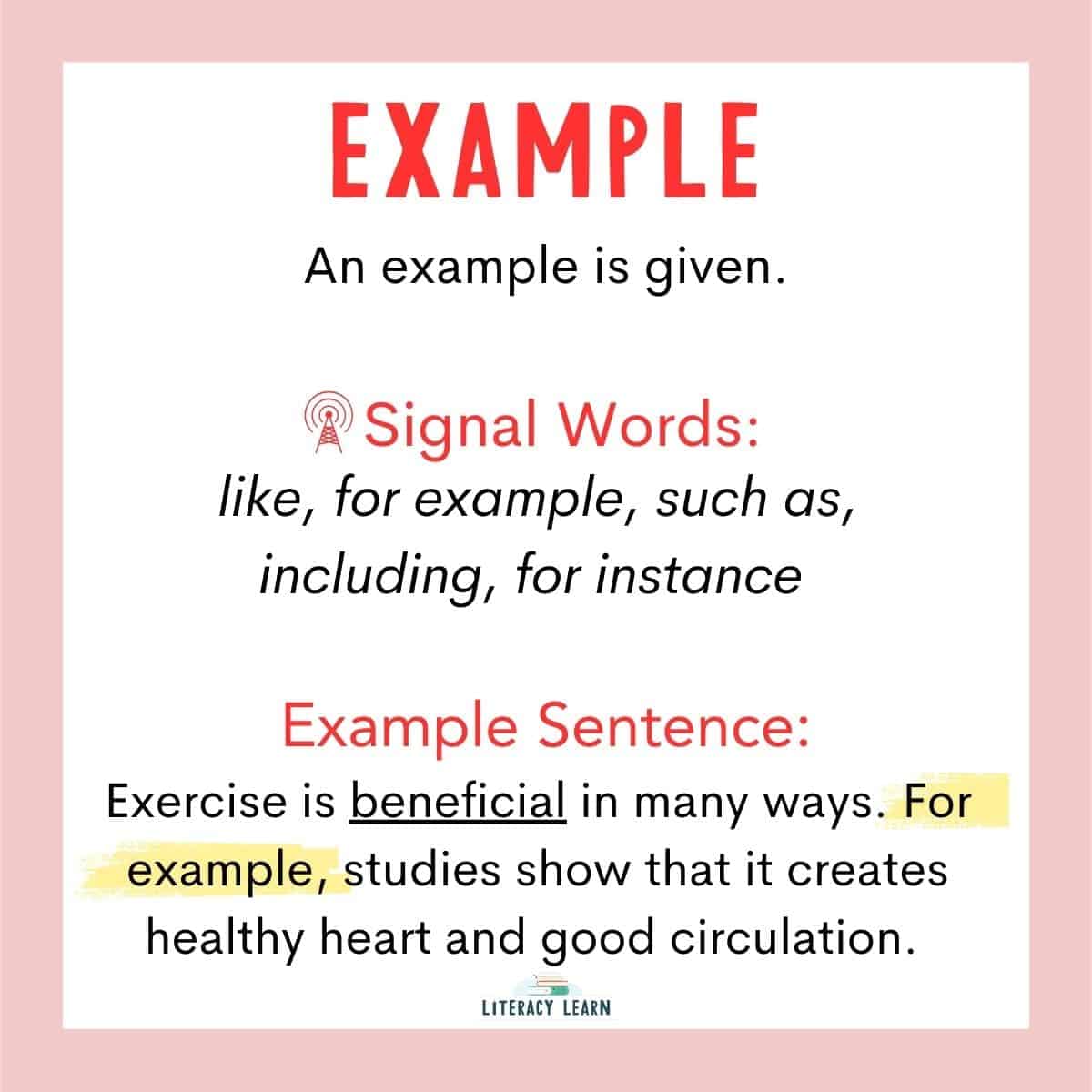 In the example provided on the visual above, kids will need to think about what it means to have a healthy heart and good circulation. From there, they can infer that beneficial means 'good' or 'favorable.'
General Context Clues
A general context clue includes several words or phrases to provide clues to the meaning. It is sometimes spread over many sentences. Again, kids will need to use these clues to infer the words meaning.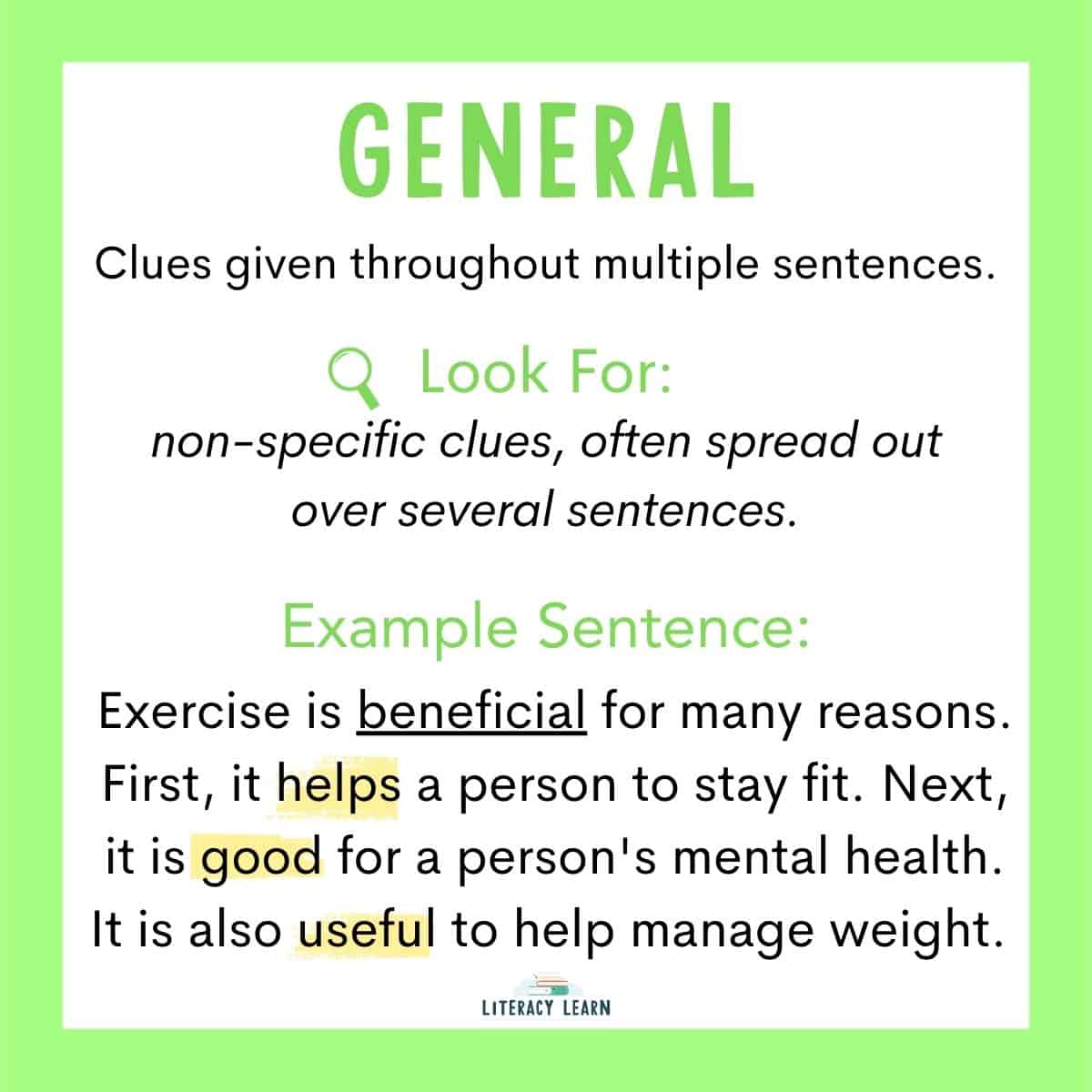 *These specific types of context clues come from Core's Vocabulary Handbook – an EXCELLENT resource on vocabulary.
Expert Tips & Ideas
Print the anchor chart in color on large poster paper and use it to explicitly teach the types of content clues to your students. Hang it up in a place where all students can easily access it. Be sure to refer to it often and model using context clues during your read-alouds.
The Florida Center for Reading Research has a great resource that aligns perfectly with our anchor chart. This freebie gives kids practice using strategies to identify the meaning of words in context.
Get our free context clues mini-book to pair with the anchor chart. They are perfect for each individual child to make and keep as their own personal resource.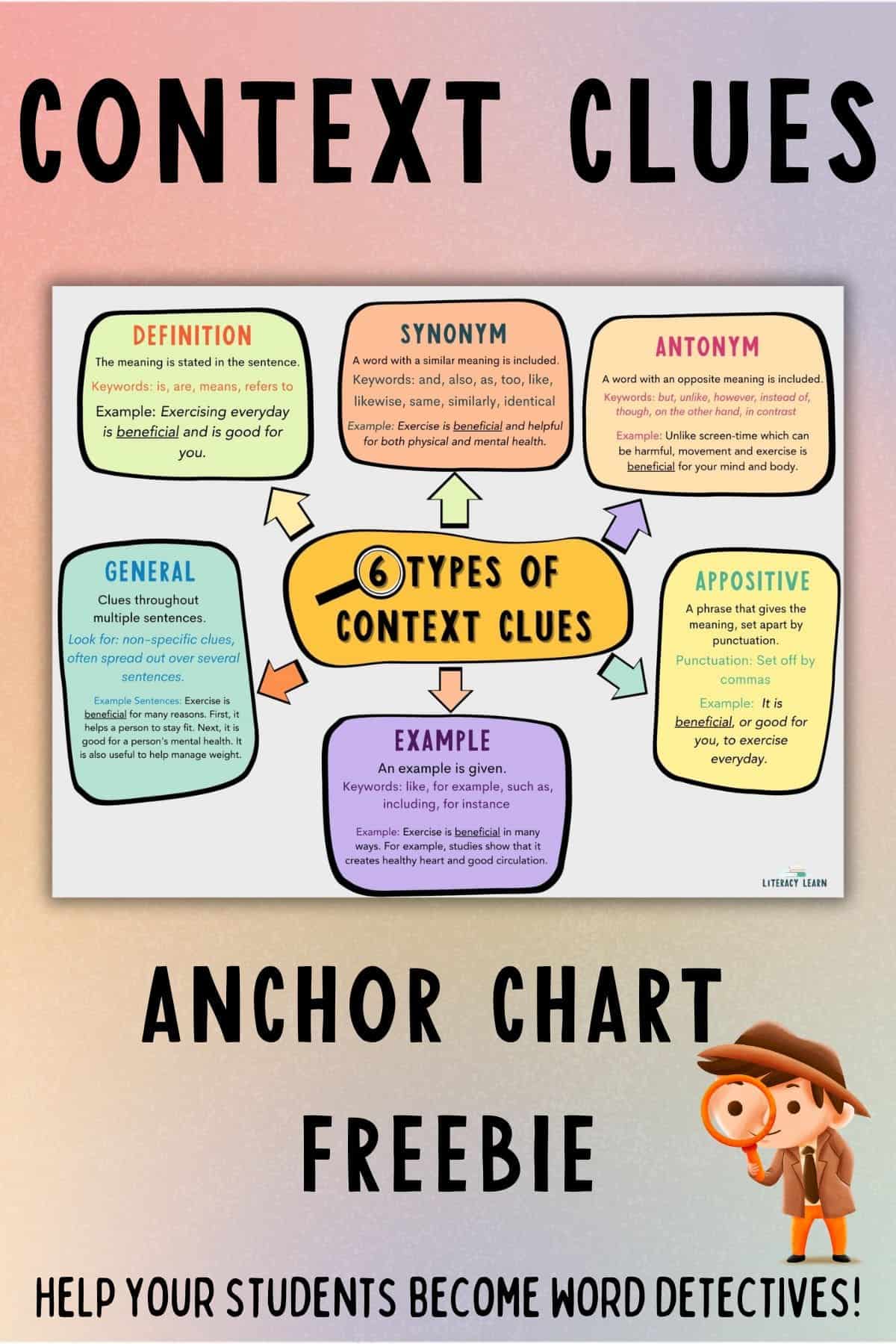 Related Resources
Download & Print
We'd love to hear about your experience using this resource!
Please leave a comment below or tag us on Instagram @literacylearn!
Subscribe and never miss a freebie! TERMS: All resources and printables are...
DOWNLOAD TERMS: All of our resources and printables are designed for personal use only in homes and classrooms. Each teacher must download his or her own copy. To share with others, please use the social share links provided or distribute the link to the blog post so others can download their own copies. Please do not save to a shared drive, reproduce our resources on the web, or make photocopies for anyone besides your own students. Your support in this allows us to keep making free resources for everyone! Please see our Creative Credits page for information about the licensed clipart we use. If you have any questions or concerns regarding our terms, please email us. Thank you!