Green Eggs & Ham Printable Worksheet
This post may contain affiliate links. As an Amazon affiliate, we earn from qualifying purchases. See our disclosure policy.
Dr. Seuss Day is March 2, so celebrate with this Green Eggs and Ham printable coloring worksheet! This worksheet is designed for children preschool through second grade to help practice their coloring and cutting skills.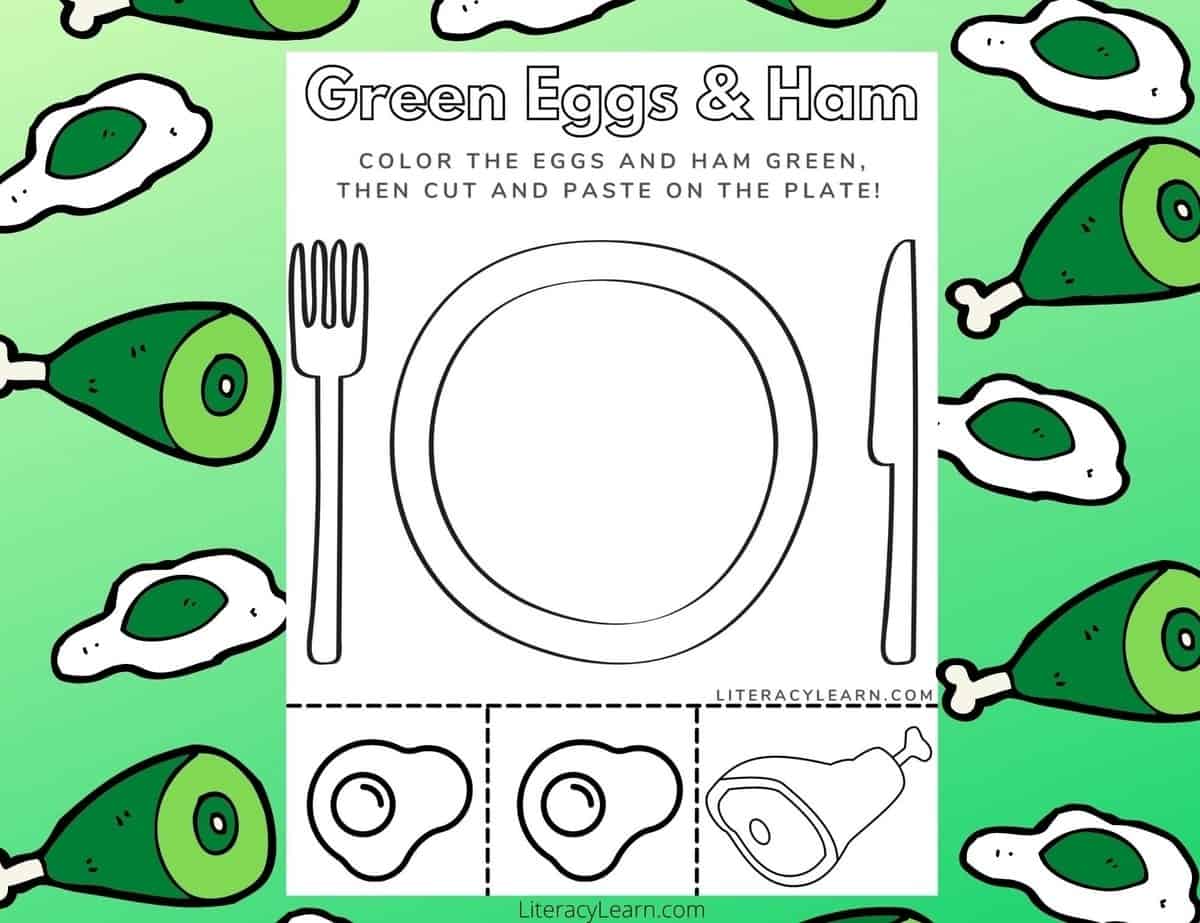 Why We Love It
Green Eggs and Ham is one of the most loved and celebrated of all of Dr. Seuss' many children's books. It tells the story of Sam-I-am, a cat who offers a plate of green eggs and ham to his little friend.
The friend is adamant that he does NOT like green eggs and ham. He doesn't like them in any situation, for any reason, in any place, and goes on to explain all of those situations. But when he finally tries the green eggs and ham, well… he actually really likes them.
We'd often quote Sam-I-am whenever our picky kids refused to try a new food. And it really helped! They'd smile, remembering their favorite book and the story.
We'd say, "You do not like them. So you say. Try them! Try them! And you may!" And it worked… sometimes.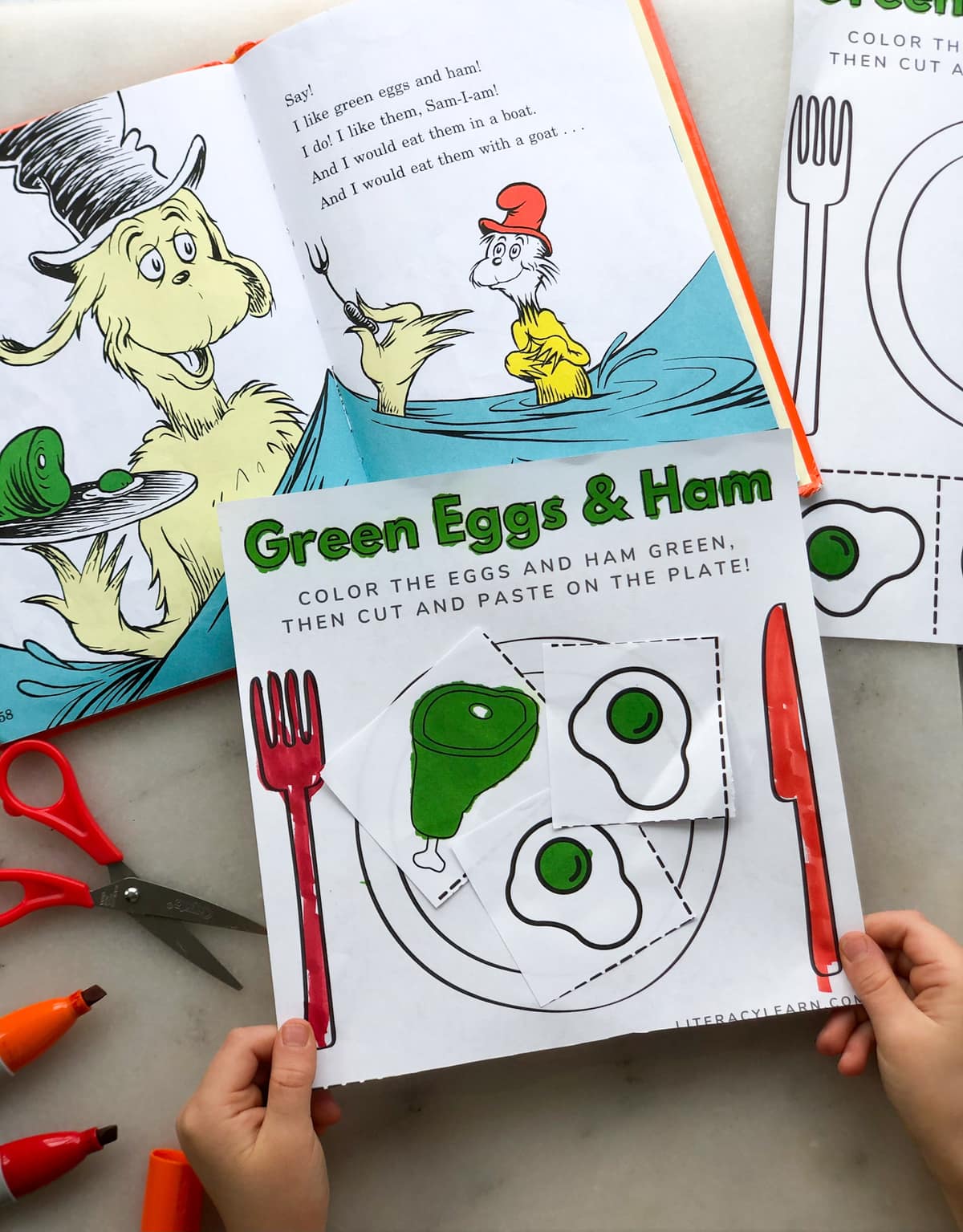 You may also like: B is for Bacon Printable Worksheet, Dr. Seuss Quote Coloring Bookmarks.
Green Eggs & Ham Worksheet
Learning Focus:
Children will identify and color images of eggs and ham, reinforcing the message of the book.
Children will practice cutting and pasting skills.
Age Group:
This printable worksheet is appropriate for children in Preschool and Kindergarten.
They can color the eggs and ham green, then practice cutting and pasting skills by cutting along the dotted lines, then pasting the food onto the plate.
It's the perfect coloring page and craft to go along with a reading of Green Eggs and Ham, whether you're celebrating Read Across America or any day of the week!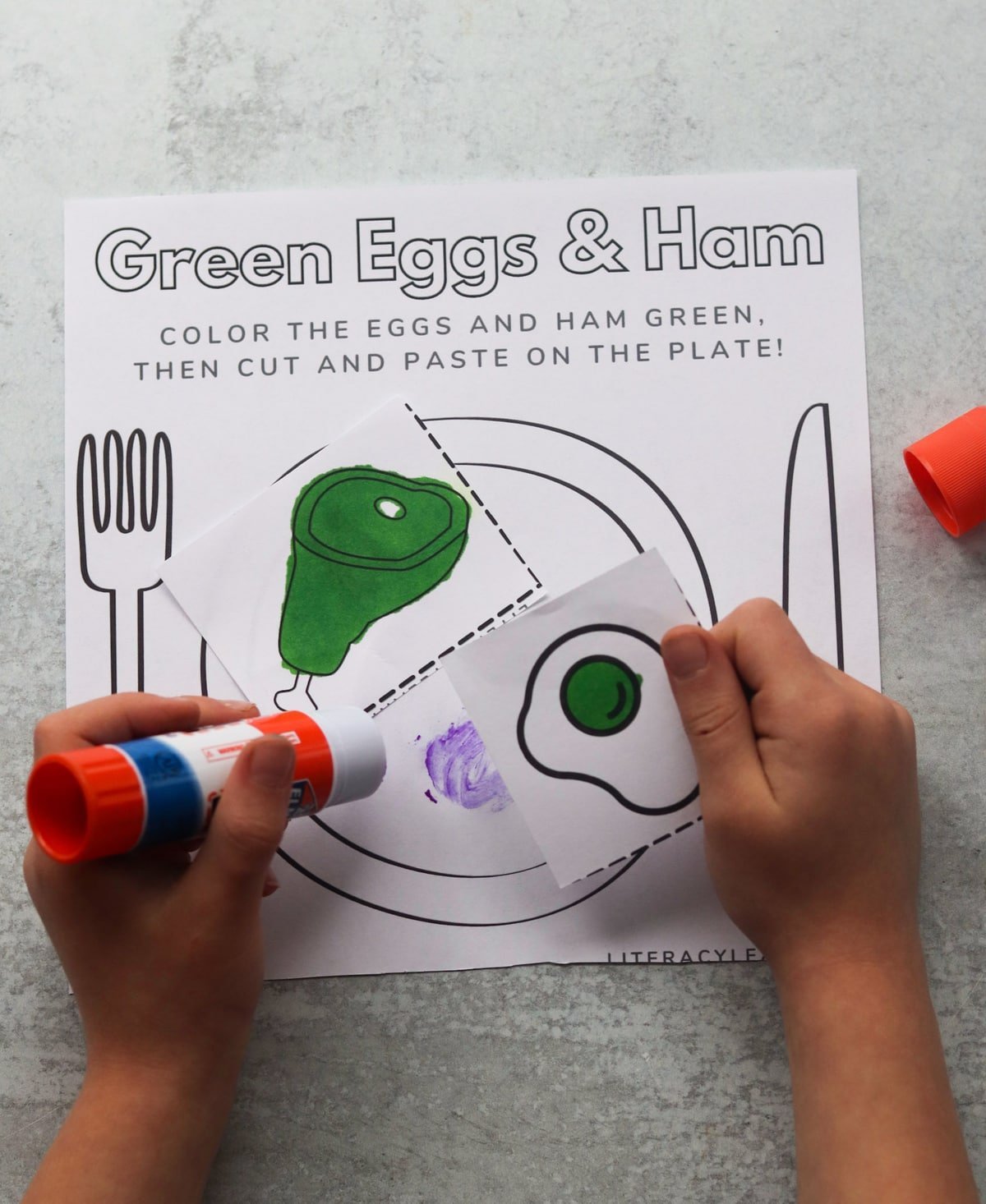 👉 Did you know? The book Green Eggs & Ham contains only fifty words, repeated over and over. His publisher challenged him to write with a simplified vocabulary to help children learning to read.
Related Posts
Download & Print
DOWNLOAD TERMS: All of our resources and printables are designed for personal use only in homes and classrooms. Each teacher must download his or her own copy. Please do not save to a shared drive, reproduce our resources on the web, or make photocopies for anyone besides your own students. To share with others, please use the social share links provided or distribute the link to the blog post so others can download their own copies. Your support in this allows us to keep making free resources for everyone! Please see our Creative Credits page for information about the licensed clipart we use. If you have any questions or concerns regarding our terms, please email us. Thank you!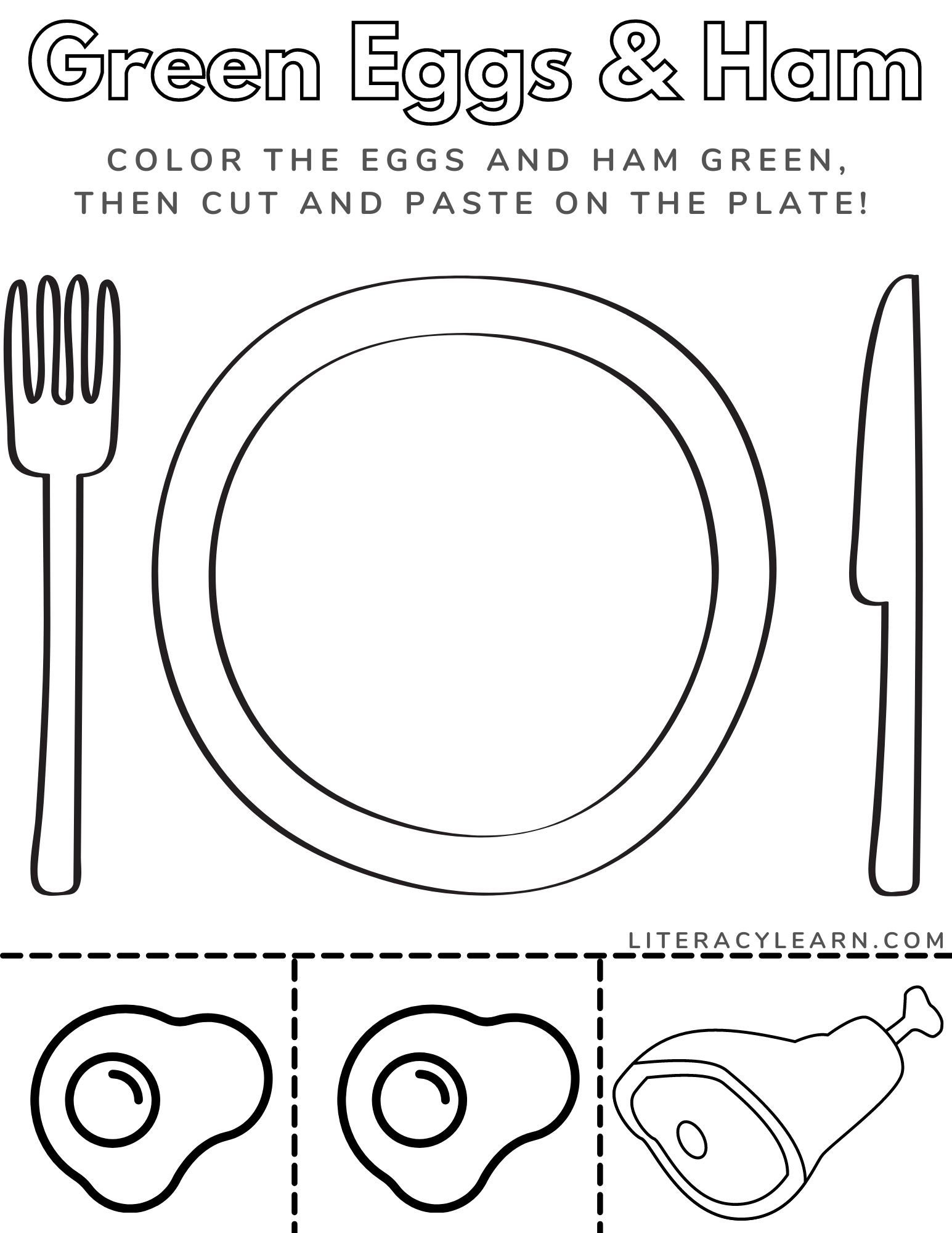 Healthy Green Eggs & Ham Recipe
As an added bonus, we're sharing a delicious green eggs and ham recipe that are always gobbled right up, no coaxing necessary! In the book, they eat the eggs sunny side up, but in all my years of cooking, I've never been able to convince my kids to eat their eggs that way.
We do them scrambled, and it's just as much fun, if not more. And now every Dr. Seuss Day, we enjoy this green eggs and ham recipe and Best of all, it's a fun breakfast tradition to enjoy with our kids every Dr. Seuss Day.
Ingredients
Eggs
Spinach
Milk or water
Butter or oil
Back Bacon OR Sliced Ham
How to Make it
First, add the spinach to your blender. Pulse to break it down a bit. Next, add your eggs and milk. Blend on low just until fully combined.
Heat a skillet over medium heat. Add the oil or butter. Pour in the egg mixture from the blender. As it cooks, use a spatula to pull the eggs away from the sides, letting the egg mixture fill in. Continue until the soft scrambled eggs and set, about 3-4 minutes. Season lightly with salt and pepper.
Heat a separate skillet over medium-high heat. Add the back bacon or ham slices, and cook for about 1-2 minutes per side, just until crisped up.
Serve the bacon and the ham on a plate, and serve with a side of juice and a reading of Green Eggs and Ham!