Scissor Skills & Cutting Practice: 7 Free Printables
This post may contain affiliate links. Please see our disclosure policy.
Get 7 free printable PDFs to make cutting practice fun! Preschool and kindergarten students will practice their scissor and cutting skills using these worksheets, developing and improving their fine motor skills.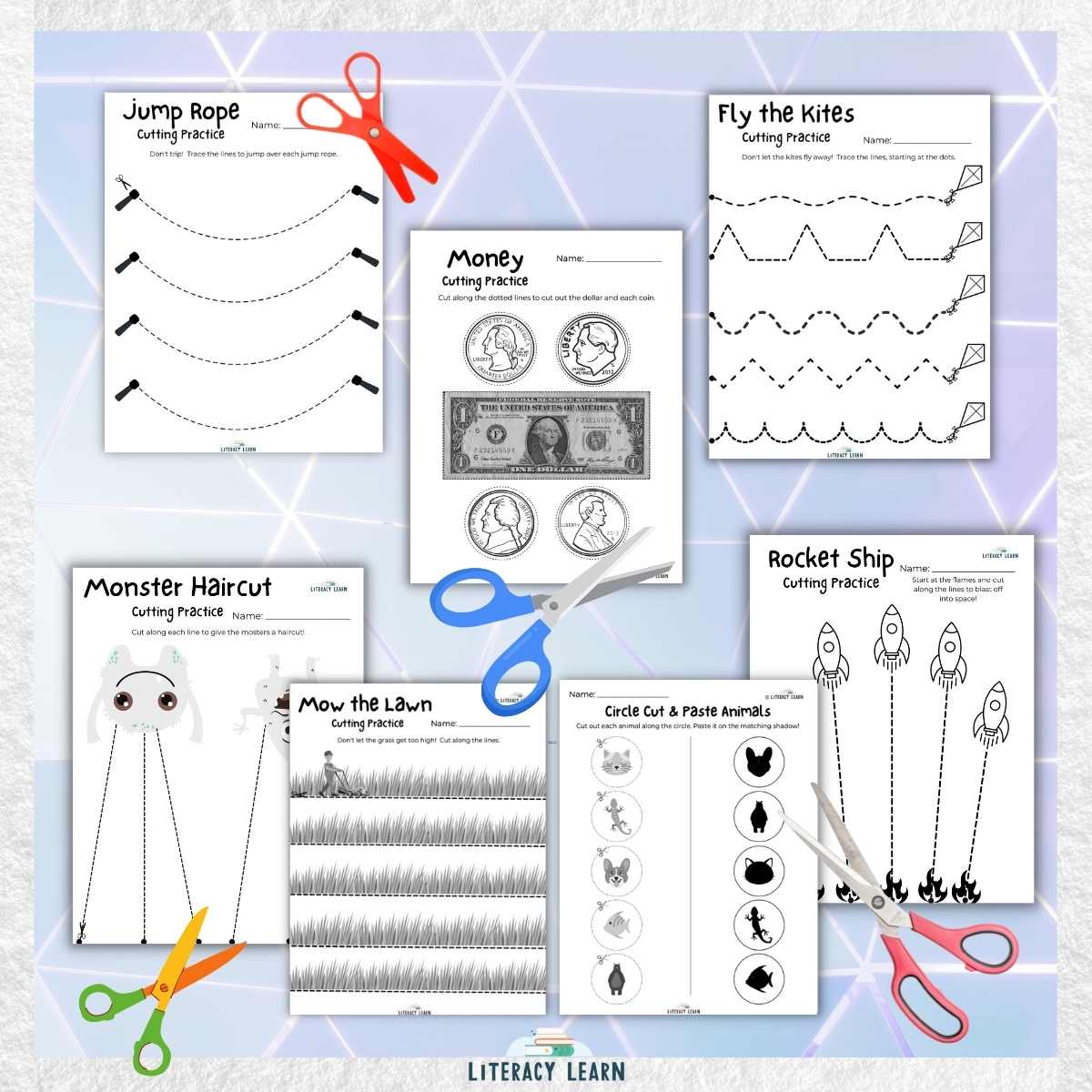 ❤ Why We Love It
These 7 fun, no-prep activities will engage your students in lots of opportunities for scissor skills practice!
Like our pencil control worksheets, they are specifically designed to help children develop their fine motor skills while they practice cutting paper.
Building up those smaller muscles in the hand is important for many school-related skills and basic life skills!
Precise fine motor skills are needed for things like pencil grip, handwriting, cutting and gluing, turning the pages of a book, buttoning pants, tying shoes… the list goes on and on!
The worksheets target a variety of skills, including cutting practice with straight lines, slants, and curves. Teachers can differentiate which printables you give to kids based on their skills and fine motor development.
✂ Using the Worksheets
Be sure to provide instructions and modeling for using scissors correctly. Just as in handwriting, grip is very important. Thumbs should always be pointing up when using a scissor! 👍
Be sure to have left-handed kids scissors for any children who favor using their left hand.
Review basic scissor rules too, such as only cutting the paper (absolutely no hair!) and always sitting down while cutting.
Many of the pictures included on the worksheet can also be colored with crayons or markers. This will make the worksheets look beautiful as they cut and serves as an additional way to build fine motor skills.
Get your scissors, crayons, and glue sticks, and get ready to have some fun!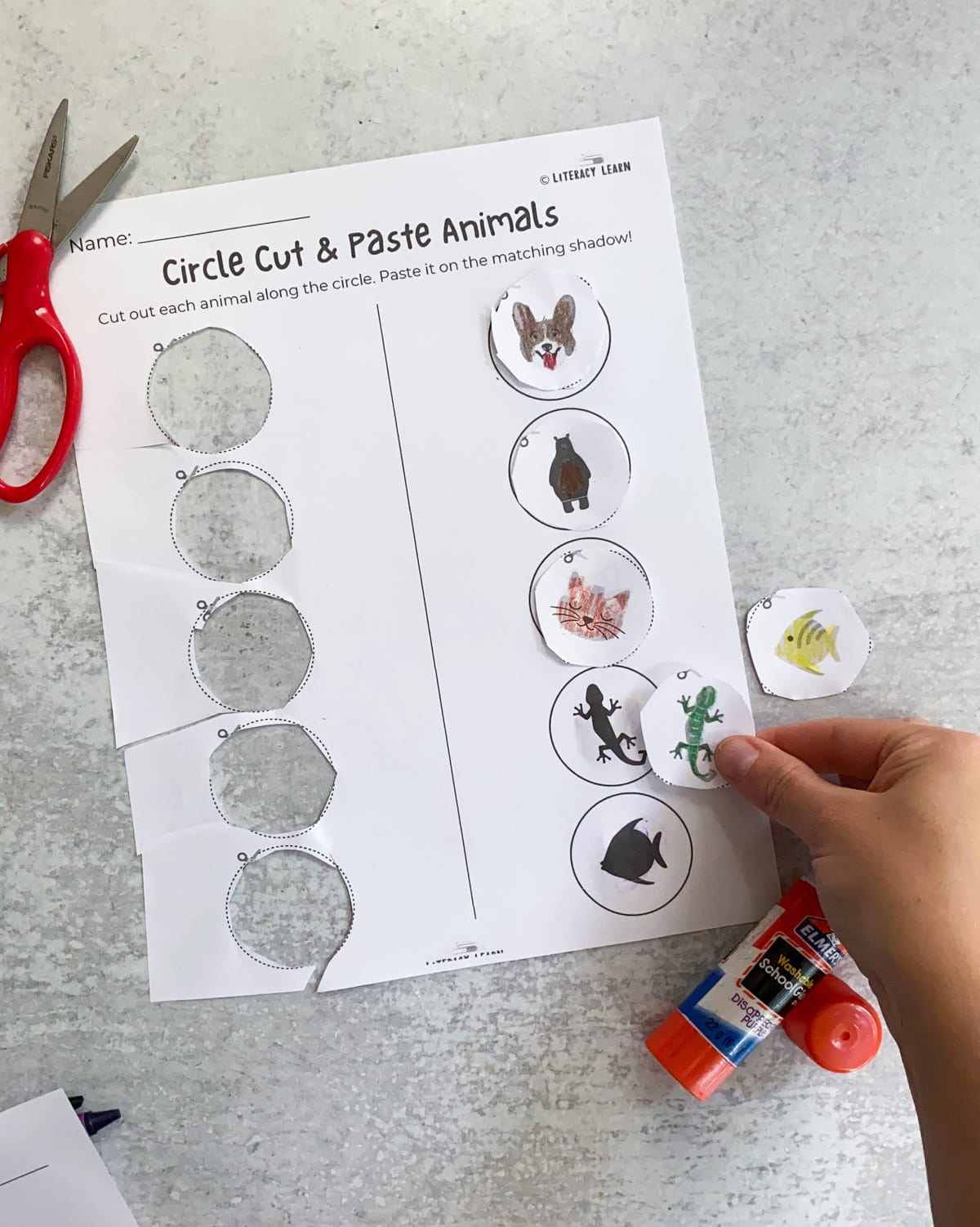 Scissor Control Worksheets
👉 Suggestion: To work on further fine motor skills, have children color the worksheets before cutting! They can trace or rainbow write on the dotted lines for extra practice!
Rocket Ship Cutting: Kids are tasked with cutting 5 straight lines to fly the rocket ships up into outer space!
Monster Haircut: After coloring in the monsters, kids practice cutting straight lines while pretending to give the monsters a haircut.
Fly the Kites: It's a very windy day when using this worksheet…each kite has a tail with a different cutting pattern. Children will practice curves, slants, and straight lines with this worksheet.
Jump Rope Cutting: Use scissors to jump over four jump ropes and practice cutting curved lives.
Circle Cut and Paste Animals: Practice cutting circles without snipping any animals. For an extra challenge after cutting, kids must match the animals with their shadows, practicing visual discrimination skills.
Mow the Lawn: This is a fun activity as kids try to be precise with straight line cutting as they mow the lawn.
Money Cutting: Kids will cut a dollar, a quarter, a nickel, a dime, and a penny as they work on their shape cutting skills. This is a great visual discrimination activity as kids try to spot the differences between the coins.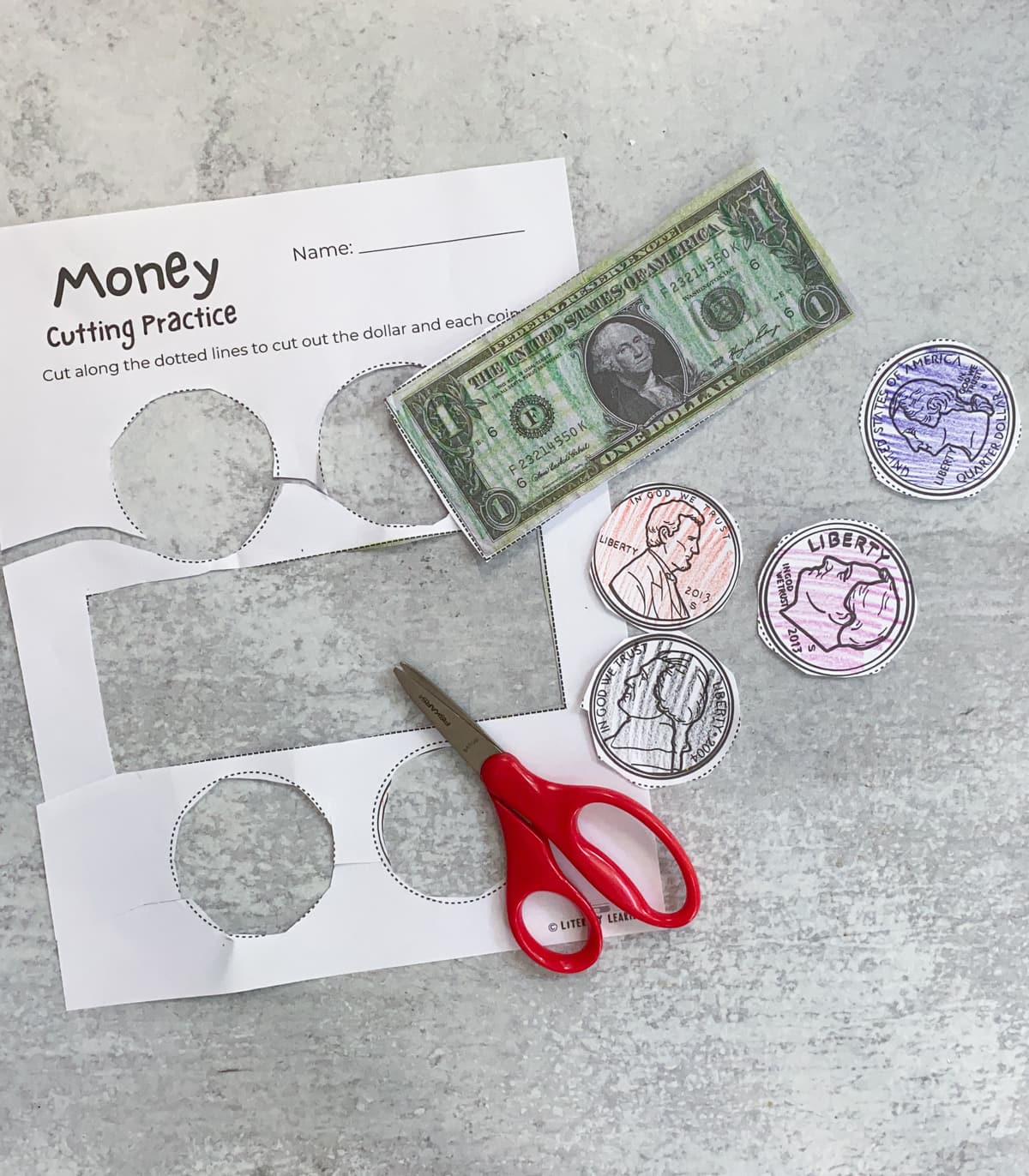 Expert Tips & Info
These printables are great for pre-k and kindergarten students.
🎼 Sing a little jingle when cutting. We sing, "Open, shut them, open, shut them, give a little snip, snip, snip." (To the tune of "Open, Shut Them").
This reminds kids of the cutting motions of opening and shutting the scissors while snipping away.
If you work with little ones or have a student who really struggles with cutting skills, try giving them a spring-loaded scissor. This will help them experience success and prepare for using child scissors.
Related Posts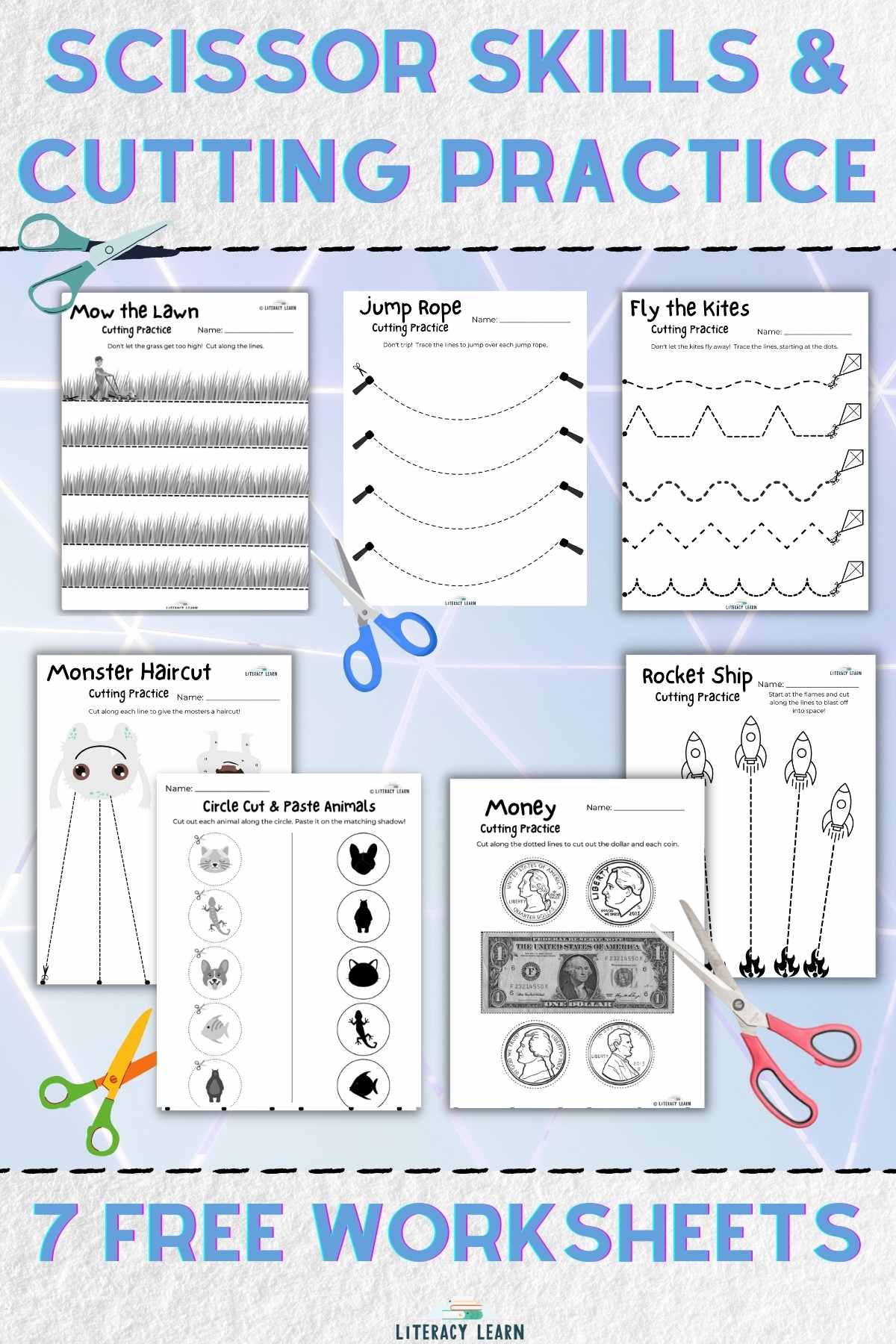 Download & Print
We'd love to hear about your experience using these resources! Please leave a comment below or tag us on Instagram @literacylearn.
TERMS: All resources and printables are designed for personal use only in your own home and classroom. Each person must visit this site and download their own free copy. Please do not photocopy, email, or reproduce our printable resources for other teachers, and please do not reproduce our printables on the web or save them to a shared drive. Instead, please share the resources with others by using the social share links provided or by distributing the link to the blog post itself. This allows us to keep making free resources for everyone! If you have any questions, please email us. Please see our Creative Credits page for information regarding the licensed ClipArt used in our resources. Thank you!