Thanksgiving Color by Sight Word Printables
This post may contain affiliate links. Please see our disclosure policy.
Get 4 free versions of this printable Thanksgiving-themed Color by Sight Word worksheet! Each worksheet has fun seasonal imagery, and there are 4 versions for students at different levels (Pre-Primer and Primer) who are practicing decodable sight words and irregular heart words.
Why We Love It
Get the four Thanksgiving printable worksheets! There are four variations to choose from, so you can choose the list of words to best match the level of each student.
We organized these printables into four categories using the Dolch High Frequency Word Lists so you can use the printable that is 'just right' for each of your students. This makes it easy to differentiate these worksheets for each child sitting in your classroom.
4 Versions of the Color by Word Printables:
Pre-Primer Decodable Words
Pre-Primer Heart Words (Irregular)
Primer Decodable Words
Primer Heart Words (Irregular)
The exact same seasonal imagery is on each worksheet, including a turkey wearing a pilgrim hat, a cornucopia, and falling leaves. That makes this activity great to use alongside other Thanksgiving lessons!
So the best part is that no matter which your kids are working on, the end result (the beautiful picture!) will look exactly the same!
What are heart words?
Heart words are high frequency words with irregular spelling patterns that must be memorized 'by heart.' However, portions of these words are regular and should be taught as decodable portions.

For example: Let's take the word "they." We hear two sounds in this word: /th/ and /ā/. The digraph TH is regular – th says /th/. The irregular portion are the letters EY because it says /ā/. We put a heart over the letters EY because it must be memorized by heart.
What are decodable words?
Most HFW are decodable. Research shows that our brains need to go through the process of making the letter-sound connections in order for these words to stick. We call this orthographic mapping. Kilpatrick (2015) describes orthographic mapping as "The mental process we use to permanently store words for immediate, effortless retrieval. It is the process we use to take an unfamiliar printed word and turn it into an immediately recognizable word." We want kids to go through this process many times so that a word eventually becomes a sight word!
What are sight words?
Sight words are words that we know instantly. Our end goal is that through repeated practice and lots of orthographic mapping, all of these words (whether decodable or irregular) will become sight words.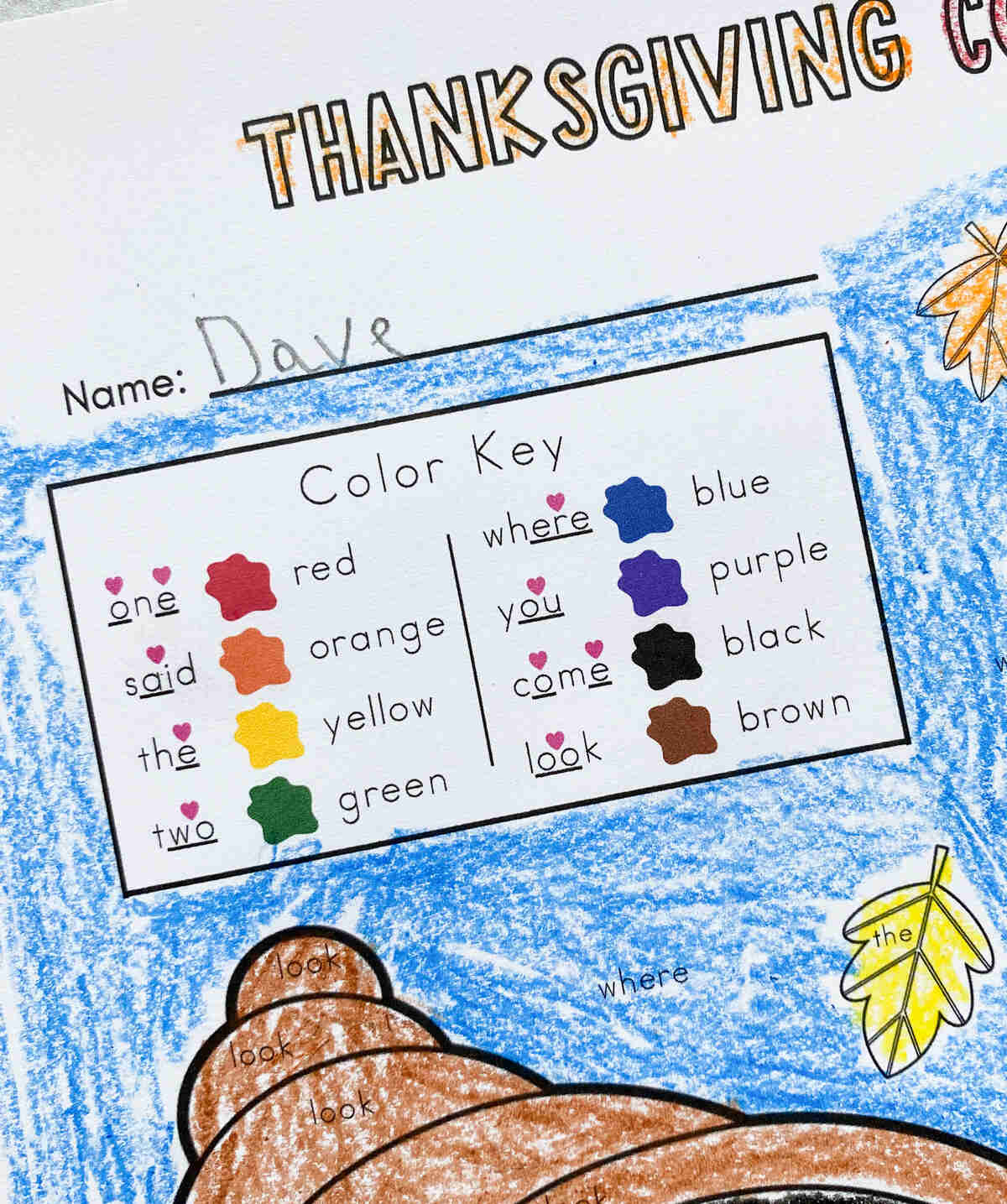 About the Worksheets
Each of the four worksheets contains 8 words, either heart words (irregular words) or regular words that can be decoded, so there are 32 words in total (half at the pre-primer level and half at the primer level).
The heart words are labeled specifically with the irregular graphemes underlined and a cute little heart above them. This shows which portion of the word needs to be memorized by heart.
Pre-Primer Decodable Words
run
jump
and
not
up
can
big
it
Pre-Primer Heart (Irregular) Words
one
said
the
two
where
you
come
look
Primer Heart (Irregular) Words
what
want
was
do
have
all
they
there
Primer Decodable Words
went
with
well
all
get
like
yes
did
Tips & Info
As they color in each section, have students SAY the sounds/letter names of each word! We want repeated practice while engaging as many senses as possible, so simultaneous oral spelling should be used.
For irregular words, kids can say the letters followed by the whole word: "T-H-E-Y" – "they." For the regular words that can be decoded, kids should say the sounds followed by the whole word: "/r/ /u/ /n/" – "run."
Related Posts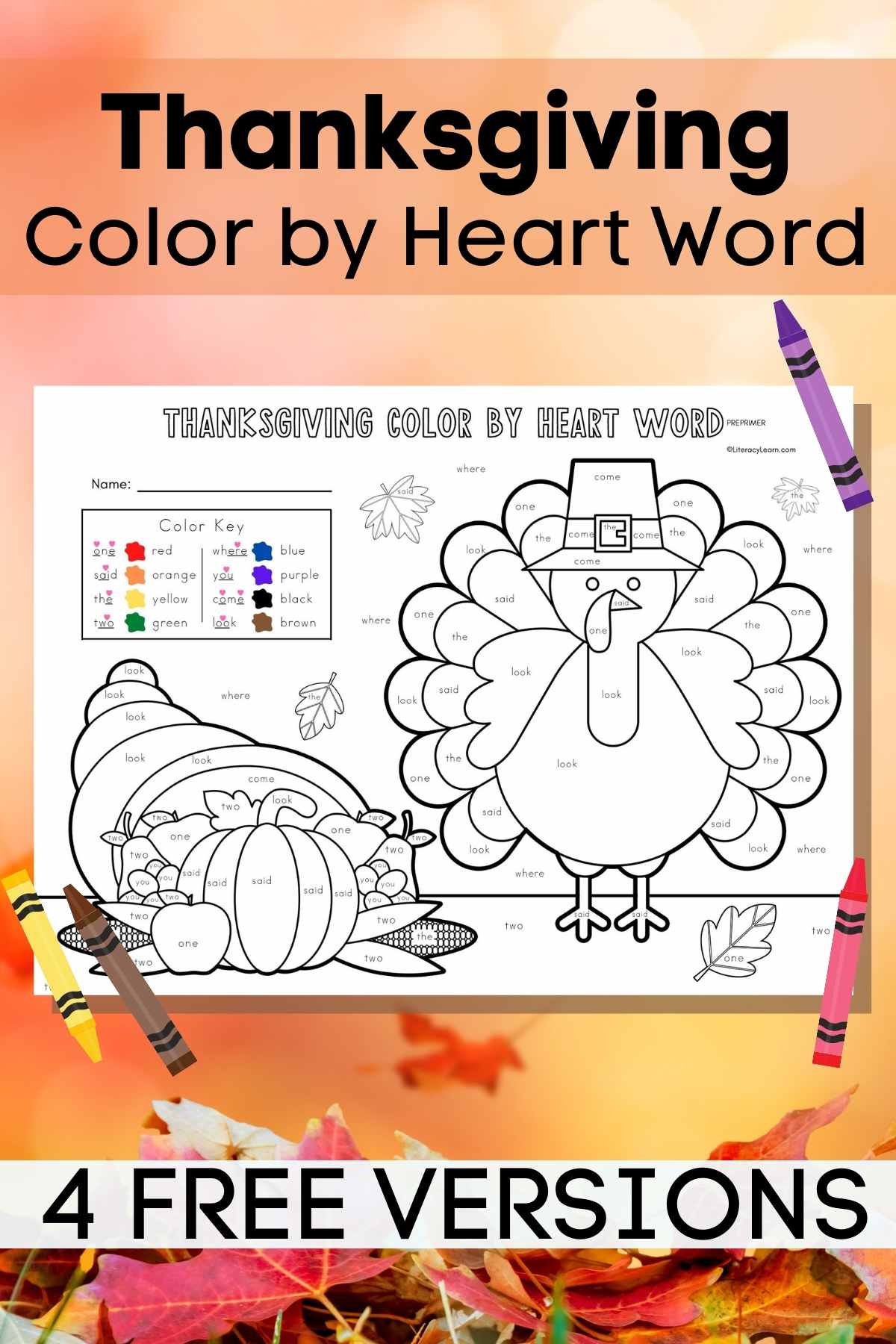 Download & Print
Are you using this resource? We welcome your feedback!
Please leave a comment below or tag us on Instagram @literacylearn.
TERMS: All resources and printables are designed for personal use only in your own home and classroom. Each educator must visit this site and download their own free copy. Please do not photocopy, email, or reproduce our printable resources for other teachers, and please do not reproduce our printables on the web or save them to a shared drive for others to access. Instead, share the resources with others by sharing the link to the blog post itself or by using the social share links provided. This allows us to keep making free resources for everyone! If you have any questions, please email us. Please see our Creative Credits page for information regarding the licensed ClipArt used in our resources. Thank you!