3 Free Thanksgiving Word Mapping Worksheets
This post may contain affiliate links. As an Amazon affiliate, we earn from qualifying purchases. See our disclosure policy.
Get these 3 free Thanksgiving-themed word mapping worksheets for practicing 3, 4, and 5 phoneme-grapheme mapping! Each fun worksheet features seasonal imagery, including pumpkins, acorns, and a Pilgrim's hat.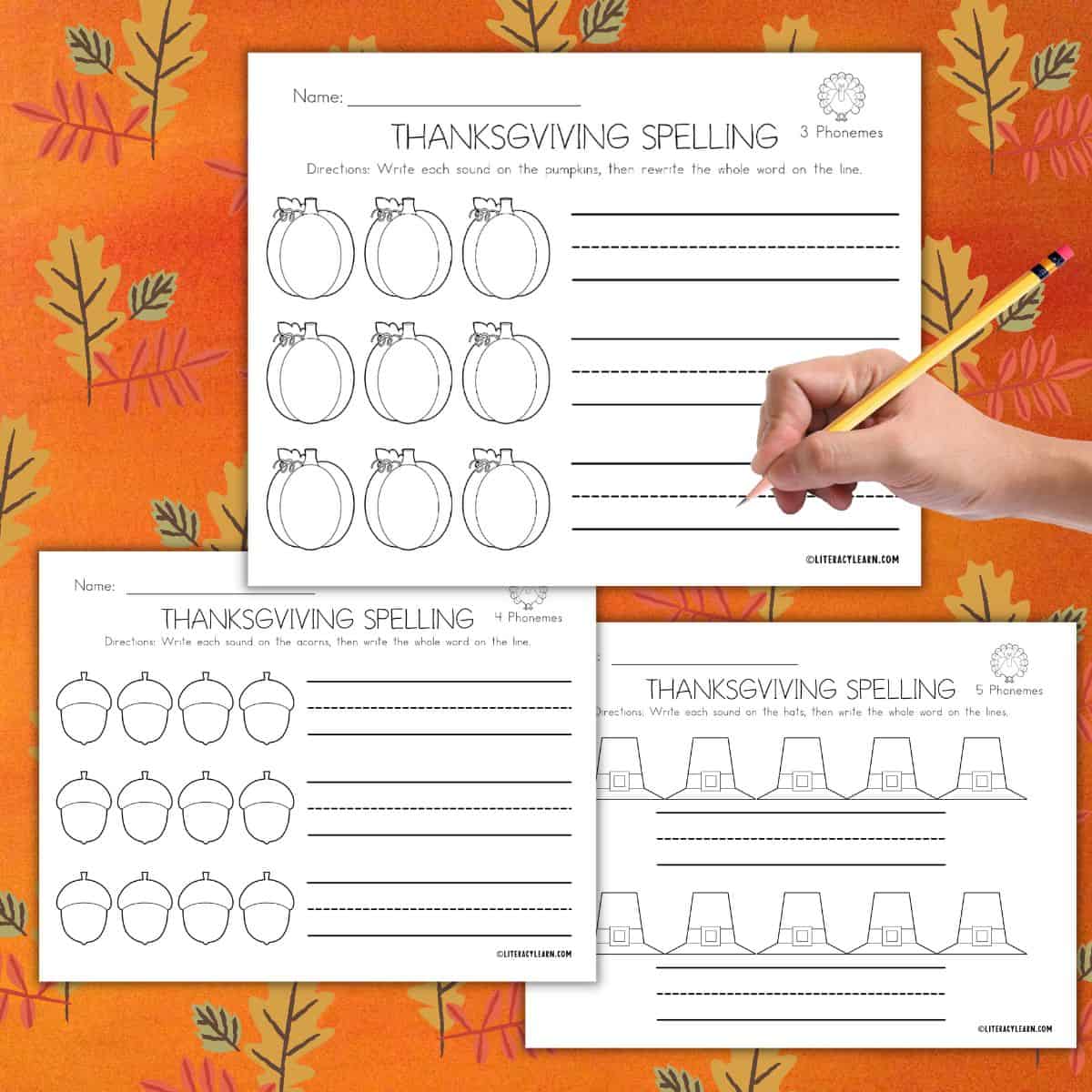 Why We Love It
We love celebrating the seasons! Our Thanksgiving-Themed Acrostic Poem, Color-By-Sight-Word, and Activity Placemats printables are classroom favorites, and now we're coming in hot with these Thanksgiving Word Mapping Worksheets.
They're both engaging AND effective for young readers and writers to practice orthographic mapping, phoneme segmentation, and blending.
There are three printables, so you can use these with students practicing phonics skills including cvc words, blends, digraphs, Magic e, and more! Students write each phoneme inside the seasonal graphic:
3 Phonemes: Pumpkins
4 Phonemes: Acorns
5 Phonemes: Pilgrim's Hats
You can use these alongside our Thanksgiving Fluency Turkeys to help students master new or tricky phonics skills!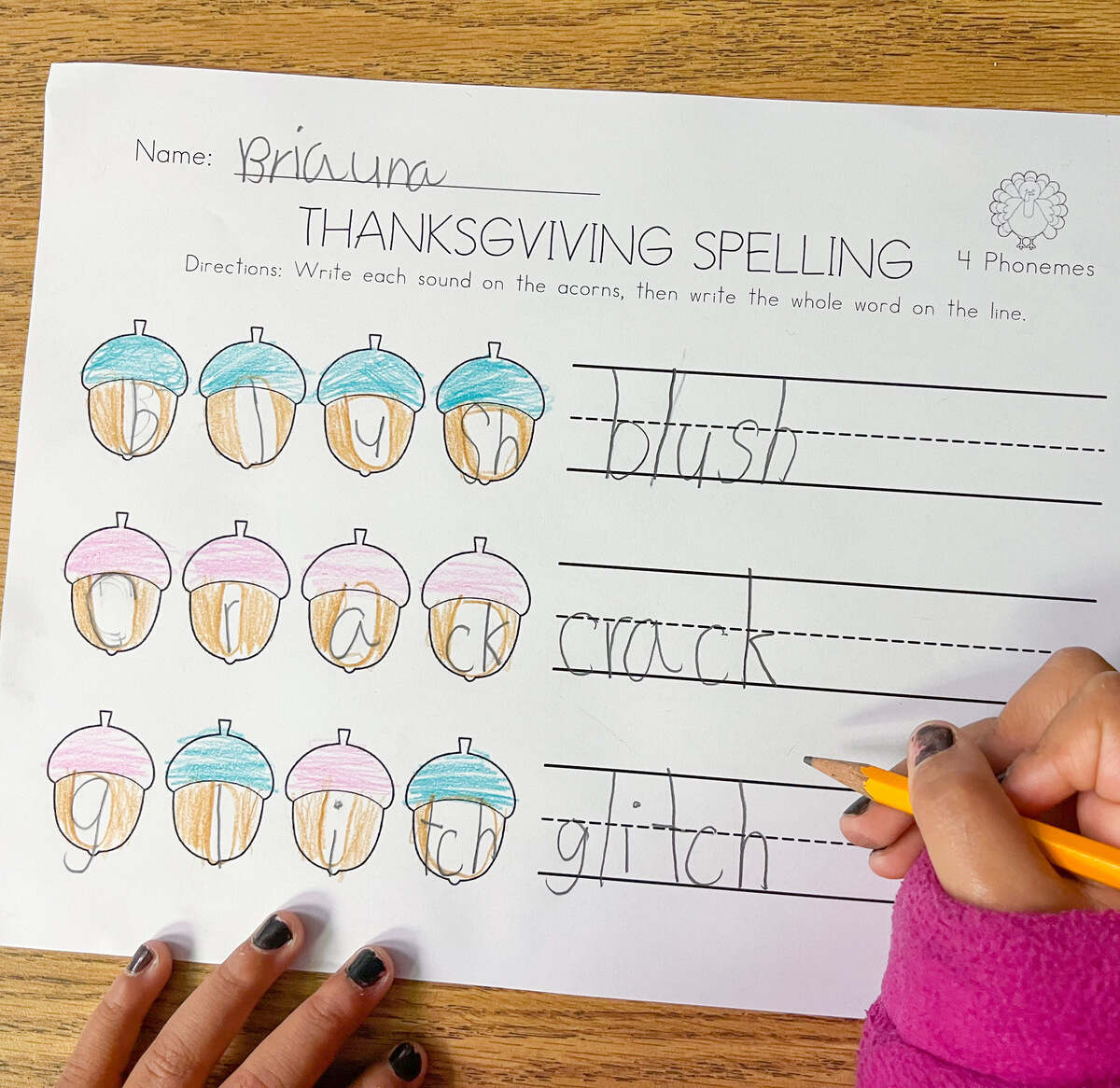 Using the Worksheets
Orthographic mapping is a research-based process by which words become stored as automatic sight words. Follow this procedure below for effective word mapping:
The teacher dictates a word with the phonics skill the student is working on.
The child repeats the word, then taps the graphic (pumpkin, acorn, or hat) as they say each phoneme in the word out loud. You can make this step multisensory by using play doh, coins, colored markers, etc.
The student picks up his or her pencil and writes each grapheme in its space.
The student checks each sound, ensuring every sound is represented with the grapheme.
Last, the student rewrites the word on the line provided, using proper letter formation.
This procedure follows current best practices for Simultaneous Oral Spelling (SOS), which has been shown by research to be highly effective for teaching spelling to all student populations, including kids with dyslexia or other reading disabilities!
👉 Looking for words to dictate? Check out our CVC Words List, Silent E Words List, and Digraphs Words Lists!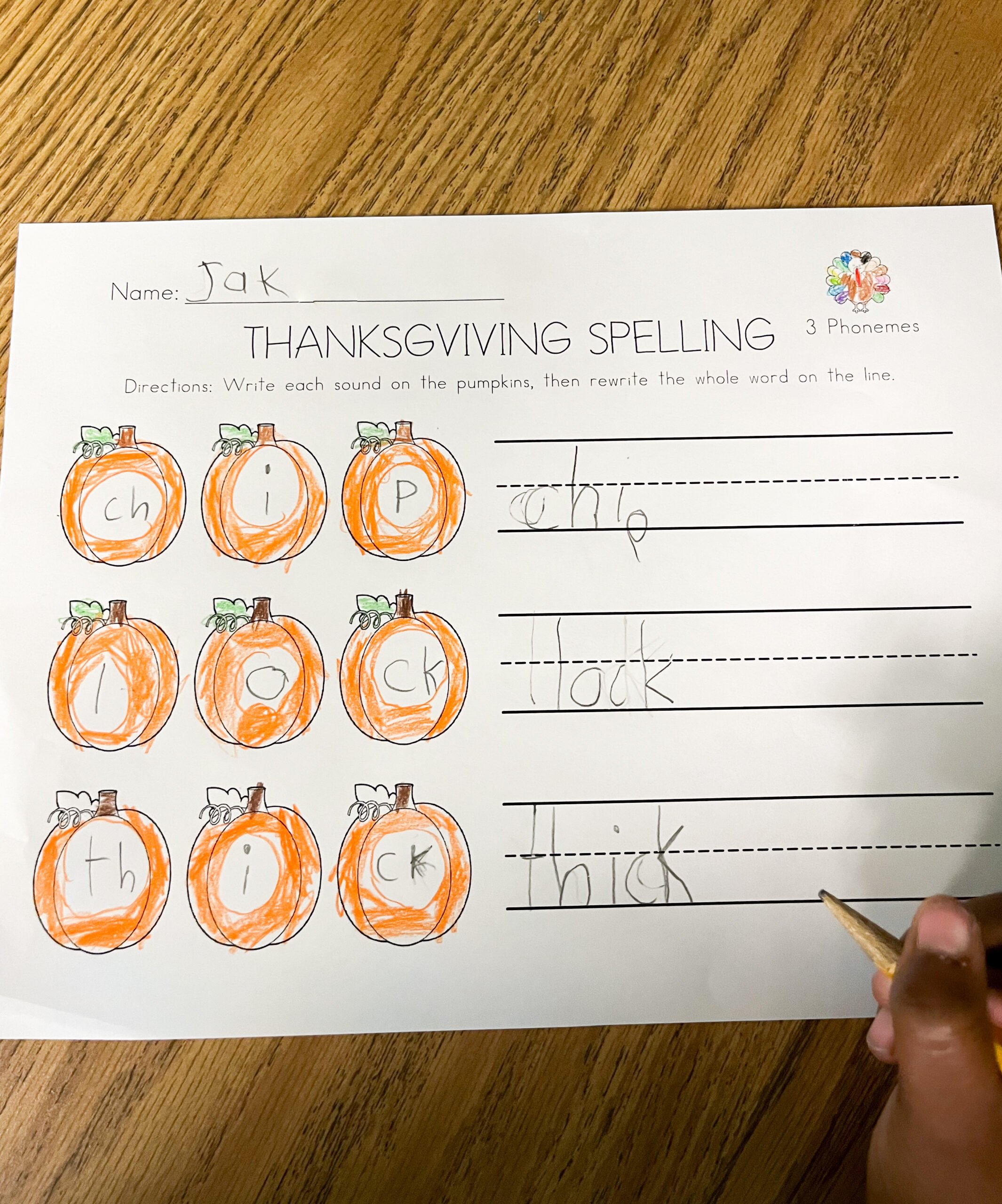 Expert Tips & Info
For extended use, place the worksheets in plastic sleeves & write with dry erase markers.
For extra fun, have the students color in each graphic!
More Word Mapping Resources
👉 Looking for more? Check out our popular Sound Boxes Bundle of Science of Reading aligned resources!
Download & Print
DOWNLOAD TERMS: All of our resources and printables are designed for personal use only in homes and classrooms. Each teacher must download his or her own copy. Please do not save to a shared drive, reproduce our resources on the web, or make photocopies for anyone besides your own students. To share with others, please use the social share links provided or distribute the link to the blog post so others can download their own copies. Your support in this allows us to keep making free resources for everyone! Please see our Creative Credits page for information about the licensed clipart we use. If you have any questions or concerns regarding our terms, please email us. Thank you!
TERMS: All resources and printables are designed for personal use only in homes and...
TERMS: All resources and printables are designed for personal use only in homes and...
TERMS: All resources and printables are designed for personal use only in homes and...