12 Letter B Worksheets – Free Printables!
This post may contain affiliate links. Please see our disclosure policy.
Get 12 free printable worksheets are designed for teaching the letter B to children in preschool and Kindergarten. Students will identify the uppercase and lowercase letters, recognize the letter /b/ sound, and trace and print the letter B.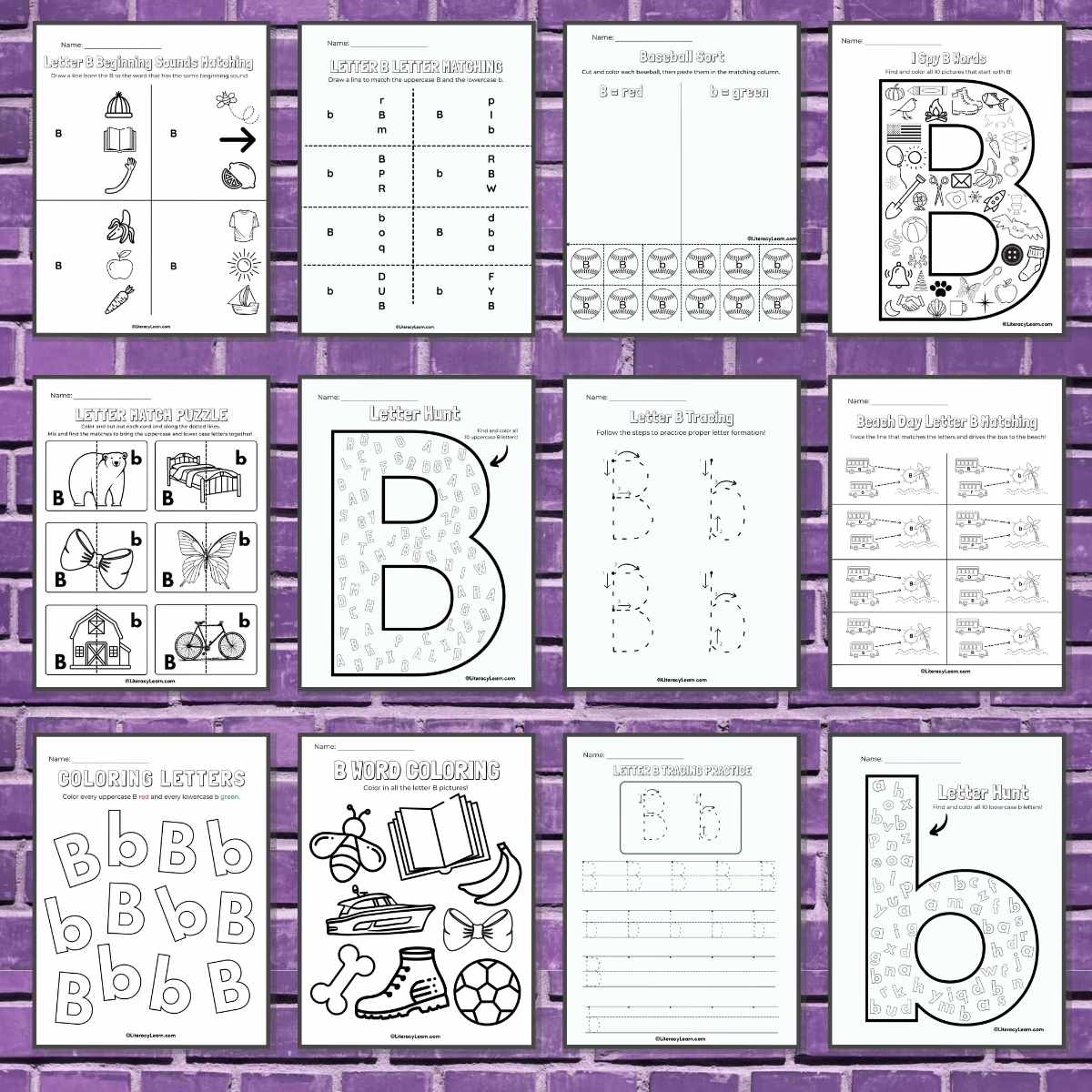 🔤 All About Letter B
Mastering the alphabet is the very beginning of literacy! We carefully designed 11 printable pdf worksheets to build important pre-reading skills in preschoolers ages 3, 4, and 5.
These skills we're building? Visual discrimination, auditory discrimination, and proper letter formation of the letter B.
Visual discrimination: Seeing a letter and recognizing what letter it is, even if it looks similar to other letters.
Auditory discrimination: Hearing the letter sound and recognizing what letter makes that sound.
Proper letter formation. Correctly drawing each element of a letter to form the full, legible letter.
Use these worksheets as fun and engaging activities to go along with your letter B lesson plans, in classrooms or at home. Download and print just one pdf or all 12!
✍️ Letter B Worksheets
B Word Coloring: Students find and color pictures of easy to identify B words including bee, ball, book, and boat. Identifying the beginning sounds of words helps to improve auditory discrimination skills.
Letter B Coloring. Students must discern between the lowercase and uppercase letters, and color them in different colors. 
Letter Tracing (2 worksheets). Practicing proper letter formation, children will follow the steps to trace and write uppercase and lowercase letters. 
I Spy B Words. Students must find the 10 pictures beginning with the /b/ sound among many.
Uppercase Letter B Hunt: Students will find the 10 uppercase letters among other uppercase letters, improving visual discrimination. 
Lowercase Letter b Hunt: Children will spot the 10 lowercase letters among lots of other lowercase letters. 
Letter Match Puzzle. Students will color the B letter pictures, then cut out each picture and along the dotted lines. They can practice matching the uppercase and lowercase letters as they reassemble the pictures.
Baseball Sort: For more uppercase and lowercase matching practice, children will color uppercase and lowercase letters in different colors, then cut and paste the letters in the correct column. 
Letter Matching. Students will match the uppercase and lowercase letters.
Beginning Sounds Matching: Students will match the letter B with the correct picture beginning with the /b/ sound.
Helpful Info & Tips
Age Group: These worksheets are appropriate for preschoolers ages 3, 4, 5, and 6, and for Kindergarten students.
What you need: Students will need crayons or colored pencils, scissors, glue sticks, and pencils.
Skills: These worksheets will help children will practice visual discrimination, auditory discrimination, and proper letter formation for the letter B.
Related Posts
Download & Print
We'd love to hear about your experience with our printables! Please leave a comment below or tag us on Instagram @literacylearn!
TERMS: All resources and printables are designed for personal use only in homes and classrooms. Each person must visit this site and download their own copy for use. Please share with others by using the social share links provided or by distributing the link to the blog post. Do not share or reproduce our resources on the web, publish to a shared drive, email the file, or make photocopies for anyone outside your own home or classroom. This allows us to keep making free resources for everyone! If you have any questions, please email us. Thank you!