CVC Sentences with Read & Match Worksheets
This post may contain affiliate links. As an Amazon affiliate, we earn from qualifying purchases. See our disclosure policy.
Get 30 CVC word sentences organized by short vowels for focused phonics practice. We also include 5 printable read and match worksheets, each with 6 decodable sentences to match to the accompanying bright pictures.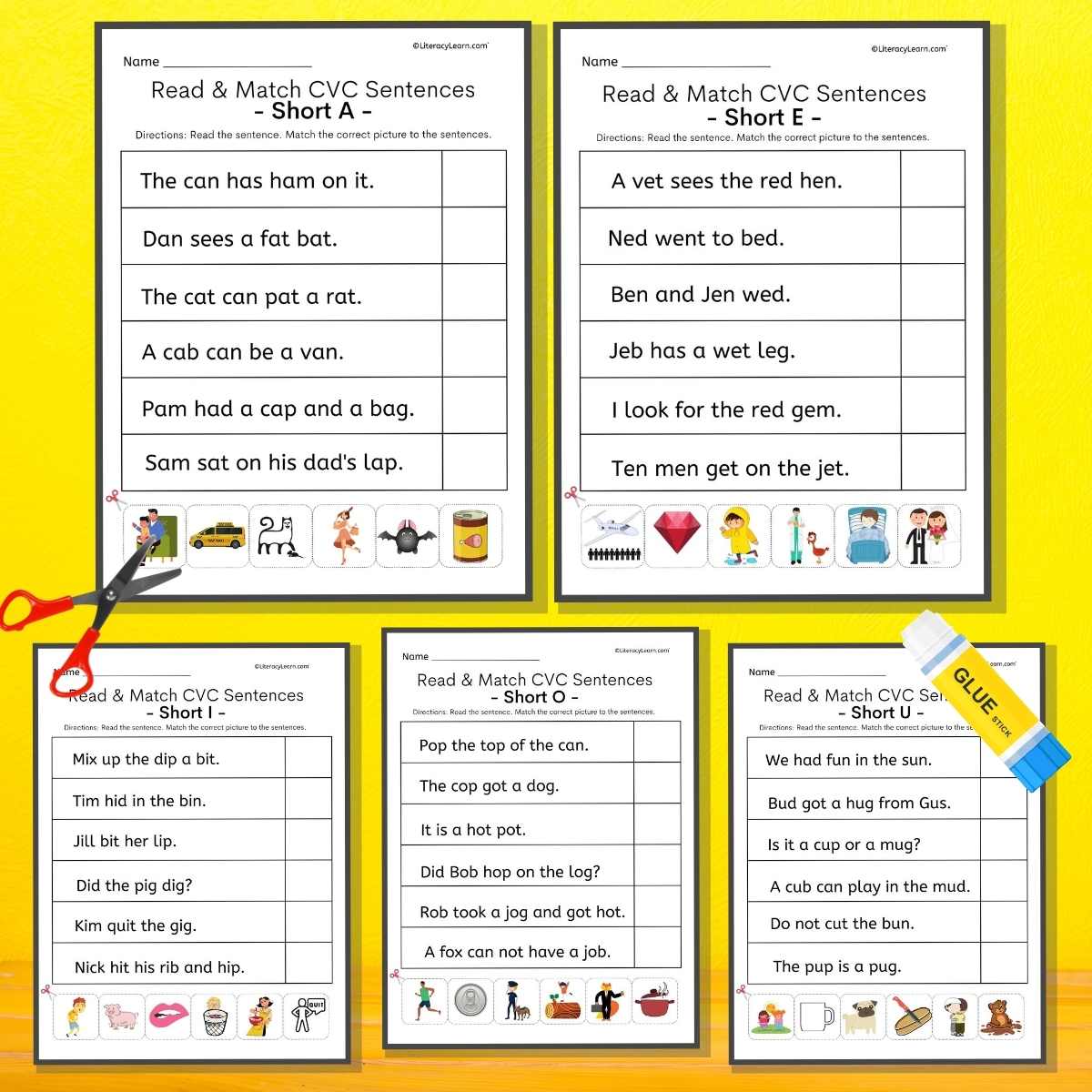 📖 Decodable Sentences
All the words used within these sentences follow predictable CVC patterns and include high-frequency words.
Decodable sentences need to make sense, but many resources focus solely on phonics. But when the focus is only on the phonics features or spelling concepts, meaning sometimes gets left by the wayside.
Don't get me wrong, using nonsense words is very important; I use them all the time in isolation! But sentences cannot be nonsense; they must make sense! That's the whole point of reading, right? And the more CVC work students can do, the better!
👉 Want more decodable sentences? Get 60+ pages of decodable worksheets for multiple levels!
Short A CVC Sentences
The can has ham on it.
Dan sees a fat bat.
The cat can pat a rat.
A cab can be a van.
Pam had a cap and a bag.
Sam sat on his dad's lap.
Short E CVC Sentences
A vet sees the red hen.
Ned went to bed.
Ben and Jen wed.
Jeb has a wet leg.
I look at the red bell.
Ten men get on the jet.
Short I CVC Sentences
Mix up the dip a bit.
Tim hid in the bin.
Jill bit her lip.
Did the pig dig?
Kim quit the gig.
Nick hit his rib and hip.
Short O CVC Sentences
Pop the top of the can.
The cop got a dog.
It is a hot pot.
Did Bob hop on the log?
Rob took a jog and got hot.
A fox can not have a job.
Short U CVC Sentences
We had fun in the sun.
Bud got a hug from Gus.
Is it a cup or a mug?
A cub can play in the mud.
Do not cut the bun.
The pup is a pug.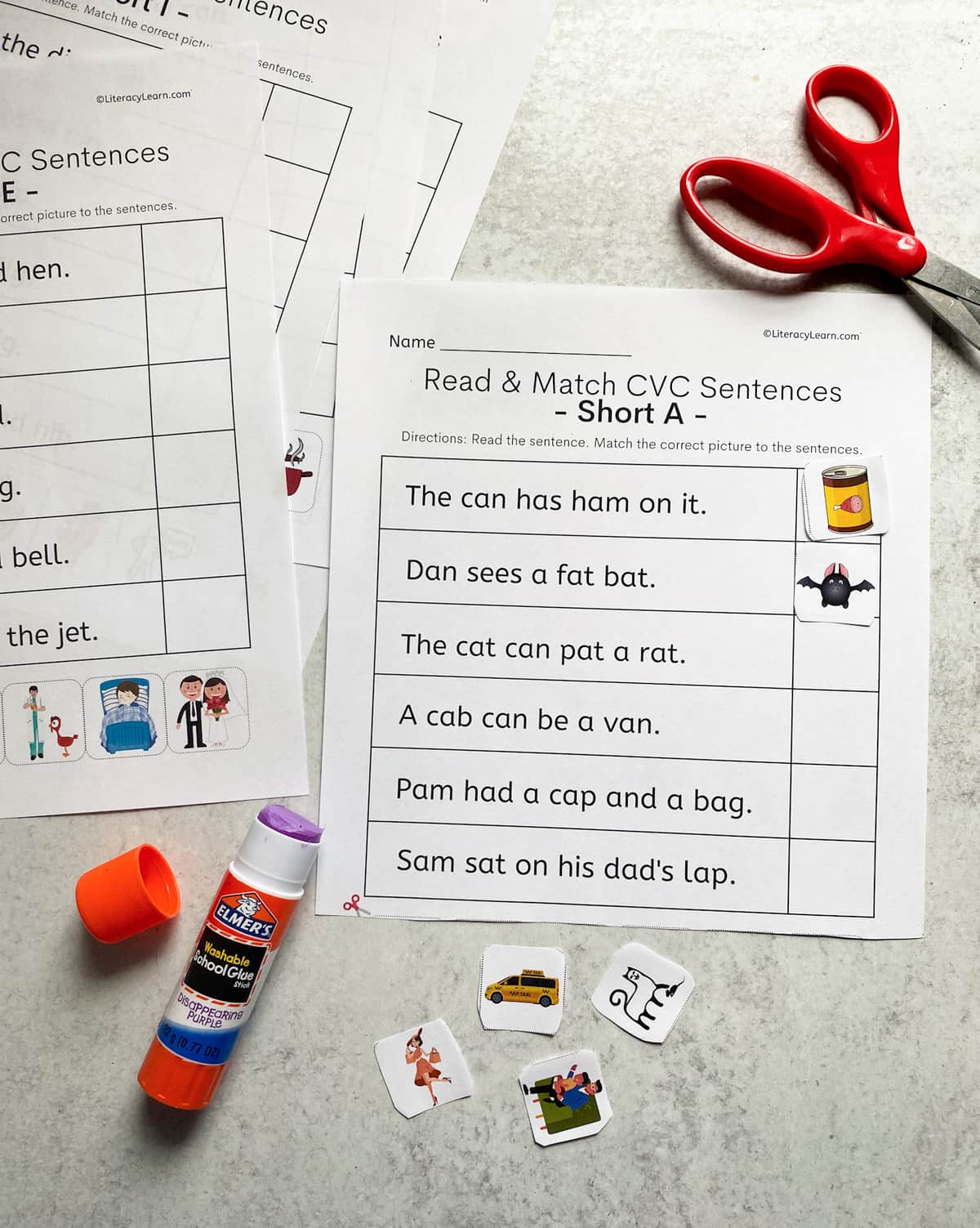 📝 Practice Worksheets
We love these worksheets because the sentences actually make sense and carry meaning while also encouraging children to practice decoding CVC words with short vowel sounds.
The pdfs are designed so children have to read the sentences without relying on picture support. The pictures are used to encourage self-monitoring.
👉 Children must ask themselves, "Is there a picture that supports the sentence I just read?" If so, they'll match the picture to the sentence! If not, they'll have to re-read the sentence.
This is a great step towards building independent readers who learn to self-monitor while reading!
✂️ What You Need
Grab your scissors and a glue stick! That's all your kiddos will need to complete this focused phonics practice.
ℹ️ Tips & Info
Age Group: These worksheets are great for kindergarten and first grade students!
Children need to have the skills required to complete this activity. The ability to read sentences takes more stamina than reading isolated words. Kids need to have a strong grasp on all letter sounds from a-z, as well as the ability to blend 3 phonemes.
Lots of explicit instruction and teacher modeling focused on blending should be done prior to using these worksheets.
How to use the worksheets: They can be used in a variety of ways – independently, in a small group, or even as a whole group activity.
If used for independent practice, the worksheets ensure that kids are held accountable for their work. When looking at the finished product, you'll know instantly whether your students are able to read and make meaning from the sentences. If the pictures match the sentences, then you know your students got it. If not, they'll need more practice with these decodable sentences in a small group or one-on-one setting.
Tip: Glue or staple the worksheets into your students' notebooks and they can practice rereading the sentences fluently, listening for the short vowel-focused sound. These decodable sentences may be the first step on the journey to becoming fluent readers!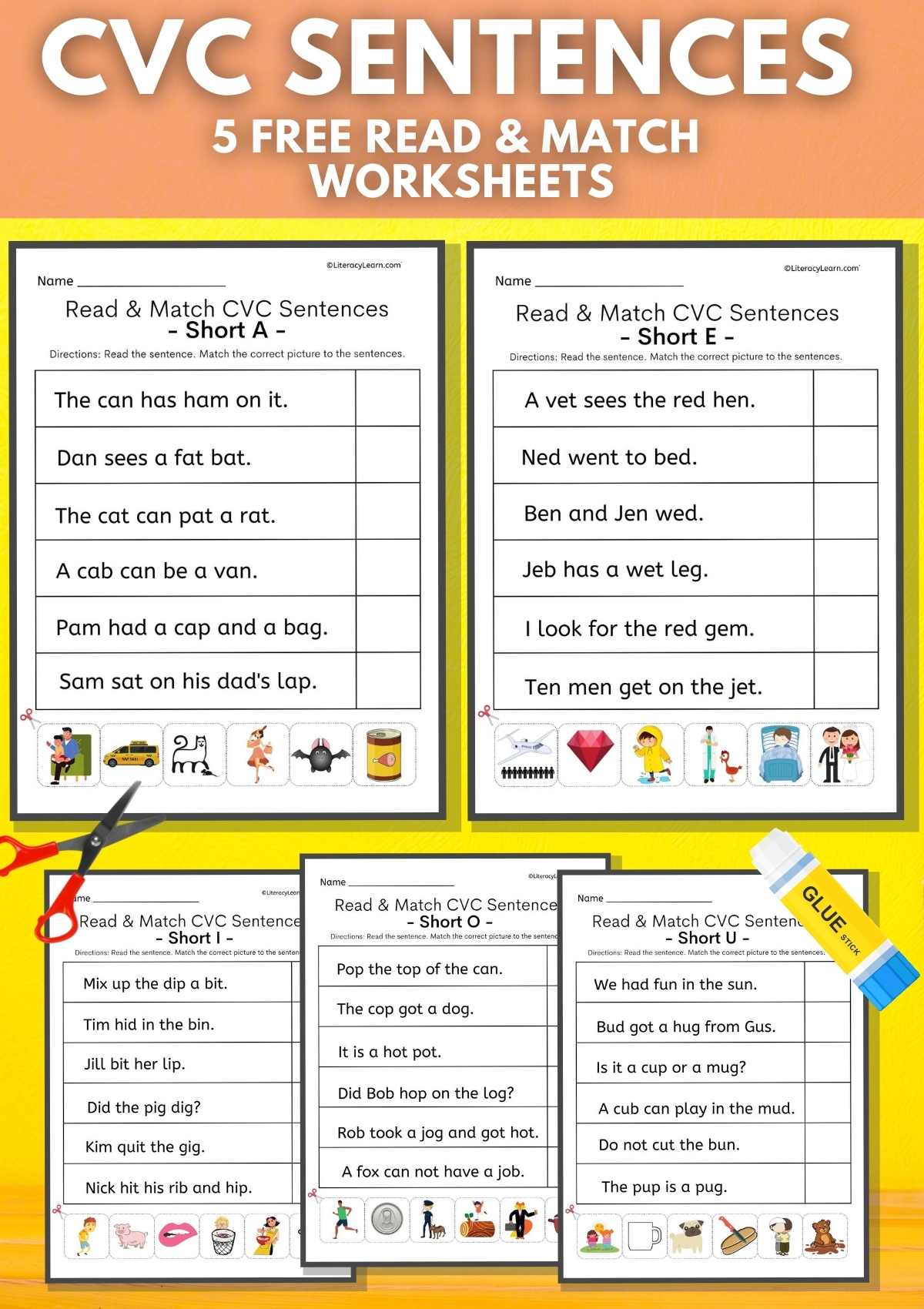 Download & Print
Are you using these worksheets? We'd love to hear about your experience!
Leave a comment below or tag us on Instagram @literacylearn.
DOWNLOAD TERMS: All of our resources and printables are designed for personal use only in homes and classrooms. Each teacher must download his or her own copy. Please do not save to a shared drive, reproduce our resources on the web, or make photocopies for anyone besides your own students. To share with others, please use the social share links provided or distribute the link to the blog post so others can download their own copies. Your support in this allows us to keep making free resources for everyone! Please see our Creative Credits page for information about the licensed clipart we use. If you have any questions or concerns regarding our terms, please email us. Thank you!