All About Mom Free Printables for Mother's Day
This post may contain affiliate links. Please see our disclosure policy.
These free "All About My Mom" printable pdfs are great ways for students to share in their own words all about their mom, grandma, or any special person. It's an engaging and inclusive classroom or at-home activity to celebrate Mother's Day.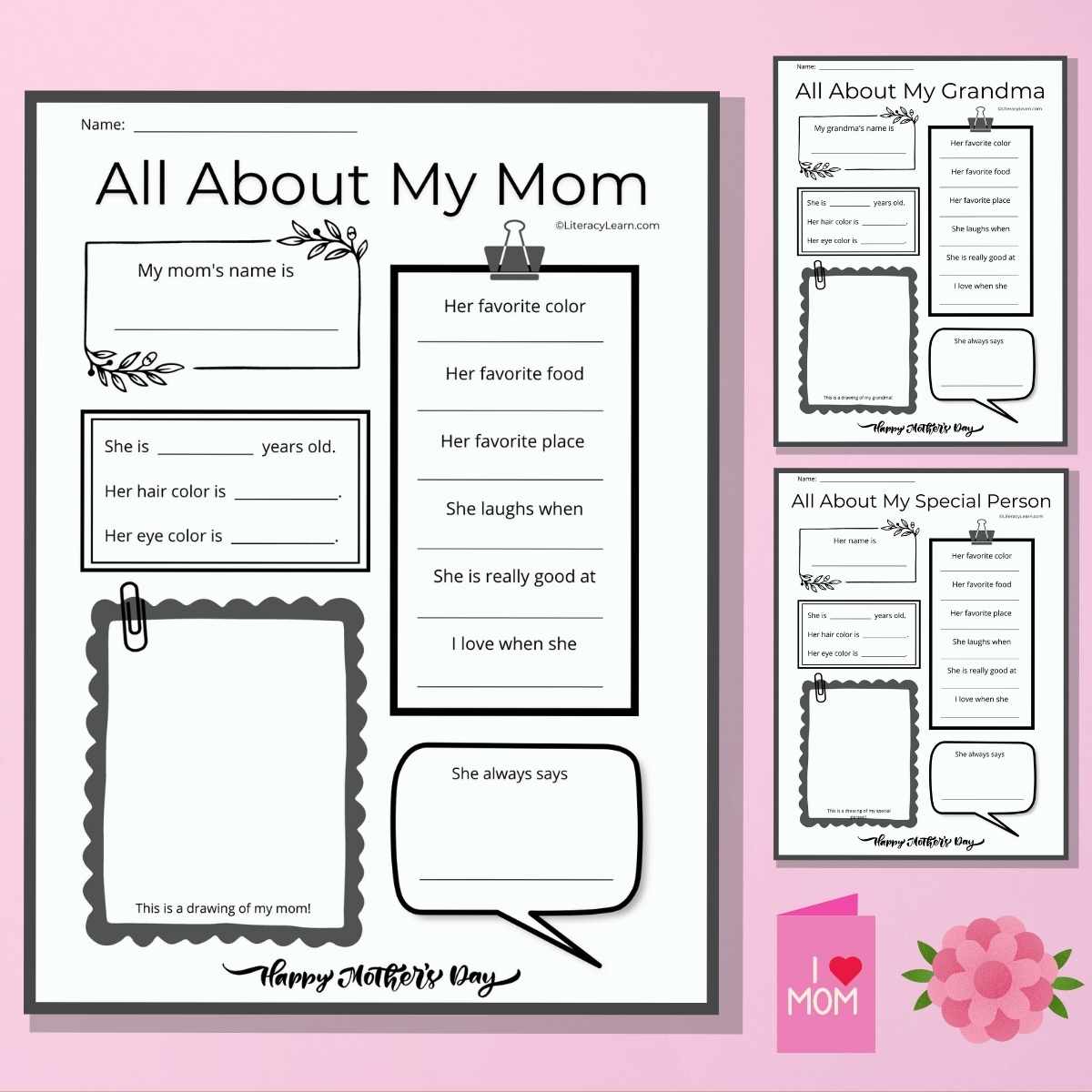 🌸 Why We Love It
Mother's Day is the official holiday for mothers, celebrated on the second Sunday in May since 1914.
We use the occasion to celebrate and honor mothers as well as all the other special women in our lives, like grandmothers, aunts, sisters, neighbors, and special friends.
That's why we created three options for these "All About My Mom" printable worksheets (for free!). Children can choose whether to share about their mom, grandmother, or any other special person in their lives.
They'll get to fill in the blanks and answer questions while they share about their person in their own words, then draw a picture of the person they love.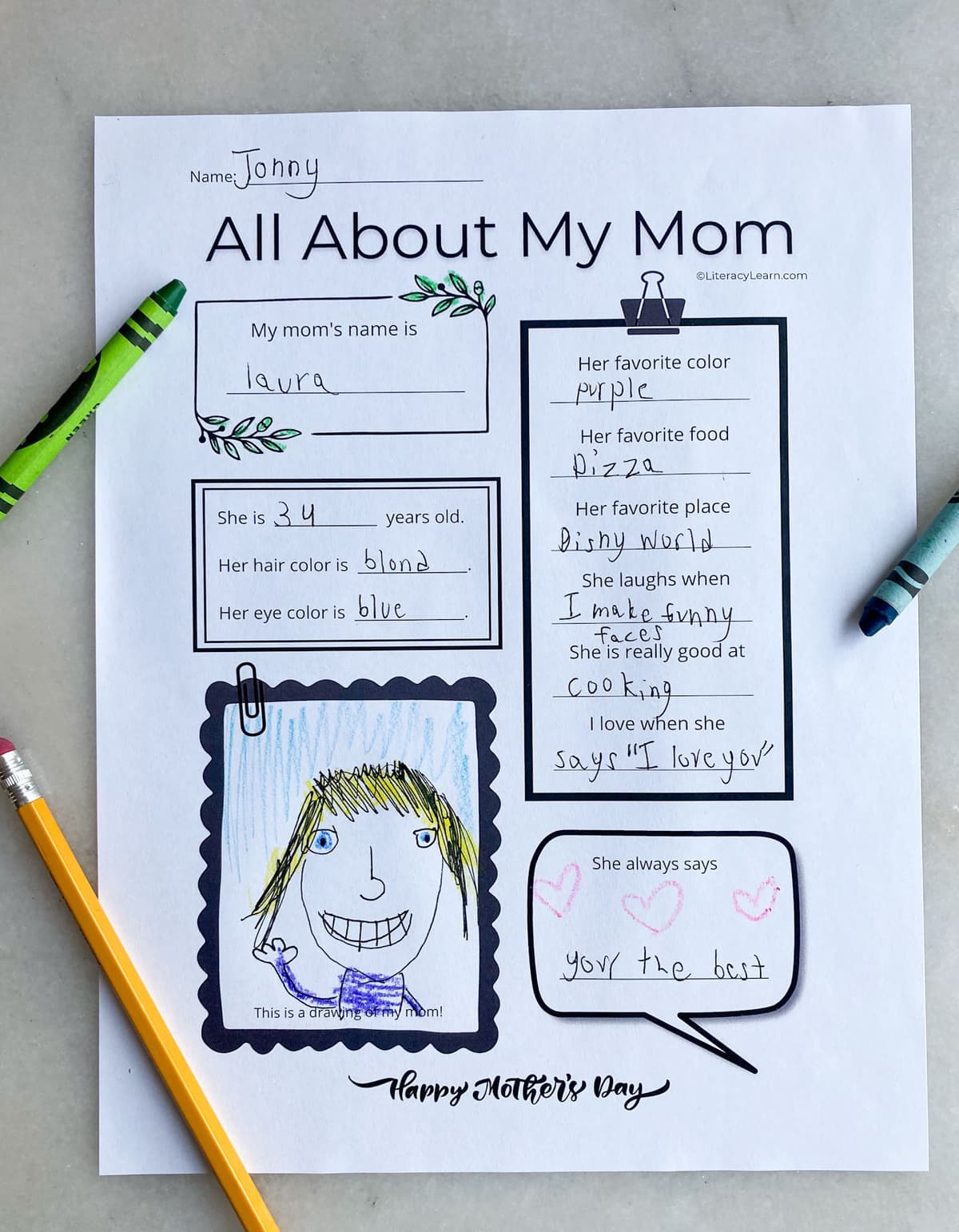 Some of the questions are about what their mom looks like, her age, the things she likes to do, what she's good at, and what she always says.
We've seen some surprising (and adorably inaccurate) answers to the questions, but we think that's part of the fun of this activity!
Use the finished worksheet as part of your Mother's Day gift or tuck it inside their card!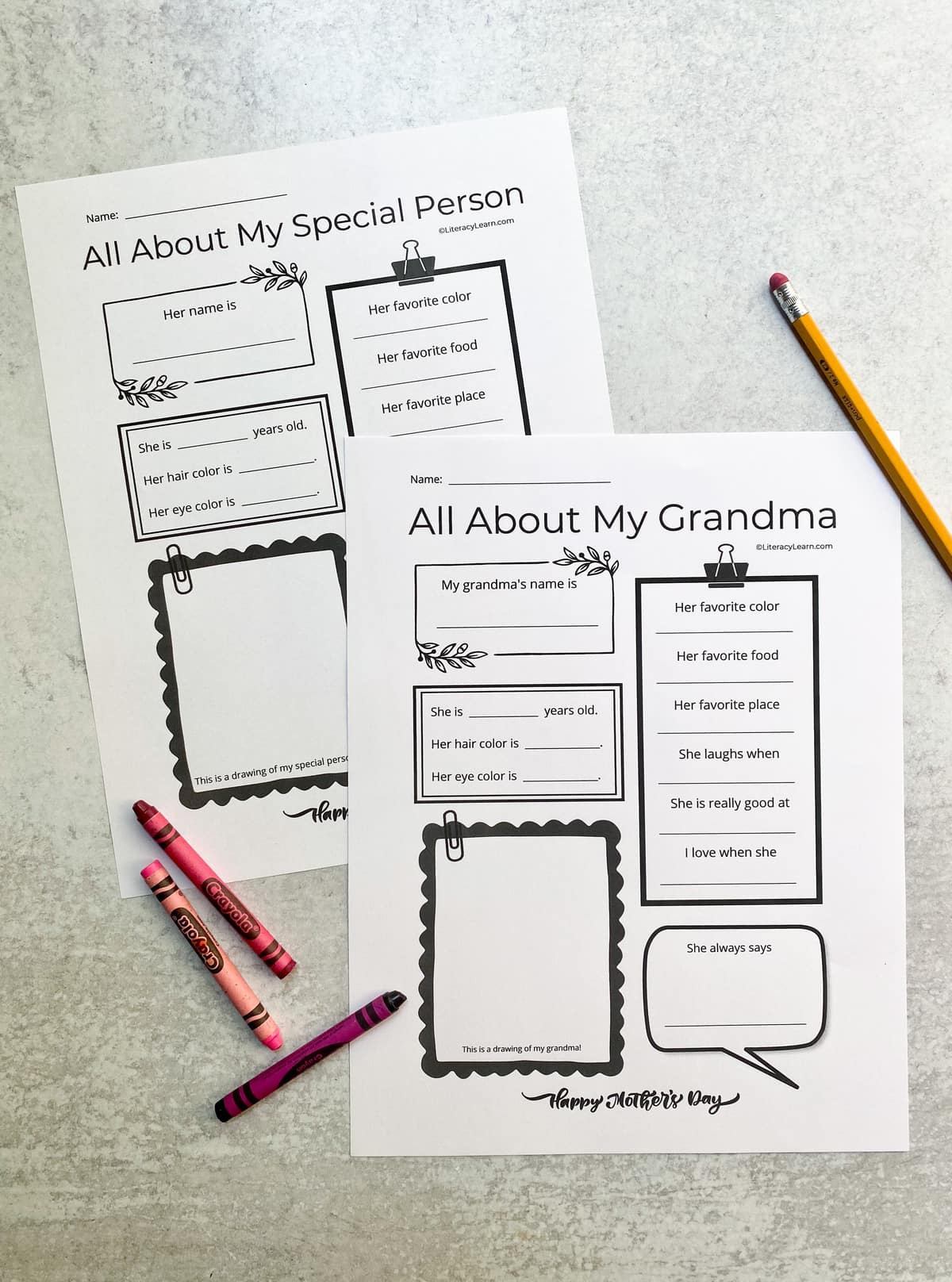 📝 How to Use The Worksheets
Download and print the "All About My Mom," "All About My Grandma," and/or "All About My Special Person" printables. These worksheets are designed for children ages 3-10.
👉 Children who can read and write simple sentences can complete it independently, and younger children can complete it with assistance.
👉 For younger students who can't yet read or write sentences, you can dictate the questions individually and write in the answers. The child can personalize it by drawing the picture independently.
What You Need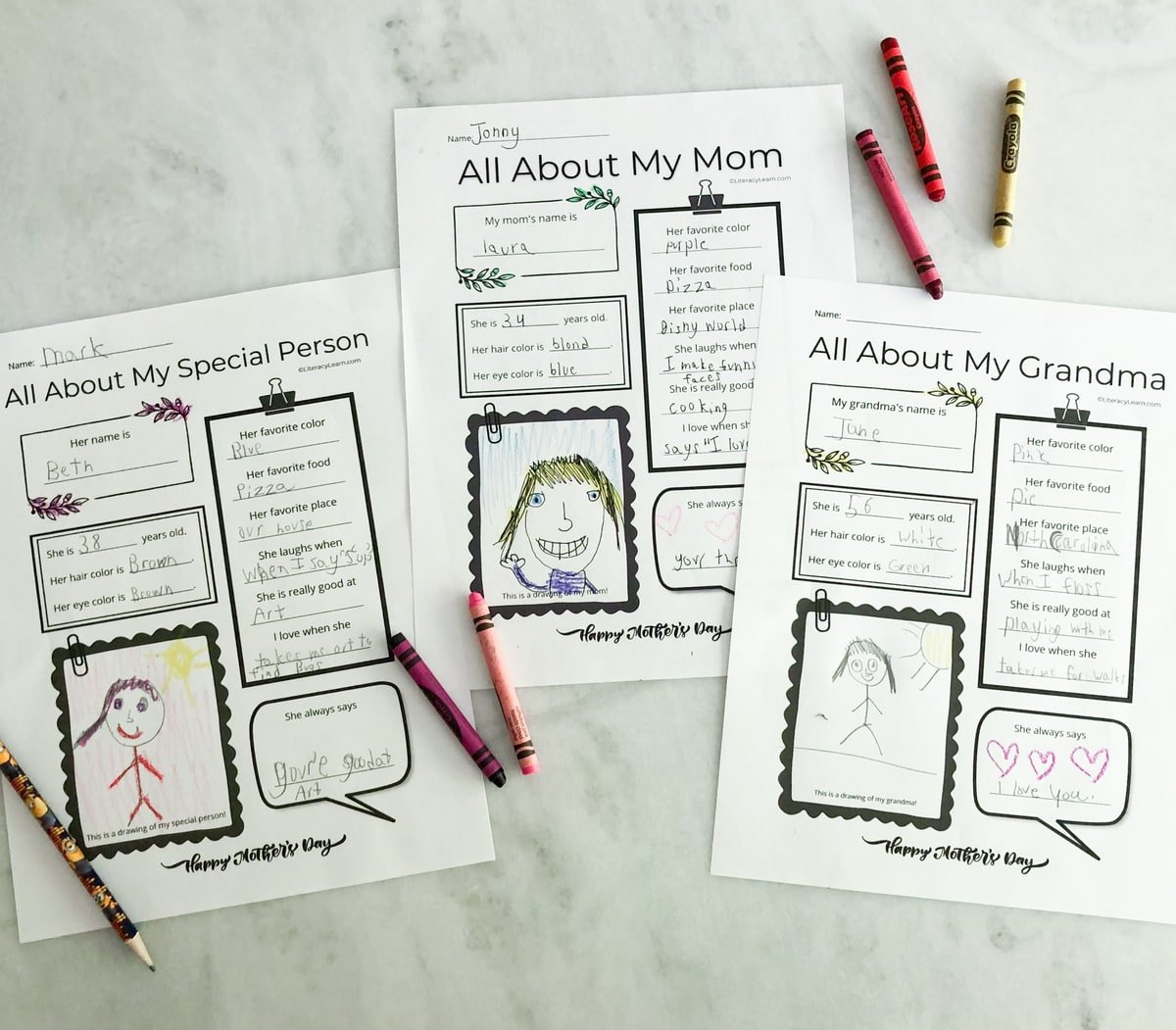 ℹ️ Tips & Info
Inclusivity: In an effort to make sure no one feels excluded in classroom situations, we like to invite all students to choose any special person they'd like to write about.
We usually prompt students with the suggestion to choose either their mom, sister, aunt, friend, babysitter, teacher, coach, or neighbor, and then give them the coordinating worksheet.
We suggest coming prepared with extra copies of each worksheet option!
🖍️ Related Posts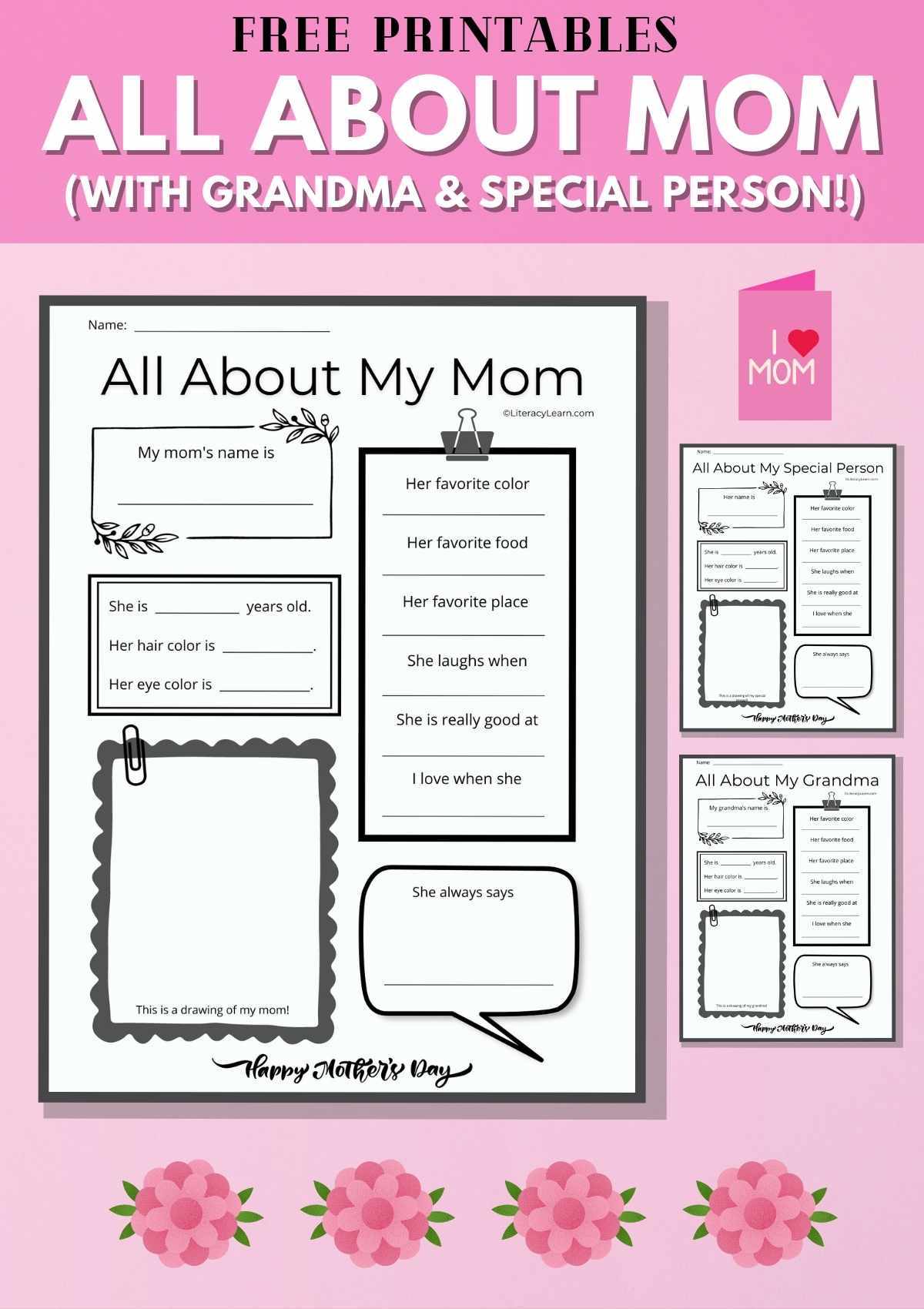 Are you using these worksheets? We'd love to hear about your experience!
Please leave a comment below or tag us on Instagram @literacylearn.
TERMS: All resources and printables are designed for personal use only in your own home and classroom. Each person must visit this site and download their own free copy. Please do not photocopy, email, or reproduce our printable resources for other teachers, and please do not reproduce our printables on the web or save them to a shared drive. Instead, please share the resources with others by using the social share links provided or by distributing the link to the blog post itself. This allows us to keep making free resources for everyone! If you have any questions, please email us. Thank you!