Initial Sounds 4 Seasons Worksheets – Free Printables
This post may contain affiliate links. As an Amazon affiliate, we earn from qualifying purchases. See our disclosure policy.
Get 4 FREE initial sounds seasons-themed worksheets, each focusing on a different season with fun and easily identifiable pictures. They're perfect for Kindergarteners working to understand beginning sounds AND seasons!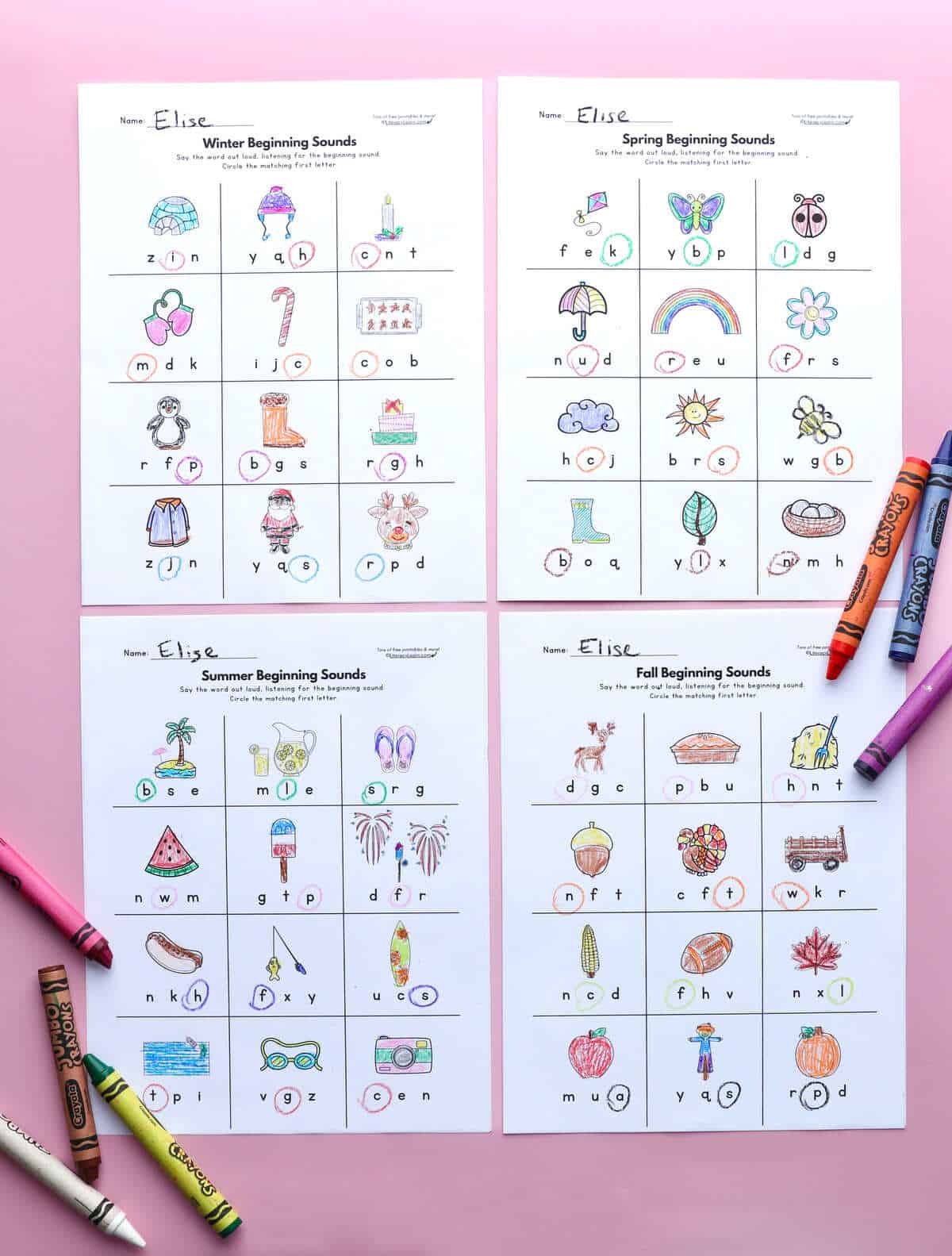 ☀️ Why We Love It
I try to pay attention to what gets my students excited, then take that information and build it right into our lessons. And that's why I created these season-based initial sounds worksheets!
Like my A-Z beginning sounds printables, these worksheets focus on auditory discrimination, which is hearing and then identifying a letter sound.
Practicing this skill is so important, because this is the beginning of learning to sound out new words and spell!
Obviously, seasons are front of mind a lot of the time (that's why we made our summer fun worksheets!) and in my groups, my kindergarteners really respond to these worksheets with excitement. That means I've done my job!
The Worksheets
You'll get four worksheets with different seasonal themes! Each free worksheet focuses on helping children hear and identify the beginning sound of each word.
Teachers should say the words out in order to confirm the meaning of each picture and help with vocabulary.
Kids should repeat the words out loud, listening for the beginning sounds, and circle the correct letter. For more fun, they can color in the pictures, too!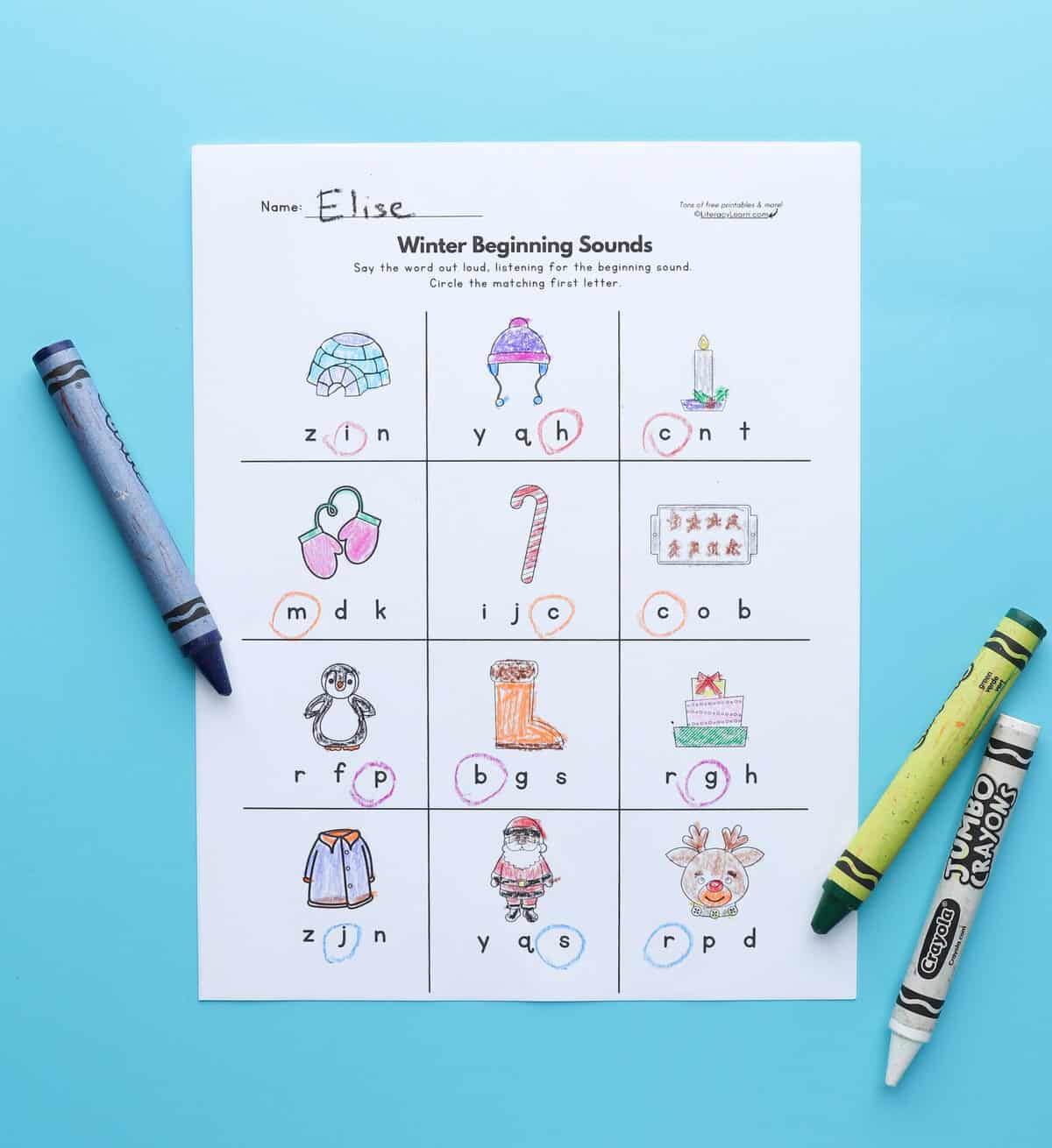 Winter-Themed Worksheet
igloo
hat
candle
mittens
candy cane
cookies
penguin
bots
gifts
jacket
santa
reindeer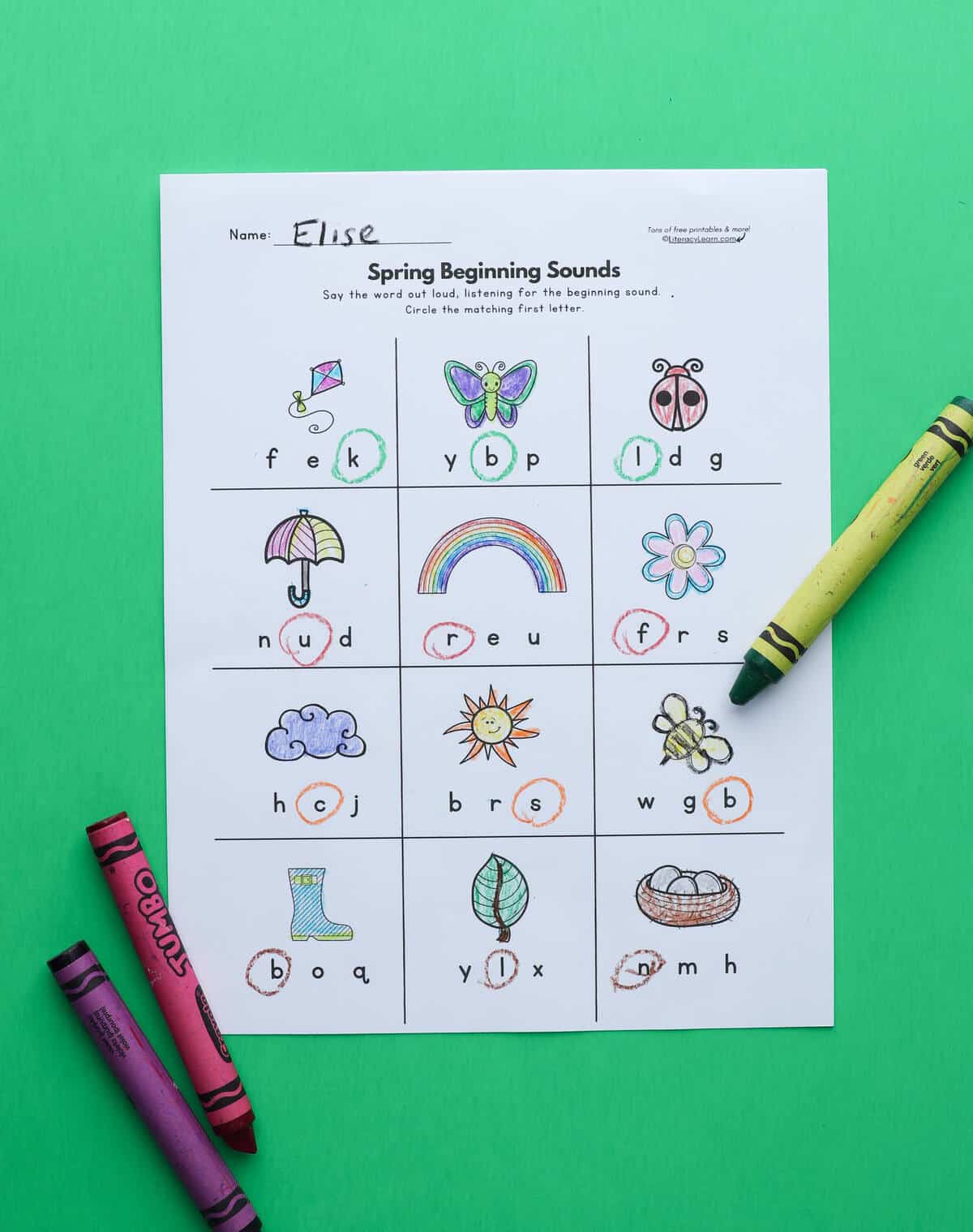 Spring-Themed Worksheet
kite
butterfly
lady bug
umbrella
rainbow
flower
cloud
sun
bee
boot
leaf
nest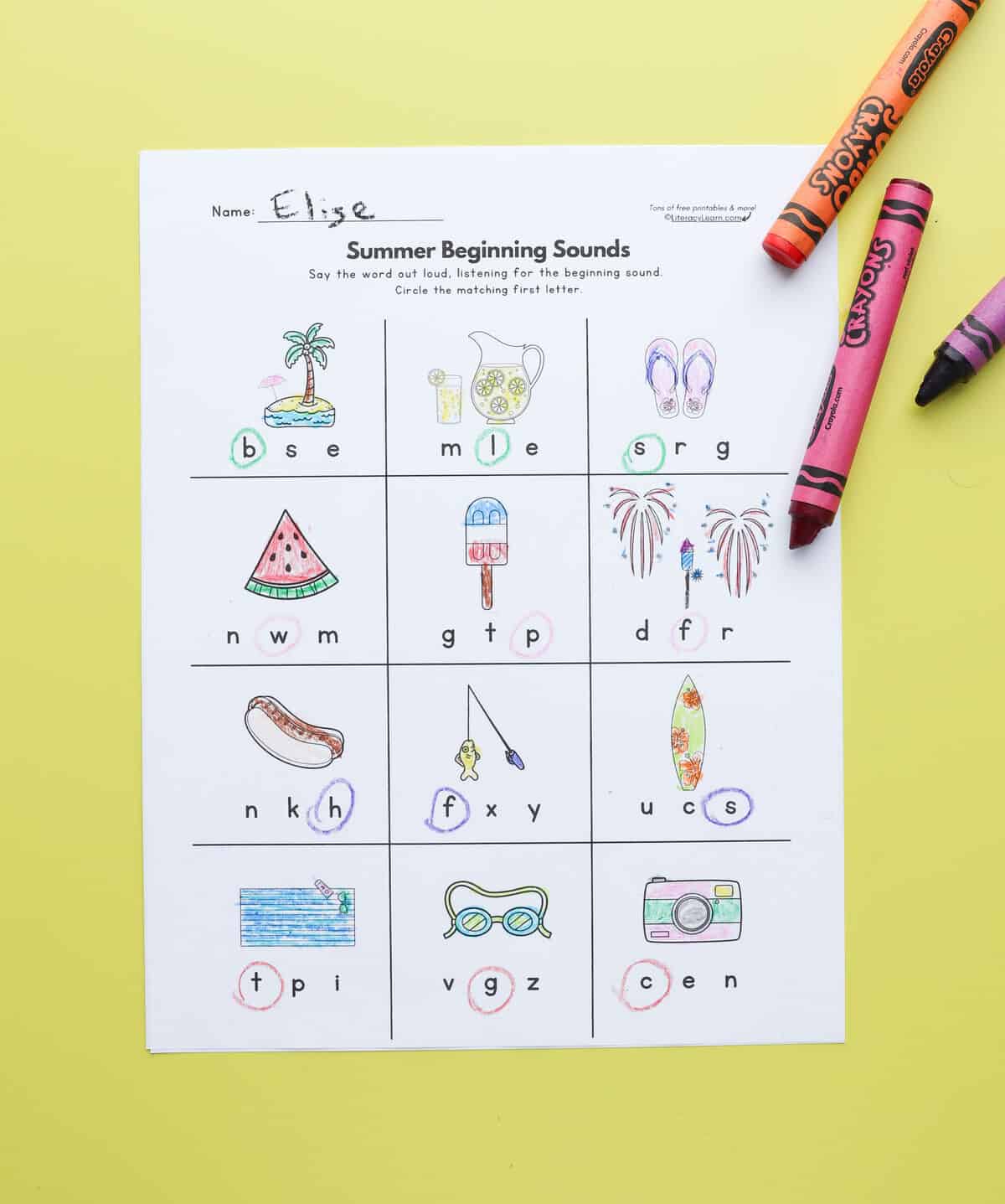 Summer-Themed Worksheet
beach
lemonade
sandals
watermelon
popsicle
fireworks
hot dogs
fishing
surf board
towel
goggles
camera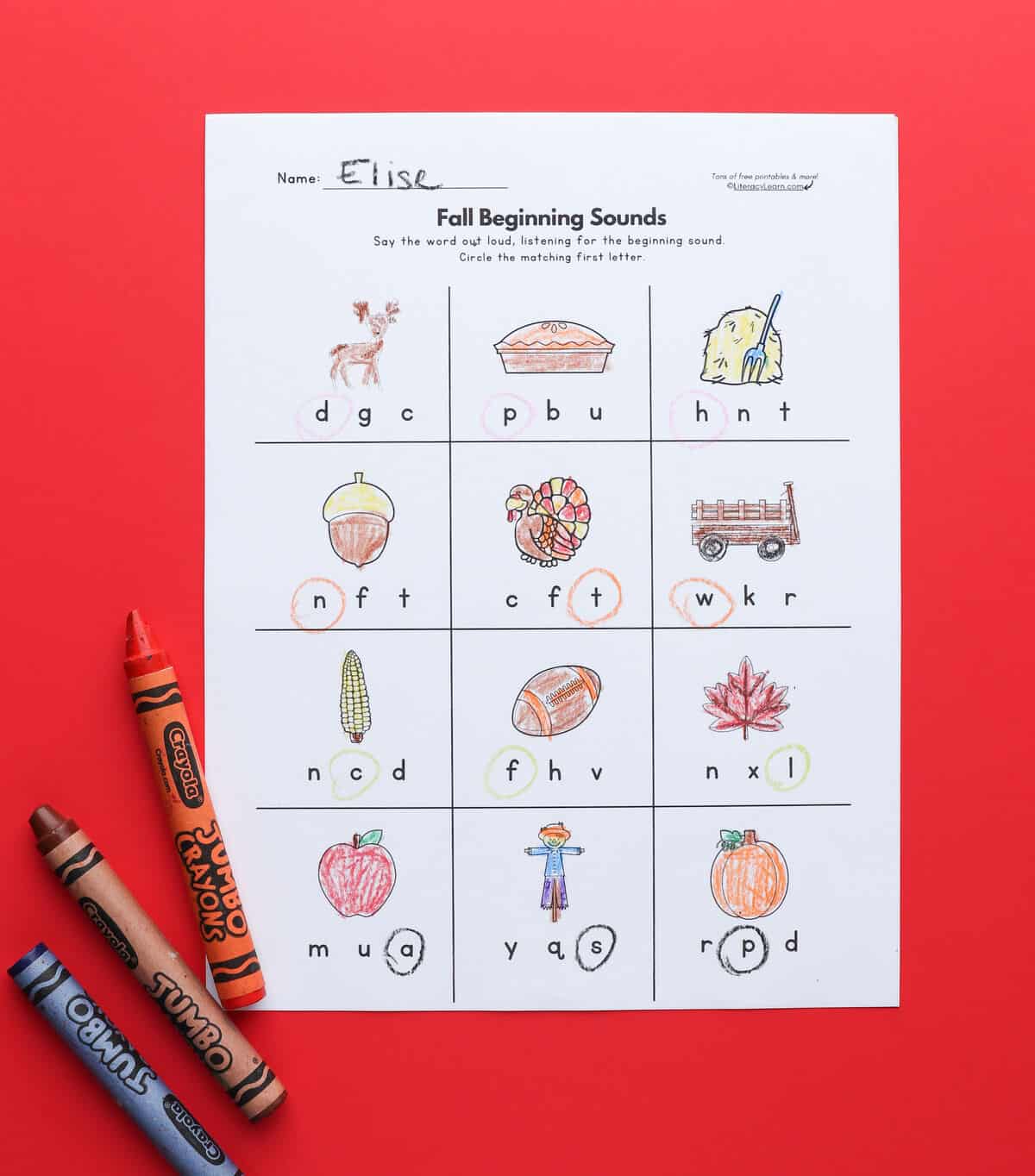 Fall/Autumn-Themed Worksheet
deer
pie
hay
nut
turkey
wagon
corn
football
leaf
apple
scarecrow
pumpkin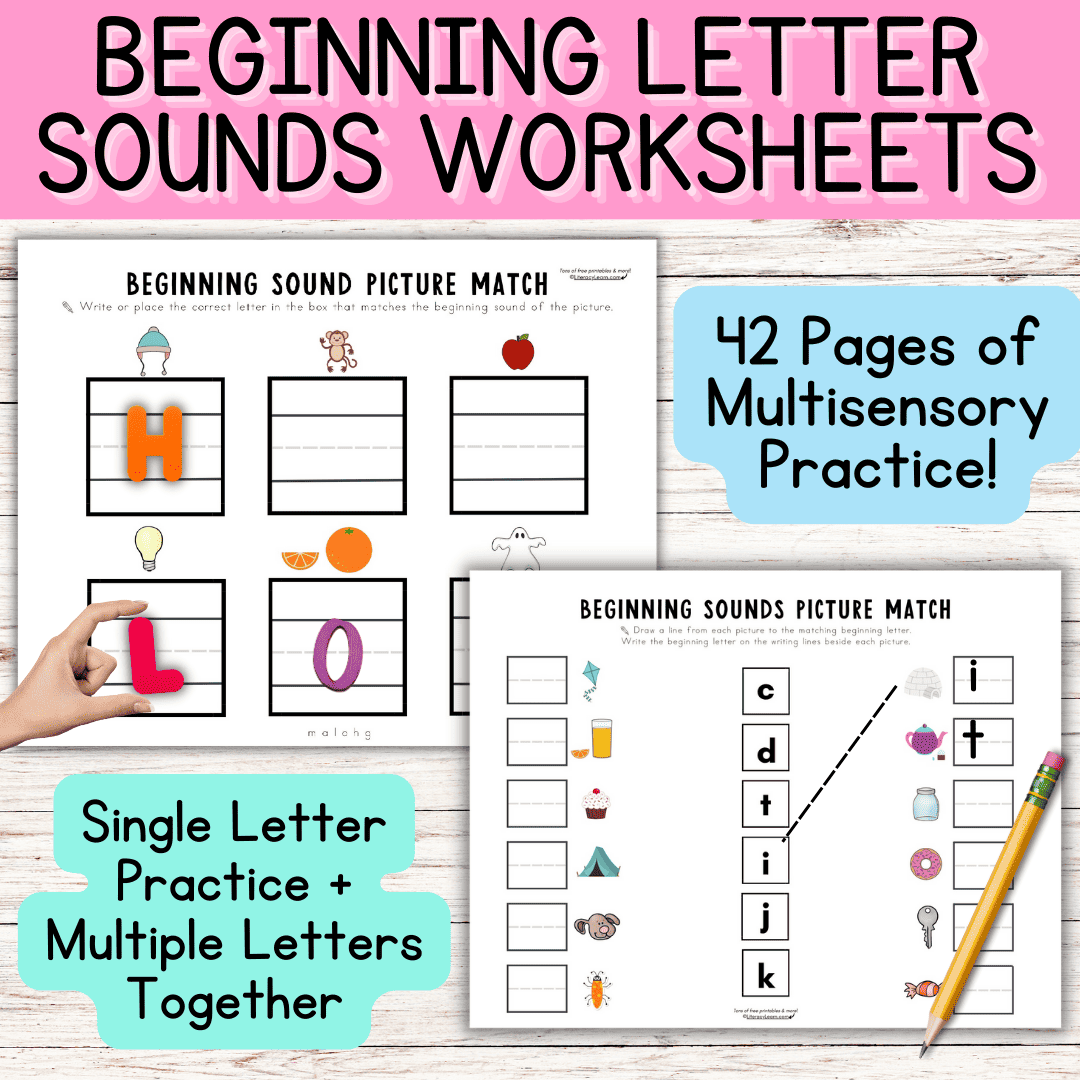 Educational Focus
Children will learn to identify beginning sounds of words and practice auditory discrimination.

These worksheets separate word groups by seasons, reinforcing lessons about the four seasons of the years.

These worksheets are appropriate for children age 5-6 or in Kindergarten.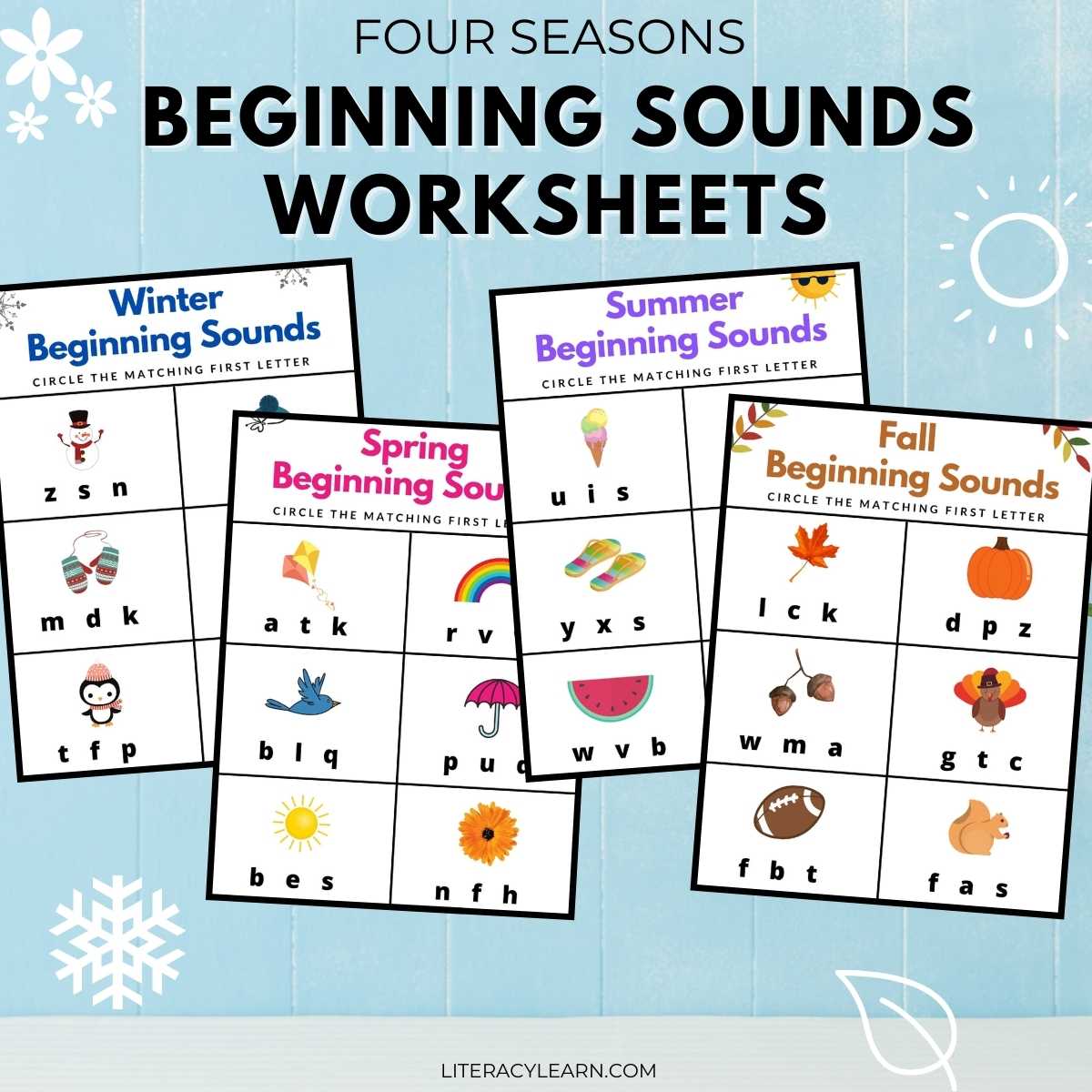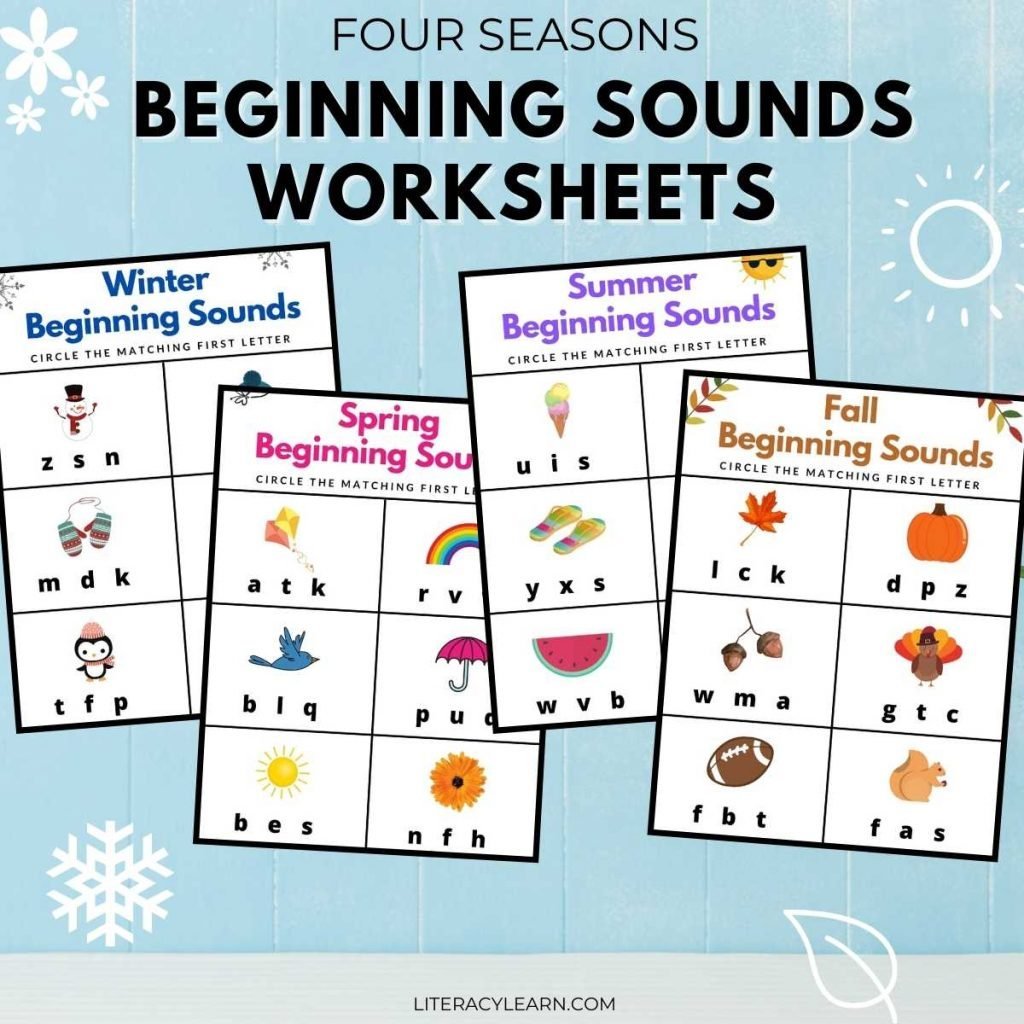 Download & Print
We absolutely adore getting to see our worksheets in the real world, completed by your kids! Please snap a picture and tag us on Instagram @literacylearn!
DOWNLOAD TERMS: All of our resources and printables are designed for personal use only in homes and classrooms. Each teacher must download his or her own copy. Please do not save to a shared drive, reproduce our resources on the web, or make photocopies for anyone besides your own students. To share with others, please use the social share links provided or distribute the link to the blog post so others can download their own copies. Your support in this allows us to keep making free resources for everyone! Please see our Creative Credits page for information about the licensed clipart we use. If you have any questions or concerns regarding our terms, please email us. Thank you!