5 Snowman Coloring Sheets – Free Printables!
This post may contain affiliate links. As an Amazon affiliate, we earn from qualifying purchases. See our disclosure policy.
Celebrate wintertime fun with five different snowman coloring sheets. Download the free printable pdfs, and watch your young learners get creative and get to work! Print one or print all five!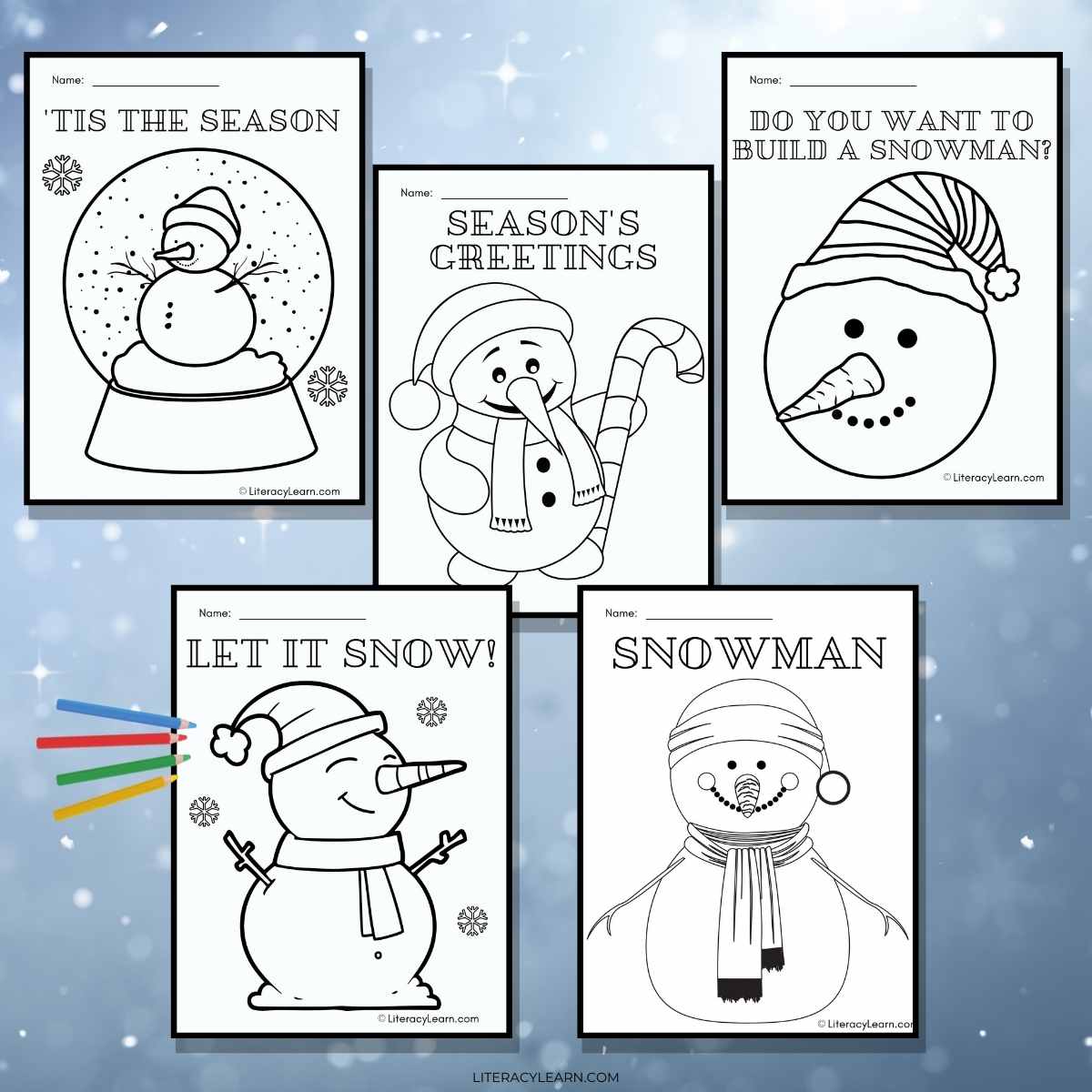 Why We Love It
Winter has arrived! Here in Virginia, I'm just dreaming of snow, because snow = snow day! Whenever we do get a rare day of snow, I like to break out some fun coloring sheets and let the kids enjoy a little down time and show off their creativity.
❄️ If you're a teacher or parent looking for some winter themed coloring sheets, these snowmen are an awesome resource that can be used during morning work, indoor recess, or coloring time.
❄️ If you're a parent who is looking for something to entertain your own child between sledding and hot chocolate, these coloring sheets are the perfect quiet time activity.
👉 We have more free cold weather fun for you too! Get our free Snowman Glyph, Thanksgiving Activity Placemats, or Christmas Lights Scavenger Hunt, or Christmas I Spy pages.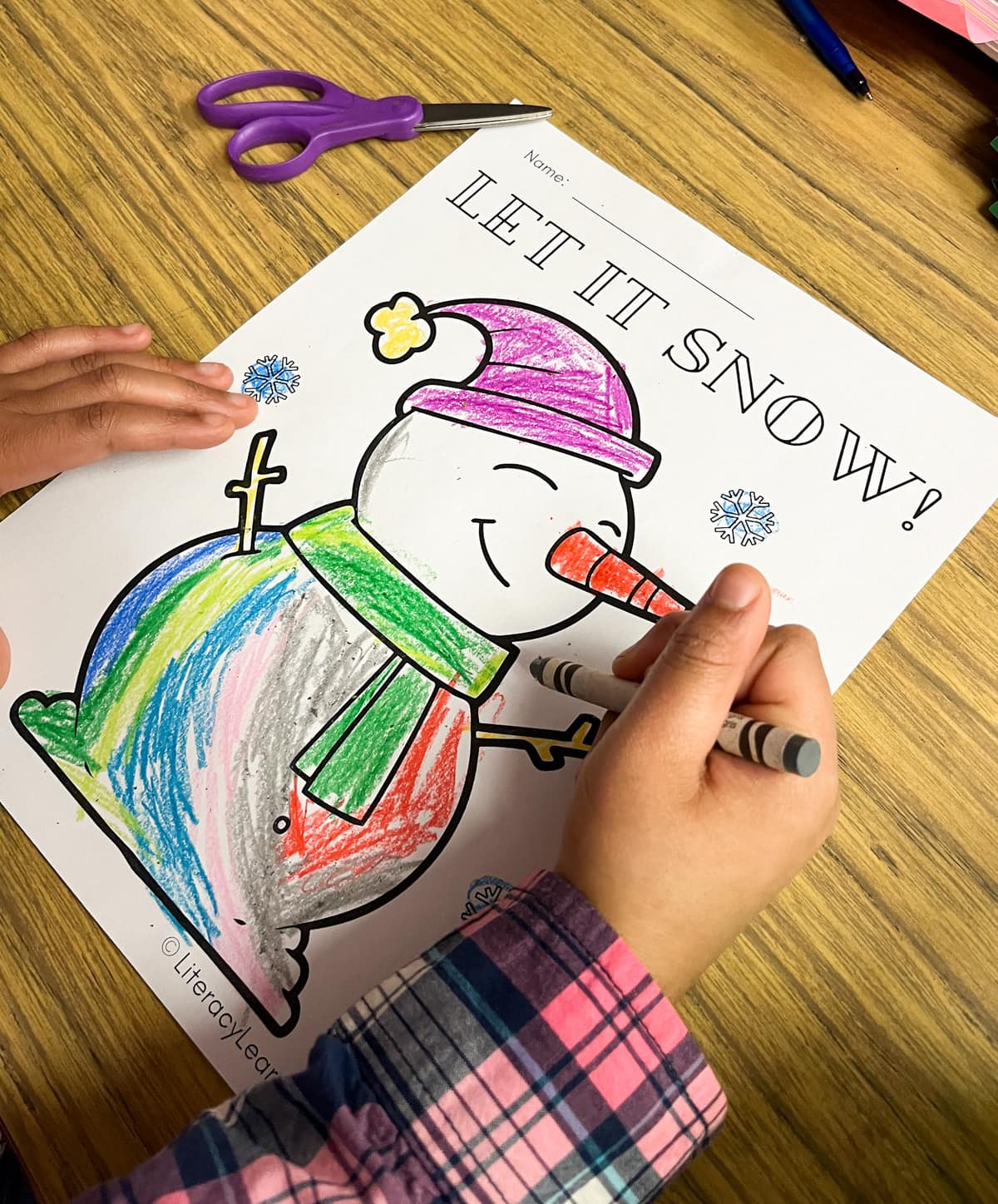 The Coloring Pages
Let your kids show off their creativity and originality as they design their very own snowmen. These printable coloring sheets are outlined in black, so kids can get creative with making their snowmen any color of the rainbow!
They can proudly be displayed on the fridge to enjoy for weeks to come!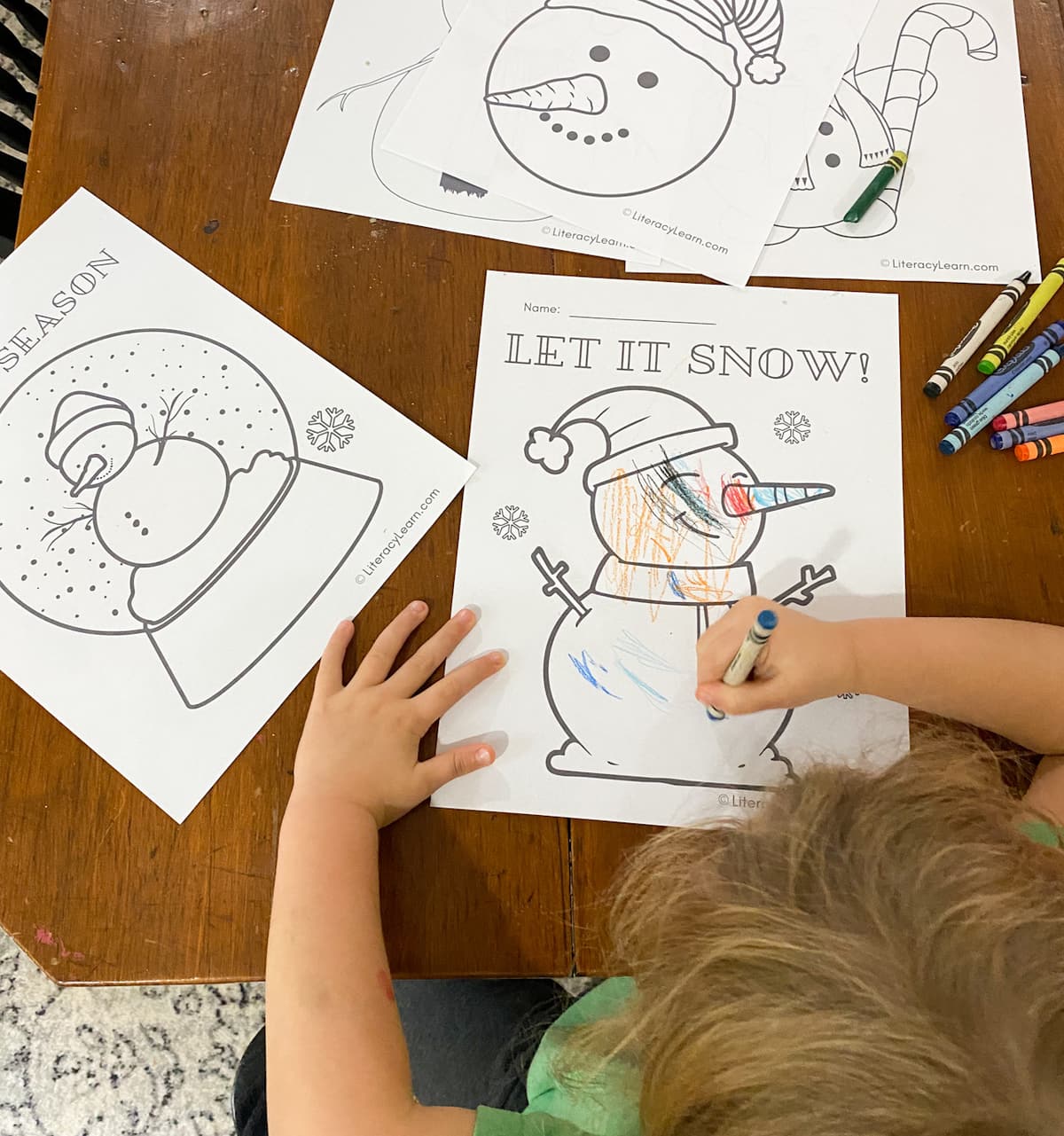 ☃️ Snowman Door & Hallway Decorations
Calling ALL teachers! As if you don't have enough to do around the holidays, teachers are often told sometime in December that the school is hosting a door decorating contest.
If you're lucky enough, a prize might be given for the best decorated space. Honestly, I'm never in it for the prize because I have way too many other things to do than spend hours trying to earn a five dollar gift card.
But it's a requirement, and my students get excited by it, so I decided to creatively problem solve. That's what gave me the idea to create these snowmen coloring sheets.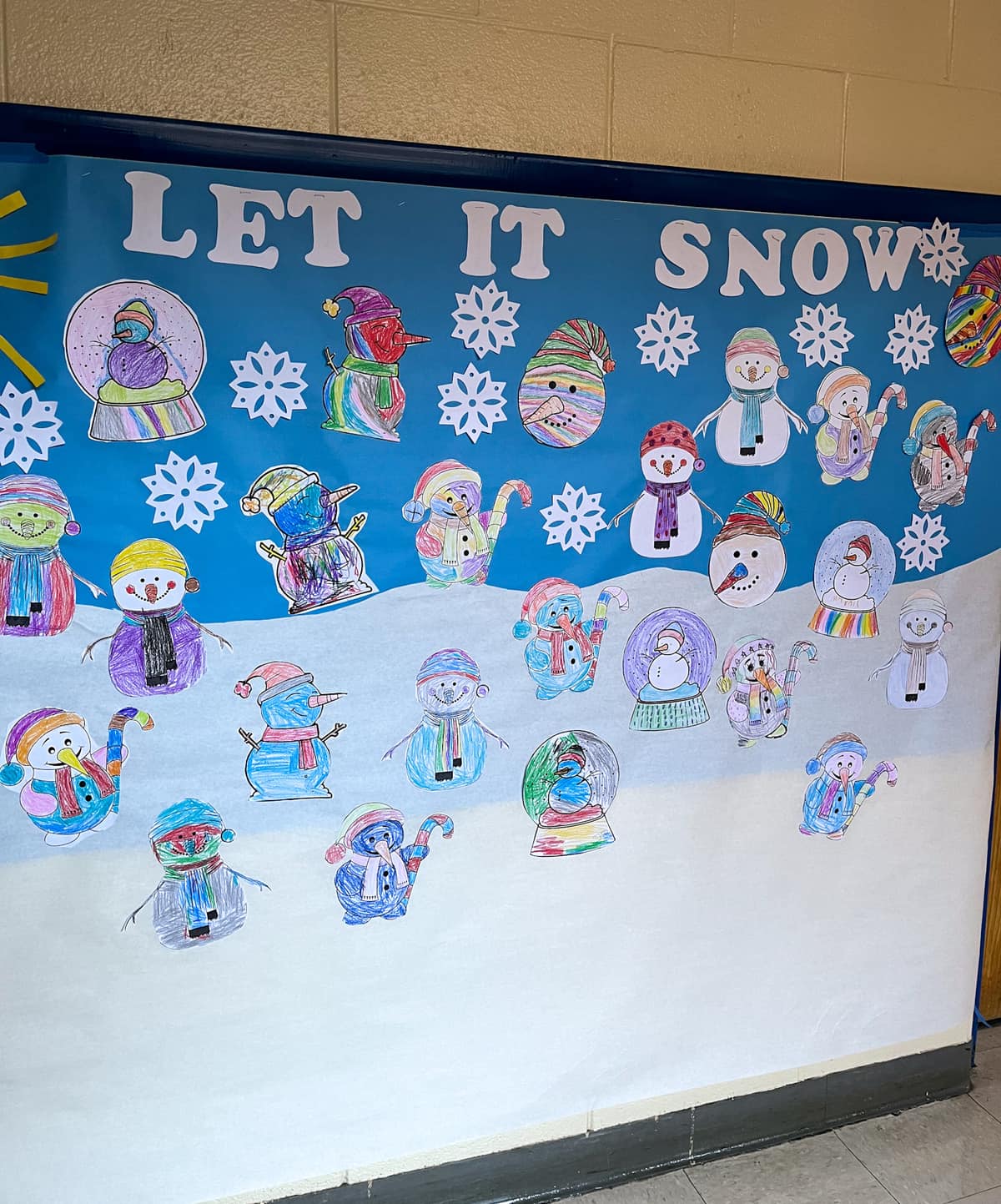 For an easy and fun holiday decorating idea, use the snowmen coloring sheets in this way:
Print off the five different snowman coloring sheets. Allow students to pick their favorite (or two).
Give them plenty of time to color. Add other decorations if you'd like such as glitter, stickers, fabric, or scraps from construction or scrapbook paper to decorate.
Once they're finished, cut out the snowman. Your students could probably use the practice cutting, but it may not look at as pretty. Oh well…student created, right?
Using blue and white bulletin board paper, cover your door or empty hall space to create a background. I usually place white paper over the blue and make a few snow covered rolling hills.
Glue the snowmen onto the background, add some clouds, and voilá! Now you have a student-created winter themed door decoration that took very little prep or planning.
The best part about this is that because it's winter themed, you can leave it up until March. No need to rip it down after Winter break! It's a win-win for everyone. I hope you enjoy!
Related Posts
☃️ Download & Print
Celebrate wintertime fun with five different snowman coloring sheets. Download the...
DOWNLOAD TERMS: All of our resources and printables are designed for personal use only in homes and classrooms. Each teacher must download his or her own copy. Please do not save to a shared drive, reproduce our resources on the web, or make photocopies for anyone besides your own students. To share with others, please use the social share links provided or distribute the link to the blog post so others can download their own copies. Your support in this allows us to keep making free resources for everyone! Please see our Creative Credits page for information about the licensed clipart we use. If you have any questions or concerns regarding our terms, please email us. Thank you!