Cut & Paste Snowman Glyph – Free Printable
This post may contain affiliate links. Please see our disclosure policy.
This Cut and Paste Snowman Glyph is tons of educational winter fun! Kids have a blast creating each part of the snowman to represent their own individual traits and preferences, and wind up learning about one another along the way!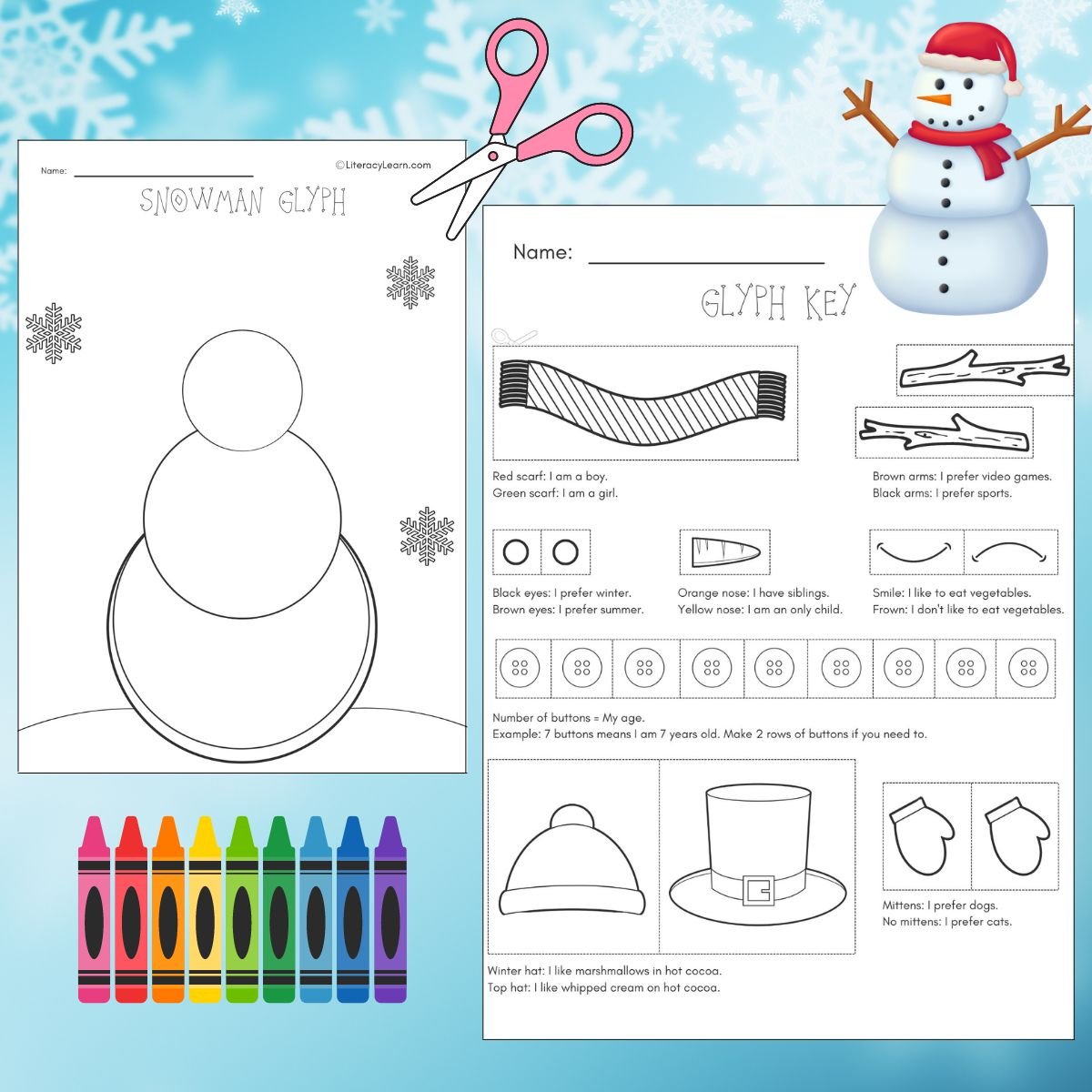 Why We Love It
This snowman glyph is an engaging, no-prep activity for students while sharing about themselves!
Once your students have completed their snowman glyph, they can examine others' completed snowmen or each take a turn explaining what their snowman represents.
Like our Holiday Word Mapping worksheets, your students will love using this worksheet all winter long!
What are Glyphs?
Glyph is a Greek base meaning symbols that represent something (like the word hieroglyphics).
Each item, like the scarf, stick arms, or a mouth, actually represents something else in this assignment.
For example, if a snowman has a smiling mouth, it represents a child who likes vegetables. If a snowman has mittens, it means they like dogs.
This exercise helps students train their minds for higher-level thinking skills, since they have to process meaning beyond what is actually there.
Using the Printables
For each item added to the snowman, the student must choose between two options which have different meanings.
The option the student chooses will direct the outcome of that item, which indicates something specific about the student:
Scarf: Color red for a boy or green for a girl.
Arms/Sticks: Color brown for video games or black for sports.
Eyes: Color black for winter or brown for summer.
Carrot Nose: Color orange for siblings or yellow for only child.
Mouth: Use smile for liking vegetables or frown for disliking vegetables.
Buttons: Use the number of buttons that corresponds to age.
Hat: Use the winter hat for marshmallows or the top hat for whipped cream.
Mittens: Use mittens for dogs or no mittens for cats.
Tips & Info
Use these snowmen glyphs to display on your door or outside your classroom for easy winter-themed fun. And since they aren't holiday specific, they can stay up from December through March, or however long your winter season lasts!
Younger students can cut along the dotted lines surrounding each item, and those with more advanced scissor control skills can cut each of the actual items out.
Download & Print
DOWNLOAD TERMS: All resources and printables are designed for personal use only. Each person must visit this site and download their own copy for use.
*Do not: Share or reproduce our printables on the web, upload to a shared drive, email the file, or make photocopies for anyone outside your own home or classroom.
*Please do: Share with others by distributing the link to the blog post or by using the social share links provided. This allows us to keep making free resources for everyone! If you have any questions, please email us. Thank you!