I Spy Christmas – Free Printables!
This post may contain affiliate links. As an Amazon affiliate, we earn from qualifying purchases. See our disclosure policy.
It's time for some educational holiday fun! Download and print 2 free I Spy Christmas themed activity worksheets so young learners can have a blast while they search and find all the pictures inside a Christmas tree and Christmas star.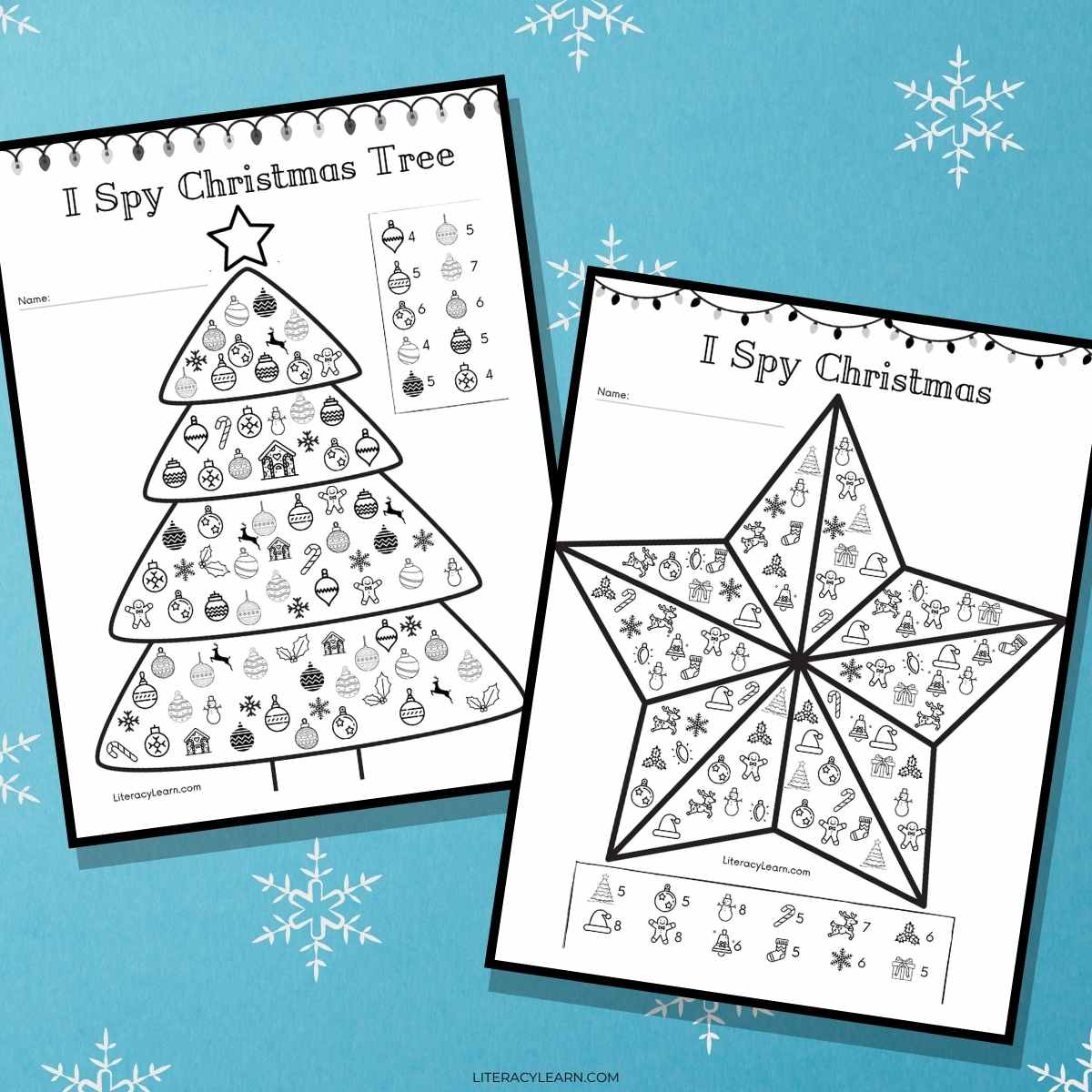 Why We Love Them
By now you know we love I Spy worksheets! We have holiday-themed I Spy activities for Earth Day, Thanksgiving, Summertime, and Winter (and so much more!).
But now, it's time to celebrate Christmas with these TWO free and printable I Spy activity sheets as students work on their visual discrimination skills. Download, print, and enjoy!
🎄 The Worksheets
I Spy Christmas Tree. Find all the different ornaments on the Christmas tree!
I Spy Christmas Star. Find all the Christmas items inside the star!
Children will search and find Christmas ornaments and other Christmas-themed pictures inside an enormous Christmas Tree and a Christmas Star.
Please note that these two worksheets are specific to Christmas, and while we feel they can be enjoyed by all, they do have some Christmas-specific imagery and words like a Christmas tree and Rudolph.
We also have non-holiday specific, winter-themed coloring sheets, if that's better suited to your family or classroom!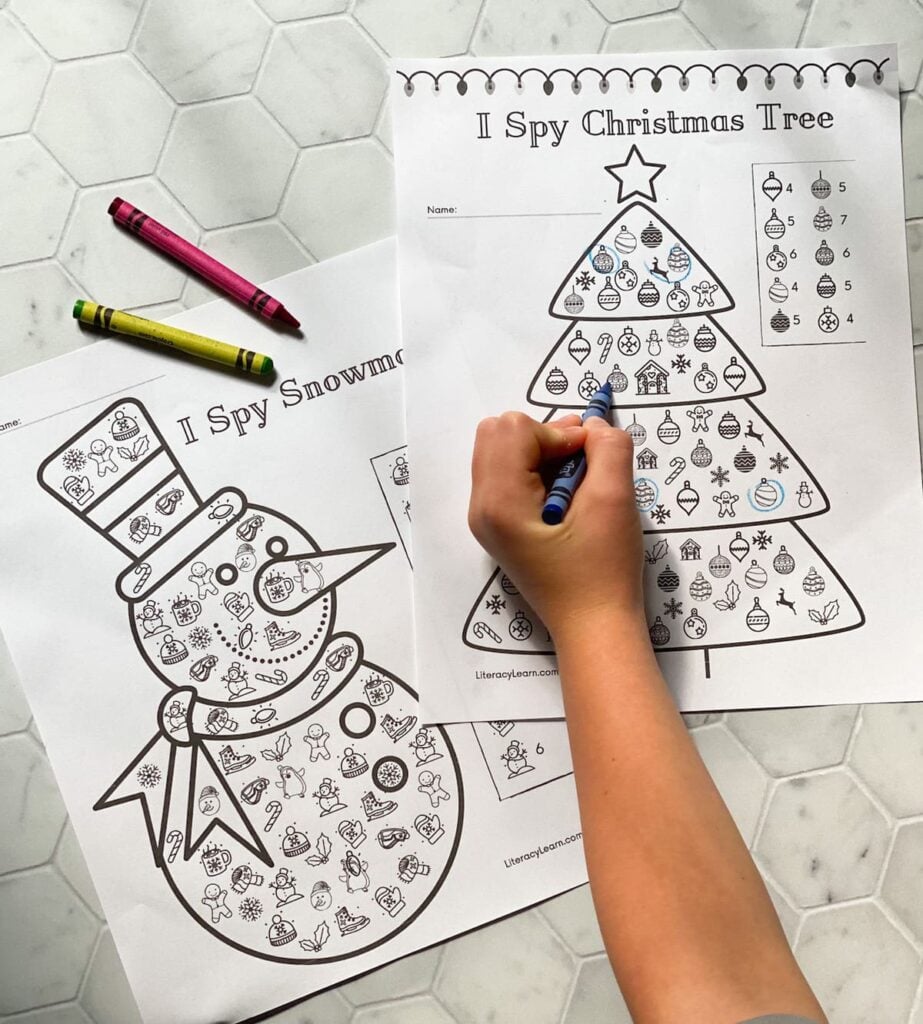 Educational Focus
I Spy Activities are an excellent way to improve visual discrimination skills in young learners. Visual discrimination is an important building block in literacy– without it, children can't discern the difference between letters!
So when you find fun ways to reinforce visual discrimination (and throw a snowman or two in there!), like we did with these I Spy printables, learning becomes fun!
👉 These printables are designed for children Pre-K through second grade, approximately between the ages 4-9. Of course, that doesn't mean anyone younger or older won't enjoy them! My 3 year old loves these activity sheets, despite not really "getting" the idea entirely.
We recommend printing these worksheets double-sided to help save paper!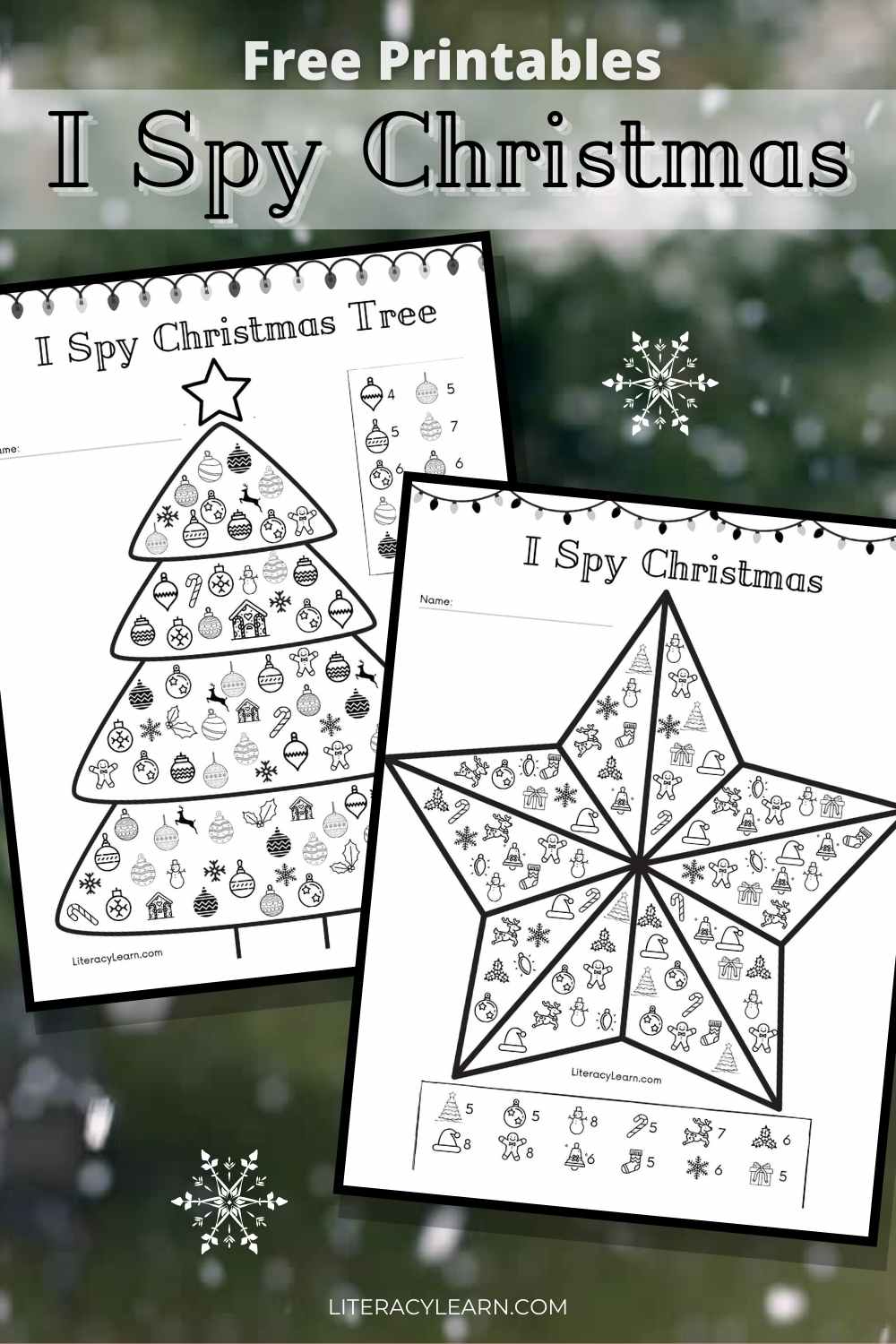 Related Posts
❄️ Download & Print
Download and print this I Spy Christmas-themed activity worksheet. Find all...
Download and print this I Spy Christmas-themed activity worksheet. Find all...
DOWNLOAD TERMS: All of our resources and printables are designed for personal use only in homes and classrooms. Each teacher must download his or her own copy. Please do not save to a shared drive, reproduce our resources on the web, or make photocopies for anyone besides your own students. To share with others, please use the social share links provided or distribute the link to the blog post so others can download their own copies. Your support in this allows us to keep making free resources for everyone! Please see our Creative Credits page for information about the licensed clipart we use. If you have any questions or concerns regarding our terms, please email us. Thank you!