R-Controlled Phonics Bingo Game: FREE Printables
This post may contain affiliate links. Please see our disclosure policy.
Your students will love reading and spelling R-controlled words with this no-prep BINGO game! Targeted 1-syllable words with AR, ER, IR, OR, and UR patterns are included to make phonics learning gamified and fun.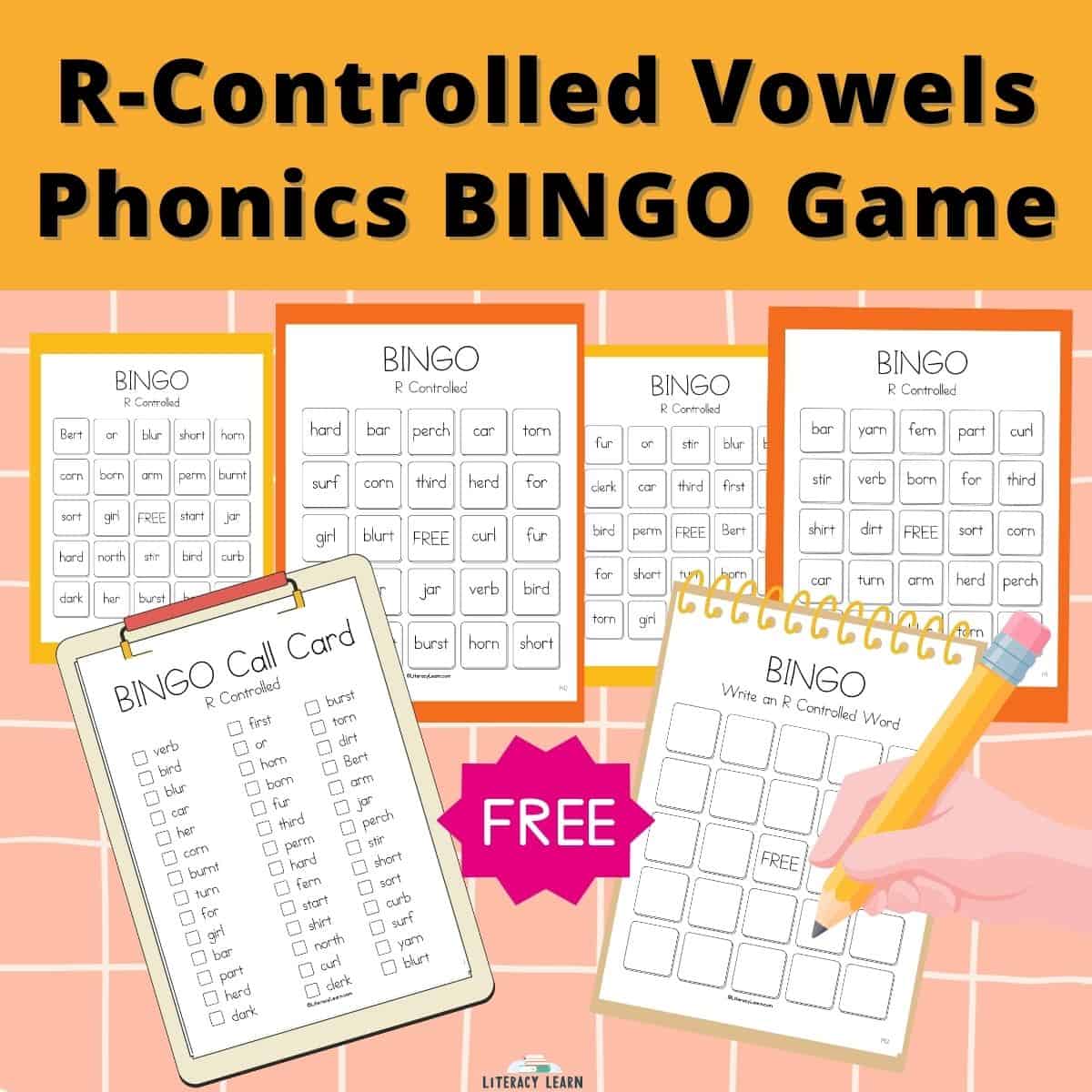 Why We Love It
Everyone loves playing games, especially kids! So we're out to gamify phonics instruction with this fun, easy, and familiar BINGO game.
Playing games elevates student engagement. Research is showing that while some kids need 1-4 exposures for words to become automatic sight words, other kids need hundreds of exposures.
So we need to come up with some creative ways to provide repeated practice and review for our students!
That's why we developed this awesome no-prep BINGO game, making practice with R-controlled words a breeze with no-prep. Just print and play!
The best part is you can use it for both decoding (reading) and encoding (spelling) practice!
R-Controlled Vowels FAQ
What is an R-Controlled vowel?
An R-controlled vowel is a vowel (a, e, i, o, u) followed by the letter R. The vowel + R creates one new sound, which is different from the short or long vowel sounds that vowels typically make.
What sounds do R-Controlled vowels make?
The Vowel + R makes three new phonemes (sounds) in English. These three phonemes are represented by five graphemes (ways to spell the sounds).

AR = /ar/ like car 🚗
OR = /or/ like corn 🌽
ER, IR, and UR all make the same sound = /er/ like her 👩🏼, bird 🐦, and nurse 👩🏼‍⚕️
What is an R-Controlled syllable?
Every syllable needs a vowel. The Vowel + R is considered the vowel, making an R-controlled syllable one of the 6 syllable types.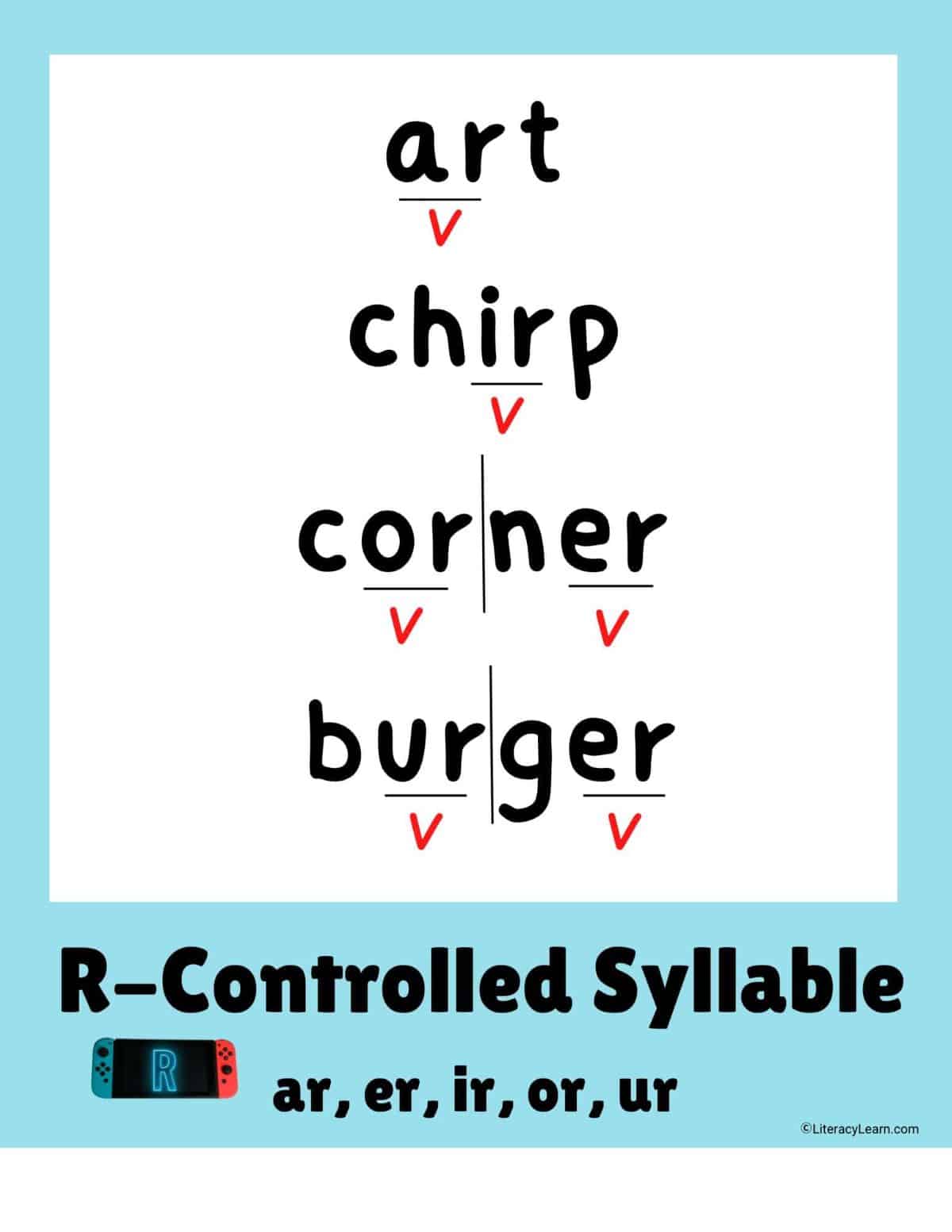 R-Controlled Bingo Game
This BINGO game provides explicit practice reading words with R-controlled vowels. Included are words with all five R-controlled vowels, so be sure you have explicitly taught them before playing with your students.
Included with this freebie are:
4 Bingo Game Cards
1 Teacher Call Card with 42 vowel + R words.
1 Blank Bingo Game Board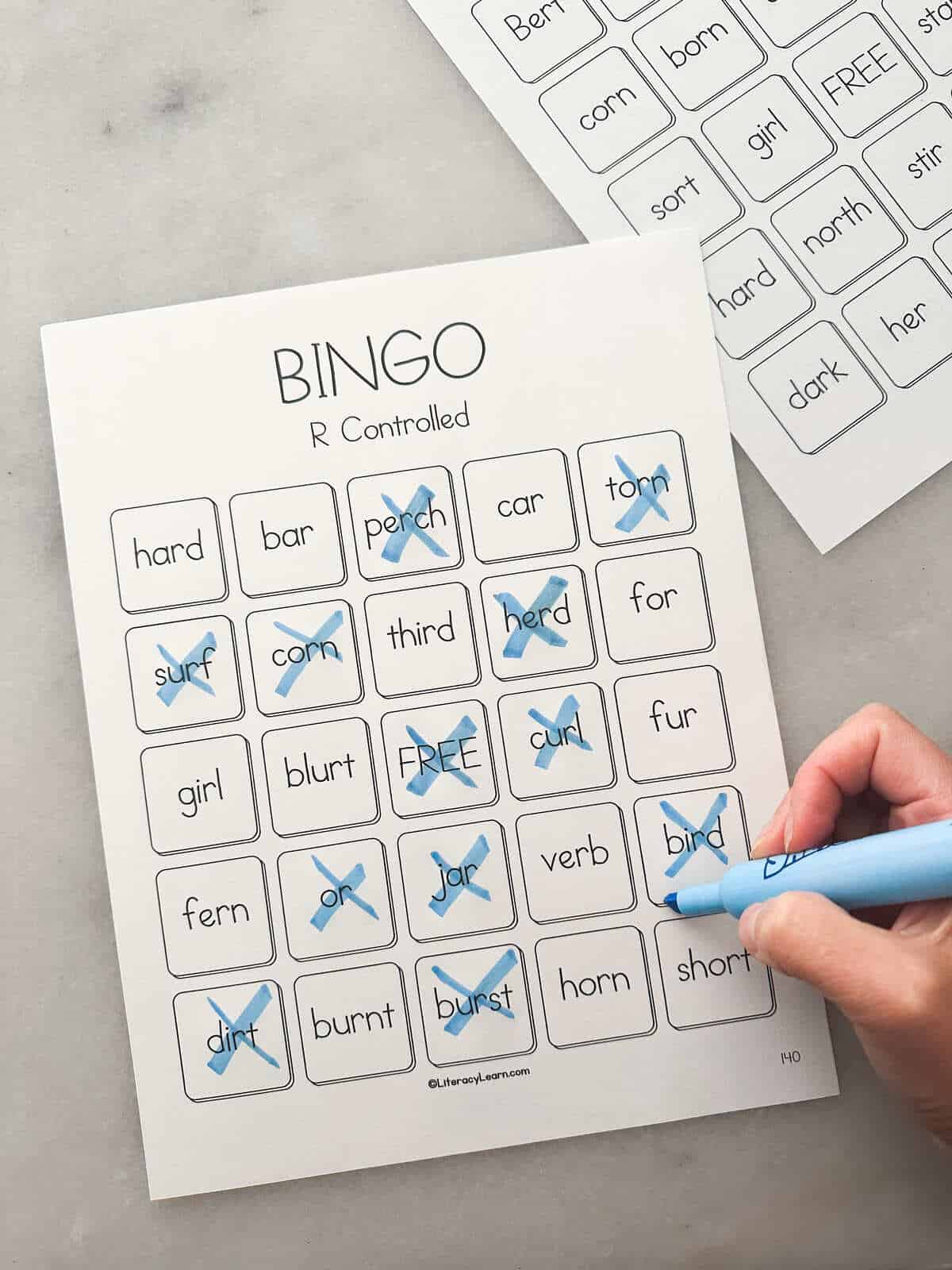 How to Play
Use the 4 Bingo Cards to play with a small group of up to four students.
If you want to play with your whole class, you can do that too! We've provided a blank Bingo Game Card for kids to fill it (this provides encoding practice, too!)
Just hand out a blank BINGO card to all players and use the word list to call words, one at a time. Kids practice spelling words and placing them in any space of their choosing.
Note: You may want to help students with the spelling of er/ir/ur words since they make the same sound and are sometimes difficult to differentiate.
After all spaces have been filled, play with your whole class!
Choose the way you want to play. Traditionally, bingo is won by marking five in a row, but I like switching it up by playing four corners, crisscross, or blackout!
More Phonics Resources
Do you love reinforcing concepts with games and other engaging activities? We do too! Check out some other great resources we have to make your instruction fun!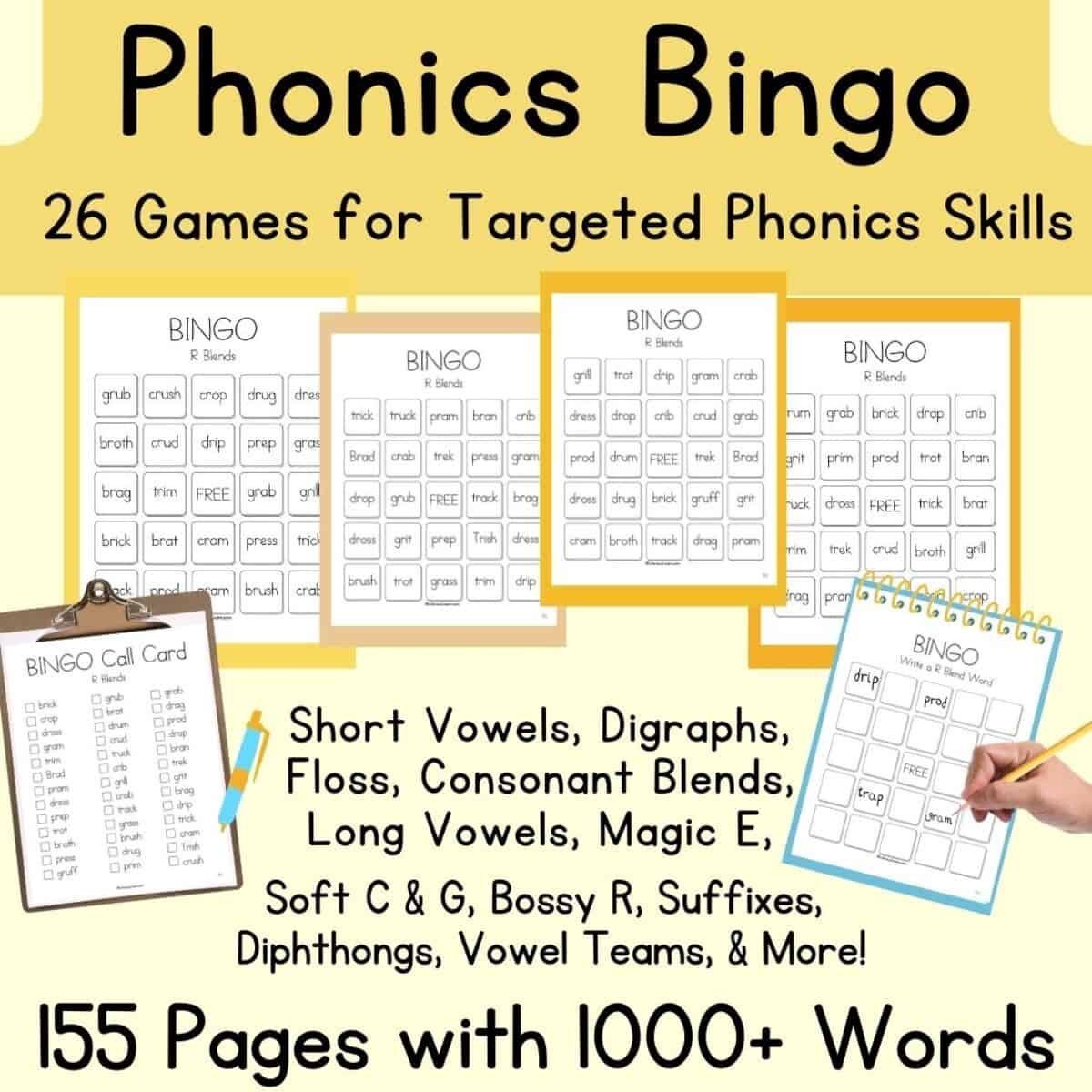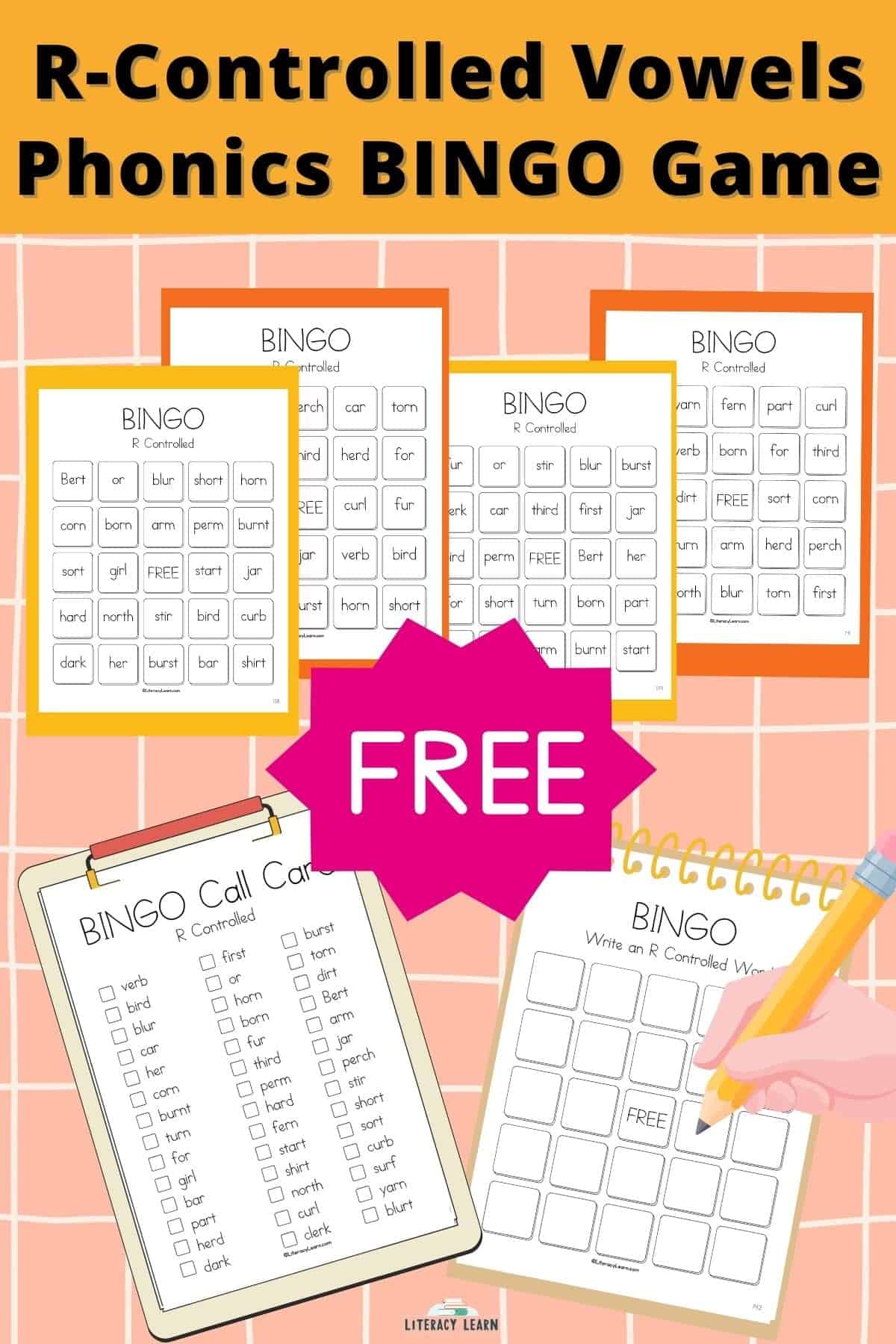 Download & Print
We hope you have a blast playing BINGO with this freebie!
Comment below to let us know how you're using it in your classroom with students.
DOWNLOAD TERMS: All of our resources and printables are designed for personal use only in homes and classrooms. Each teacher must download his or her own copy. To share with others, please use the social share links provided or distribute the link to the blog post so others can download their own copies. Please do not save to a shared drive, reproduce our resources on the web, or make photocopies for anyone besides your own students. Your support in this allows us to keep making free resources for everyone! Please see our Creative Credits page for information about the licensed clipart we use. If you have any questions or concerns regarding our terms, please email us. Thank you!
Subscribe and never miss a freebie! TERMS: All resources and printables are...
Subscribe and never miss a freebie! TERMS: All resources and printables are...
Subscribe and never miss a freebie! TERMS: All resources and printables are...