131+ Long O Vowel Sound Words (Free Printable List)
This post may contain affiliate links. As an Amazon affiliate, we earn from qualifying purchases. See our disclosure policy.
Learn about the five ways to spell the long o sound: o, o-e, oa, ow, and oe. You'll also get two lists of 131 long o sound words, organized by spelling pattern and syllable type.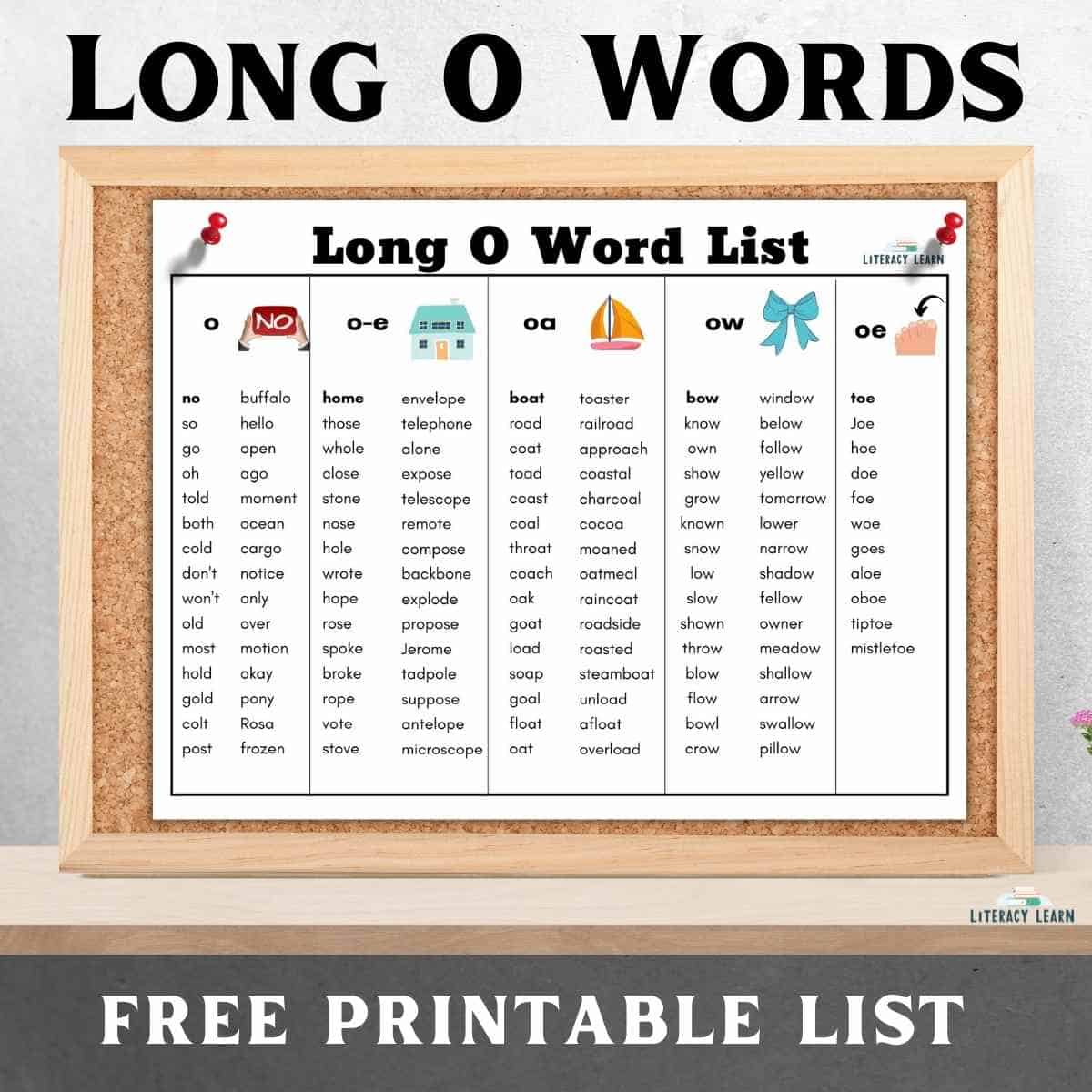 All About Long O
It's so important to teach students the long vowel rule: Long vowels say their name!
Long a says /ā/ like

a

corn.
Long e says /ē/ like

e

qual.
Long i says /ī/ like

i

ce.
Long o says /ō/ like

o

cean.
Long u says /yoo/ like

u

nicorn, OR /oo/ like r

u

ler.
Teaching students all the different ways to spell and recognize long vowel sounds will help them become much more independent and confident readers!
There are 5 ways to spell Long O:
o like no.
o-e like home.
oa like boat.
ow like bow.
oe like toe.
The long vowel O sound can be heard at the beginning (open), middle (pony), or end of a word (no). Long O sound can be spelled with a silent e (VCe pattern), a vowel team, in an open syllable, or in a closed syllable exception.
It's important that children are familiar with the spelling patterns for long vowel O and can read and spell them with accuracy. Be sure you follow a scope and sequence that will introduce each one of the spellings in an order that makes sense and builds upon previously taught skills. Recipe for Reading is a great one to follow.
We hope these lists are helpful resources as you teach your students the different ways to read and spell long O.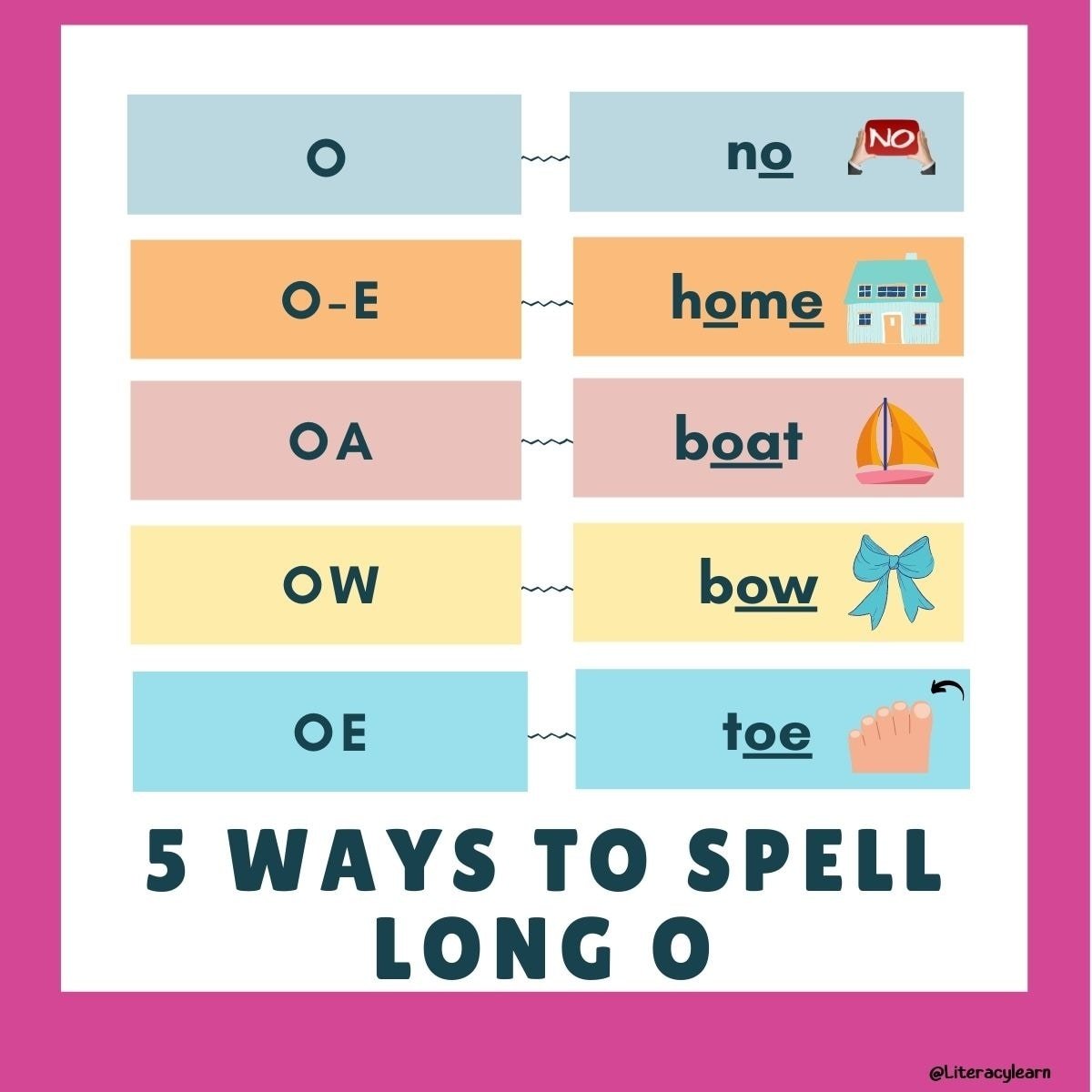 Long O Word List
👉 Scroll to the bottom of this post for a FREE printable comprehensive word list with 131 long O sound words!
O – Open Syllable Words & Wild, Old Words
O says its long sound in an open syllable (a syllable that ends in a vowel). This can be a one-syllable word like no or a multisyllabic syllable word like volcano.
O will also say its long sound in closed syllable exceptions or rule breaker words. Some refer to these as Wild, Old Words.
These include some one-syllable words that end in -old, -olt, -ond, and -ost.
| | |
| --- | --- |
| Long O Sound Words – One Syllable | Long O Sound Words – 2+ Syllable |
| no | buffalo |
| so | hello |
| go | open |
| oh | ago |
| told | moment |
| both | ocean |
| cold | cargo |
| don't | notice |
| won't | only |
| old | over |
| most | motion |
| hold | okay |
| gold | pony |
| colt | Rosa |
| post | frozen |
---
O-E Words (Long O with Silent E)
These words include long O that follow the VCe pattern (vowel-consonant-e), specifically o-e. They can also be called Magic E Words or Silent E Words.
The job of the E is to stay silent and make the O say its name. This spelling pattern is used at the end of root words.
| | |
| --- | --- |
| Long O with Silent E Words – One Syllable | Long O with Silent E Words – 2+ Syllable |
| home | envelope |
| those | telephone |
| whole | alone |
| close | expose |
| stone | telescope |
| nose | remote |
| hole | compose |
| wrote | backbone |
| hope | explode |
| rose | propose |
| spoke | Jerome |
| broke | tadpole |
| rope | suppose |
| vote | antelope |
| stove | microscope |
---
OA – Vowel Team
This vowel team follows the old jingle you probably learned as a kid: "When two vowels go walking, the first one does the talking."
👉 Please don't teach your students this as a 'rule' because it actually only works about 35% of the time (meaning it's not true 65% of the time).
Instead, it works in this instance, when the two vowels come together to make the long vowel ō sound.
| | |
| --- | --- |
| Vowel Team OA Words– One Syllable | Vowel Team OA Words– 2+ Syllable |
| boat | toaster |
| road | railroad |
| coat | approach |
| toad | coastal |
| coast | charcoal |
| coal | cocoa |
| throat | moaned |
| coach | oatmeal |
| oak | raincoat |
| goat | roadside |
| load | roasted |
| soap | steamboat |
| goal | unload |
| float | afloat |
| oat | overload |
---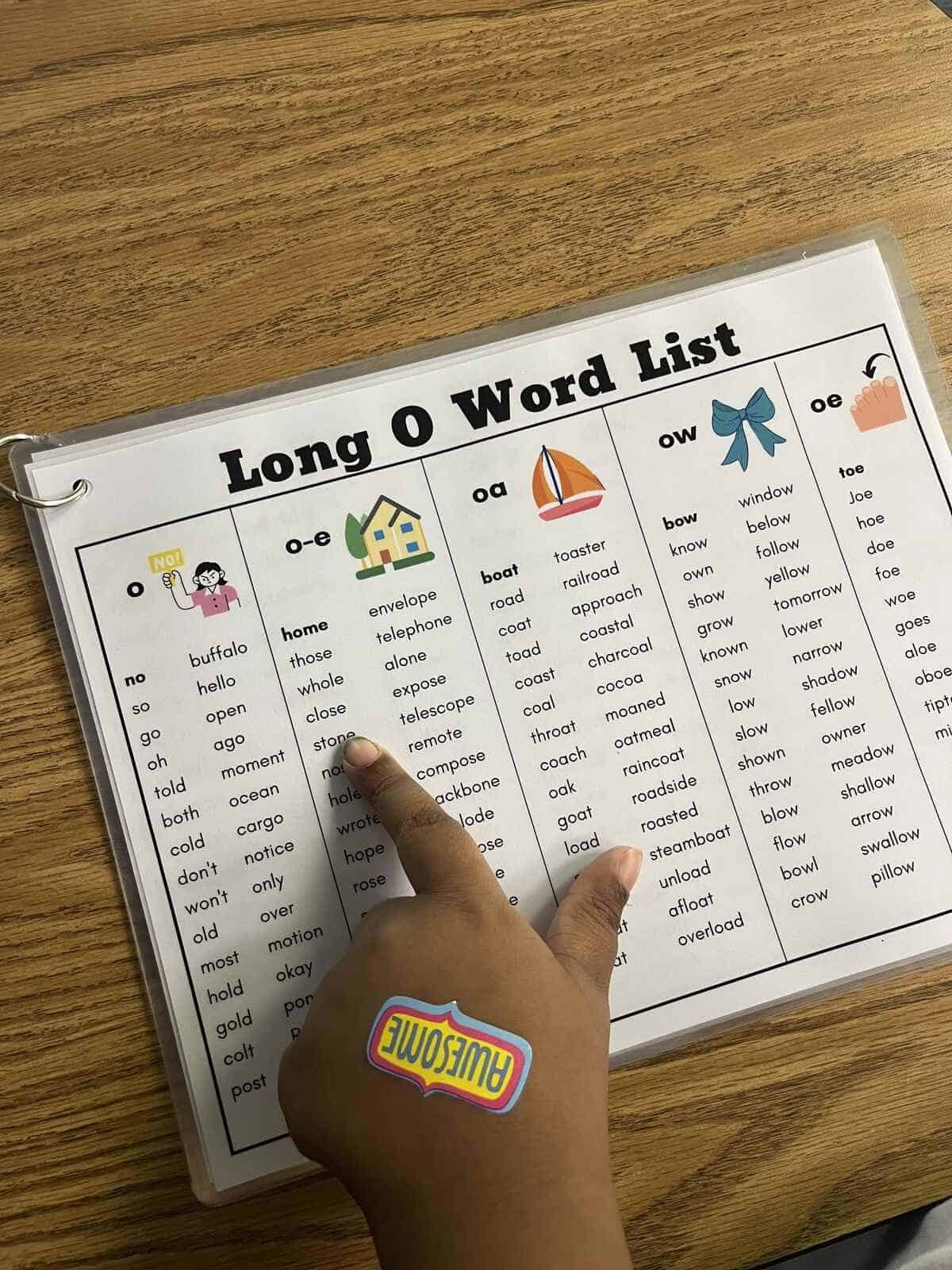 OW – Vowel Team
The vowel team OW is used at the end of a root word. It can also be used before the letter L or N like in bowl or grown. In this vowel team, the W functions as a vowel.
OW is also a diphthong used in the word cow. These phonograms ow/ow look exactly the same, so the reader must rely on context to know which sound to apply. For example:
The star of the show took a

bow

at the end of the play.
The girl wore a big

bow

in her hair.
| | |
| --- | --- |
| Vowel Team OW Words – One Syllable | Vowel Team OW Words – One Syllable |
| bow | window |
| know | below |
| own | follow |
| show | yellow |
| grow | tomorrow |
| known | lower |
| snow | narrow |
| low | shadow |
| slow | fellow |
| shown | owner |
| throw | meadow |
| blow | shallow |
| flow | arrow |
| bowl | swallow |
| crow | pillow |
---
OE – Vowel Team
Only a few words in English use this vowel team (about 15 in total). Don't spend too much time on this vowel team since its frequency is so minimal. Included on this list are the ones kids will likely encounter and need to know.
Words with Vowel Team OE: toe, Joe, hoe, doe, foe, woe, goes, aloe, oboe, tiptoe, mistletoe
Multisensory Spelling
Make it multisensory by incorporating sand, salt, or sugar spelling! Every time you introduce a new spelling pattern, kids add a grid to the cookie tray.
Incorporate Simultaneous Oral Spelling (SOS) where children say the letters as they write them. This engages 4 of the 5 senses and makes the spelling patterns stick. Eventually, students will progress until they can write all five ways to spell the Long O sound.
In this video you'll see that this student has learned the first four ways to spell long O. Once the last spelling pattern is introduced, he will then add a grid to and write the five ways to spell long O.
Related Posts
👉 Get the rest of the printable Long Vowel Word Lists: Long A, Long E, Long I, and Long U!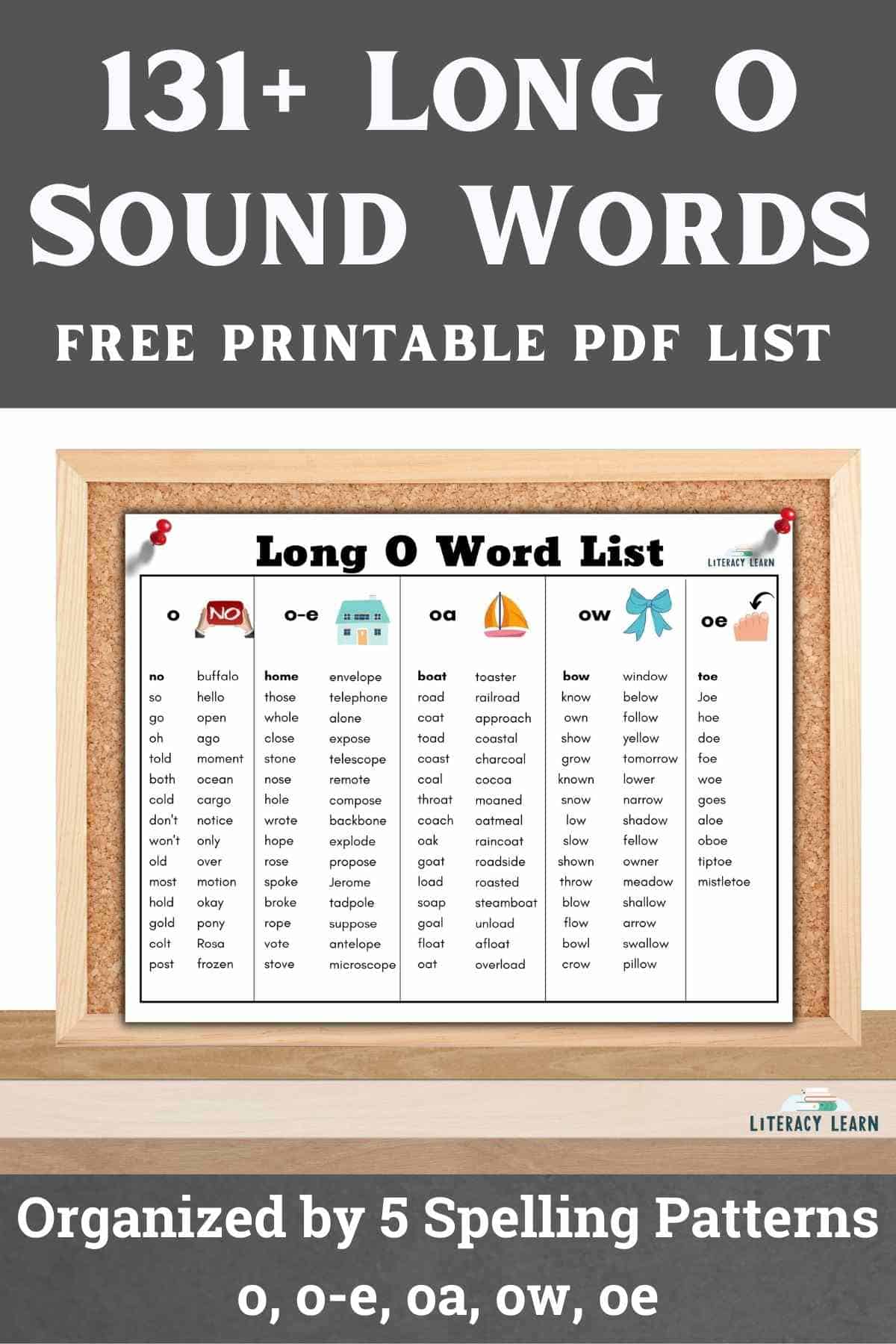 Download & Print
Are you using these long O word lists with your students? Leave us a comment and tell us how! Or tag us on Instagram @Literacylearn!
DOWNLOAD TERMS: All of our resources and printables are designed for personal use only in homes and classrooms. Each teacher must download his or her own copy. Please do not save to a shared drive, reproduce our resources on the web, or make photocopies for anyone besides your own students. To share with others, please use the social share links provided or distribute the link to the blog post so others can download their own copies. Your support in this allows us to keep making free resources for everyone! Please see our Creative Credits page for information about the licensed clipart we use. If you have any questions or concerns regarding our terms, please email us. Thank you!