18 Consonant Blends Sentences with Free Worksheets
This post may contain affiliate links. Please see our disclosure policy.
Get 18 decodable sentences organized by S-blends, L-blends, and R-blends for focused phonics practice. Included are 3 FREE printable read-and-match PDF worksheets, each with 6 decodable sentences and matching pictures.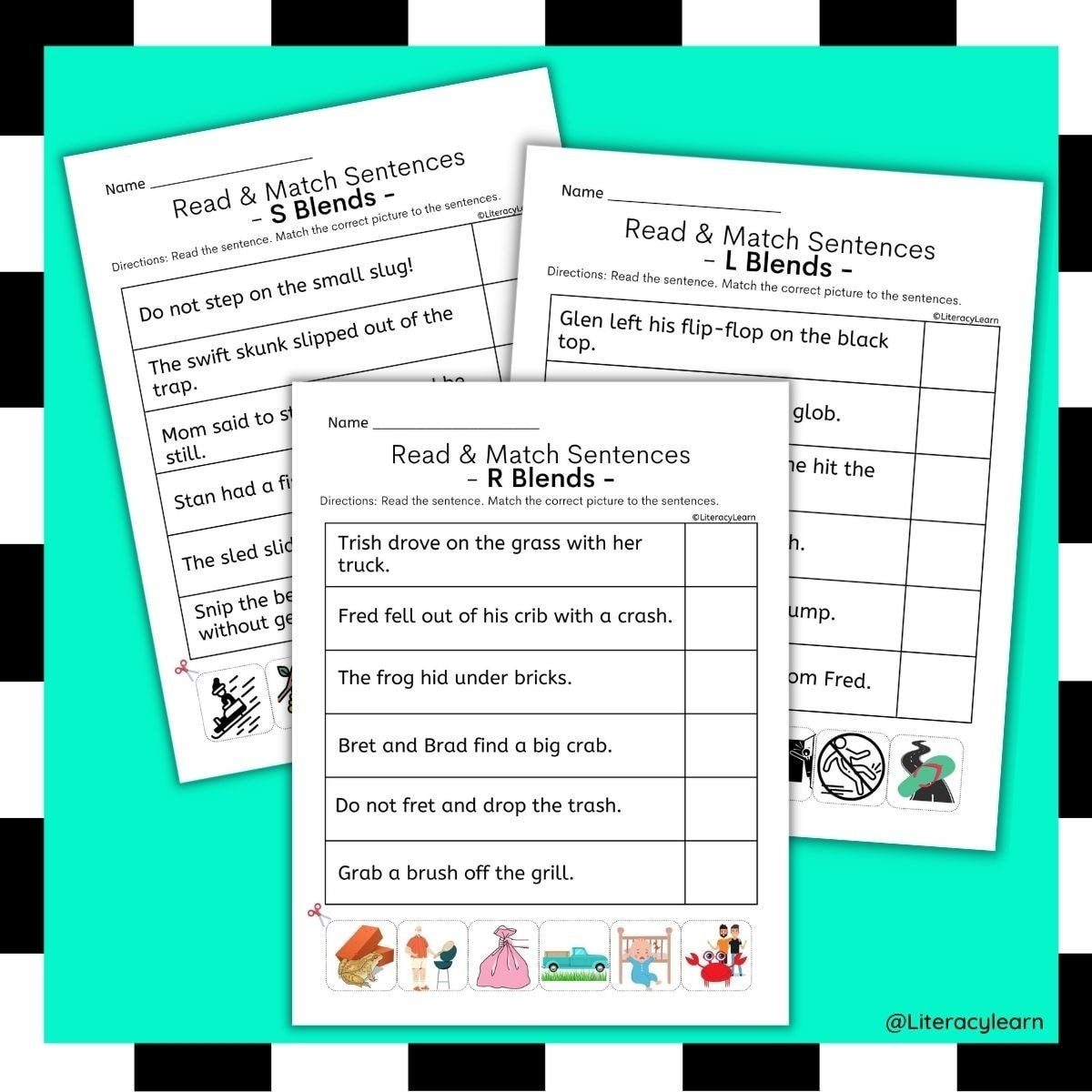 Initial Consonant Blends
Initial consonant blends are sometimes called beginning blends. They come at the beginning of a word and include two or more consonants next to one another, with no vowels between.
With consonant blends, you will hear each consonant sound, blended together quickly.
📑 Blends Sentences
All 18 consonant blends sentences below are decodable, and most of the words with blends include initial consonant blends.
There are a few ending blends for practice, too, because it's important that students recognize blends at the beginning and end of words.
The sentences also include words with short vowels, digraphs, and high-frequency words.
S Blends Sentences
Do not

st

ep on the

sm

all

sl

ug!
The slick

sk

unk

sl

ipped out of the trap.
Mom said to

st

op jumping and be

st

ill.

St

an had a fi

st

full of

sn

acks.
The

sl

ed

sl

id down the hill fa

st

.

Sn

ip the bees ne

st

out of the tree without getting

st

ung.
L Blends Sentences
Gl

en left his

fl

ip-

fl

op on the

bl

ack top.

Bl

anch

fl

icked the

bl

ack

gl

ob.

Fl

o did not

bl

ink when she hit the

gl

ass with a bat.
Don't

sl

ip on the

sl

ick path.
The

pl

ant was

fl

at, not

pl

ump.
He had a

cl

ash and

fl

ed from Fred.
R Blends Sentences
Tr

ish

dr

ove on the

gr

ass with her

tr

uck.

Fr

ed fell out of his

cr

ib with a

cr

ash.
The

fr

og hid under

br

icks.

Br

et and

Br

ad find a big

cr

ab.
Do not

fr

et and

dr

op the

tr

ash.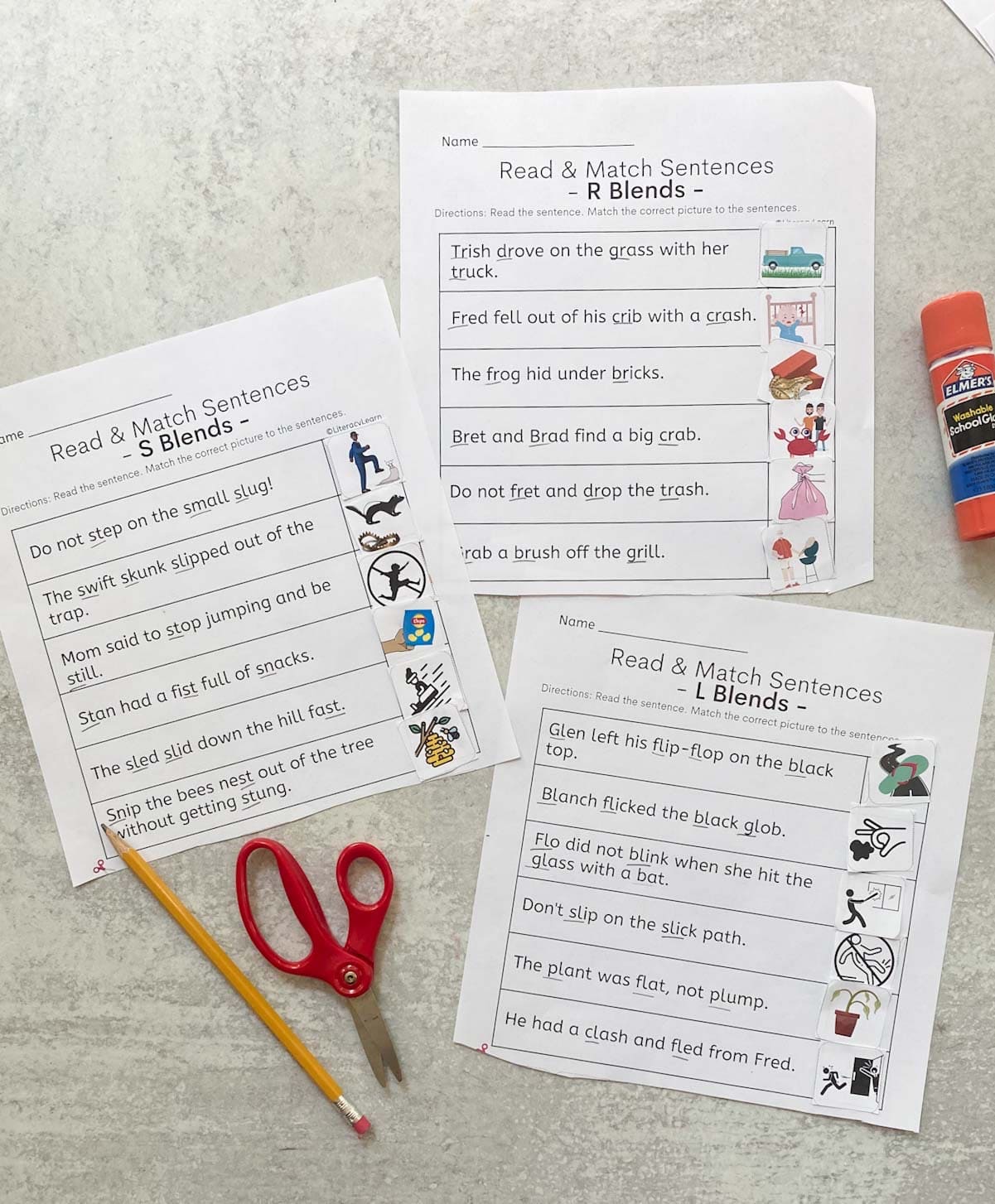 Using the Worksheets
The S blends worksheet features words with blends that begin with s: sc, sl, st, sp, sm, sn, sw.
The L blends worksheet features words with l as the second letter in the blend: bl, cl, fl, gl, pl, sl.
The R blends worksheets feature words with r as the second consonant in the blend: br, cr, dr, fr, gr, pr, tr.
These worksheets can be used independently or for small group instruction. Students should always read the sentences first and then find the matching pictures to confirm meaning.
We suggest beginning this activity by folding the pictures under so that only the sentences are visible. After the first reading, kids can then use the pictures to confirm what the words tell them.
🤷‍♀️ If they can't find a picture that matches the sentence, then students should re-read the sentences. The pictures are meant to support the sentences, not the other way around!
If the worksheets are given as independent work, then the pictures make it very easy to check to see if the children read the sentences for meaning.
If the pictures match, then you'll know that students read the sentences with accuracy. Comprehension is, of course, the whole point of reading!
The only things your students will need to complete this consonant blend activity are scissors and glue.
If you can't print in color, then allow students to color the small pictures. In that case, you'll also need crayons or colored pencils.
Tips & Info
These worksheets are great for 1st-grade students who are learning to read consonant blends.
Extend the activity further and have kids search for words within the sentences that include s blends, r blends, and l blends. Kids can highlight them on the worksheet, and then copy them into a chart in their notebook.
Allow kids to re-read the sentences for fluency practice.
More Decodable Sentences!
Get 62 pages of decodable sentences practice to use with your students during your structured literacy lessons! They help students apply knowledge of phonics skills to reading words within context to support comprehension.
Whatever specific phonics skills you're working on, this one resource can support the needs of all of your students!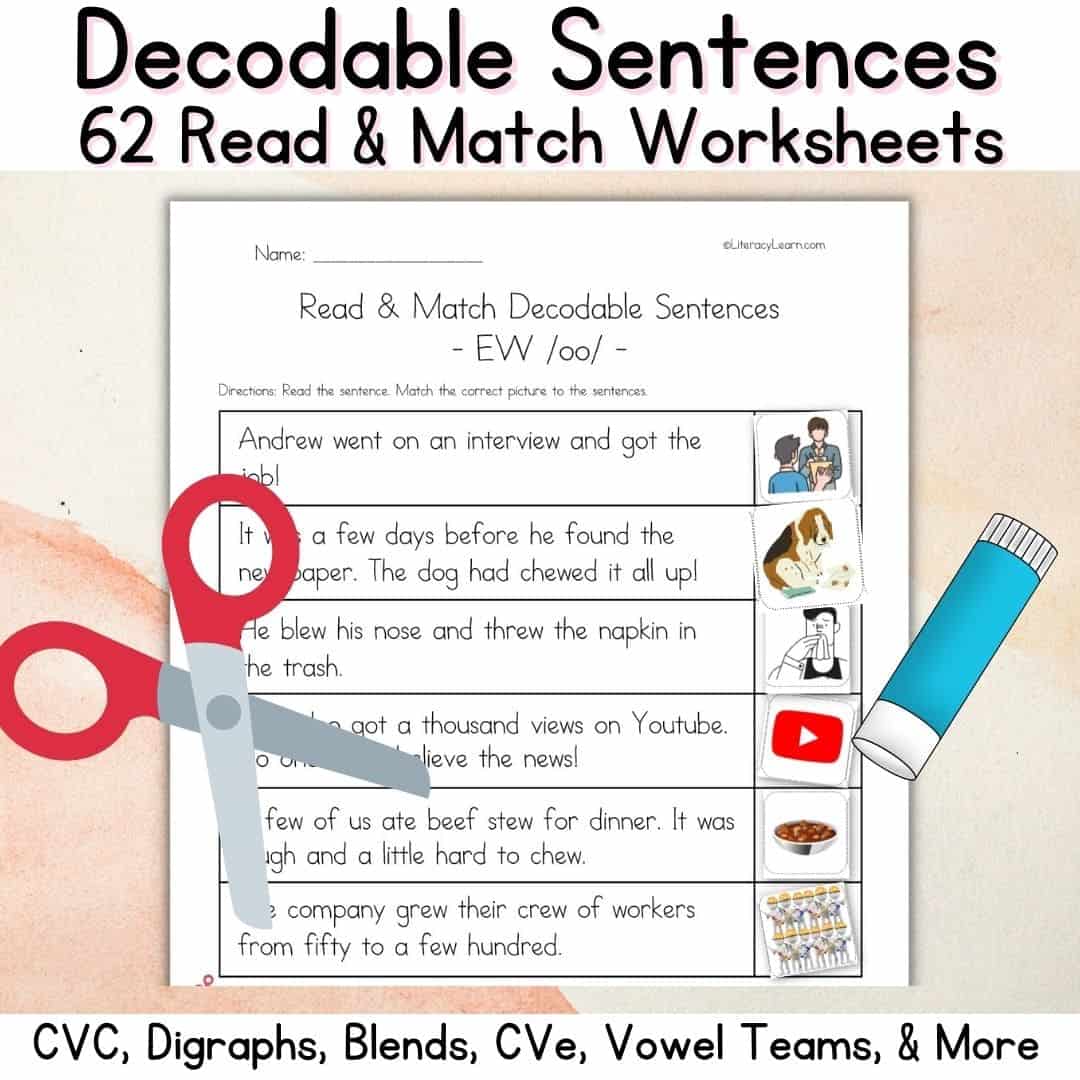 Related Posts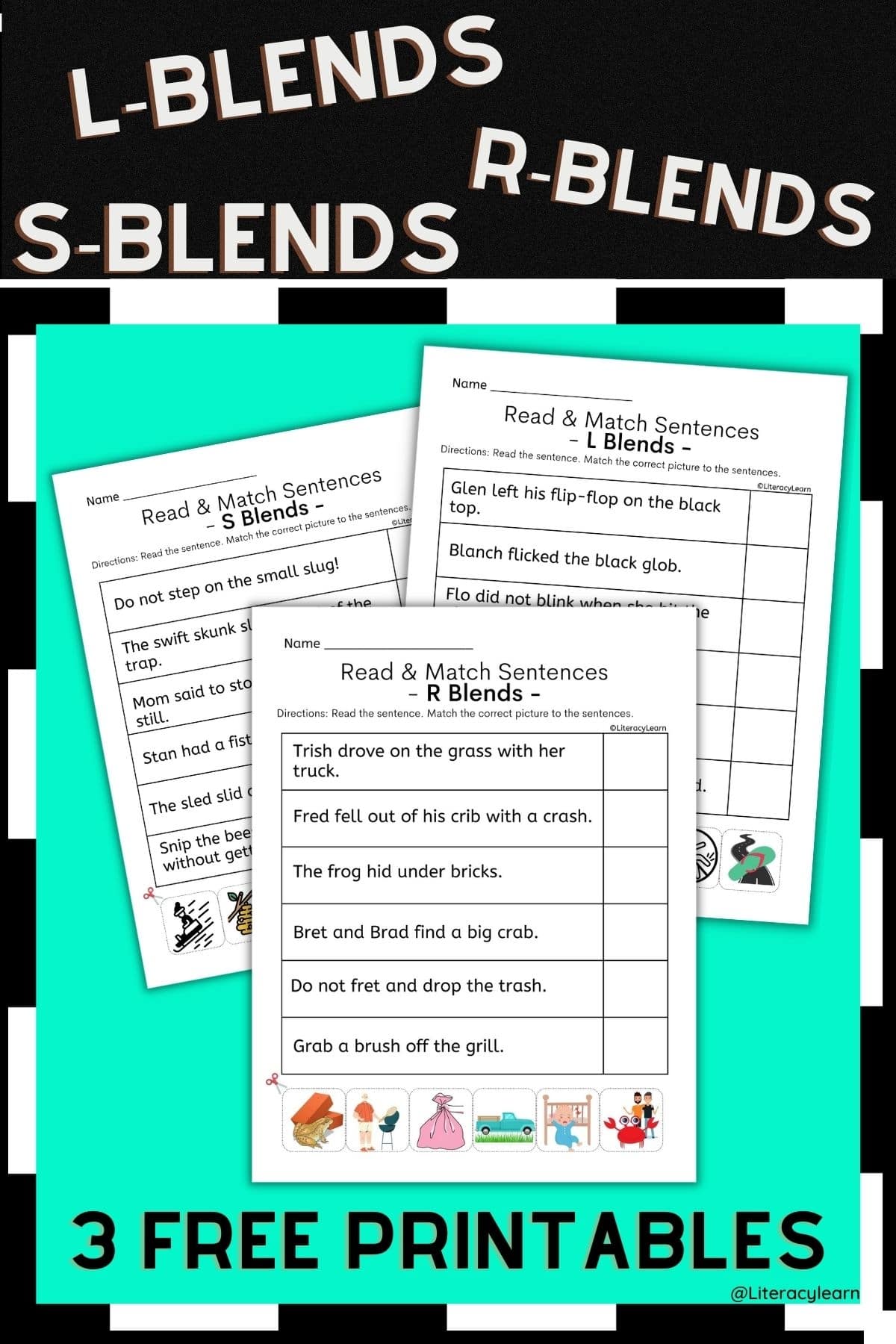 Download & Print
Please let us know what you think of this resource!
Leave a comment below or tag us on Instagram @literacylearn.
TERMS: All resources and printables are designed for personal use only in your own home and classroom. Each person must visit this site and download their own free copy. Please do not photocopy, email, or reproduce our printable resources for other teachers, and please do not reproduce our printables on the web or save them to a shared drive. Instead, please share the resources with others by using the social share links provided or by distributing the link to the blog post itself. This allows us to keep making free resources for everyone! If you have any questions, please email us. Thank you!