Back to School Word Search (Free Printable)
This post may contain affiliate links. Please see our disclosure policy.
Grab this back-to-school word search to get kids excited about the new school year while building vocabulary. Students will use visual discrimination skills to locate the 12 school-specific vocabulary words to get excited about the new school year!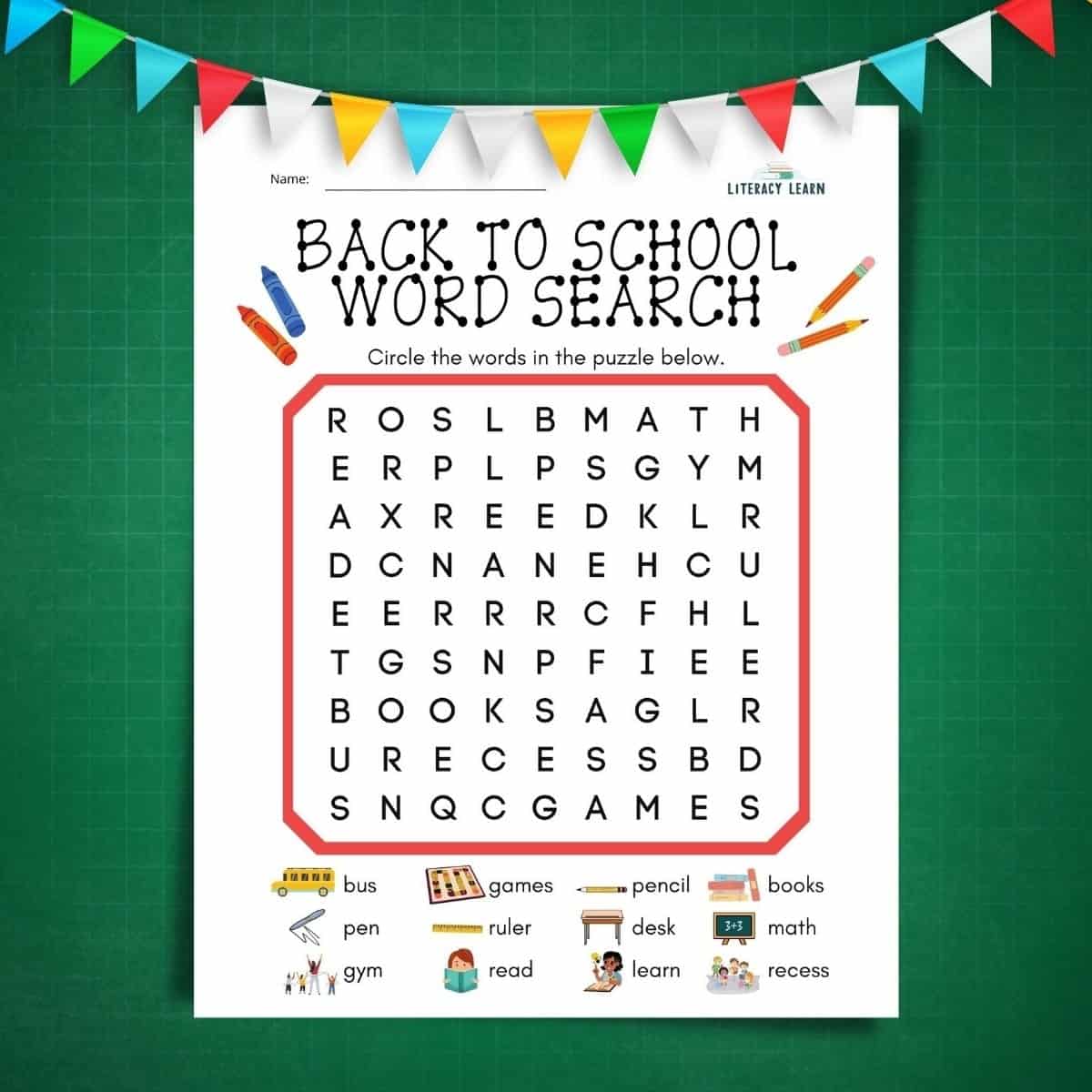 🏫 Why We Love It
We love word searches because they're challenging, fun, and engaging (just check out our Harry Potter and Minecraft word searches!)!
And after a long summer break, this school-themed word search is the perfect activity to stimulate your students' brains in a focused and intentional way.
Each of the 12 words includes a matching picture beside it, which helps kids who may not have the reading skills to be able to decode the words appropriately.
These picture clues will help your younger or struggling readers not to feel left out or behind. We want ALL students to start off the school year with a feeling of success, and the pictures will help encourage all of your students to participate in the word search!
Educational Focus: This word search is a great back-to-school activity for 1st, 2nd, and 3rd-grade students!
📝 Using the Worksheet
This word search is great for independent work. Whether you choose to use it for morning work or for a quiet activity in the middle of the day, just have your students pull out a crayon, highlighter, or pencil and they're ready to begin the search!
All words are intentionally hidden in the word search in only three key formats: left-to-right, up-to-down, or on a diagonal left-to-right. This format provides kids with consistent directionality that they will encounter in text and in the real world like on signs or logos, etc.
👉 Since we will never read words bottom-to-top or right-to-left, let's not have beginner readers attempt to find words this way!
🚌 12 Back-to-School Words to Locate:
bus
pen
gym
games
ruler
read
pencil
desk
learn
books
math
recess
🧑‍🏫 Extension Activities
Some kids may be up for a challenge, so use these activities to extend the word search activity. Flip the worksheet over and try these ideas:
Write the words in alphabetical order.
Brainstorm and list other back-to-school words.
Choose a word or two and write it in a sentence.
Use the words and write a story or summary about the first day of school.
👉 If a student is struggling to find the words hidden within this worksheet, your students may need some explicit instruction to improve visual discrimination skills.
Related Posts
Download & Print
We'd love to hear about your experience using this resource, and we value your feedback!
Please leave a comment below or tag us on Instagram @literacylearn.
TERMS: All resources and printables are designed for personal use only in your own home and classroom. Each educator must visit this site and download their own free copy. Please do not photocopy, email, or reproduce our printable resources for other teachers, and please do not reproduce our printables on the web or save them to a shared drive for others to access. Instead, share the resources with others by sharing the link to the blog post itself or by using the social share links provided. This allows us to keep making free resources for everyone! If you have any questions, please email us. Please see our Creative Credits page for information regarding the licensed ClipArt used in our resources. Thank you!