Digraph Sentences Worksheets (6 Free Printables)
This post may contain affiliate links. Please see our disclosure policy.
Get 6 FREE pdf worksheets focused on digraphs Sh, Th, Ch, Wh, and Ck for focused phonics digraph practice. There are 36 decodable sentences to match with bright pictures to confirm meaning, all while building fluency AND comprehension!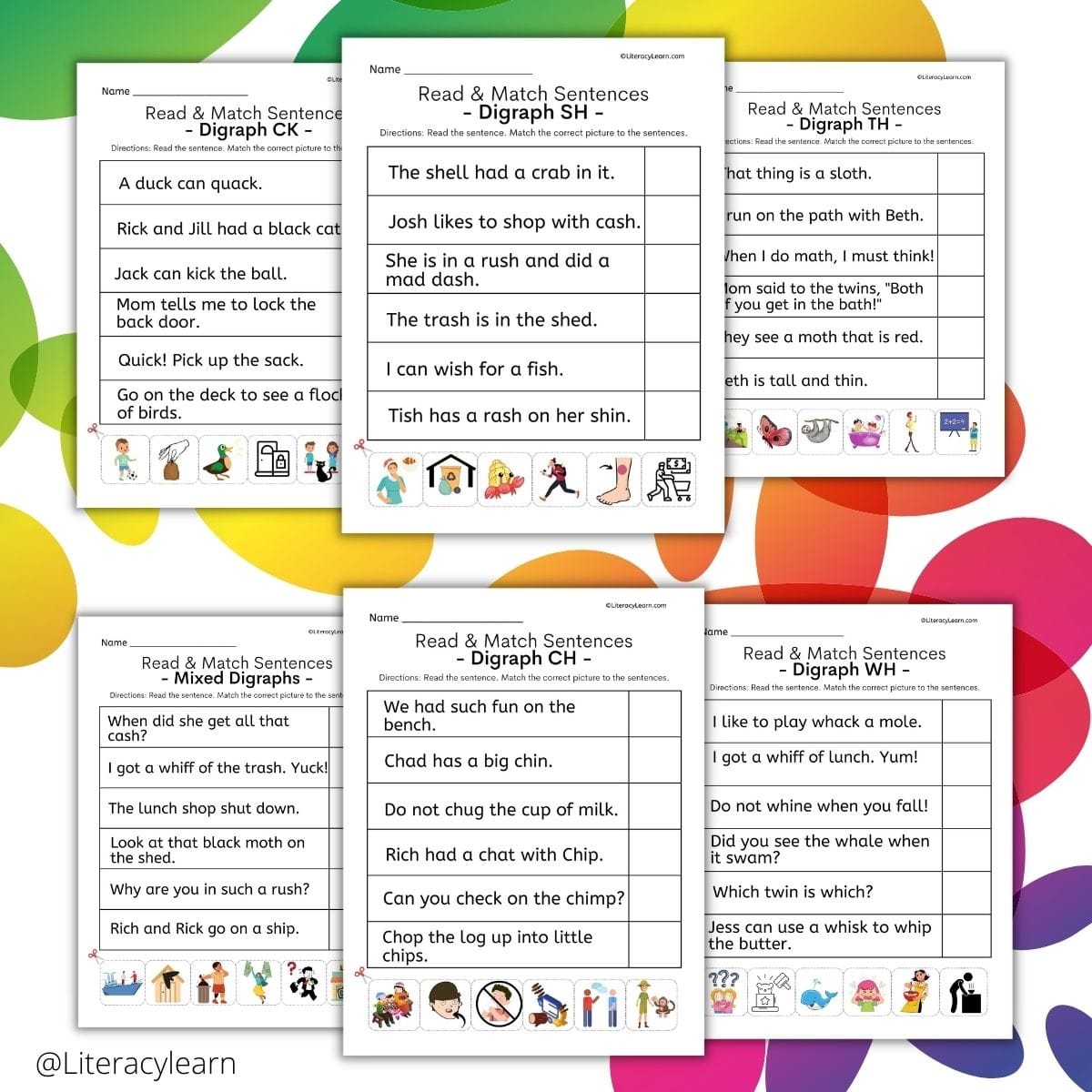 Common Digraphs: Sh, Ch, Th, Wh, Ck
What are Digraphs? Digraphs are two letters that come together to form one new sound.
The most commonly used consonant digraphs, and therefore the ones we teach first, are sh, ch, th, wh, and ck.
Young readers need to practice decoding sentences that include these digraphs. We're sharing 36 decodable digraph sentences as a simple and meaningful way to promote focused phonics skills practice.
👉 Note: The digraphs are underlined here for your convenience. Use them for sentence dictation or print our free read & match worksheets below!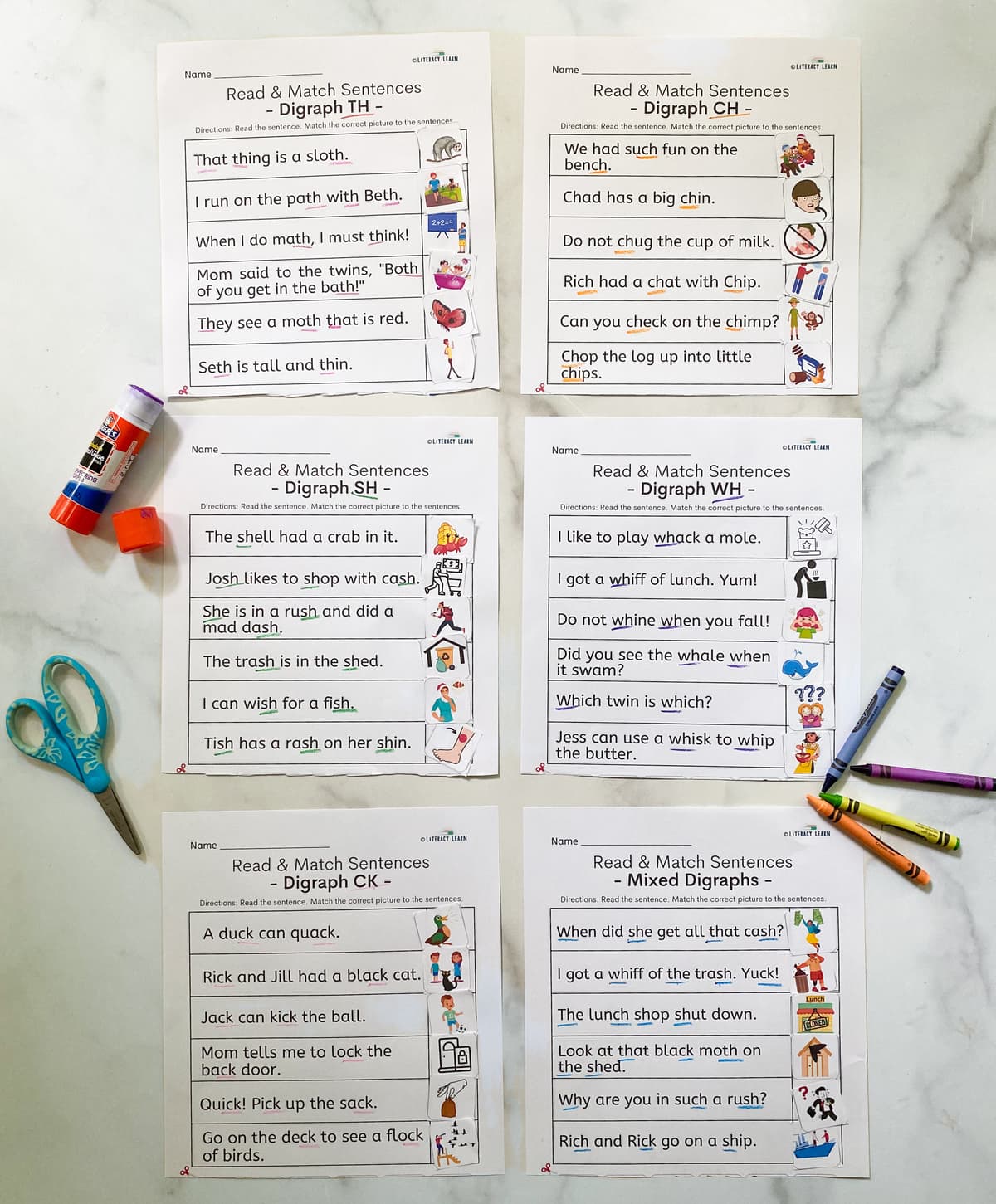 Digraph Sh Sentences
The

sh

ell had a crab in it.
Jo

sh

likes to

sh

op with ca

sh

.

Sh

e is in a ru

sh

and did a mad da

sh

.
The tra

sh

is in the

sh

ed.
I can wi

sh

for a fi

sh

.
Ti

sh

has a ra

sh

on her

sh

in.
👉 Get our free & printable SH worksheets and our tips for How to Teach sh!
Digraph Ch Sentences
We had su

ch

fun on the ben

ch

.

Ch

ad has a big

ch

in.
Do not

ch

ug the cup of milk.
Ri

ch

had a

ch

at with

Ch

ip.
Can you

ch

eck on the

ch

imp?

Ch

op the log up into little

ch

ips.
👉 Get our free printable CH Worksheets!
Digraph Th Sentences
Th

at

th

ing is a slo

th

.
I run on the pa

th

with Be

th

.
When I do ma

th

, I must

th

ink!
Mom said to the twins, "Bo

th

of you get in the ba

th

!"

Th

ey see a mo

th

that is red.
Se

th

is tall and

th

in.
Digraph Ck
A du

ck

can qua

ck

.
Ri

ck

and Jill had a bla

ck

cat.
Ja

ck

can ki

ck

the ball.
Mom tells me to lo

ck

the ba

ck

door.
Qui

ck

! Pi

ck

up the sa

ck

.
Go on the de

ck

to see a flo

ck

of birds.
👉 Remember to teach the spelling rule for digraph CK! "Long Spelling Right After Short Vowel."
Digraph Wh
I like to play

wh

ack a mole.
I got a

wh

iff of lunch. Yum!
Do not

wh

ine when you fall!
Did you see the

wh

ale when it swam?

Wh

ich twin is

wh

ich?
Jess can use a

wh

isk to

wh

ip the butter.
Mixed Digraph Sentences
Wh

y are you in su

ch

a ru

sh

?
Ri

ch

and Ri

ck

go on a

sh

ip.
Look at

th

at bla

ck

mo

th

on

th

e

sh

ed.

Th

e lun

ch

sh

op

sh

ut down.
I got a

wh

iff of the tra

sh

. Yu

ck

!

Wh

en did

sh

e get all

th

at ca

sh

?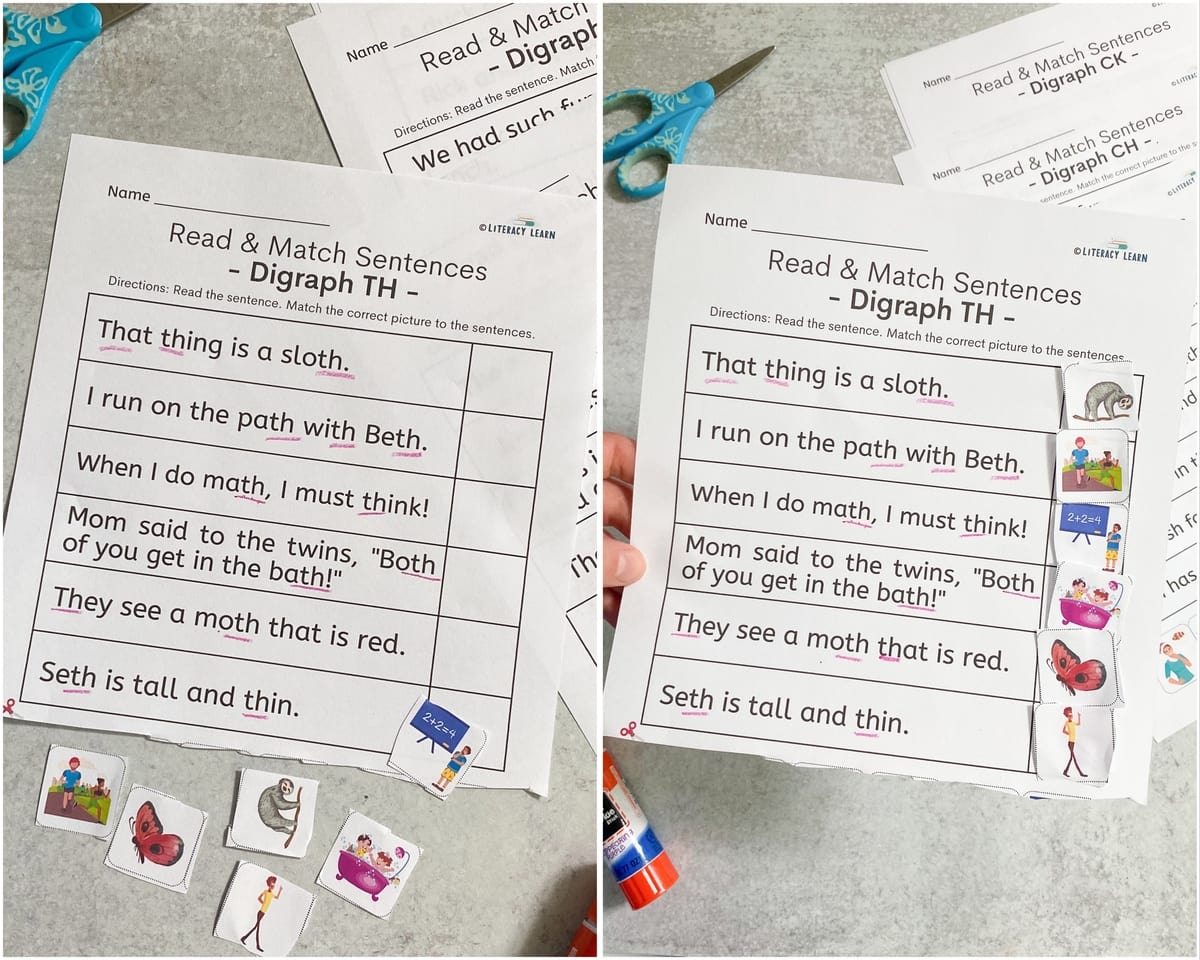 Read & Match Digraph Worksheets
The worksheets are designed to practice decoding skills AND support comprehension.
All 36 sentences follow predictable VC patterns (vowel/consonant) and include common high-frequency words.
These printables are designed to ensure that children are practicing reading for meaning. They also allow kids to practice reading fluency.
How to use them with students:
Begin by creasing the paper and folding the pictures underneath. We want students to first read the sentences without relying on picture support.
Children underline the words with digraphs and then read the sentence.
After reading each sentence one time, kids unfold the paper to reveal the pictures.
Children now read the sentences again, looking for a picture that matches the meaning of the sentence. The pictures are used to encourage self-monitoring. If they don't find a picture that matches, then they should re-read the sentence again or ask for help.
Once they have read through each sentence and confirmed by finding a matching picture, they can now cut out the pictures.
Children should re-read each sentence again and place the matching picture in the box next to the sentence. At this point, children will have read each digraph sentence three times!
Students now read the sentences aloud to the teacher. If they can read the sentences and I can see that the pictures match the sentences, they are given the green light to glue!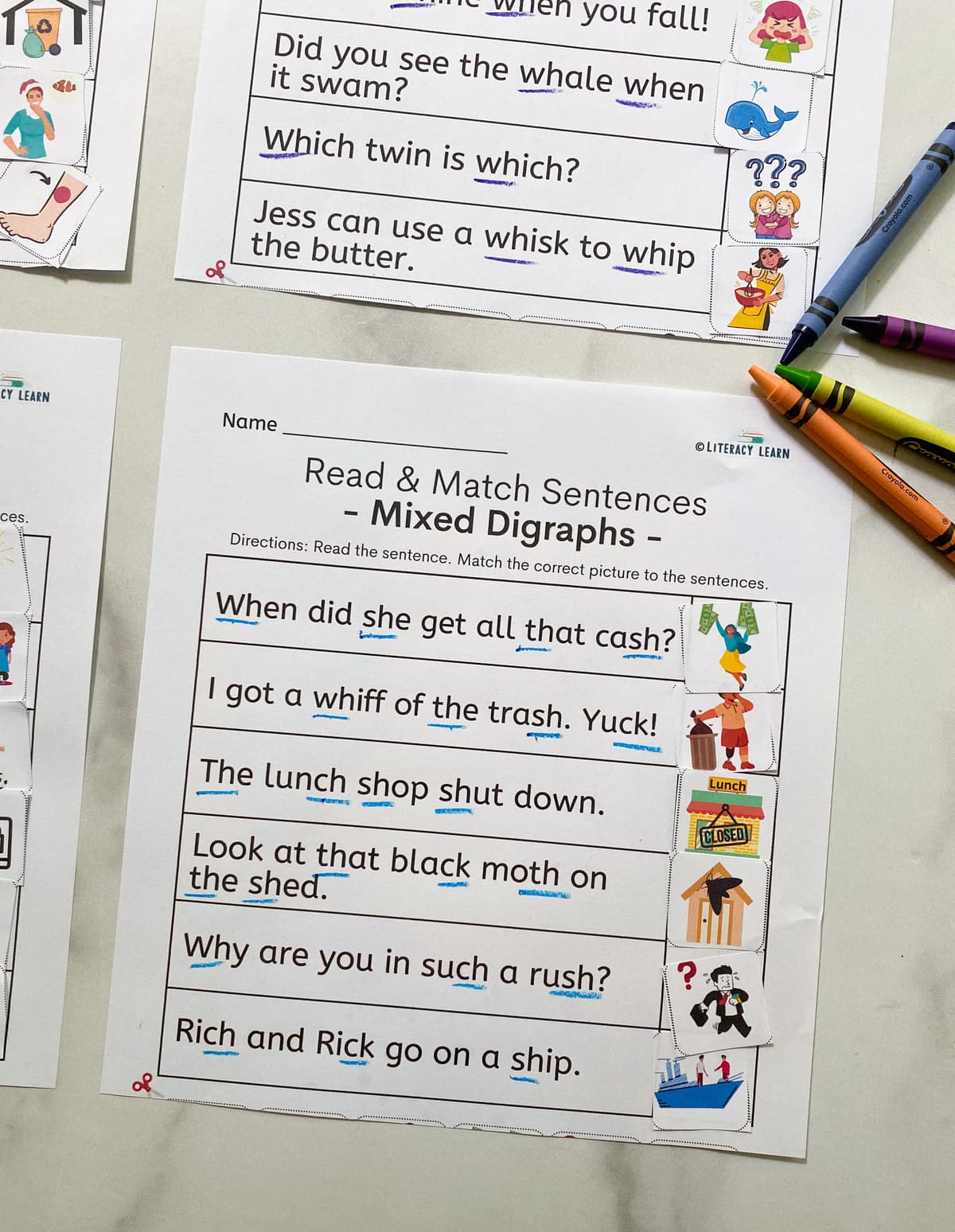 ℹ️ Tips & Info
Age Group: These worksheets are perfect for first grade students as they learn digraphs and begin taking off in their reading skills!
Children need to have the skills required to complete this activity. The ability to read sentences takes more stamina than reading isolated words! They should have a strong grasp on all letter sounds from a-z, the ability to blend CVC words with three phonemes, and a good sight word bank including common High-Frequency Words.
Grab your scissors and a glue stick! If you print in black and white, then have your students to color in the pictures for extra fun!
Get our popular 60+ pages of Decodable Sentences bundle!
Related Posts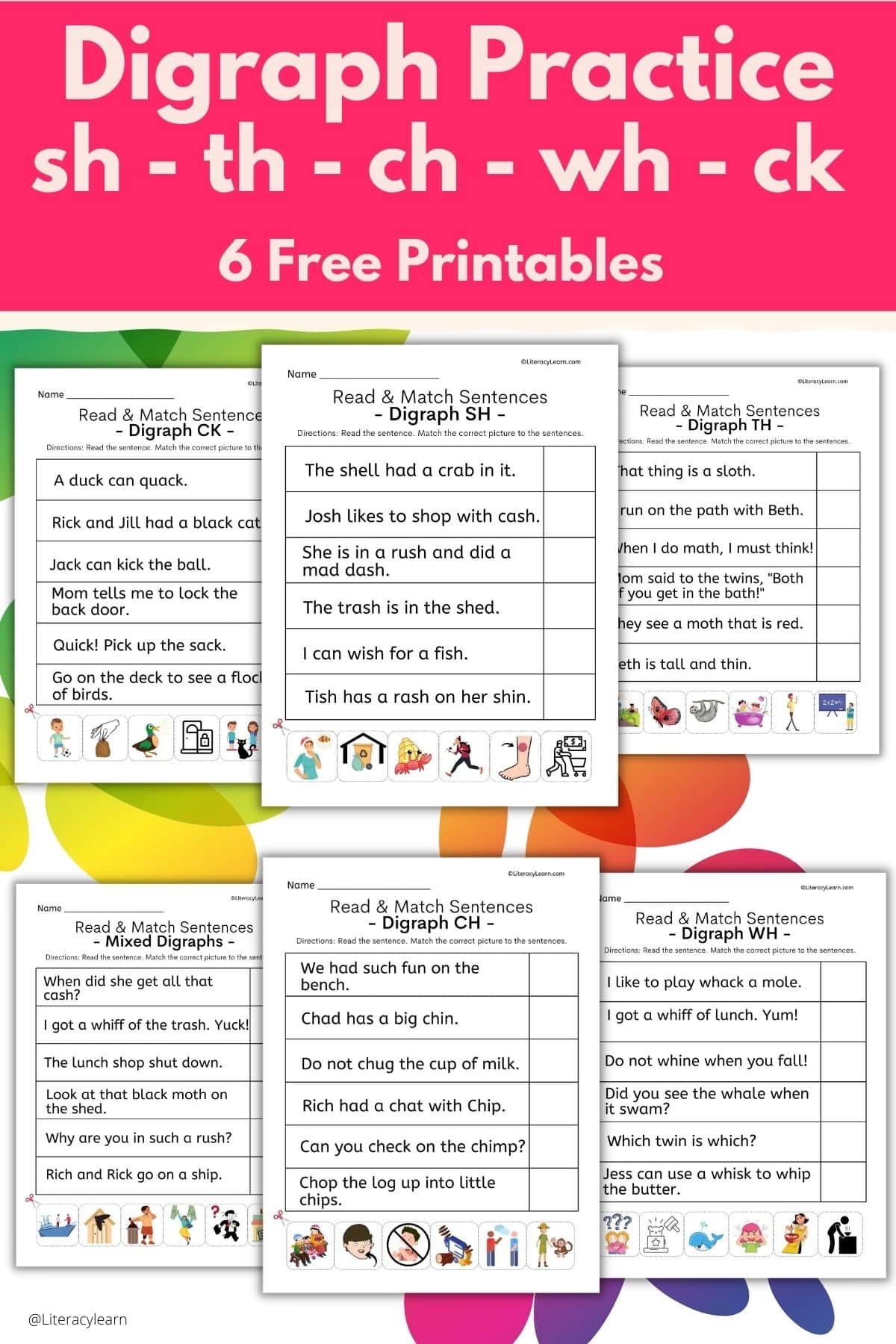 Download & Print
Enjoying these worksheets? We'd love to hear about your experience with them!
Leave a comment below or tag us on Instagram @literacylearn.
DOWNLOAD TERMS: All of our resources and printables are designed for personal use only in homes and classrooms. Each teacher must download his or her own copy. To share with others, please use the social share links provided or distribute the link to the blog post so others can download their own copies. Please do not save to a shared drive, reproduce our resources on the web, or make photocopies for anyone besides your own students. Your support in this allows us to keep making free resources for everyone! Please see our Creative Credits page for information about the licensed clipart we use. If you have any questions or concerns regarding our terms, please email us. Thank you!